Perhaps anyone who learns or hears about Swiss tourism knows this country is really expensive. But this place still attracts international visitors to visit by beautiful natural scenery and majestic high mountains, both feeling relaxed, comfortable to incredible. Dat also, because of his love and passion for this country, Dat decided to "spend" 3 days in his European journey to discover, and the result was "worth the money" and his effort put out.
You may also like:
Honestly, the 3-day journey in Switzerland is on a European trip nearly a month ago by Dat. During this time Dat arrived in 5 countries, 9 cities and 11 villages. But Dat was really impressed with the 3 days in
Switzerland
, although it was short but it was the best 3 days for Dat. Here Dat will share with everyone the experience and experience on this trip in the country, please join me!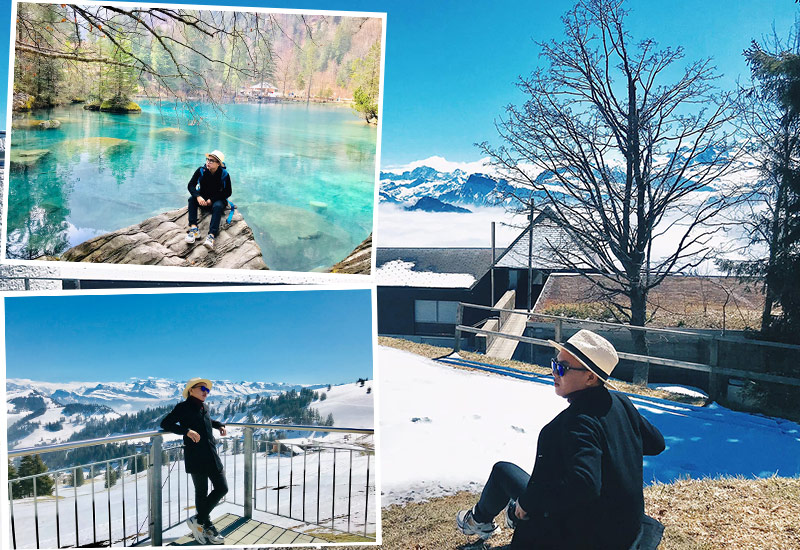 Switzerland - the dream paradise of many people.
Traveling in Switzerland
Switzerland
is one of the countries that makes Dat quite headache because the transport means in Switzerland is quite expensive. Therefore, it must be calculated carefully. From Paris Dat take the eurolines bus (30e) goes to Basel transit for 1 leg in Strasbourg. If you haven't gone to Strasbourg and Colmar yet, you should go from Paris to Strasbourg to play for 1 day and then from Strasbourg to Basel. In addition Dat also has gone by trains, boats, buses, tramway, taxis. You can consider to choose.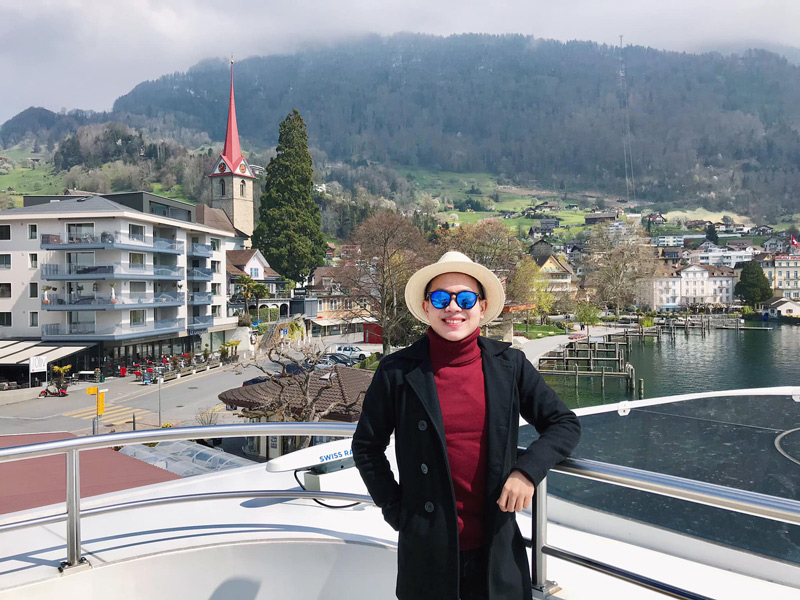 Besides eurolines bus, you can choose ship, train or taxi, ...
There are many types of travel tickets in Switzerland. After consideration, Dat chose to buy a Swiss Travel Pass for 3 days. It is true that buying this ticket is extremely convenient, no need for an increase in the purchase of tickets for each time, just go, so traveling many places but very cheap budget. This ticket does not need to be validated at the machine, board and just gives the code for the staff to scan.
Where to stay in Switzerland?
Although only in Switzerland for 3 days, Dat is in 2 places. Because the points that Dat go are quite far from each other, besides, Dat also wants to try the experience of staying here. Mostly, booking rooms are pre-booked on booking so you can refer to the pages!
At Interlaken: Dat chose the Happy Inn Lodge hostel. Dorm bed room, quite good, the advantage is near Interlaken West station and center, price range 20 - 25e.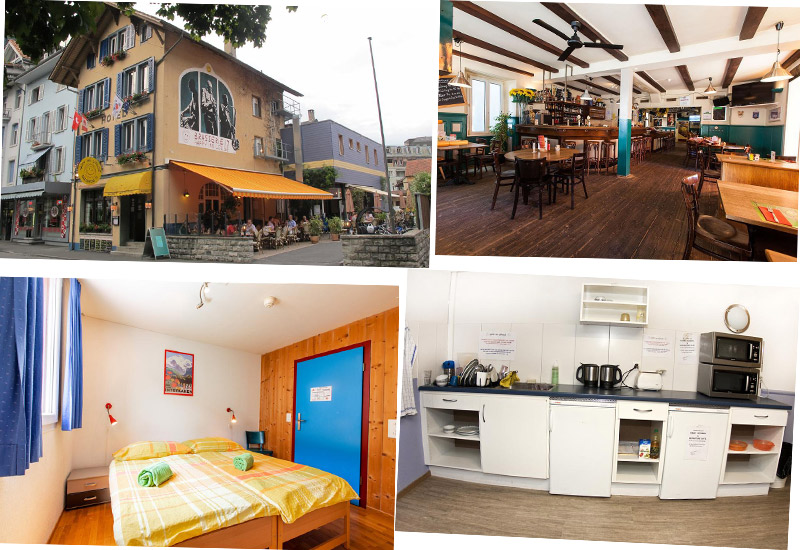 Accommodation in Switzerland, not too luxurious but quite ok.
In Luzern: Dat chose Airbnb of a German friend. Private room, clean, with cooking stove, near center, bus station and central station, cost more than 1 $ 100/2 people.
Where to play in Switzerland?
Three days in Switzerland is exactly 3 days of great experience because of the weather favoring Dat as well as meeting the beautiful native Switzerland Aboriginal to enjoy extreme fun.
Day 1: Blausee Lake - Swiss pearl eyes
Blausee is a small lake, in the Kander valley above Kandergrund, at 887 meters high, near the Kander river. Administratively, it belongs to the Bernese Oberland. The lake has an area of 0.64 ha.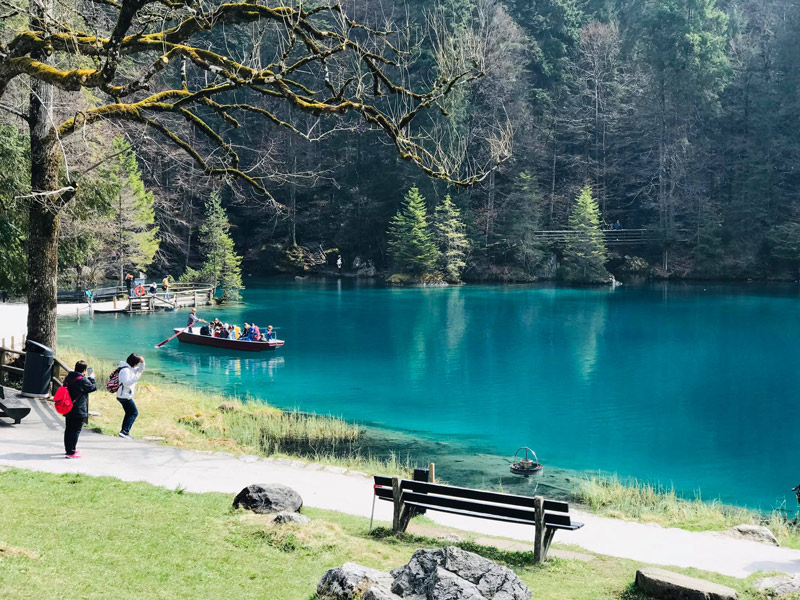 Blausee Lake - owns the clear blue water and beautiful scenery.
Actually, the original schedule did not have Blausee, but went to Bern and then return Spiez to walk around Thun Lake, but happened to see a clip of a Blausee of a tourist on the tour group, Dat skipped those places and just went to Blausee. Indeed, not waste time and effort to go to the Blausee, the landscape here is called "charming". The clear lake amidst in the forest of green trees, the fish flocks running here and there, the birds chirping, in the distance are the majestic snow mountains. Just seeing the lake appearing through the aisle, Dat just uttered a sentence "Woa! What is so beautiful and beautiful? "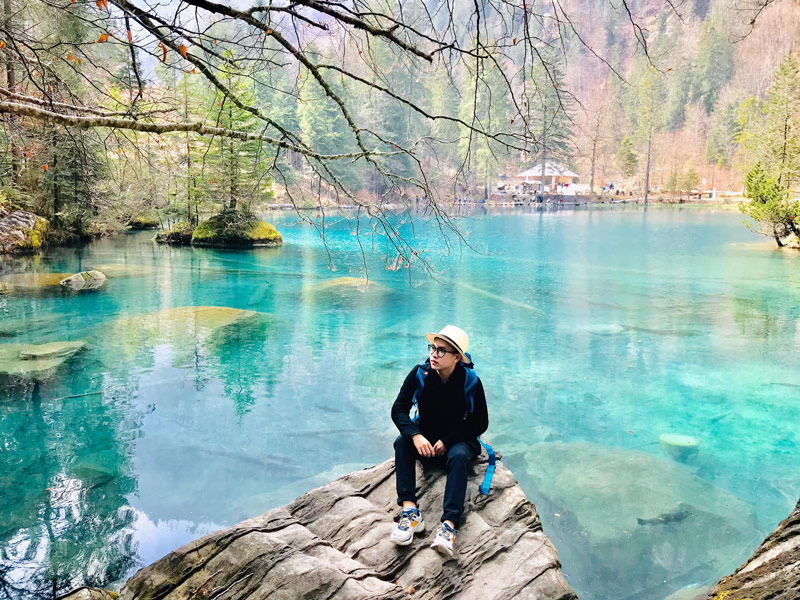 Surely you will be overwhelmed with the scenery here because Dat is the same.
To get to Blausee from Bern, take the train to Frutigen station, get off at Frutigen station and get out to the bus stop, take BUS 230 (Direction Kandersteg, Bahnhof), this bus will stop in front of Blausee. Buy an entrance ticket for adults at 8 CHF, with a student ID reduced to 5 CHF, the entrance card includes boating on the lake, remember to take a boat. The bottom of the boat is made of glass so I can see the fish at the bottom, the rower can speak English well and friendly, and also take pictures to help Dat. After fun at Blausee, go to rest at Interlaken.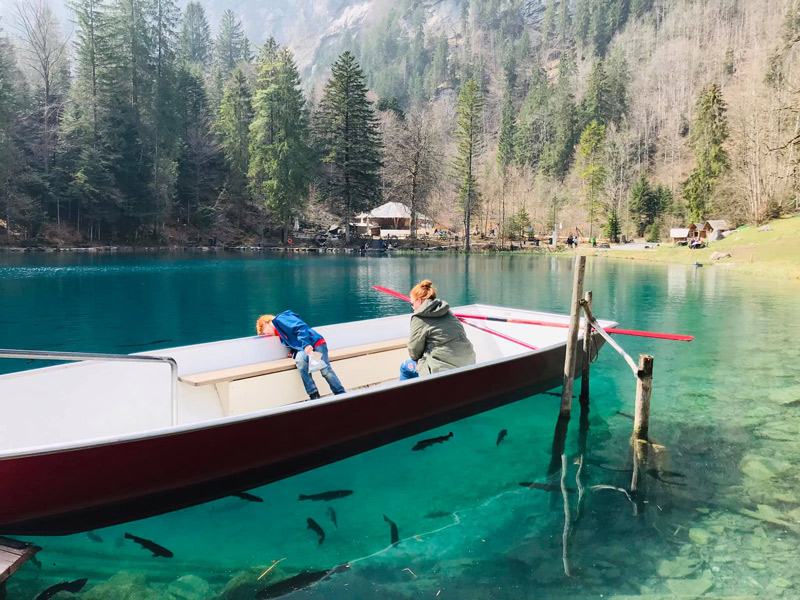 You will see a lot of boats like this on the lake.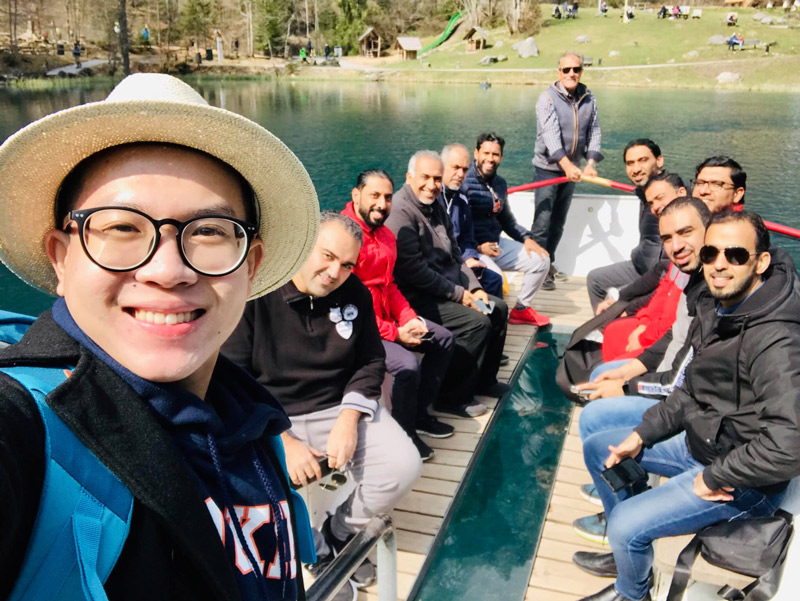 And Dat was experienced on that boat.
Day 2: Grindelwald, Lauterbrunnen, Murren
Dat's 2nd day was a dream day, and Dat said the previous day: "Today, with snow, go to the mountain villages just like as beauty as the old ones". On the morning of the second day, I opened my eyes and saw that the snow covered the roof beside the hostel.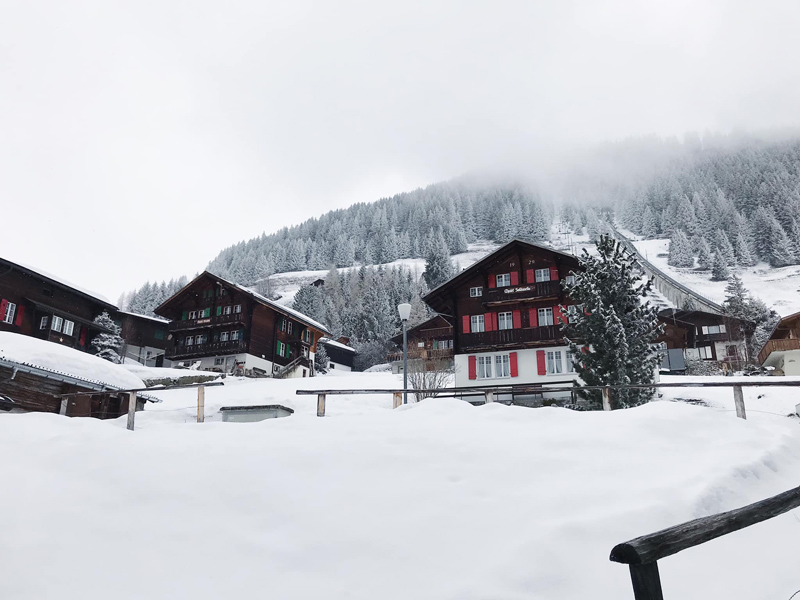 Snow-capped Murren mountain village.
Murren is a traditional Walser mountain village in Switzerland's Bernese Plateau, at the foot of Schilthorn and white snow mountains. People liken Murren to villages in fairy tales. Indeed, when witnessing firsthand the beautiful little houses of brown wood colors with red-orange doors, it is even more prominent when dotted a few tiny flowers, under the snowy sky.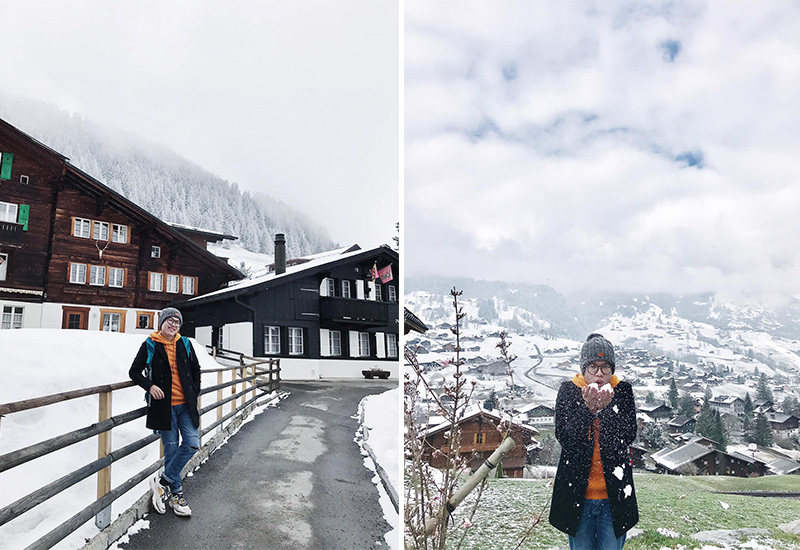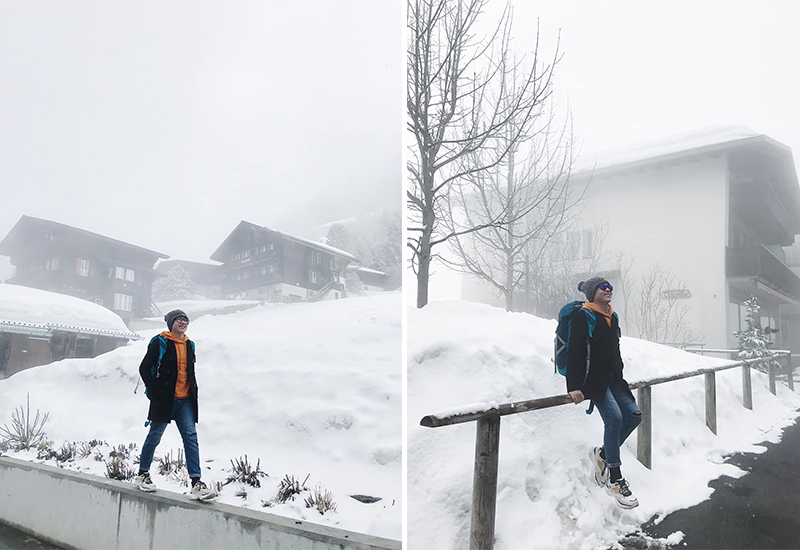 Every corner here is like a dream paradise.
To get to Murren village from Interlaken, take the train to Interlaken Ost for Lauterbrunnen. After leaving Lauterbrunnen station to reach 50 meters to the Lauterbrunnen cable car station for Murren, up to the cable car station, you must transfer to a small boat to enter the village, a path to the Murren village more beautiful with snow. You use Mobile CFF app to track the way, very convenient and easy, stay on time and on the right platform to go right, not too complicated like in Paris.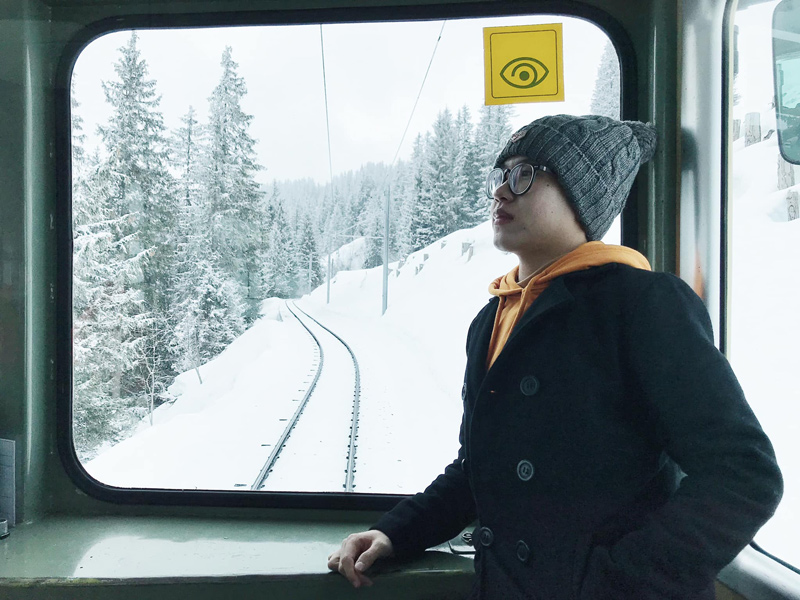 The train takes you deep into the village.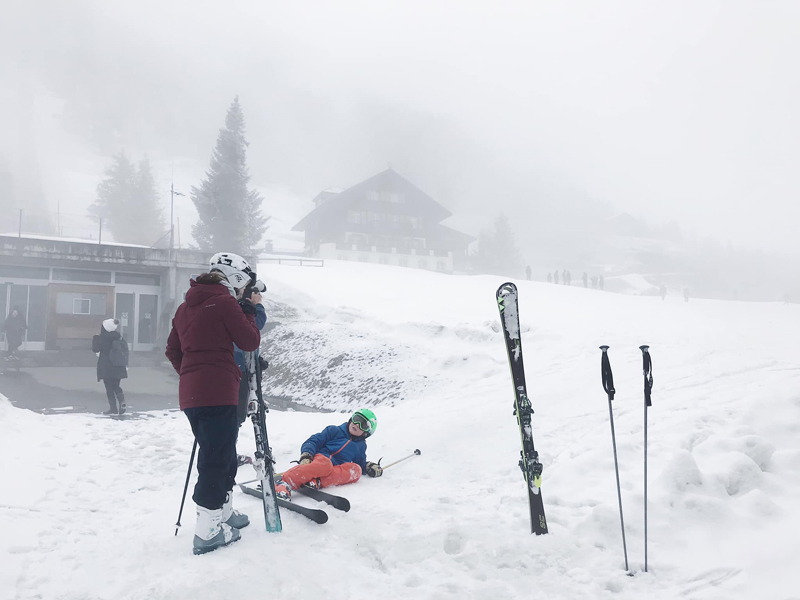 If you like games on the snow, don't miss it.
Grindelward and Lauterbrunnen villages are also a beautiful little village in the mountain. The way to go is also the same returning, you searching on the app will be very easy, not very difficult. In addition, there is a famous mountain in the region called Jungfrau - which is considered the roof of Europe. The ticket to the Jungfrau is expensive, it costs 214 CHF /person/round trip, the Swiss pass will be reduced by 50% but this time is too busy so Dat will go to the Jungfrau next time.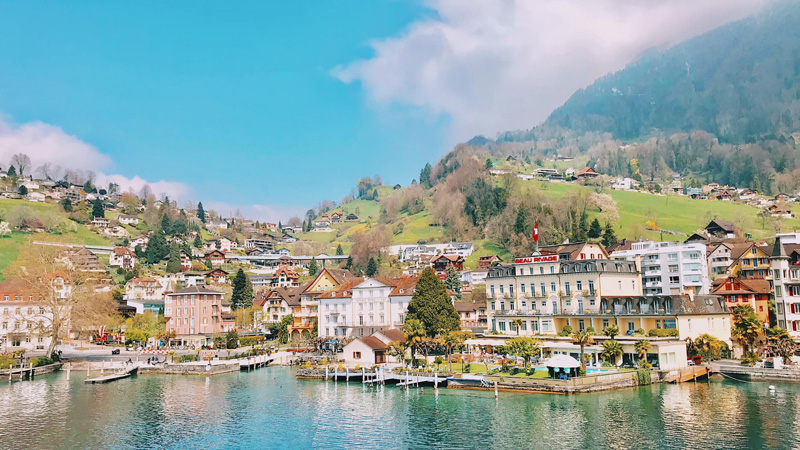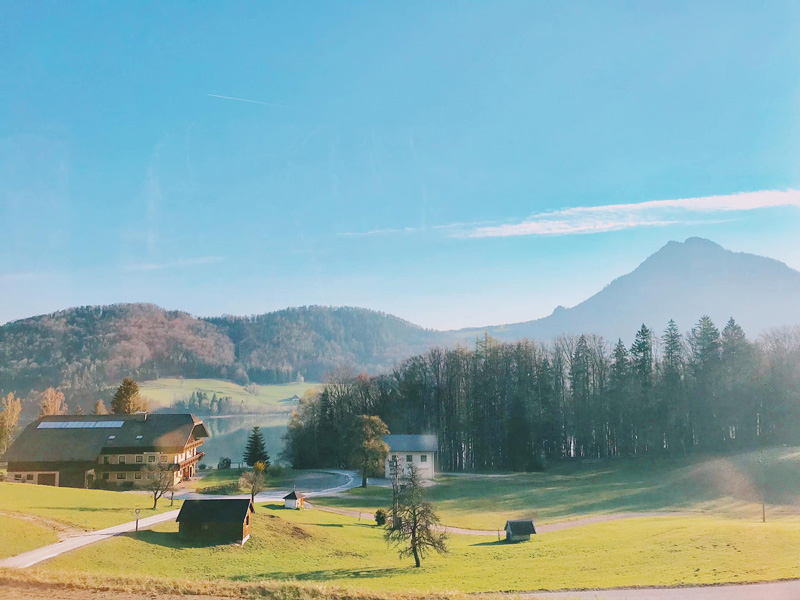 Beautiful small villages are located in the mountains.
Tips: In Murren village, there is a Coop supermarket where you can buy cheap food and drinks there, Dat buy baguette bread with pate and baguette. Dat and the beautiful aboriginal girl must go back and buy another one to eat. The restaurant on the mountain is quite expensive, but Dat sees in Switzerland wherever it is too.
Day 3: Lucerne, Rigi Mount
Luzern is a city in the district of Lucernev and the Luzern state of the same name, in central northern Switzerland, located in the German-speaking region. The original schedule would be Luzern and then Titlis Mount but changed the schedule of sailing on Lake Lucerne and up to Rigi Mount. Actually, day 2 was on Murren and also played with snow, so I didn't want to go to Titlis anymore.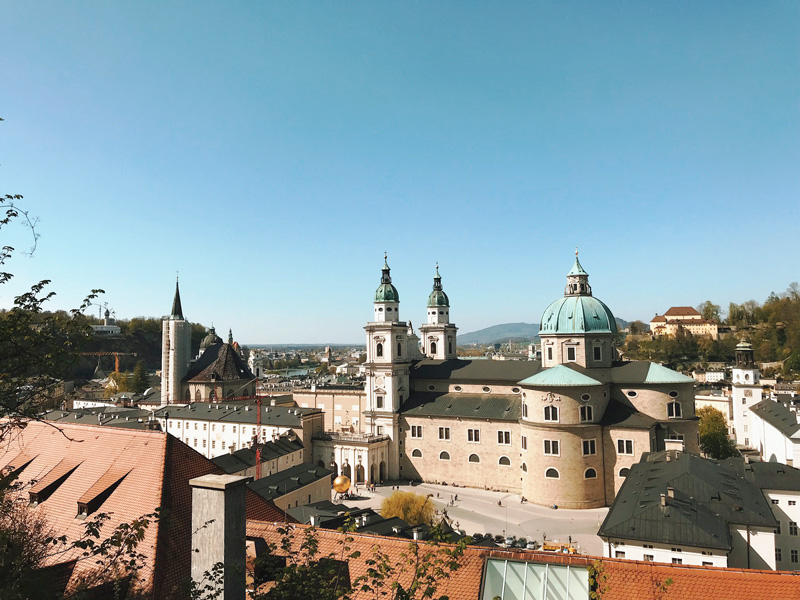 A corner of the city of Luzern.
Coming to this city you will have the opportunity to go through the Kapellbrücke wooden bridge across the Reuss River - one of the sights and considered the symbol of the city. Admired the famous stone Lion Monument or Catholic catholic church built in 1633 - Court Church of St. Leodegar.
Take a boat on Lucerne Lake and go to Rigi Mount. This is a very interesting experience that you should try, not always and anywhere you can experience this activity!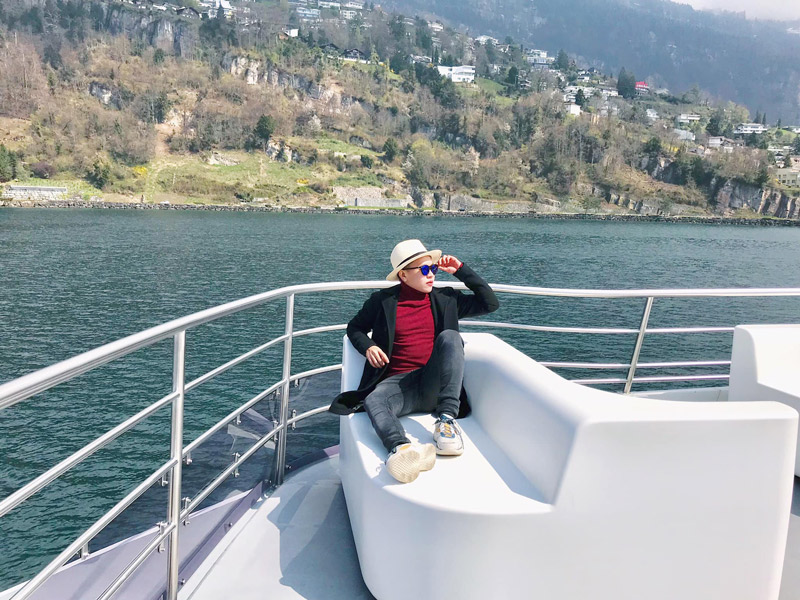 Sailing on Lucerne Lake is a very interesting experience.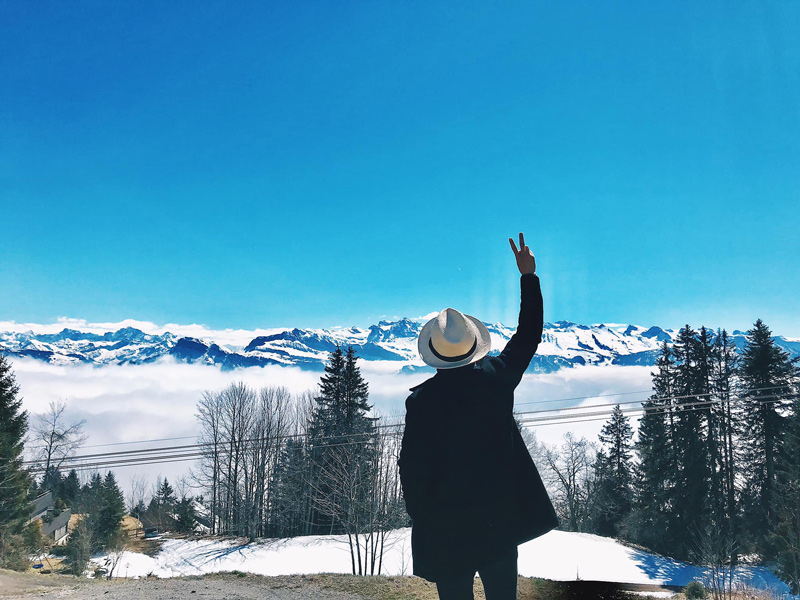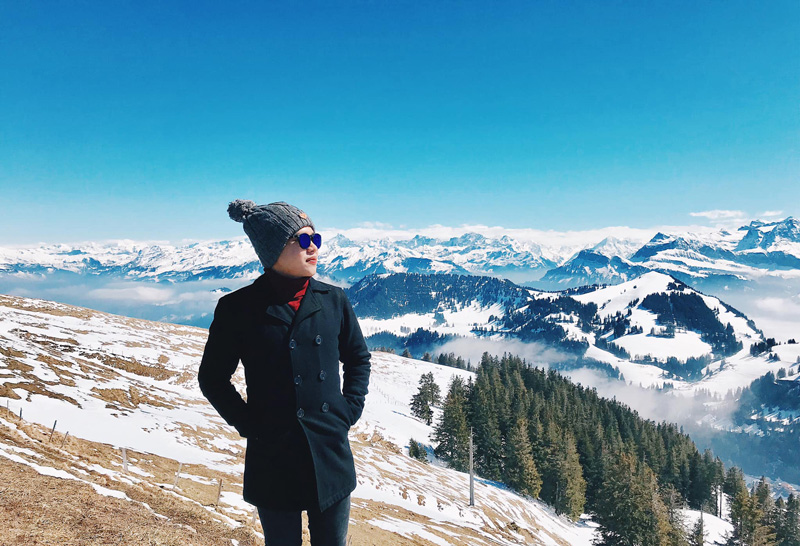 The beauty of Rigi mountain.
What to eat in Switzerland?
The specialty dish in Switzerland is the cheese fondue, consisting of melted cheeses and will use topping to dab like bread, potatoes, which tastes salty and hard to eat with Vietnamese taste.
The restaurant that Dat ate in Switzerland is Hooters restaurant, eating foods like KFC, chicken, and shrimp, is also quite good, but also very interested in employees, in general compared to the original, I have a different view of this place.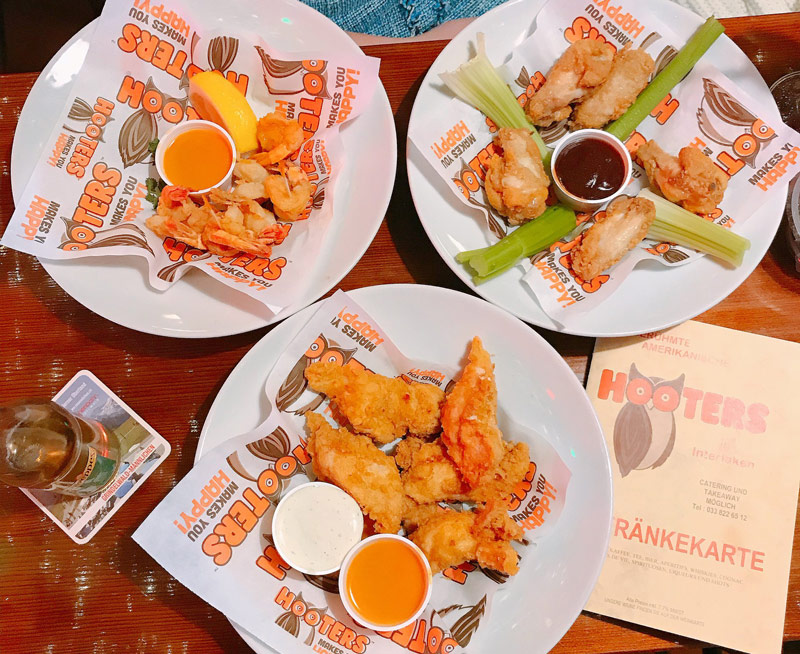 A few food items at Hooters restaurant.
Tips: If you are in Airbnb or host has a place to cook, just go to Coop supermarket to buy things to make delicious and cheap dishes, eating at restaurants, the price is quite high. In Switzerland, most stations have automatic lockers for the day, priced at 5-7CHF. It is very convenient if you carry lots of bulky items, just send them all in locker with things you don't need and go out for comfort.
Overall the journey of Dat in Switzerland is quite short but also enough to have memorable experiences, went to places where Dat aspired, very satisfied. Although the cost is quite expensive, Dat finds it "worth the money", so if you like and have the condition, try "risking" a bit as Dat did. I wish you a happy trip!
* Dat is the name of the character who traveled to Switzerland and share his experience about the trip.
You may also interest:
3 days of Swiss travel - Europe's tourist paradise
Reviewed by
Duy Khiêm
on
July 26, 2019
Rating: