Not only intrigued by the fresh atmosphere with endless mountains, Sa Pa also has the majestic and marvelous beauty of the waterfalls that nature gives. Bac Waterfall has long been famous as one of the great tourist spots in Sapa.
You may also like:
Bac Waterfall (Sa Pa), an ideal summer vacation spot - Photo: Shane Devlin
Bac waterfall is located in San Xa Ho commune, Sa Pa district, Lao Cai province. The access road is quite convenient because it is located right next to the 4D National Highway, the road to Lai Chau.
Bac Waterfall near the road is very convenient for visitors to travel - Photo: Marks
It takes about 30 minutes by motorbike or bus, visitors can visit one of the few beautiful waterfalls in Sa Pa in particular and the most beautiful waterfalls in Vietnam in general. According to statistics, almost all tourists participating in Sa Pa and Lao Cai tours do not miss the Bac Falls tourist spot.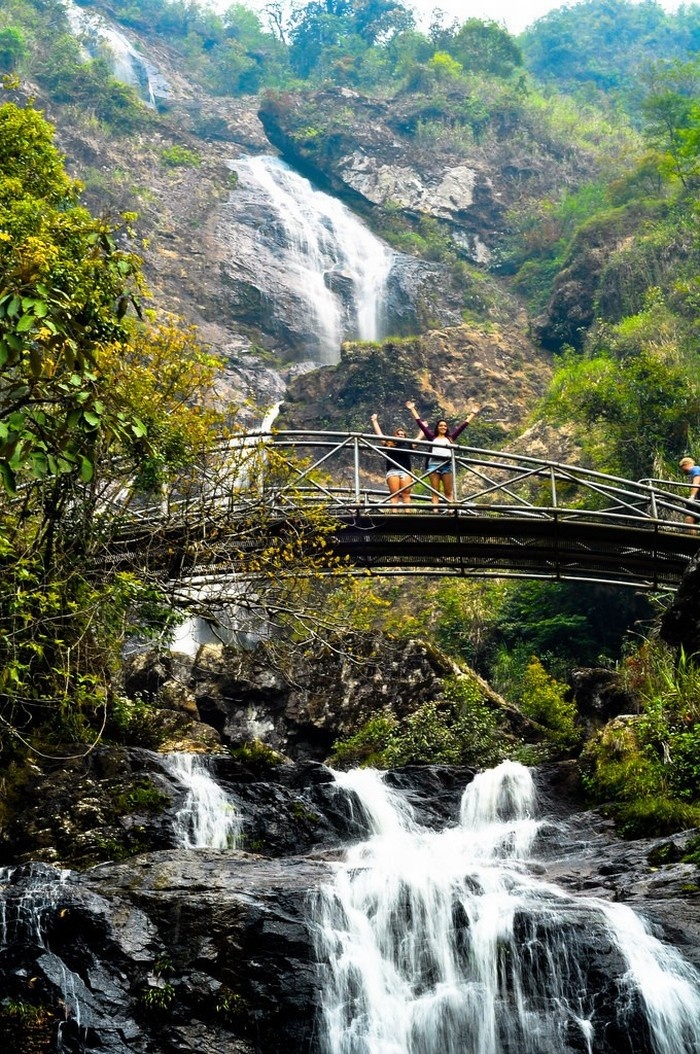 Tourists are ecstatic at the beauty of Bac waterfall - Photo: Cyclo
Traveling to Bac Waterfall ( Sa Pa), visitors also see beautiful natural landscapes and immerse in majestic nature along the way such as pine forests, rubber gardens spreading on hillsides, flush fields all year round ... that will make visitors forget the tired feeling because of the long road. Discovering Bac Falls is definitely one of the most unforgettable things when traveling to Sapa.
Pine hill interspersed with terraced fields on the way to Silver Sa Pa waterfall - Photo: Vincent Nguyen
The spectacular terraced fields of Sapa - Photo: Thanh Son HP
With a height of 200m, Bac waterfall is the upstream of Muong Hoa stream (Ca Hoa stream) with a height of 1,800 m, located at the foot of O Quy Ho pass.
Muong Hoa Valley is beautiful and sparkling in the early sunshine - Photo: Hai Nguyen
Muong Hoa Stream in Muong Hoa Valley - Photo: ray Son
Muong Hoa Stream stretches about 15 km along Muong Hoa valley - Photo: Vu Thanh
On sunny days, standing on Ham Rong mountain, visitors can also admire the flowing water like silver of remote cascades. That is one of the reasons why local people here call this waterfall is Bac Falls (Silver falls)
In winter, the Silver Falls area is one of the thickest snowfall in Sapa. In 2013, the snow-covered falls area rose more than 15cm in thick.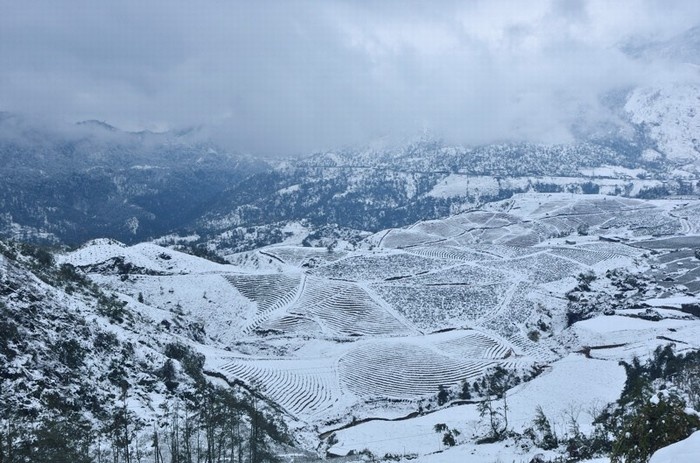 White snow covered Muong Hoa valley. Photo: Vinh
Road to Silver waterfall - Photo: Pham Van Manh
Traveling in Silver Falls, tourists feel like they are lost in another world because the Silver Falls appearing in front of them is a waterfall from a high ravine, the roaring stream rushing down, white foam as flowers. Each cascade is a different level of emotion.
Powerful ... - Photo: Kevin Creon
... And quiet - Photo: daihocsi
Noisy ... - Photo: hotvit
... And quietly - Photo: Skyllion
Even from a distance, visitors can hear the sound of falls like the sound of a violin in the ear. It is the enchanting beauty that motivates many visitors to Silver waterfall in particular and Sa Pa tourism in general.
Silver Waterfall from afar - Photo: Ian Campsall
At the foot of the slope leads to Silver Falls is a center for salmon seed production, and is Vietnam's largest research station on cold water fisheries.
Salmon farm under Bac waterfall - Photo: Collectibles
In particular, about 2km from Silver waterfall, visitors will set foot on Tram Ton, where the journey to conquer Mount Fansipan will begin.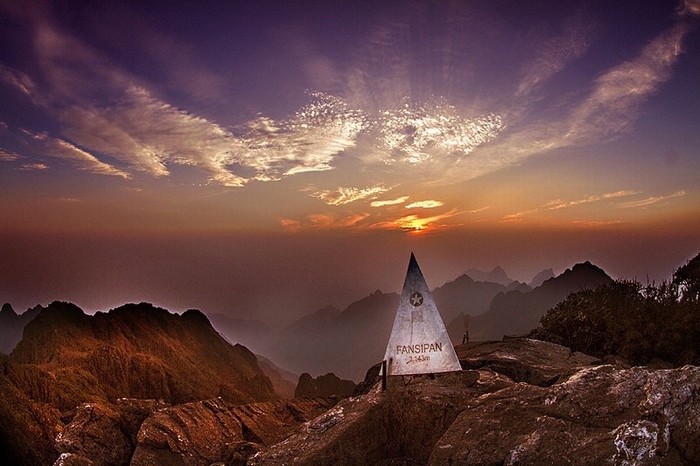 The roof of Indochina with a height of 3,143 meters - Photo: Collectibles
Bac Falls Tourist, one of the most beautiful waterfalls in Sapa, visitors will have the opportunity to visit the majestic natural scenery but extremely romantic lyrical. The sound of murmuring streams harmonizing with birds' voice will surely make visitors feel like straying into the realms of fairy-land. Especially, in the summer, Bac waterfall is always cool, suitable for summer tours. Guests will be comfortable immersing themselves in cool water, relieving the worries of everyday life.
After the exploration of Silver Falls, visitors can stop at the waterfall and enjoy the specialties of Sa Pa such as wild beast meat, wild vegetables, stream fish ... visitors also have the opportunity to enjoy the very unique dishes made from salmon such as sashimi, fried, steamed, cooked curry ..., but the most prominent is salmon hotpot, salmon salad, grilled salmon ... to support the journey to O Quy Ho Pass, then pass the highest mountain in Vietnam - Fansipan. Or other tourist attractions in Sapa.
You may also interest: