If once set foot in the coastal city of Vung Tau, surely visitors will not be able to resist the poetic and lyrical beauty of this land. Let's explore 15 places you can't ignore when traveling to Vung Tau.
1. The statue of Jesus Christ
Address: Thuy Van, Ward 2, Tp. Vung Tau, Ba Ria - Vung Tau
The
statue of Jesus Christ
- The symbol of the coastal city, is a statue of Jesus placed on the Nho mountain peak of Vung Tau city. The statue has a height of 32 meters, its arms are 18.4 meters long, placed on a pedestal that carves Christ's image and 12 apostles. Inside the statue is a spiral staircase of 133 steps, running from the pedestal to the statue's neck. To get on the statue, you have to climb 1,000 stairs 500m high and as a result, visitors will admire the whole city from above with beautiful houses, with a clear blue beach on the smooth white sand, ... feel the breeze blowing from the East Sea when standing on the statue's arm.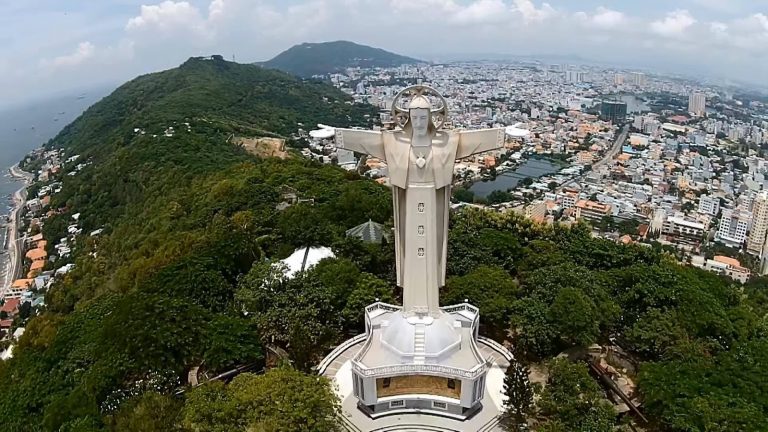 Vung Tau tourist destination.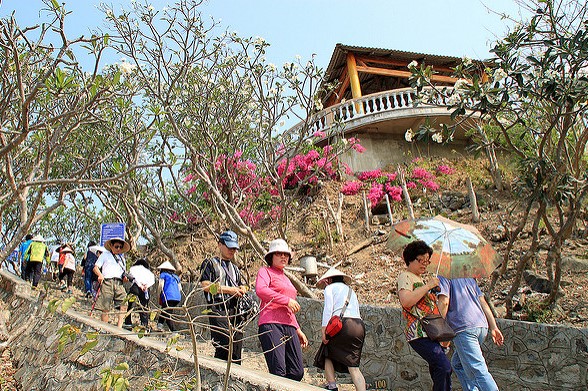 The way to the statue of Christ.
You may also like:
2. Long Hai beach
Address: Located 12km from Vung Tau city.
Long Hai Sea is a destination not to be missed when traveling to Vung Tau because of the beautiful untouched natural picture that will hold visitors. Long Hai's climate is cool all year round, so you can come anytime. The seawater here is clear and the beach surrounded by beautiful mountain ranges or blossoming cherry forest. In particular, Long Hai beach is abundant in fresh seafood and very cheap.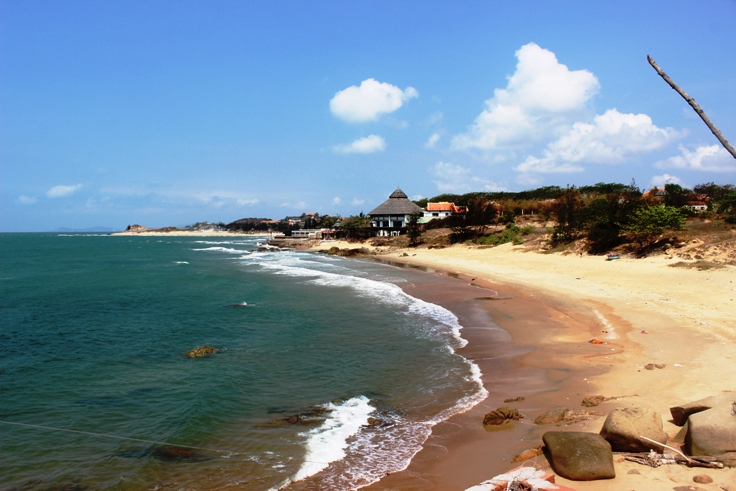 One of the beautiful places in Vung Tau.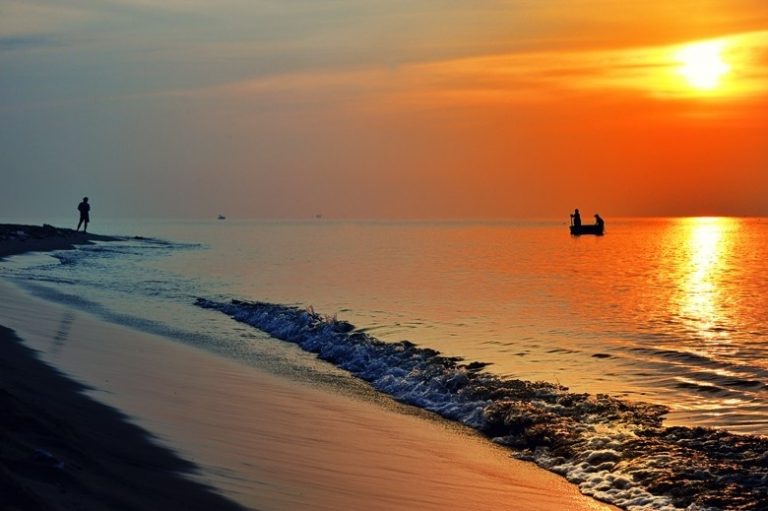 One of the tourist areas in Vung Tau.
3. Vung Tau lighthouse
Address: Located on the top of Nho Mountain, Ward 2, Vung Tau City.
Vung Tau lighthouse is considered as one of the symbols of Vung Tau coastal city. This architecture of the oldest lighthouse in Vietnam and Southeast Asia is a cylindrical tower 18 meters high, 3 meters in diameter and painted white. Inside the lighthouse, there is a stairway leading to the top to see the whole view of Vung Tau city. Visitors can travel by car, motorbike or walk on the mountain trail.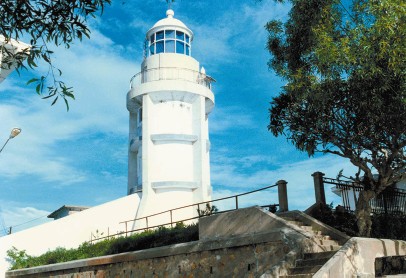 One of Vung Tau's iconic locations.
Lighthouse in the night.
4. Con Heo Hill area
Address: Lane 222, Phan Chu Trinh, Ward 2, Vung Tau City.
In the past, Con Heo hill was a place of stone exploitation, so there were few people to visit. In recent years, the "wild hill" with this cute name has been discovered and become an interesting destination to have fun, enjoy the scenery as well as take pictures.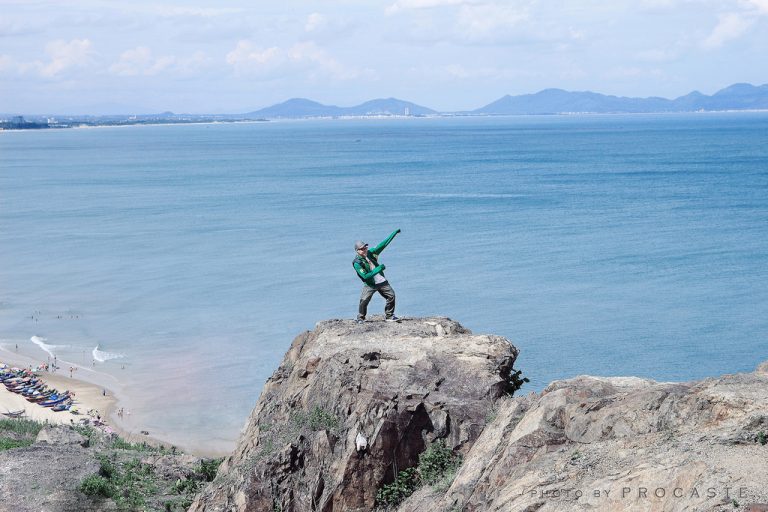 Location for beautiful photography on the Pig Hill.
Con Heo Hill with the wild features blended with a little mystery of the gravel road, a little wild but the romance of the dry grass hill and the vastness and immenseness of the sea, ... all create a special attraction especially attracts many tourists as well as indigenous peoples. If you are drunk with the scent of this hill, tourists can refer to a number of hotels that can easily move to Pig Hill.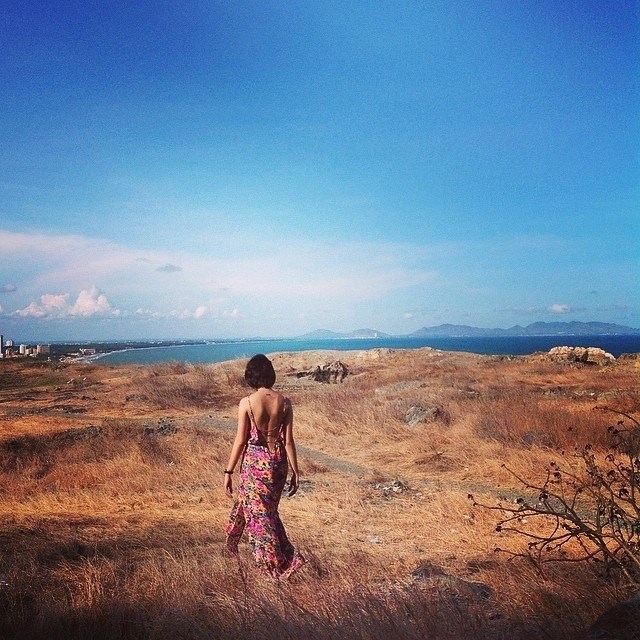 Location of dry grass hill is as beautiful as Vung Tau film.
5. Nghinh Phong Cape
Address: No. 1 Ha Long Road, Vung Tau City
Nghinh Phong Cape is the longest headland in the southern part of Vung Tau peninsula, this is the place to welcome the wind throughout the four seasons, but it is called Nghinh Phong. The Cape created two beaches, Vong Nguyet Beach and Huong Phong Beach, two large bays in the West and East.
Visitors to Nghinh Phong nose as a place to rest and relax after hard working days. The sea here is clear and clean, the air is pleasant.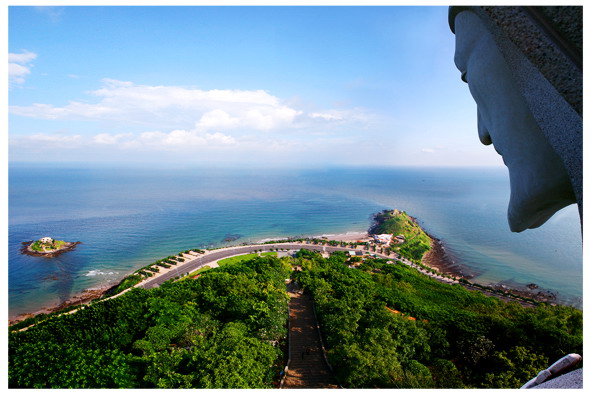 Beautiful destination for view from above Nghinh Phong Cape.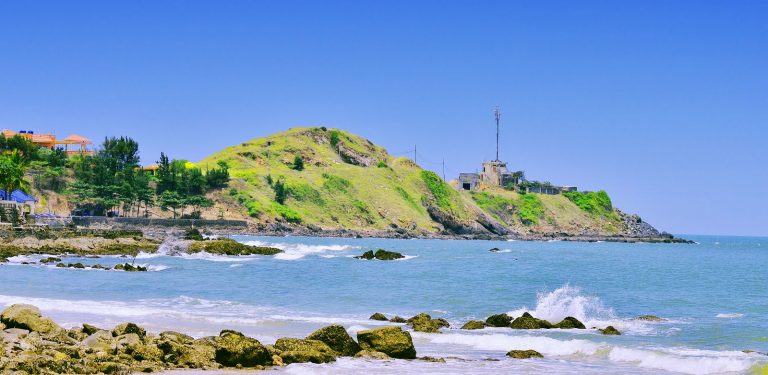 The sweet scene in Nghinh Phong cape.
6. Hon Ba islet
Address: Located in Sau Beach, Vung Tau city.
Hon Ba is a beautiful landscape that is considered a small island with an area of about 5,000m2. Hon Ba has a spiritual meaning to the people around it and tourists from near and far. On the island, when the tide is low, following the rocky way to the island, you will meet a small shrine that is Mieu Hon Ba, which is said to be a very sacred place that always fumes the incense because it is a place of worship, pray for convenient sailing trip by local fishermen.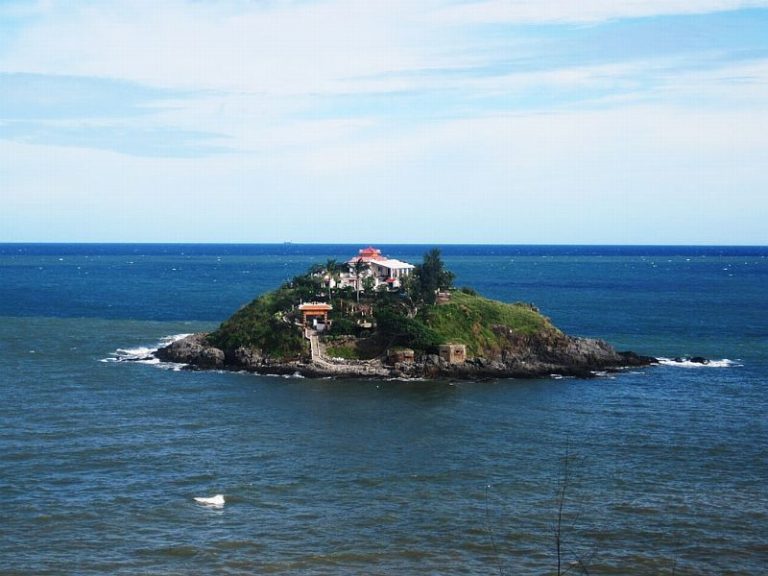 Tourist small island in Vung Tau.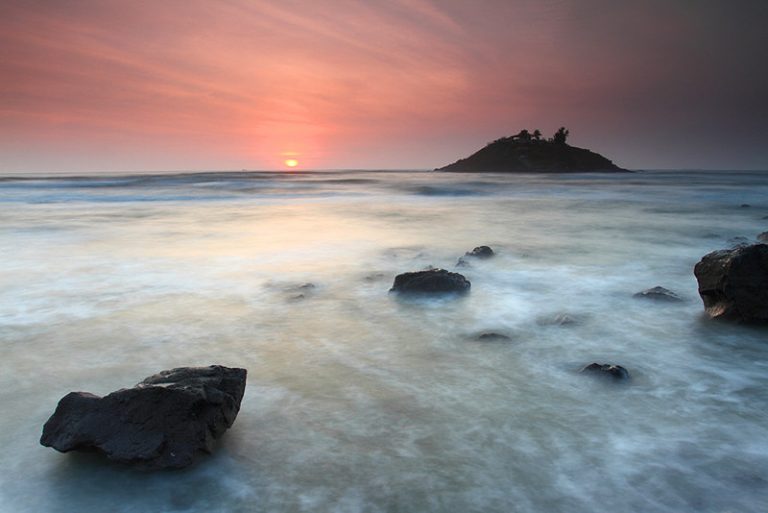 Dawn on Hon Ba island.
7. Da Xanh Lake
Address: Near the slopes of Dinh mountain, in Tan Thanh district.
Da Xanh Lake is a place that attracts many tourists recently because of the harmonious harmony of nature and dreams but majestic. To get here, go along National Highway 51, cross the toll booth to the crossroads of Dinh mountain, turn left and go straight along the alley next to Long Huong church. Then you ask the locals, they will show you the way to go to the lake fastest. A note for visitors is that the area is quite dangerous so you should not take a bath here.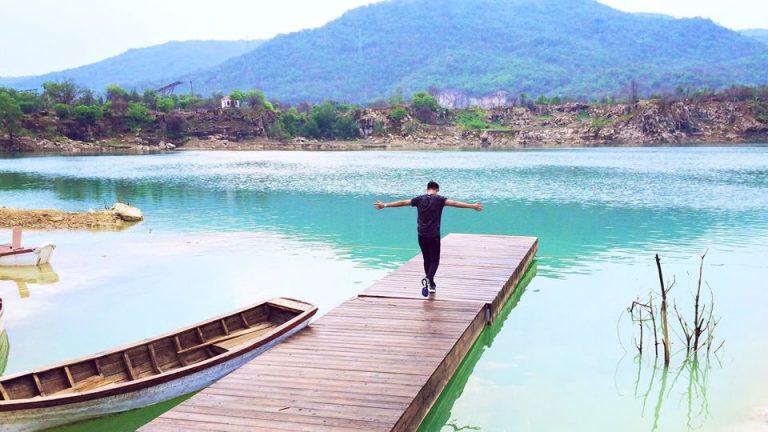 Latest check-in place in Vung Tau.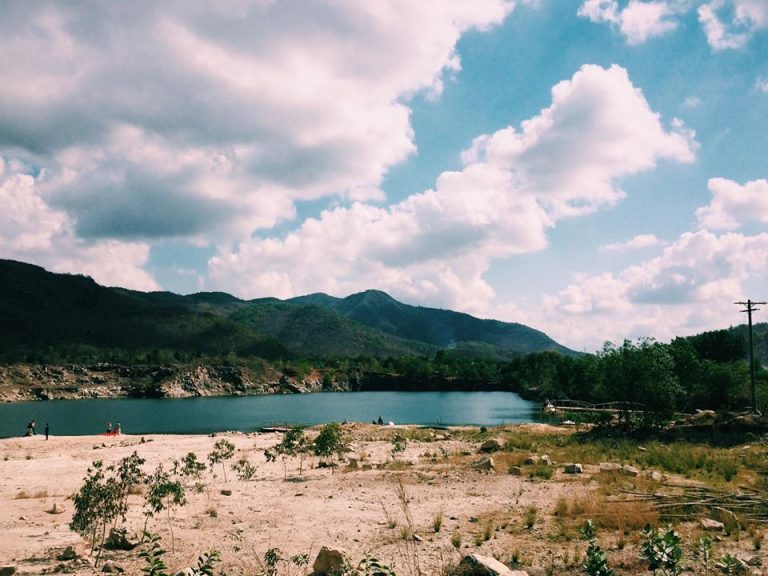 One of the beautiful tourist spots in Vung Tau cannot be missed.
8. Vong Nguyet Beach
Address: located at the foot of Nho Mountain, belonging to Nghinh Phong Cape.
Vong Nguyet Beach is an unspoiled beach with blue sea, white sand and majestic Nghing Phong stone tip facing the East Sea. Vong Nguyet Beach is not long, the sea here is clear and clean, the coast is deeper than other beaches. Vong Nguyet beach is the best when standing from the statue of Christ on top of Tao Phung mountain, looking down.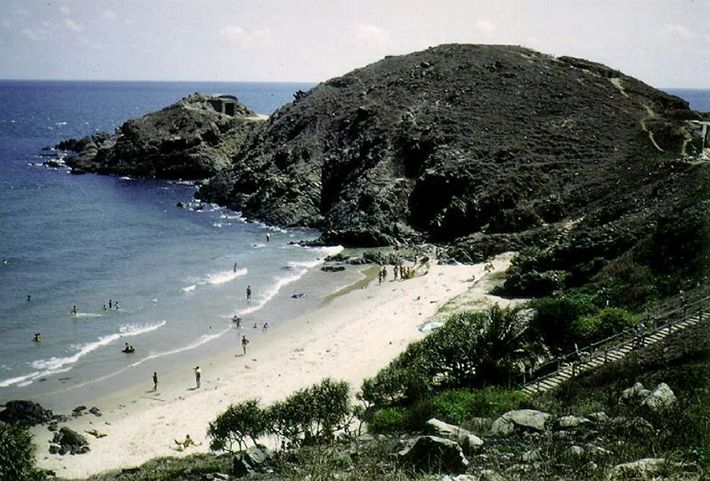 Vong Nguyet beach tourist area looking down from above.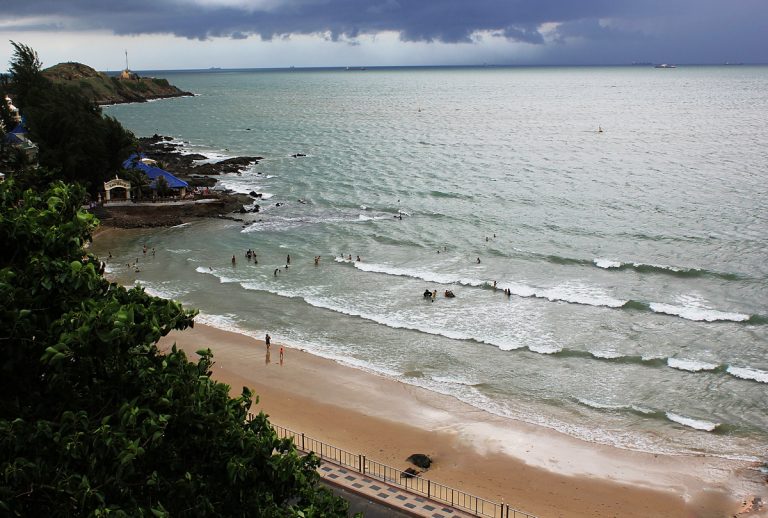 An ideal beach of TP. Vung Tau.
9. Suoi Tien tourist area
Address: Tan Hai commune, Tan Thanh district, Ba Ria - Vung Tau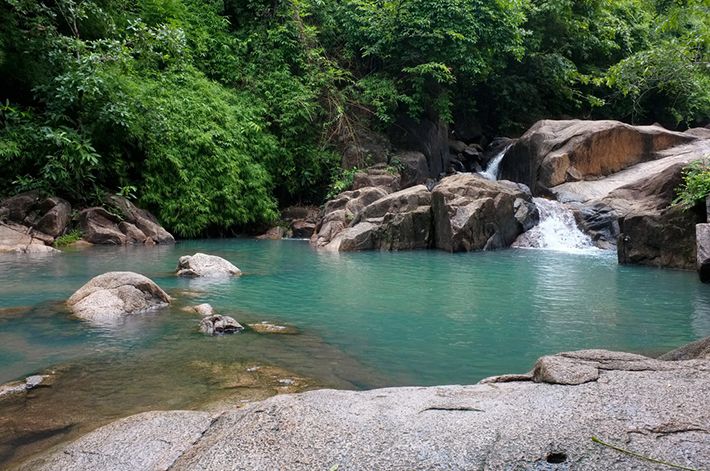 Beautiful scenery in Suoi Tien tourist area.
Suoi Tien area - which likens the second Dalat - is located on Dinh mountain, the stream is confluent of many streams, waterfalls and rivers falling from a few hundred meters high. The higher, the more beautiful and strange the landscape is. Along the stream, there are unique rock formations, ancient plants, yellow flower slopes, etc. Not only are there many pagodas, temples, shrines in beautiful streams but also beautiful hotels in Tan Thanh attracting many visitors to Tien stream.
10. Suoi O Beach
Address: Binh Chau commune, Xuyen Moc district, Ba Ria-Vung Tau province.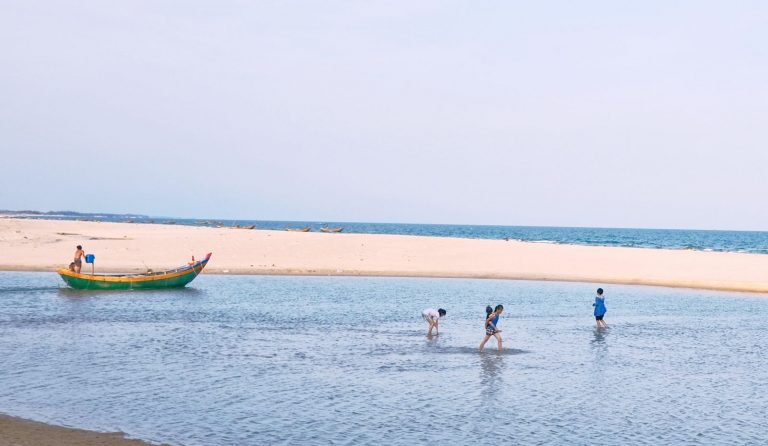 A destination with both salt and fresh water in Vung Tau.
Suoi O beach is one of the rare beaches in Vietnam that has both fresh and salt water. A special feature of this beach is that there are two parallel blue water lines connecting the river and the sea separated by white sand basin.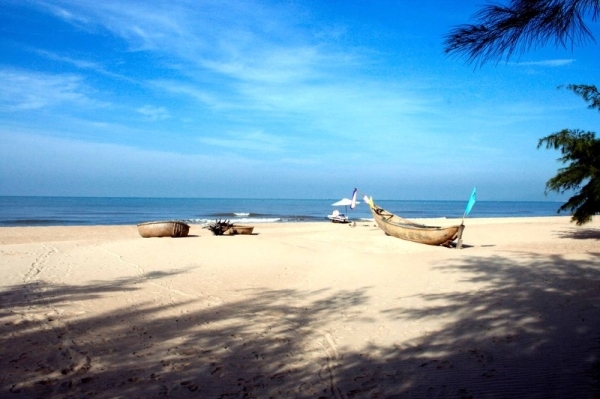 Poetic scene of a tourist resort in Vung Tau.
11. Marina Marina
Address: Road No. 1, Dong Xuyen Industrial Park, Rach Dua Ward, Vung Tau City
Not only providing a full range of entertainment services, Marina Marina is also attractive with many tours to Long Son Island, Go Gang Island, Cha Va Bridge, ... You can refer to the hotel near Marina Marina with beautiful view in the center. This is the favorite photography location for indigenous people as well as tourists.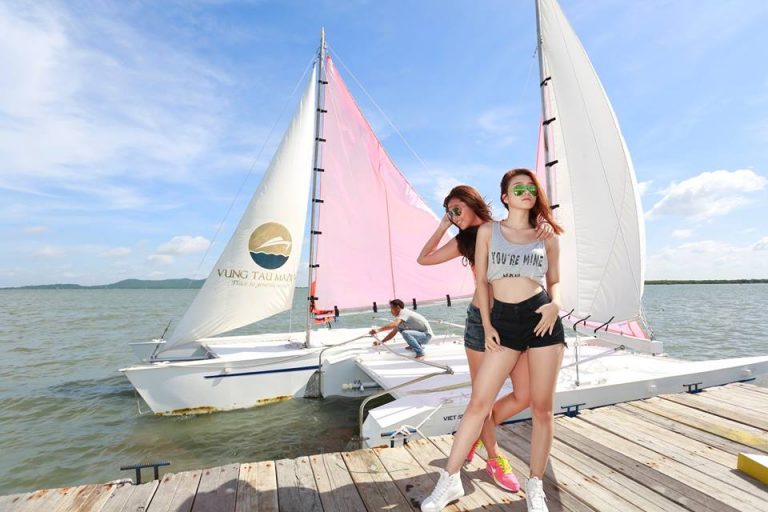 Photographing location of young people.
12. White Rabbit Park (Tho Trang Park)
Address: No. 9 Thuy Van (Right at the intersection of Le Hong Phong and Thuy Van), Vung Tau City.
Rabbit White Paradise in Vung Tau is designed in harmony with the scenery of the Japanese-style Vung Tau City. Recreation area including the system of thrilling games loved by young people: TerMiNaTor, Spider Man, Cable-stayed Swing, Apolo, Boat Shake, Wheel ...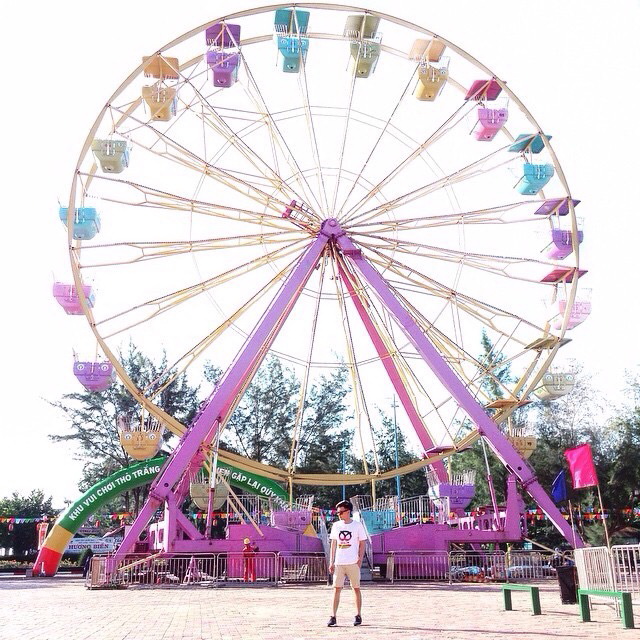 Giant wheel of the White Rabbit park.
13. Ho Tram beach
Address: Xuyen Moc District, Ba Ria - Vung Tau Province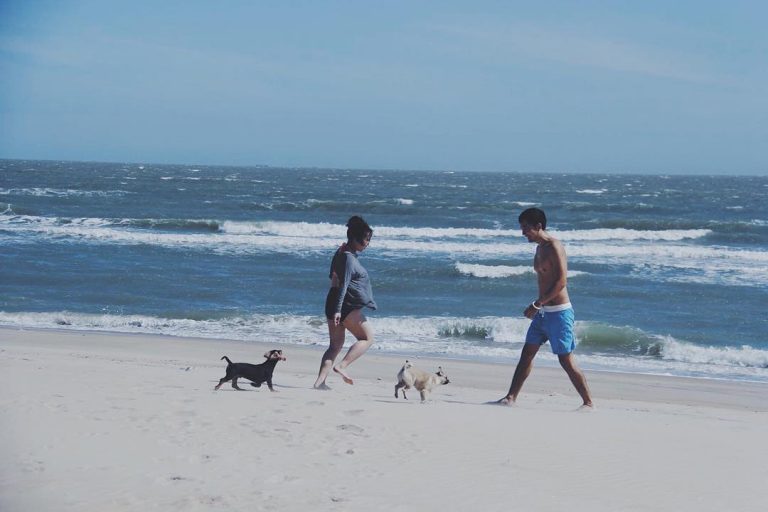 Ho Tram wild resort.
Ho Tram is a long coastline between Long Hai and Binh Chau, in Xuyen Moc district, Ba Ria - Vung Tau province. From Vung Tau city to Ho Tram about 30 km, go down to the North. Ho Tram is a pristine beach area. To this beach, you can spend all your time resting in the green space of the sea, casuarina forest and lush melaleuca forests. This is the right place for families to go on vacation with the elderly and small children.
14. Ho Coc Beach
Ho Coc is a small beach located in Bung Rieng commune, Xuyen Moc district, Ba Ria Vung Tau province. Ho Coc owns a wild and rare charm. Green seawater embracing the smooth white sand, cleverly arranged stones, dreaming melaleuca forests or old moss-covered boats will give you unique, romantic photos and no different European scenes.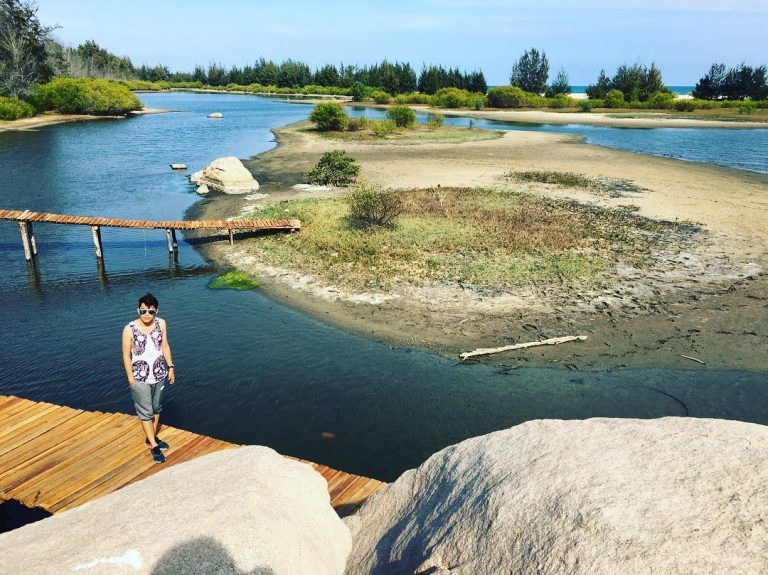 Tourist location of charming Coc Lake.
15. Nuoc Ngot Pass
Nuoc Ngot Pass is about 25km from Vung Tau and only 2km from Long Hai beach, is a small, short pass, beautiful meanders, bordering Long Dien and Dat Do districts of Ba Ria - Vung Tau province.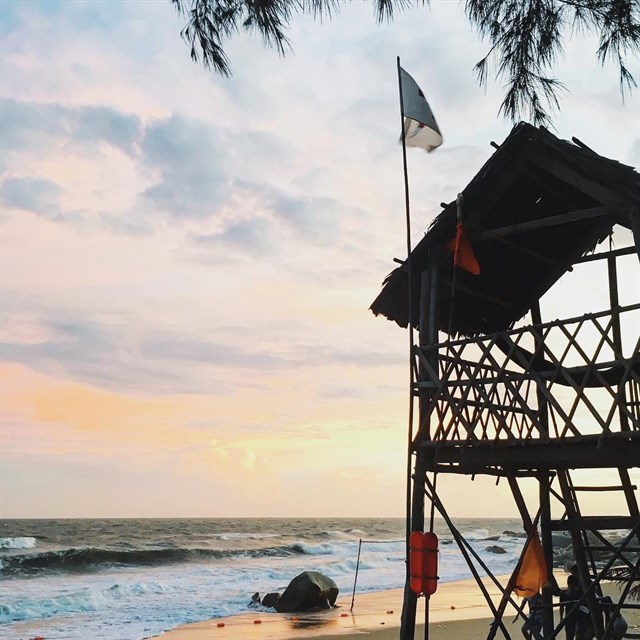 One of the beautiful places - Nuoc Ngot Pass.
You may also interest: