Séo Mý Tỷ still retains the characteristics of a Mông village in Sa Pa Town, Lào Cai Province, with roofs thatched with pơ mu wood and terraced fields winding around the highest man-made lake in Indochina.



Séo Mý Tỷ is still new to tourists when visiting Sa Pa. It is a small village of Tả Van Commune and lies deep in Hoàng Liên National Park. It is about 20km from the centre of Sa Pa Town. This place has a lot of potentials to develop ecological and cultural tourism, attracting tourists who love peace and exploring the mountains and forests of northwest Việt Nam.
To get to Séo Mý Tỷ, we travelled on the road with the most beautiful scenery in Sa Pa - Mường Hoa Valley, then continued through the centre of Lao Chải and Tả Van Commune. From Tả Van to Séo Mý Tỷ, the road was rough and only suitable for motorbikes or off-road cars. As a reward, we had the chance to enjoy a panoramic view of Mường Hoa Valley, beautiful terraced fields and bamboo forests that are strictly protected by the locals.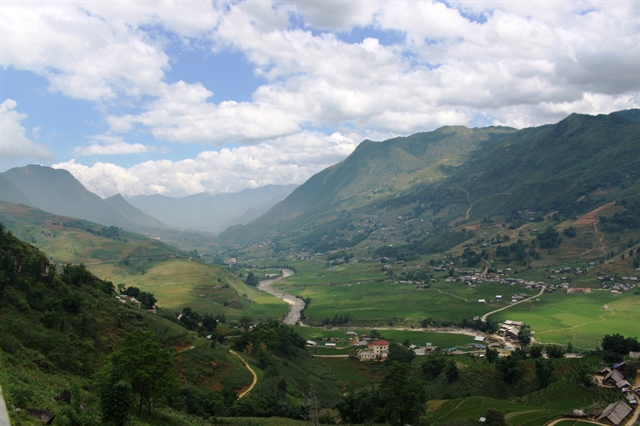 After about an hour of driving, we were amazed at the peaceful natural scenery, away from the hustle and bustle in the city. In front of us was the clear Séo Mý Tỷ Lake which is known as the highest man-made lake in Việt Nam and Indochina.
Séo Mý Tỷ Lake is located at an altitude of more than 1,600m above sea level. It possesses a wild beauty like in Europe. If visitors choose a point on the mountainside looking down, they will see this land surrounded by green trees and covered with dew. It looks like a charming oasis on a steep cliff.
Séo Mý Tỷ Lake was created by blocking the dam to build the Séo Chong Hô power plant. The water in the lake flowing from Hoàng Liên National Park is clear and cool. People here also take advantage of this place to raise sturgeon and salmon.
One of the most popular activities is boating on the lake. We used kayaks to explore.
Séo Mý Tỷ Village still retains the characteristics of the Mông people in Sa Pa. Here, the Mông people have settled for generations so their customs and traditions have been preserved until today.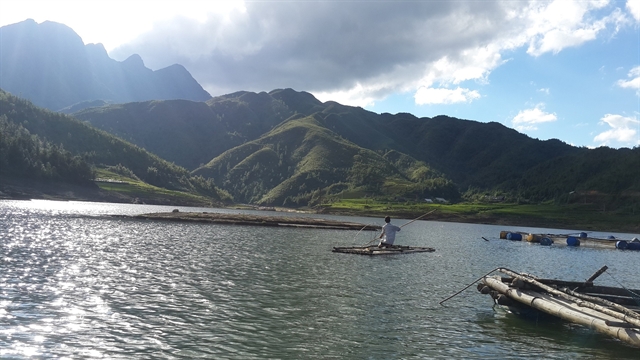 We visited the village in December when it was full of flowers. Peach and plum blossoms bloom all over the village and stretch down the mountainside. We were engrossed in the magnificent terraced fields, ethnic children and cattle grazing. The scenery here was so peaceful and rustic. Coming here, the stress of life disappeared and our souls became light and peaceful.
After enjoying the view of the lake, we walked around the village, discovered the houses of local people and enjoyed delicious and attractive salmon specialities raised by people at Séo Mý Tỷ Lake.
Because we loved the idyllic scenery here, we asked a homestay to stay overnight near Séo Mý Tỷ Lake.
Vũ Thị Ngọc Hướng, a local tour guide, said: "Tourists often visit on one day at Séo Mý Tỷ or stay here overnight. Some people like the peaceful feeling of the village and also stay for about a week."
Séo Mý Tỷ has the beautiful scenery of the lake, mountains, forests as well as a cool and fresh climate. Although living far from the centre, the locals here gain a stable income from fishing; growing cardamom and rice; raising cattle and other forest products.
One day of experiencing and discovering the beautiful scenery, life and peace at Séo Mý Tỷ is certainly not enough, but it certainly has left in our memories new and unforgettable images and feelings about this attractive land. VNS