The sheer size of the United States makes it home to a vast array of natural wonders. Whichever corner you travel to, you're guaranteed to find a distinctly impressive variety of landscapes. If you're heading west, get ready for incredible lake vistas, sunset-colored rock formations and much, much more.
Panguitch, Utah
Panguitch is one of Utah's most historic towns and the gateway to the red-rock terrain of Bryce Canyon National Park, just a half-hour drive away. The canyon is actually a collection of immense, natural rock amphitheaters that was formed over the course of millions of years. A seaway once ran through it, depositing sediments that formed layers and layers of rock. The park's most amazing feature is the hoodoos—thousands of red, chimney-shaped rock formations—that cover the entire otherworldly expanse. You can go hiking down bluffs, along deep ravines, and through archways that perfectly frame views of the canyon beyond. It's worth visiting during any season, but the canyon's glow is at its most impressive during the winter, when contrasted against a blanket of snow and patches of evergreen trees. After a full day of exploring, spend the night at The Panguitch House, just a short drive away.
Lee Vining, California
The jagged rock formations on the lake are called tufas
Lee Vining is a small town on the southwestern shore of Mono Lake, which many Yosemite-bound travelers use as their base. The lake itself is a popular landmark in the area, due to the unique limestone formations formed by the highly alkaline lake water. These rugged, almost skeletal outcrops are bizarre yet beautiful, making for a particularly striking sight when they jut out of the water among the Sierra Nevada's snow-capped peaks reflected in the lake's still surface. Just a 30-minute drive away is Yosemite's Tioga Pass, a winding route that passes some of the valley's most sweeping views. Before setting out, rest up at Double Eagle ResortKa.
Kayenta, Arizona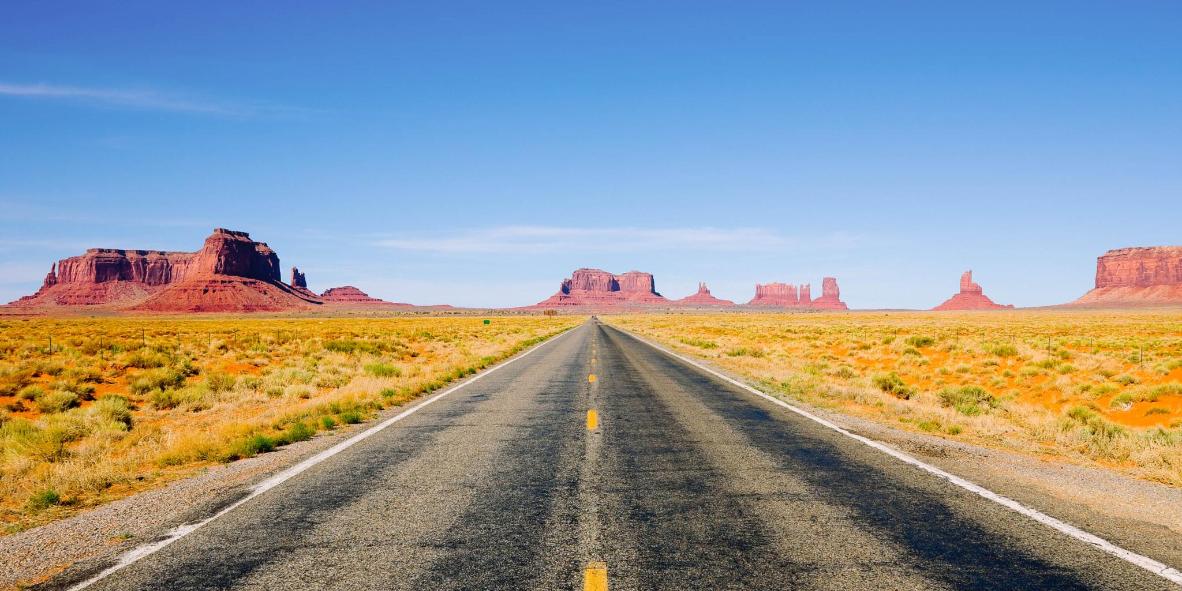 Visit the giant sandstone buttes only a 20-mile drive away
The town of Kayenta is the perfect place for nature-lovers to use as a base when visiting Monument Valley. After a quick 20-mile drive, you'll be surrounded by sandstone buttes rising up into the sky. They were formed over the course of millennia by the many rivers that used to cut across the plateau. The landscape is so unique that it's come to be recognized as an enduring symbol of the American West. You'll need a tour guide to lead you around since there aren't any trails, or you could head to the Navajo Tribal Park which does have marked trails with viewpoints from some of its most impressive peaks. Some of the best view are found along the Valley Drive, a one-way road that overlooks Monument Valley. Make a pitstop along the way at Goulding's Lodge.
Denali Park, Alaska
Keep an eye out for both grizzly bears and the Denali summit
Denali Park is one of America's most pristine frontiers. The northern area is a vast pine forest stretching toward North America's tallest mountain, Denali. August to mid-September is the best time to visit, when the crowds have thinned and the air has cooled, letting you view Denali through clear skies. You might spot herds of moose and caribou feeding on spruce, or even catch a glimpse of a lynx, wolf, or grizzly in the forest. Another park highlight is Wonder Lake, a glimmering, mirror-like body of water that reflects Denali in the distance. Give yourself plenty of time to explore by staying at the nearby Denali Tri-Valley Cabins.
Klamath Falls, Oregon
Crater Lake is the country's deepest lake
Klamath Falls is a quiet, cozy town that's just minutes away from Crater Lake National Park. The lake itself is the deepest in the US, and looks like it could also be the country's bluest. It was formed around 5700 BCE after a volcanic eruption, causing the summit to collapse and form an immense caldera, which filled with rain and melted snow until forming the lake we see today. It's home to Wizard Island, named not only for its magical ambiance but also for its resemblance to a wizard's hat. Rings of red fir, mountain hemlock border the shores, and Ponderosa pines—the tallest trees in the forest—jut high above the tangle of woods. After a full day outdoors, relax with a night at Shilo Inn Suites.