Green by definition – its energy provided by more than 200 volcanoes and a huge number of hot springs – Iceland is a must-visit for anyone who loves nature in its rawest, wildest incarnation. And the best hotels in Iceland are the perfect place to start if you're planning an adventure to the Land of Fire and Ice.
In Iceland, glaciers loom roadside, waterfalls thunder down within arm's reach, geothermically toasty rivers invite you to strip off and plunge right in, and whales leap out of the sea beside you - it's a place like nowhere else.
But while this country is all about the great outdoors, the best hotels in Iceland respond to the landscape in very special ways, providing alfresco amenities such as hot tubs but also warmly welcoming interiors that emulate rather than try to rival the landscape.
Local stone, wood, grasses, and other materials are used in their construction - as seen most dramatically in the Torfhús Retreat with its green-roofed turf houses - and earthy, somber palettes echo the colors of the local moss, heather, berries, and black-sand beaches.
A world away from this are the cosmopolitan temptations of Reykjavík, one of Europe's smallest capitals but one that punches above its weight in terms of art, history, shopping, and dining. And tucked in among these treasures are some of the best hotels in Iceland – chic but welcoming urban boltholes such as the Sandhotel, where you can hole up in the bar-bistro with cinnamon-spiced buns still warm from the adjoining bakery.
Check out the best hotels in Iceland for 2022.
1. Torfhus Retreat, Golden Circle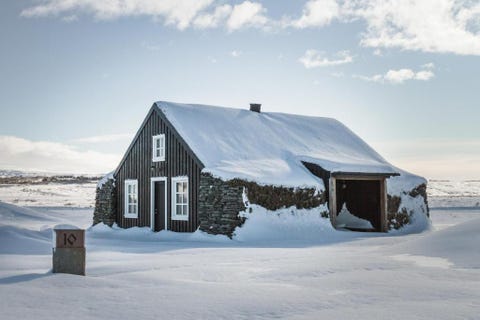 BOOKING.COM
East of Reykjavik, this charming, cosseting collection of traditional grass-roofed stone turfhouses is proof that the area contains Geysir, Gullfoss waterfall, and Thingvellir National Park is worth more than a day's coach tour from the capital. Check into the remote Torfhus Retreat far from light pollution and you'll enjoy glorious night-sky views from your private geothermally heated basalt hot tub – and, in winter, a high chance of spotting the Aurora Borealis.
There are also a few Torfbaer – individual suites, with a geothermally heated plunge pool shared between three. Staff will arrange local outings ranging from snorkeling between tectonic plates to horse-riding and Super-Jeep expeditions through the Highlands.
2. Sandhotel, Reykjavik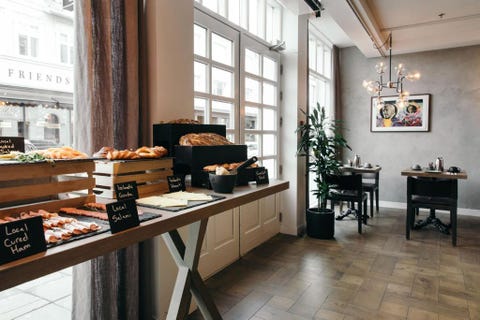 BOOKING.COM
Unobtrusive Art Deco touches and polished oak floors blend serenely with contemporary decor and artworks and restful natural hues to make the boutique Sandhotel a calm retreat in the heart of the Icelandic capital, just steps from the iconic Hallgrimskirkja and the National Gallery of Iceland.
You're in a plum spot on the Laugavegur, too, for the city's best shopping – think everything from digitally printed knitwear to one-off Nordic homewares – and some of its most tempting bars. The hotel was founded by the team behind the legendary Reykjavik bakery Sandholt right next door
3. Kvosin Downtown Hotel, Reykjavik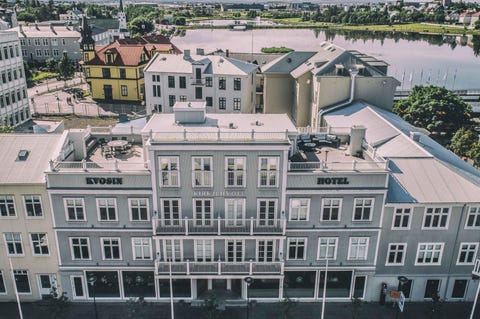 BOOKING.COM
Chic but homely, this intimate urban haven in a historic building right by the Icelandic Parliament and the old cathedral offers everything from ultra-bijou 'Cozy' rooms to spacious apartments. The apartments at Kvosin Downtown Hotel have kitchenettes complete with coffee machines, fridges that can be pre-stocked to your exact requirements before arrival and, in most cases, hobs for those who want to whip themselves up a light snack.
But you won't be able to resist the call of the snug bar, Aldamot, which translates as 'meeting of centuries' and offers an enticing array of wines, gin pairings, cocktails, and charcuterie and cheese platters.
4. ION Adventure Hotel, Nesjavellir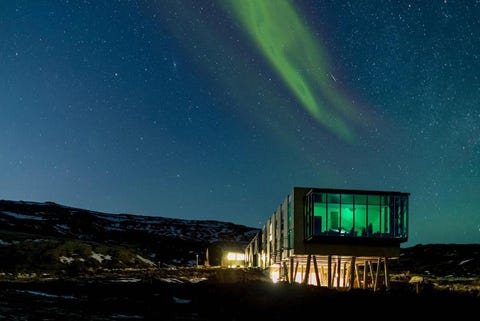 BOOKING.COM
Another property encouraging you to stay longer outside Reykjavik, this dramatic stilted structure beside a dormant volcano was built from the abandoned relics of a nearby power plant as a temple to both nature and pampering. The two combine in its superlative spa with its sauna built of lava rocks and its treatments based on Icelandic herbs, and in its outdoor deck with its long hot tub fed by local hot springs.
As the name suggests, guests at ION Adventure Hotel are encouraged to head outdoors, with offerings including diving in the Silfra fissure between continental plates. The bar was specially designed to maximize Northern Lights sightings, too.
5. Tower Suites, Reykjavik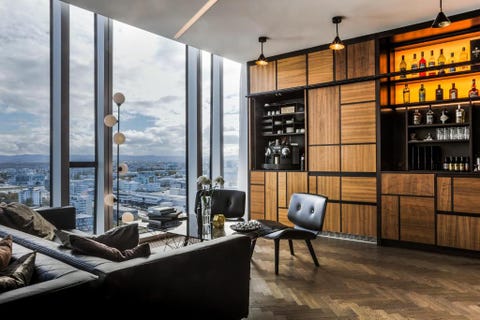 BOOKING.COM
All of Reykjavik and the surrounding coastline, mountains and glaciers lie at your feet at this eight-suite eyrie on the 20th floor of the city's tallest building, Tower Suites. When you're not tracking the changing weather and light patterns courtesy of your in-suite telescope, you're a short stroll from landmarks including Hofdi lighthouse and Klambratun Park with its art gallery and zip-wire.
Some of the sleek modern suites come with eggshell baths set in front of floor-to-ceiling windows. Invisible check-in via smartphone is available for those who like to keep things discreet, but champagne on arrival, a full concierge service and the Skylounge with an honesty bar bring a human touch to proceedings.
6. The Retreat at Blue Lagoon, South-west Iceland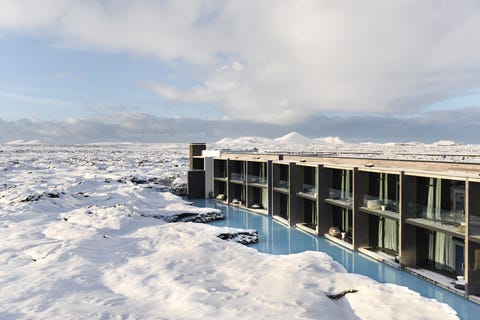 THE RETREAT AT BLUE LAGOON
Spa hotels don't come any more atmospheric than this luxury property at the world-famous thermal pools in their otherworldly setting of lava fields. Tucked away in the island's south-west corner but closer to the airport than Reykjavík (and hence great for a pre- or post-city-break stop-off), The Retreat at Blue Lagoon blends designer furniture with low-key references to the surrounding landscape such as fireplaces made of lava bricks.
But the spa's the star, of course – vast, state-of-the-art, and with access to its own tranquil section of the Blue Lagoon, far from the madding Instagrammer crowds. Complimentary yoga sessions and hikes add to the feel of a blissed-out escape.
7. Fosshotel Myvatn, Skutustadahreppur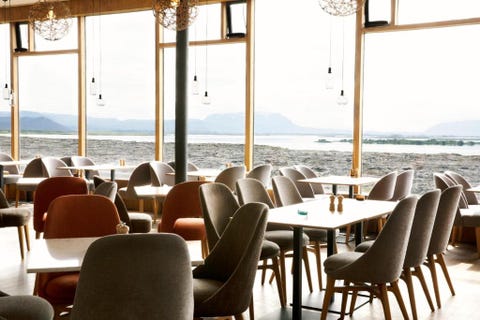 BOOKING.COM
In the lesser-visited north of the island where few overseas visitors ever tread, the uncompromising Fosshotel Myvatn sits in the midst of the almost lunar landscape of Lake Mývatn. It's hard to know what's most stunning: the low-rise, grass-roofed feat of modern architecture, the stylish interiors, the eye-catching innovative cuisine or the surrounding natural wonders – some of which may be familiar to you from Game of Thrones.
You're right on hand for the Myvatn Nature Baths, a naturally heated artificial lagoon with mineral-rich waters that make it a good alternative to the Blue Lagoon across the island.
8. Hoepfner Historical House, Akureyri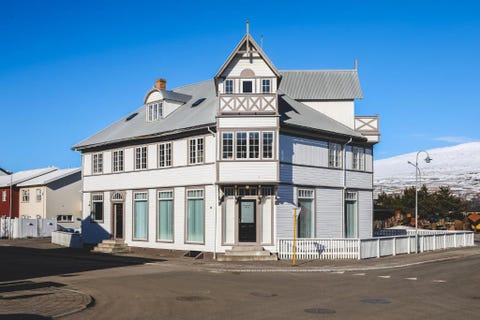 BOOKING.COM
If you're looking for a characterful place to stay in the whale-watching capital of the north, this classic Scandinavian merchant's house constructed in 1911, when Iceland was still under Danish rule, ticks all the boxes.
Affordable but furnished with taste and imagination, Hoepfner Historical House has a handful of apartments all with kitchenettes and up to three bedrooms, and some with sea views, making it a great option for families. The prize spot is the lovely wooden-floored loft with its original beams.
9. Umi Hotel, Hvolsvollur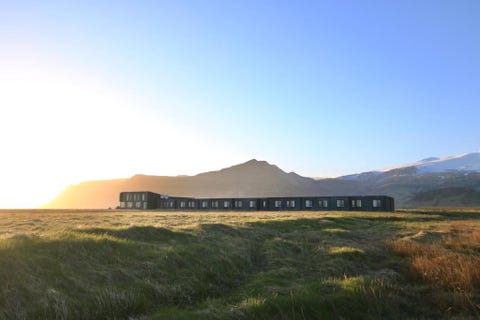 BOOKING.COM
With its own deserted stretch of black-sand beach, friendly resident pooch Breki and fresh modern decor, this tiny gem of a family-run hotel on the road out to Vik is an alluring stop-off for those making their way along the south coast.
Just a few minutes from the mighty Skógafoss waterfall, Umi Hotel also has views of the Westman Islands from its restaurant, and the subglacial volcano Eyjafjallajokull (the one that caused all the ash-cloud dramas of 2010) from its lounge-bar. Nearby activities include ice-cave exploring, glacier hikes and snowmobiling sorties.
10. Foss Hotel Glacier Lagoon, Hnappavellir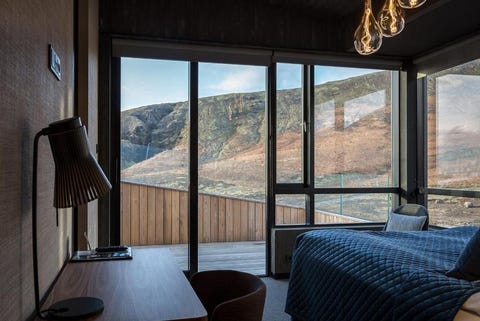 BOOKING.COM
The best hotel in Iceland for those en route to the Jokulsarlon lagoon, with its iceberg-dotted waters and seal population, the imposing Foss Hotel Glacier Lagoon is also brilliantly located for hiking in the Skaftafell National Park. Slick contemporary rooms come with ocean or mountain views, and there are also outdoor wooden hot tubs with views across to the waters and a sauna.
The restaurant with its glacier-inspired geometric decor serves imaginative dishes based on the freshest ingredients from the surrounding nature – the likes of smoked sheep carpaccio marinated in rose pepper honey, with blueberries and roasted hazelnuts.