Going on a great rail journey is one of the best ways to travel. Now that holidays are back on the table, we can start planning a once-in-a-lifetime rail journey for 2022.

From reducing your carbon footprint to exploring the world at a slower pace, there's nothing better than exploring the world by rail.
Whether in the UK or venturing to Europe, the world is packed with incredible rail journeys for unforgettable escapes.
Taking you back in time on steam train rides, allowing you to soak up all the nature around from their panoramic windows or giving you a seasonal experience aboard an iconic train, these great rail journeys are like nothing else.
For travellers going solo, planning a romantic escape or even a celebration with friends, they provide unrivalled views, nostalgia and glorious scenery passing by.
From North Wales to Switzerland, you don't have to travel far to experience great rail journeys, but for those who are after a far-flung adventure, Canada and Japan tick the right boxes.
Browse and book the world's 16 greatest rail journeys for 2022.
1. Royal Scotsman, Scotland
For a pinch-me kind of great rail journey, the one and only Royal Scotsman offers all the goods. Timeless, luxurious and romantic, this amazing train ride oozes glamour, with its mahogany-clad cars with en-suite cabins, tweed furnishings and even an on-board spa for you to experience a palace on wheels.
BELMOND
Gliding through picturesque Scottish countryside, the Royal Scotsman takes you to breathtaking locations, including Loch Lomond, Ben Nevis and the Isle of Bute. The bar is an excellent spot to sample the finest malts and the gourmet dining cars serve up some of the fabulous ingredients found in game-rich glens and the sea surrounding Scotland.
2. Rauma Railway, Norway
For one of Europe's most breathtaking rail journeys, Norway's Rauma Railway takes you through some of the country's most dramatic scenery. It runs for 114km between the leafy town of Dombas and Andalsnes, the famous mountaineering capital.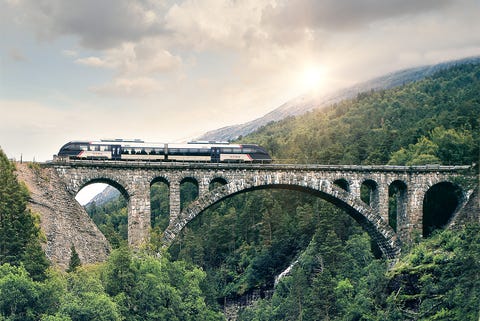 LEIF OLESTAD
Travelling through the mountains of central Norway, you'll get to see fjords, valleys, lakes, mountains and forests from your carriage. The train also passes over 32 bridges and glides through six different tunnels.
3. Bernina Express, Switzerland
This spectacular train runs from Chur and St Moritz, taking you along the east of the tiny country on a fabulous four-hour rail journey. The Bernina Express takes in 55 tunnels, 196 bridges and three of Switzerland's four language regions (Italian, Romansh and German).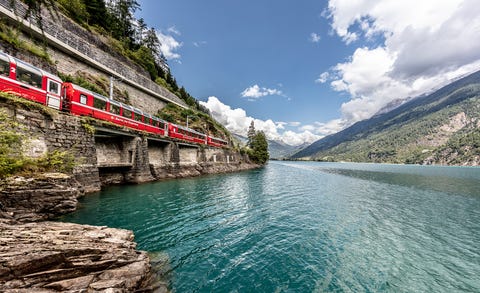 ANDREA BADRUTT
You can expect 90 miles of stupendous Alpine scenery gliding past you on one of Europe's great rail journeys. With its panoramic windows, you won't want to put your camera down for a moment. A highlight is the UNESCO-protected Landwasser Viaduct, which is straight out of a Harry Potter film.
4. Snowdon Mountain Railway, Wales
When it comes to terrific views in Britain, you won't find a better rail journey than Wales' Snowdon Mountain Railway. Offering you a ride up the mighty Mount Snowdon, this great rail journey is known for its top-notch scenes. It lifts passengers 1,085 metres up above sea level for a relaxing ride up the highest mountain in England and Wales.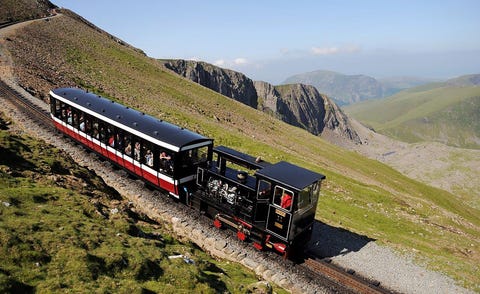 SNOWDON MOUNTAIN RAILWAY
As you depart from Llanberis, you'll pass over Victorian viaducts, the Afon Hwch River and past the Ceunant Mawr Waterfall. Look out for the remains of stone cottages that were once home to farming families, wildlife like the peregrine falcon and goats, plus a view all the way over to Ireland on a clear day.
5. Bure Valley Railway, England
As Norfolk's longest narrow gauge steam railway, the Bure Valley Railway runs between market town Aylsham and lively Broads town Wroxham. Running for nine miles, it treats passengers to gorgeous Bure Valley countryside and stops in lovely villages. You'll enjoy the stop at Aylsham Station, where there's a cafe, souvenir and model railway shop.
At Wroxham Station, there's a second-hand bookshop with over 5,000 books to browse. One of the best things about this great rail journey is that it's perfect for combining with a cruise on the delightful Norfolk Broads, where you can spot pretty windmills and take in the nature all around.
6. Centovalli Railway, Italy
Fans of the Italian lakes and Alpine Switzerland should check out the Centovalli Railway, which offers an unforgettable Italian rail experience. It's been taking passengers to some of Italy's loveliest towns since 1923, taking only two hours to travel from Italy to Switzerland.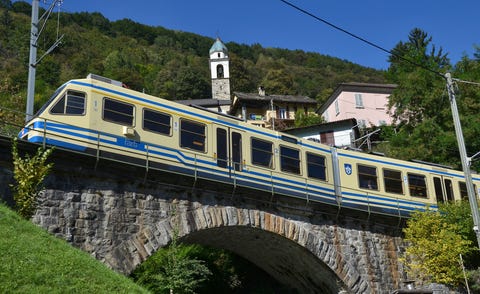 FEDERICA GRASSIGETTY IMAGES
A scenic rail journey through wild, romantic countryside, it was named after the so-called hundred valleys it passes through, where you'll spot chestnut woods, grape vines and lush waterfalls along the way. The specially-designed windows allow you to take in the breathtaking scenery and you'll love exploring the picturesque towns and villages, including Domodossola, home to a UNESCO-protected Baroque calvary, and Druogno, a great spot for walking and cycling.
7. Bluebell Railway, England
One of the most delightful railway journeys for taking in the beauty of the seasons in Sussex, the Bluebell Railway is arguably one of Britain's best steam trains. The UK's oldest preserved standard-gauge railway, it shows off the area's beautiful bluebells each spring but is just as wonderful at other times of the year.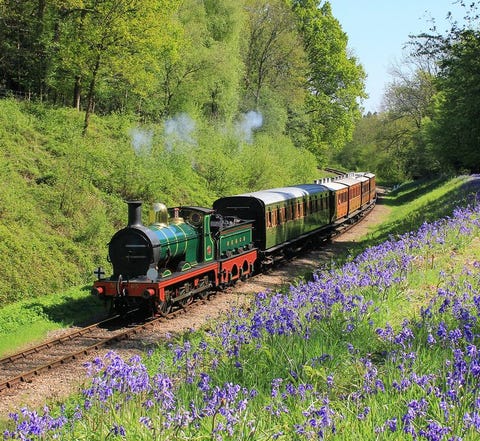 PETER EDWARDS
Run by volunteers, the Bluebell takes you through 11 miles of gorgeous South England scenery in the luxury and comfort of a bygone era. It's known for its historic carriages, which include two 1920s Pullman carriages. The old stations are a treat too - don't miss a look around Sheffield Park, which harks back to the 1880s, and Horsted Keynes, which transports you to the 1920s.
8. Achensee Cog Railway, Austria
This 128-year-old railway is still steam-operated and provides one of the finest ways to experience Austrian Tyrol. Giving you some adventure and inspiration, it travels from Jenbach to the jaw-droppingly beautiful Achensee Lake. You'll ride a locomotive named after the likes of Hannah, Georg and Hermann as you experience Europe's oldest coal-fired steam engine.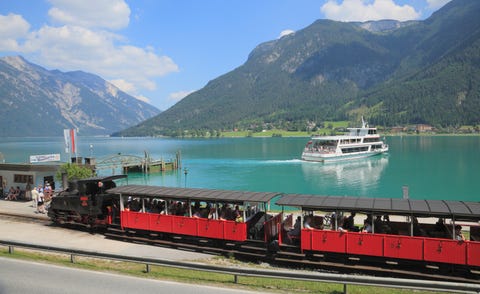 YOSHIHIRO TAKADA/A.COLLECTIONRFGETTY IMAGES
You can expect to pass flower-strewn meadows and pinewood forests and you'll feel nostalgic as you smell the coal being shovelled into the furnace to power the engine. While this great rail journey is just seven kilometres in length, it climbs a whopping 440 vertical metres from start to finish. Once you've experienced the rail journey, you may wish to spend time relaxing with a boat ride across Lake Achensee.
9. Jacobite Steam Train, Scotland
The Scottish Highlands' Jacobite steam train has always given us proof that you don't have to travel far for one of the world's greatest rail journeys. Featuring in the Harry Potter films as the Hogwarts Express, this magnificent train ride is one that surprises and delights passengers.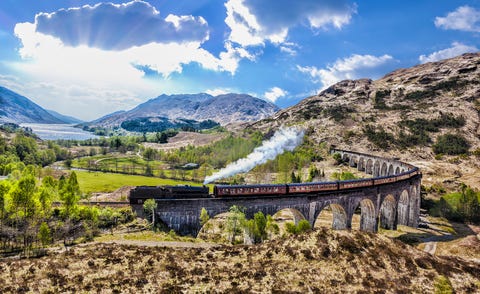 SHUTTERSTOCK
Starting near Britain's highest mountain Ben Nevis, the 84-mile round trip is one for taking in the incredible wild beauty of Scotland. You'l pass over the 21-arch Glenfinnan Viaduct, just like Harry Potter, and stop in Mallaig (a great spot for fish and chips). On a clear day, you may even spot the isles of Rum, Eigg, Muck and the southern tip of Skye during this fantastic train experience.
10. Glacier Express, Switzerland
Another fine choice for a great rail journey in Switzerland and easily accessible from the UK if you decide on a flight-free trip, the
Glacier Express
is as magical as they come. Opt for a winter ride to take in Switzerland's winter wonderlands, with snow-covered forests and majestic peaks included.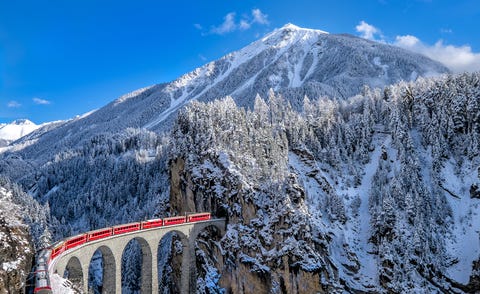 SHUTTERSTOCK
It's known as the world's slowest express train as it's an eight-hour experience and travels over 291 bridges and through 91 tunnels. The highlights include climbing the Oberalp Pass at 2,033 metres and feasting on a three-course meal as the snowy scenes pass you by.
11. Mid-Norfolk Railway, England
A beautiful heritage railway that takes you through the heart of
Norfolk
, the Mid-Norfolk Railway offers a true way to step back in time. You can experience a period ticket office at Dereham, see displays of railway artefacts and enjoy the beauty of the county at Wymondham, with the Abbey Church and River Tiffey located nearby.
The Mid-Norfolk Railway, which runs between Dereham and Wymondham, offers wonderful views of the countryside, with wildflowers, deer and fishing lakes to spot. Be sure to take time to explore the stations at Yaxham, Thuxton, Hardingham and Kimberley, which retain original features.
12. Ffestiniog Railway, Wales
Established in 1832, the Ffestiniog Railway takes you on a 13 and a half mile journey from Porthmadog's harbour to slate-quarrying town Blaenau Ffestiniog. The rail ride takes just over an hour, with the trains climbing over 700 feet above sea level. As you'd imagine, the views are heavenly and take in some of the best Welsh countryside.
It takes you into the mountains, through spectacular forests and past crashing waterfalls. The highlights include the round horseshoe bends on the side of a mountain. It's one of Wales' best experiences and a must-do if you're planning a trip in the north of the country.
13. Rocky Mountaineer, Canada
For a luxurious ride that takes in amazing wildlife and views to die for, you'll want to venture to Canada and experience the Rocky Mountaineer train. This a great rail journey for nature lovers and ensures you take it all in with the panoramic windows making you feel up close to the wilderness.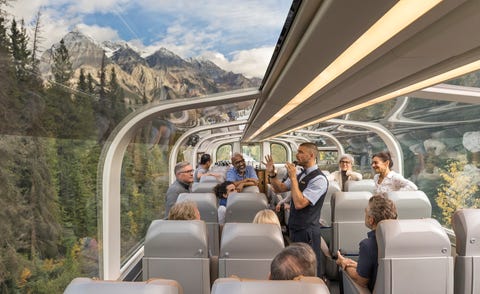 ROCKY MOUNTAINEER
There are dining areas, staff who will talk to you about the outside scenes and keep an eye out for any bears to spot in the area. You'll want to bring your camera on this trip as black bears, grizzlies, ospreys, bald eagles, bighorn sheep, elk and even cougars could be spotted as you travel at a relaxed 35 mph.
14. Poppy Line, England
The North Norfolk Railway, or the Poppy Line as it is also known, is one of the greatest heritage railways Britain has to offer. This great rail journey takes you on a breathtakingly scenic ride from Sheringham along the coast to Weybourne and through the beautiful heathland to Holt.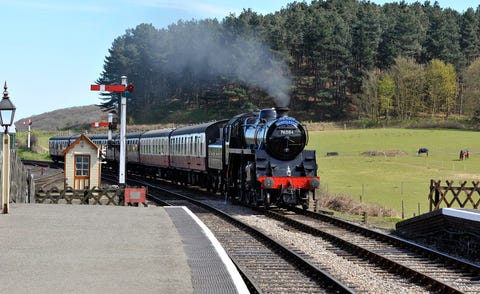 SHUTTERSTOCK
Lovingly run by volunteers, the train takes you back in time on a nostalgic ride, where you can sit back and enjoy the relaxing experience. It visits three Victorian stations, including Sheringham Station, where you'll want to check out the 1950s' waiting room and restored signal box.
15. Dartmouth Steam Railway, England
One of the finest steam train trips in England, the Dartmouth Steam Railway from Paignton runs for seven miles along the scenic Torbay coast to Goodrington Sands, Churston and into the Dart Valley and on to Kingswear, which sits opposite the pretty Port of Dartmouth.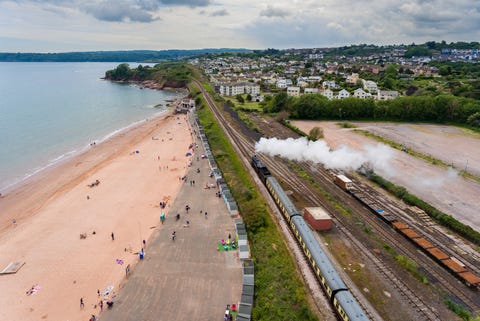 STEVED_NP3GETTY IMAGES
From the heritage railway, you can expect to take in magnificent views right across Lyme Bay to Portland Bill on clear days.
16. Brocken Railway, Germany
We can't think of a better way to experience Germany's fairytale scenery than on a great rail journey on the Brocken Railway. Together with the Harz Railway and Selke Valley Railway, it's part of the railway network that travels to the beautiful Harz Mountains.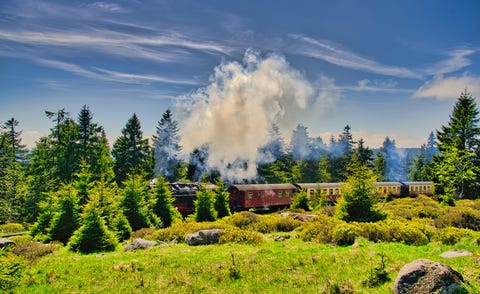 EZYPIXGETTY IMAGES
The steam train hauls visitors to the summit of Brocken, the highest peak in the mountain range. Once you reach the top, you're rewarded with breathtaking views of the mountains. Departing Drei Annen Hohne station, the train climbs for around 50 minutes, taking you past pretty meadows and pine forests for a nature-packed ride before you arrive at Brocken station.