So you walked through the buzzing streets of Shinjuku, scrambled through the crowds at Shibuya Crossing, and taken in the dazzling city views from atop the Tokyo Skytree – but you still have time to kill in Tokyo before your taxi picks you up for the airport. As Japan's capital takes the world stage this year, the city has more to offer than ever before. Check out our ultimate itinerary on how to spend 48 hours in Tokyo, designed for every type of traveler.
Enjoy a family day out at Shinagawa Aquarium
If you're traveling with kids, a trip to one of Tokyo's many aquariums is a must. As an island country, Japan is infatuated with the sea, and Tokyo has more world-class aquariums than fingers on your hands. If you're looking for an effortless family day out, Shinagawa Aquarium—centrally located near many hotels and transportation hubs—is the place to go. Dive into this aquatic wonderland that boasts over 450 species of marine life, and marvel at its 500-ton tank, which is home to green sea turtles, giant rays, and more.
Little daredevils will love walking through the 70-foot-long acrylic glass tunnel as sharks loom above and schools of iridescent fish flash by. When visiting, make sure to check out the jellyfish aquarium that's illuminated with hundreds of tiny, flickering lights. It's sure to keep everyone wide-eyed and entertained. Shinagawa Aquarium is fairly small and houses 28 exhibitions, which will leaves you with time to continue exploring the city.
Party with friends and locals at the Ruby Room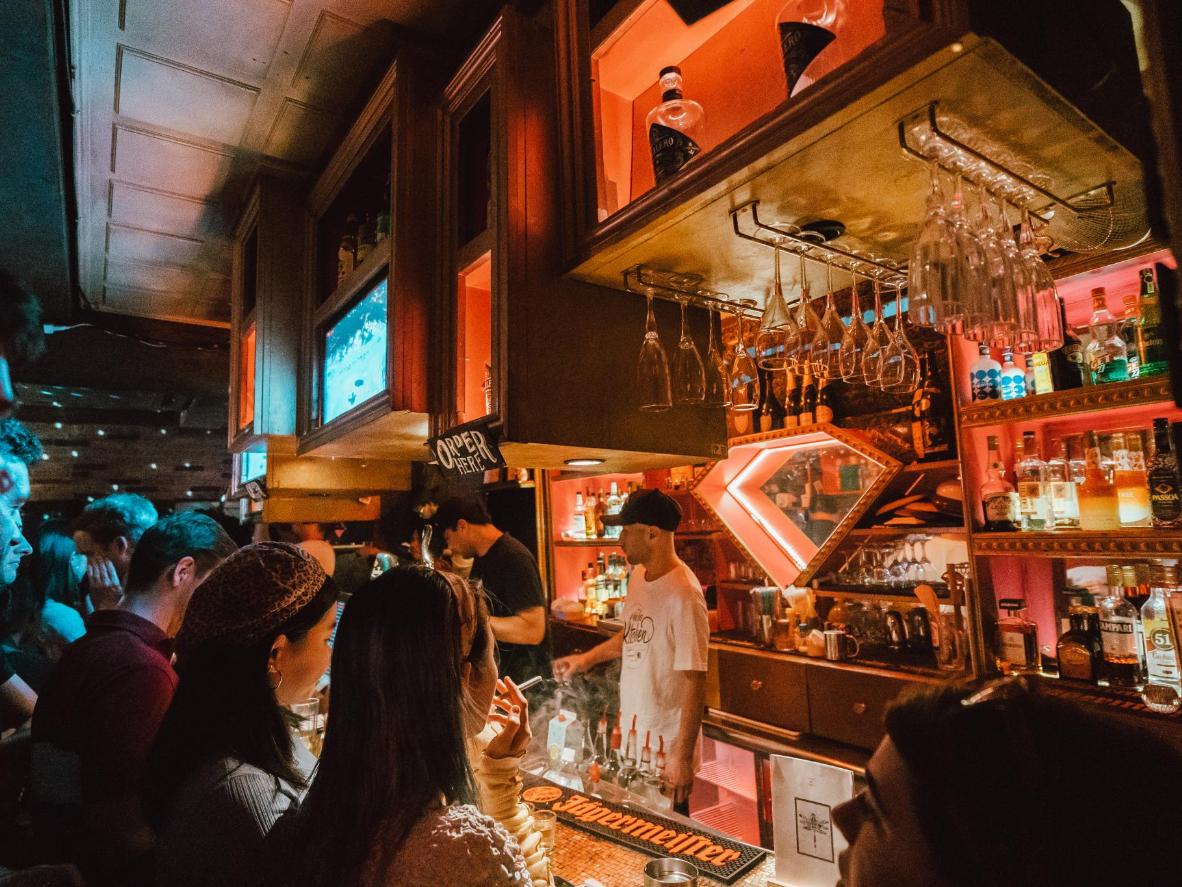 Ruby Room Tokyo is at the core of Tokyo's indie scene
Ruby Room is where Tokyo's experimental clubbing scene converges with the indie crowd. This American-owned nightclub is located in the heart of Shibuya and is famous for its lineup of international artists and affordable entrance fees. The music played here is unapologetically alternative, suffused with a uniquely Japanese underground vibe that'll have your fist pumping and body swaying before you even grab a drink. This is the ideal place to gather the gang for an unforgettable night out in Tokyo – or to dance the night away with someone special.
Shibuya has an array of experiences for night hawks, ranging from neon-lit pub crawls with friends to traditional izakaya that you can sneak off to with someone special. The latter is a type of gastropub where you stand shoulder to shoulder with locals while enjoying saké and small bites such as yakitori and grilled meats. For an authentic izakaya experience, check out Tenku no Tsuki, located just a five-minute walk from the Ruby Room.
Find a private moment of calm at Shinjuku Gyoen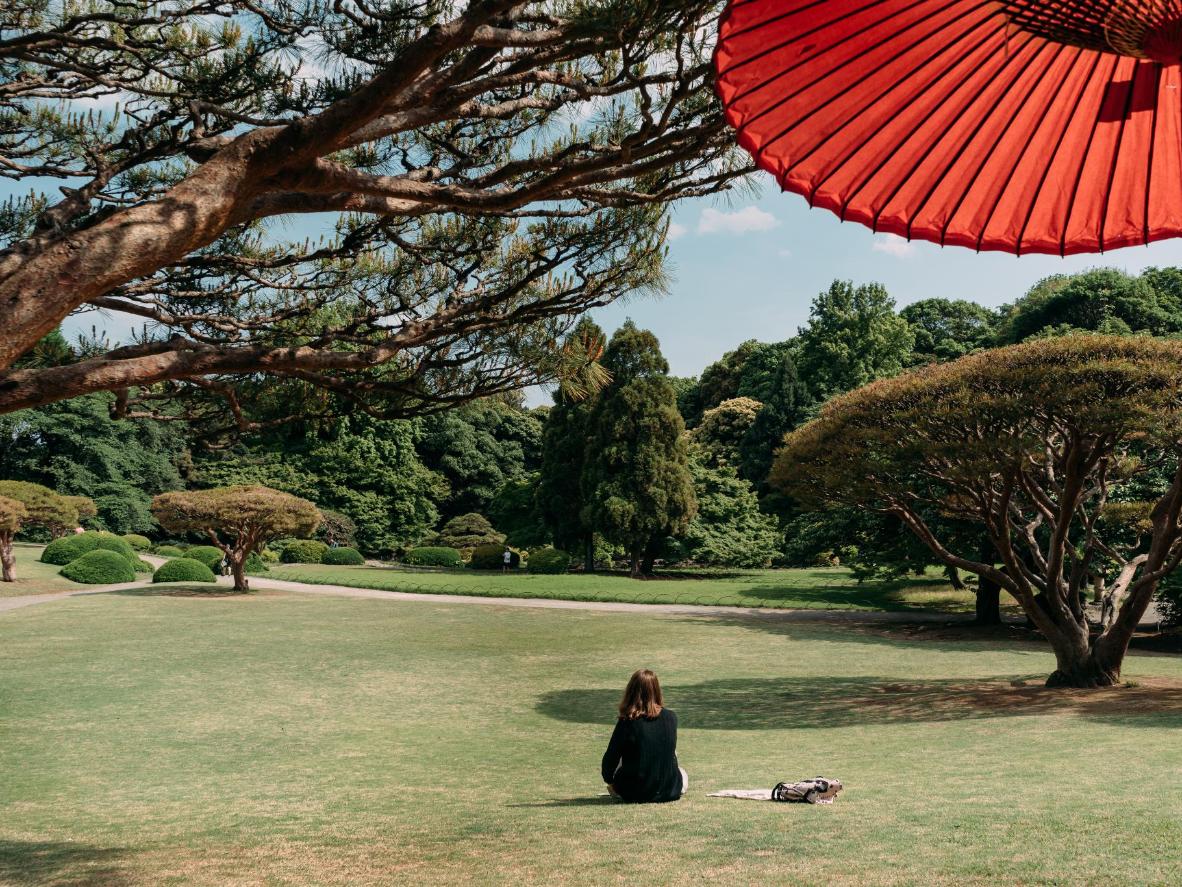 Take a picnic among colorful scenery of Shinjuku Gyoen National Garden
If you're traveling solo, you might want to take a break from meeting new people and chasing your itinerary at Tokyo's green heart, Shinjuku Gyoen National Garden. Countless cascading waterfalls and blooming cherry trees await in this city garden that could give Central Park a run for its money. Its history dates back to 1590 when the land was given to the feudal Naitō family during Japan's Edo period. Now, the gardens are accessible to everyone for ¥500, about the price of a coffee.
Grab a book, pack a picnic, and wander along Shinjuku Gyoen's meandering waterways, wooden footbridges, and tree-lined boulevards until you find the perfect clearing to rest. Remember to gaze up while exploring the gardens – patches of blue sky punctuated by the tops of skyscrapers are the only reminder of the hustle and bustle outside of this quiet oasis.
Eat your way through Toyosu Fish Market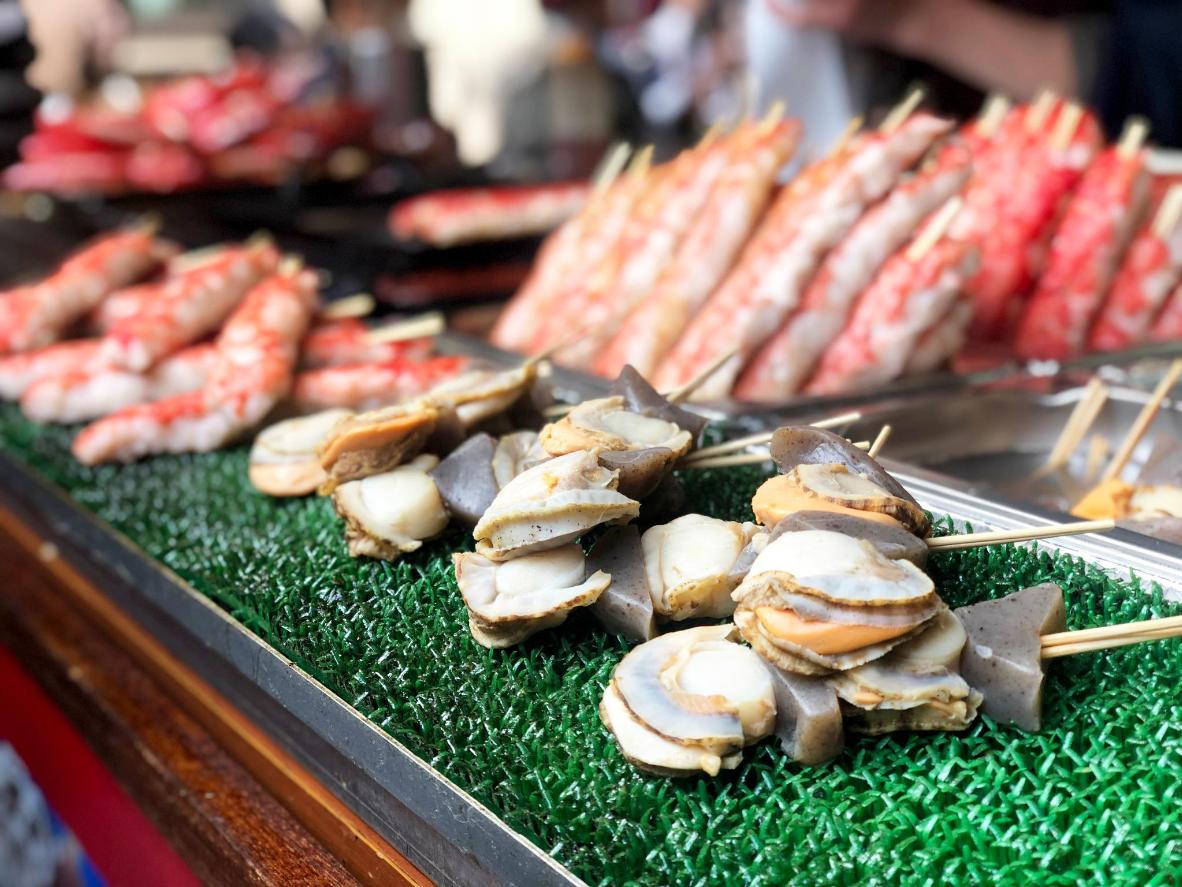 Fresh seafood at Toyosu Fish Market
Perfect for every traveler, Toyosu Fish Market is a must-see in Tokyo if you love sushi and watching modern-day culture come to life. This fish market is famous worldwide for its daily tuna auctions that start and end before sunrise. Situated at the southeastern edge of the city in a busy industrial harbor by Tokyo Bay, Toyosu Fish Market is a feast for your eyes and belly. Early birds can witness the daily catch being brought in and try their luck at the auction, but be prepared to shell out if you win – a bluefin tuna sold for 20.8 million yen ($202,197) in 2021.
If anyone in your group is squeamish about live seafood and fish markets, don't worry. Toyosu Fish Market is ranked as one of the cleanest markets in the world. Locals often stop here for lunch, and the sushi is among the freshest you'll find – you can literally dig into sea-to-table fare!
Wander the grounds of Asakusa Temple
Explore Asakusa Temple
Asakusa Temple is the most culturally important site in Tokyo, and one of the only two buildings in the Taitō ward that survived World War II. This Edo-era shrine was built when—according to legend—two brothers fished out a Guanyin statue from the nearby Sumida River. Guanyin is the goddess of mercy and the Chinese translation of the bodhisattva (Buddha) in female form.
Entrance to the temple is free, but you're welcome to make a donation. This is an active place of worship for locals, where you can see traditional rituals being performed any day of the week. Enjoy a quiet stroll through the temple's hallowed hallways and airy gardens while admiring the ancient architecture and iconic red lanterns that line the path toward Nakamise shopping street. If you manage to get there before the crowds flock to Asakusa, you'll have most of the temple to yourself for exploring.
Immerse yourself in fantasy at Studio Ghibli Museum
Studio Ghibli Museum, Tokyo
The heartwarming repertoire of Studio Ghibli and its key creator, Hayao Miyazaki, shouldn't need an introduction. But if you're new to the world of animation, this is one of the most acclaimed studios in the world. It brought the movies "Spirited Away" and "Howl's Moving Castle" to our screens, and gave us emblematic characters such as the giant cat-like spirit, Totoro.
Known for being wholesome, artistic, and saturated with melancholic undertones, Studio Ghibli will entertain children and rekindle forgotten memories in adults. The studio is so deeply entrenched in pop culture that its museum was recently saved from closure thanks to record-setting crowdfunding efforts.
Studio Ghibli Museum is located in Mitaka, just a 38-minute metro ride from Shinjuku. It provides a meditative exploration of childhood fantasies experienced through tactile artworks, massive indoor mazes, studio sets, and more. There's also a garden inhabited by Ghibli characters and an on-site restaurant where you can rest and recharge.
Experience Japanese fine dining with someone special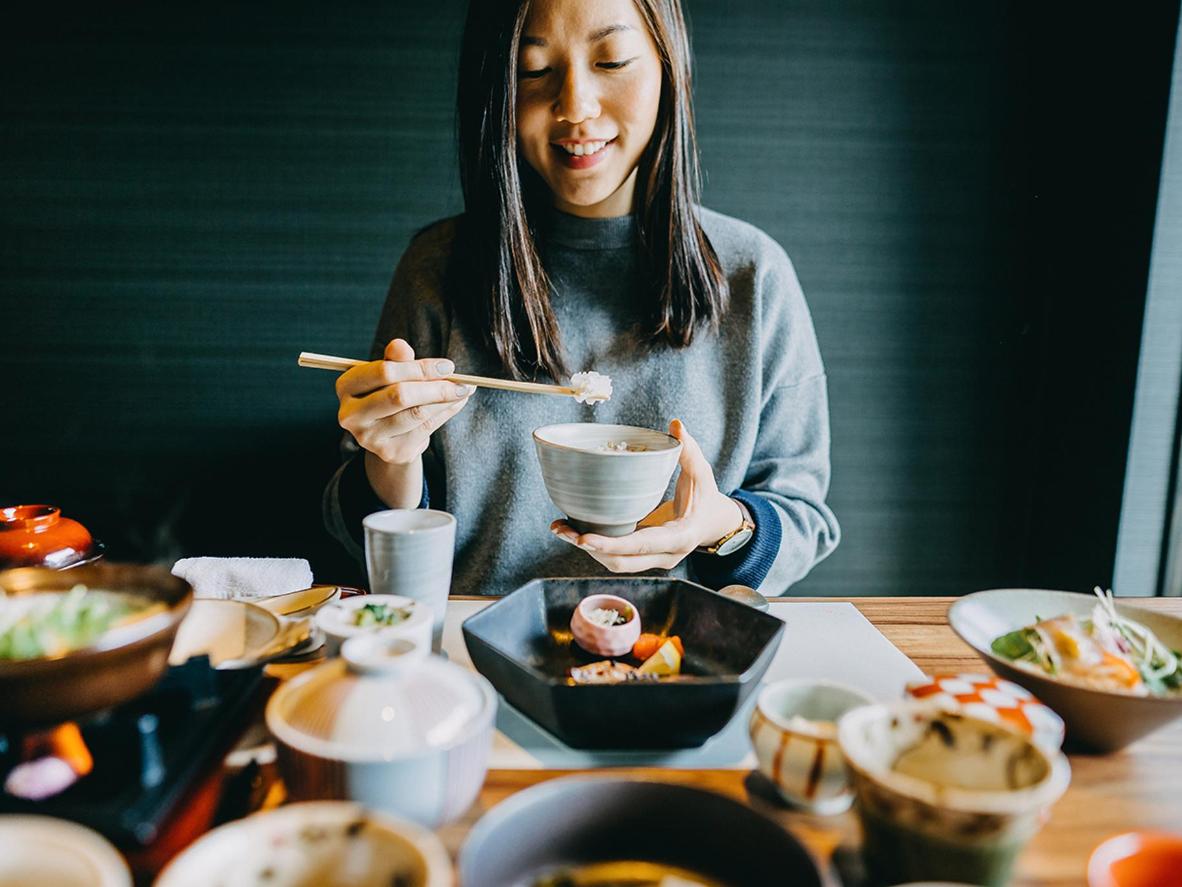 Enjoy kaiseki cuisine in the relaxing atmosphere of Nanzenji Hyotei Hibiya
Japan is only second to France for having the most Michelin star restaurants in the world, so finding delicious food comes easily. Even the tiniest hole-in-the-wall establishment promises to delight your taste buds thanks to the country's celebrated food culture. If you're looking for the best dining experience to share with a loved one, look no further than kaiseki-ryōri. Considered to be one of the world's most refined cuisines, kaiseki is characterized by its explosion of taste, texture, appearance, and colors presented through fresh, simple ingredients. It consists of many thoughtfully crafted small dishes stacked delicately upon traditional trays and special ceramic bowls.
Nanzenji Hyotei Hibiya is the oldest and most sought-after kaiseki-ryōri experience in Tokyo. At this restaurant, food is only half of the experience. Special attention is paid to every detail, from the tablecloth to the very plates that these precious meals are served on. Depending on the menu you choose, you'll dine in a private room or alcove surrounded by screen doors that open up to little tsubo-niwa, or "pocket gardens." Between the food, sights, and culture, you'll find yourself wanting more of what Tokyo has to offer as soon as your 48 hours wrap up.