Many travelers are becoming more and more environmentally conscious and seeking to decrease their carbon footprints while traveling, so it's great when you find that your accommodation shares those values. Here, we'll take a closer look at the top-rated spots across the US for eco-conscious Bookers.
EAST, Miami (Miami, Florida)
When you think of Miami, the first things that usually come to mind are its vibrant nightlife and beautiful beaches. Enjoy all that and more at EAST, Miami, an eco-friendly luxury hotel. Not only does the property feature keycard-controlled electricity in all of its rooms, they also provide amenities in reusable cloth bags instead of plastic ones. The hotel building itself was also designed with sustainability in mind, with a roof that collects rainwater to be repurposed for landscaping throughout the property. Go for a dip at one of the pools, relax at the on-site restaurants and bars—all lush with feng-shui inspired greenery—or enjoy the panoramic views of the city and the beach from the comfort of your balcony.
1 Hotel Central Park (New York, New York)
1 Hotel Central Park is an urban oasis
New York may be affectionately referred to as a "concrete jungle" due to the sheer number of skyscrapers in Manhattan, but it's also home to one of the world's largest urban parks. At 1 Hotel Central Park—an eco-friendly urban oasis—you can enjoy the perk of being mere steps away from it. The hotel's sustainability practices include using 100% organic cotton bed linens and implementing eco-friendly energy management and automation technology. There's also much effort put into reducing waste here – think chalkboards instead of notepads, filtered tap water in lieu of bottled water, and fresh complimentary fruit instead of packaged snacks. After checking in, take a stroll to the nearby Central Park, or have dinner at the in-house farm-to-table restaurant while surrounded by greenery. For those who would rather venture a bit farther, the hotel also offers complimentary bike valet service and Tesla rentals.
The Darcy Hotel (Washington, D.C.)
One of the rooms available at the Darcy
Bookers who want to see all of the main sights in Washington D.C. and want to stay at an eco-friendly hotel nearby will love The Darcy. Not only is it located just 10 minutes from the White House and National Mall, it also offers complimentary bike rentals as well as an in-house gear shop where you can rent strollers, children's bikes, and children's scooters to help you and your family reduce your carbon footprint during your stay. The hotel also features a complimentary fashion rental service—with selections of pocket squares, cufflinks, purses, and sunglasses, to name a few—for Bookers who want to reduce waste and look fabulous while doing so.
Axiom Hotel (San Francisco, California)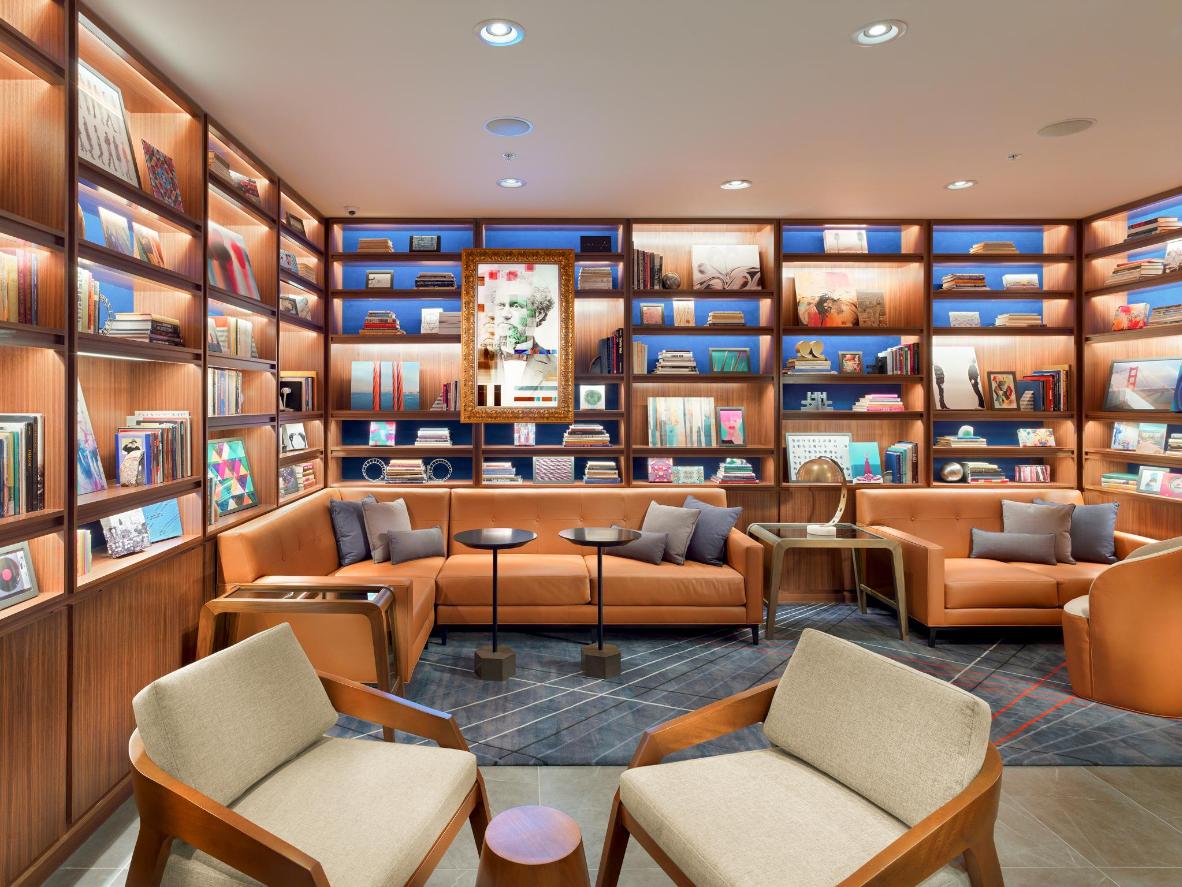 Sustainability meets Big Tech at San Francisco's Axiom Hotel
San Francisco's Silicon Valley is arguably the biggest technology hub in the US, and its influences can clearly be seen at the eco-friendly Axiom Hotel. Not only is it centrally located, it also offers complimentary fiber optic WiFi, RFID locks, online check-in, and messaging-based concierge access is available for all guests 24/7. However, this hotel also features many eco-friendly features, including in-room espresso machines, request-based room cleaning to minimize waste, and hydration stations on all floors instead of bottled water. Be sure to check out the common area where you'll find a variety of complimentary video games to play.
Archer Hotel (New York, New York)
Go green in style at Archer Hotel
Archer Hotel is located just a block away from Bryant Park—one of New York's most iconic parks—but you'll find plenty of green influences at the hotel itself as well. The hotel itself was built in part with repurposed wood, and has CO2 sensors installed in public areas for energy-efficient air cooling. It also uses an eco-friendly dry cleaning service, offers eco-friendly amenities, and provides guests with reusables instead of plastics. Don't forget to treat yourself to a gorgeous view of the Manhattan skyline from the rooftop bar after checking in.