The bulk of the US's domestic wine production takes place in the West Coast, and most will point to Napa Valley as the best-known New World wine region in the US. But if you're an oenophile—wine enthusiast—who wants to plan their next vacation around some excellent off-the-beaten path wineries, check out some of these lesser-known destinations in the US.
Loudoun County, Virginia
Loudoun County—just 40 miles from Washington DC—was primarily popular for its historical attractions, but is now making a name for itself in wine production. The soil here is generally rocky and full of clay, but the hilly landscape makes it perfect for viticulture. Fans of red wine will enjoy touring the wineries in "DC's Wine Country," since this region produces many Bordeaux varietals such as Cabernet Sauvignon, Cabernet Franc, Merlot, Petit Verdot, and Malbec. A couple of wineries produce blends as well. It may seem a bit overwhelming to choose from 40 wineries and tasting rooms to visit, but they're divided into six clusters which should help you narrow it down. Then head back to Goodstone Inn & Restaurant, a luxurious countryside estate. Choose from one of the two on-site restaurants to finish off your night, both featuring award-winning cuisine made with locally sourced ingredients.
Texas Hill Country, Texas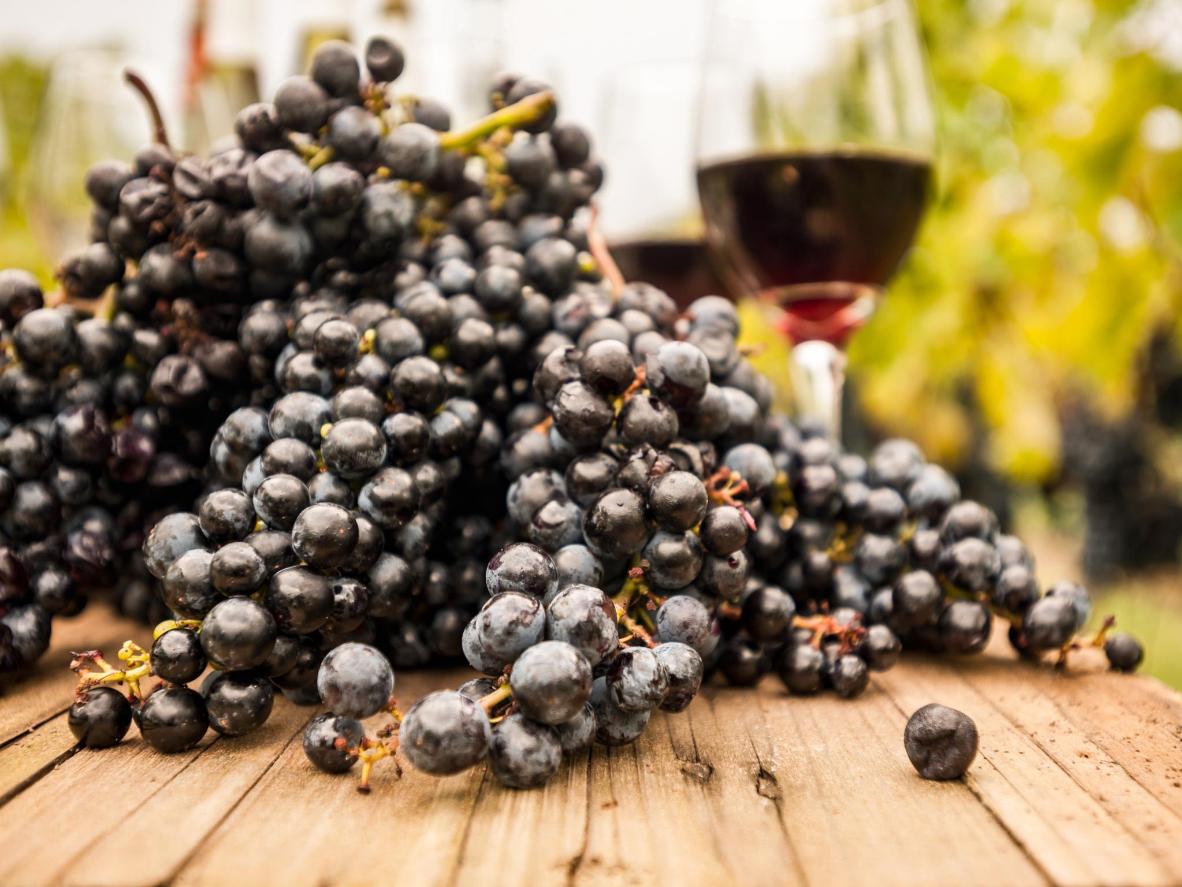 Enjoy a nice glass of Texan red in Texas Hill Country
Spanning about 9.6 million acres, Texas Hill Country is one of the biggest growing regions in the US. As its name implies, this area is very hilly, which has led to more extreme microclimates throughout. You'll mainly find reds like Cabernet Sauvignon, Zinfandel, and Tempranillo, as well as whites like Chenin Blanc, Blanc du Bois, and Chardonnay here. Take a tour at some of the 50-plus wineries, some of which feature live music alongside a wide variety of wines to enjoy. Dream Catcher in Fredericksburg is located close to many of the area's wineries, so check in there after a day on the wine trail and relax in the hot tub.
Verde Valley, Arizona
A vineyard in Verde Valley, Arizona
Verde Valley isn't an official AVA (American Viticultural Area) yet, but Arizona is no stranger to growing. The first vines were said to have been planted here over 300 years ago. Much of the state has a hot, dry climate that makes it difficult to grow grapes suitable for wine, but there are pockets throughout the state with cooler temperatures, more rainfall, and dry sedimentary soil which make for better harvest conditions. Winemakers here produce Syrah, Merlot, Muscat, Cabernet Sauvignon, and Zinfandel, as well as a wide range of blended wines. Drive down the Verde Valley Wine trail, featuring 25 wineries and tasting rooms, and give some of them a try. Afterwards, head to The Tavern Hotel, a luxurious modern hotel located right along the wine trail.
Leelanau & Old Mission Peninsulas, Michigan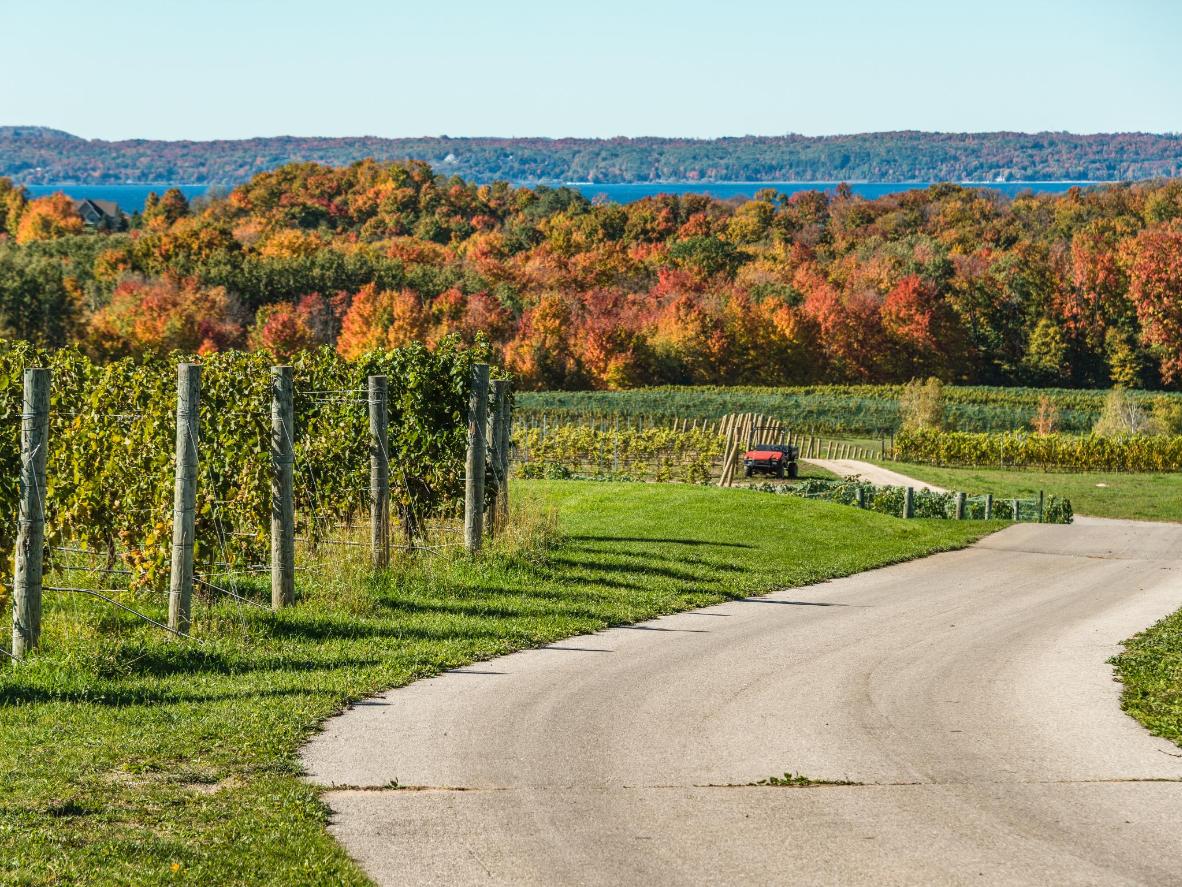 Vineyards along the Old Mission Peninsula
The Traverse City area in Michigan is primarily known as the "cherry capital of the world," but the region is also a budding wine destination. Old Mission and Leelanau Peninsulas straddle Traverse City to the east and west respectively, and stretch into Lake Michigan. Though only a short drive apart, the peninsulas are two distinct AVAs (American Viticultural Areas) with many different microclimates. Whites that favor colder climates, such as Riesling, Gewurztraminer, and Pinot Gris do especially well here, though the area produce some reds as well. You'll also find a good selection of fruit-based wines here, namely cherry – as to be expected.
Visit in May and ring in spring with the locals by participating in Blossom Day, a local winery tour celebrating spring's arrival. And when you're wined out, wind down with a view of the natural beauty of Lake Michigan at Bayshore Resort's private beach, located along the base of the Old Mission peninsula.
Snake River Valley, Idaho/Oregon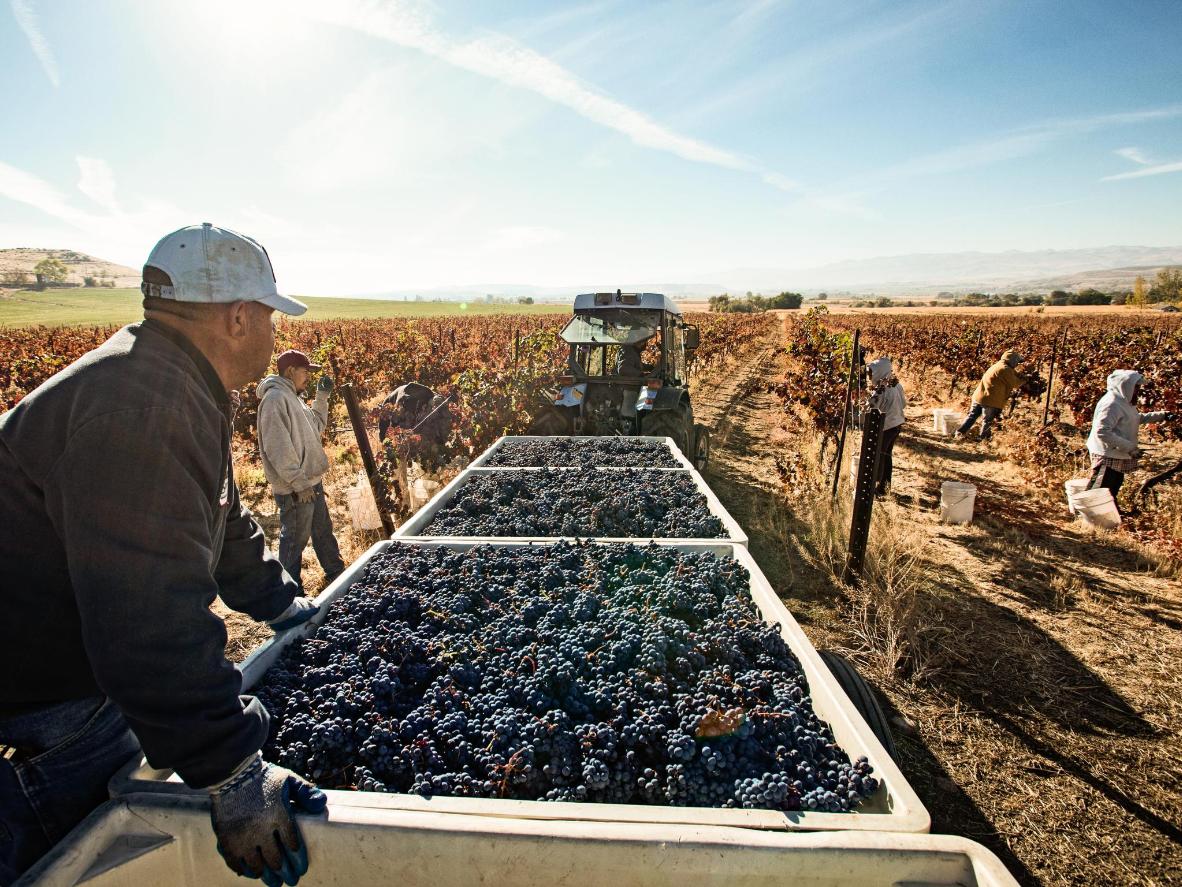 Workers harvesting grapes at a Snake River Valley vineyard
Snake River Valley is another younger AVA, but it's a top contender to become one of the US's major wine regions due to its unique characteristics. Much of the terroir in this AVA, which sits between eastern Oregon and western Idaho, is defined by volcanic, well-draining soil. That, paired with the high altitudes—with some areas well beyond 3000 feet above sea level—and extreme, short growing seasons produce some of the most interesting domestic wines. You'll find a few Bordeaux varietals here as well as whites like Chardonnay, Viognier, Riesling, and Syrah. Go for a wine tour through the valley, then check in to the swanky Inn at 500 Capitol in Boise – many of the top wineries in this region are within a 40-minute drive.