We asked Jase Wilson to share his tips on how to make a positive impact while traveling around Vietnam.
Photo © Brian Rapsey
For those of us privileged enough to travel, we are fortunate to discover and be warmly welcomed by communities around the world. But, our decisions have an enormous impact on the destinations we visit. Before you go to Vietnam, here are a few ways you can leave positive footprints behind.
Animal Tourism
Tourism and Local Communities
Sustainable Tours
Respect Hardships of War
Cutting Out the Plastic
Animal Tourism
While we're all in awe of elephants, tigers, and other exotic animals, they should only be viewed in their natural habitat. World Nomads is against all animal tourism experiences that put animals in danger.
Also, any souvenirs made from animal parts may seem harmless, like a sea turtle shell, bird feathers, or corals and seashells, but travelers need to think of how these wonders were acquired – how would you know if they were poached from the wild? Avoid animal-related products or experiences as best as you can, don't contribute to cruelty, poaching, or the robbing of wild species from forests.
Here are a few things to keep in mind:
Always read traveler reviews about a particular animal encounter or destination – for example, check this one out

.

If you are considering joining a tour that involves animals remember that; riding them is never a good idea, photo opportunities generally involve sedated animals, any time an animal is taken out of its environment (e.g. into the streets of Hanoi) it is being harmed.
'Human behavior' in animals (like elephants painting) has to be trained and is usually done so with violence.
Do your research on all zoos before visiting.
The best way to see animals is on a wildlife-watching tour, a guided jungle trek or by visiting a wildlife sanctuary.
Elephants
Regrettably, the situation for elephants in Vietnam is critical. Wild elephant numbers are declining due to habitat loss, poaching, and agricultural and economic development/land use politics. There are around 60 wild elephants left in Vietnam, and there are 40 in captivity. Instead of riding elephants, watch and engage with them at the recently developed Daklak Elephant Conservation Centre. The Vietnam Elephant Initiative can help travelers learn more about the work being done to save elephants in Vietnam, and how to get involved.
Civets
Many visitors are keen to try or purchase weasel, or 'civet-cat', coffee during their trips, which is coffee with a rare and chocolatey flavor, developed from coffee beans having passed through the civet's system. However, for this process to take place, the weasels must first be trapped with painful snares and wires, held in tight battery cages, and force-fed kilos of coffee beans, narrowing their diet and causing them great harm. While civets are not currently endangered, their current rate of capture is bringing the species horribly close. While there are farmers who will let their civets roam free to eat beans at their leisure, and later collect the droppings, the markets are flooded with unethically produced coffee as no guidelines exist.
Reptiles
Another animal-related souvenir is snake wine, which is often made by drowning live snakes in alcohol, including rare and endangered species). Snakes and other reptiles carry salmonella, and consuming these products presents a risk to travelers. While snake farms may be presented as cultural experiences, they are cashing in on the cruel maiming of exotic local and sometimes endangered, animals.
Tourism and Local Communities
Staying in ethnic traditional homestays, engaging with ethnic trekking guides, or buying ethnic handicrafts (and paying a fair price) means that your tourism dollars can bring enormous benefits and help alleviate poverty. Aside from that, it is also an excellent way to slow down your trip, learn more about local culture, get to know the families and have an authentic experience.
Want a souvenir? Buy a locally made handicraft. Bartering is acceptable in Vietnam, but don't bother losing face overpaying a little more – how much does a dollar or two really affect your budget?
Sustainable Tours
Booking with a tour provider that is committed to sustainability, ethical business practices, and local prosperity is a great way to make a difference. Before booking any tour, do your research, ask around locally and check on TripAdvisor, social media, and by asking other travelers.
Find out about Community Based Tourism (CBT) or other development projects, which usually work with international donors or INGOs, local partners, and universities to give tourism training or increased handicraft skills to local people.
For example, the trekking industry around Sapa has been heavily supported by tourism development partners which has allowed local ethnic minorities to offer authentic local products to travelers while improving their economic potential. One example is Sapa O'Chau, the first international and not-for-profit tour operator, founded and run by a woman from the Black Hmong minority.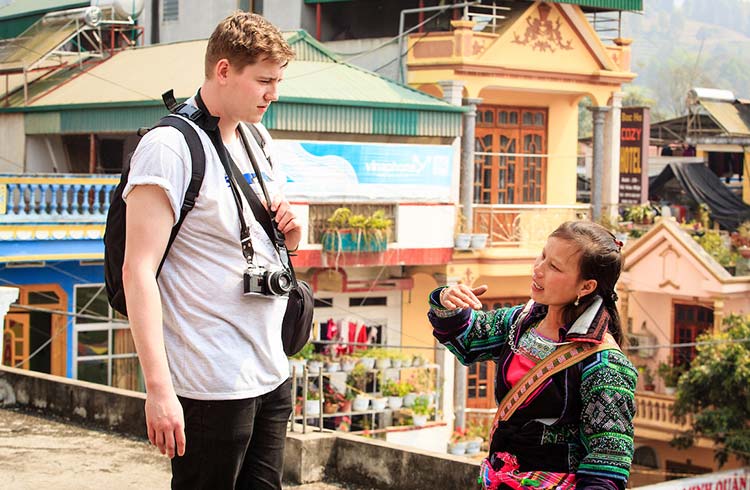 Often, these types of projects provide travelers with amazing experiences, while also creating enormous benefits for local people. Check out Footprint or the Vietnam Community Based Tourism Network. CBT is also sometimes called social tourism. Visit.org is a good place to start.
When researching, keep in mind the following:
Look at the business website and read its sustainability policies; what type of promises are they making about their products?
Has the operator won any awards, or participated in the development of sustainable tourism practices in the area? Does it blog about its sustainability or local prosperity initiatives?
Is the company supporting or implementing any sustainable tourism criteria, such as the UNWTO's Global Code of Ethics for Tourism? For example, Khiri Travel and Exo Travel were the first in southeast Asia to achieve the Travel Certified award which is handed out by the United Nations Environmental Program.
Most of us would like to do good while traveling and have a positive impact on local communities. Many travelers take voluntourism trips, which promise to build local schools or provide other local benefits. If you're not a skilled tradesperson at home, you won't suddenly become one when traveling. Often what local people lack the most are not skills, but finances to invest in a better life. Unless you can offer real expertise, keep your contribution purely in economic terms.
Respect Hardships of War
Vietnam has a turbulent modern history and many local people still have vivid memories of their experiences from the Vietnam war. When in Vietnam, it's likely you'll visit or come across the DMZ, war relics, memorials and museums. The Vietnamese, especially in the north, adored Ho Chi Minh, and many shops or homes are adorned with his picture. Many sites of tragedy for the Vietnamese, such as the Vinh Moc tunnels in Hue, have now become so-called 'dark tourism' attractions. It is important to remember that such sites were places of immense physical and emotional suffering of local people, hence the utmost respect and sensitivity should be practiced when visiting.
The topic of the war is usually avoided by local people unless you are on a related tour. Be respectful, wear appropriate clothing, ask before you take pictures – don't just assume it's okay – abandon any biases you may have about the war.
Cutting Out the Plastic
Shouldn't we all be using reusable cloth bags by now? Travel with a reusable shopping bag, and avoid products wrapped in plastic, especially in rural communities which often don't have adequate waste-disposal schemes.
It's not always possible to find clean water on tap while traveling, but instead of buying bottled water, adding to plastic waste problems, travel with a Steripen or a Lifestraw water purifier. This way, you will save money and help the environment by refill your own reusable bottle with local drinking water supplies.