While the scooter-choked streets of Saigon, and the terraced rice paddies of the Mekong Delta, make it onto many post cards, perhaps the most iconic natural wonders are the craggy lime islands of Halong Bay. But the real treasures lie off the beaten track, in the rural areas of north Vietnam.
Halong Bay
Beyond Halong Bay
Sapa & Surrounds
Dong Van Plateau
Mai Chau
Ban-Gioc & Dietan Falls
Bac Ha
Tam Coc
Hoa Lu
Halong Bay
Despite the growing number of visitors each year and accompanying environmental issues, there are ways to visit Halong Bay without causing too much harm to the fragile environment of this UNESCO-listed site. First, check that your tour operator is eco-friendly: before booking, read traveler's reviews on TripAdvisor and look for positive reviews about the disposal of garbage, cleanliness of boat emissions and level of professionalism on the trip. If you see anyone littering, politely request that they pick up their trash. Better yet, pick up any rubbish you see along the way and dispose of it responsibly.
Most trips to Halong Bay leave from the uninspiring city of Halong, or from Hanoi. You'll have to buy an admission ticket to Halong Bay of around 40,000d (US $1.75), and there are also some individual entrance tickets for different caves, grottos and fishing villages. These range from 30,000d (US $1.30) to 50,000d (US $2.10), and many are well worth the fee.
You can explore Halong Bay on a cruise ship, by kayak, and on half-day, one-day or overnight trips on houseboats. One of the best ways to visit is to go on a combined two-day, one-night trip from Hanoi, skipping Halong City altogether, which will include visits to villages and caves, as well as kayaking and great food, all from the comfort of a nice boat.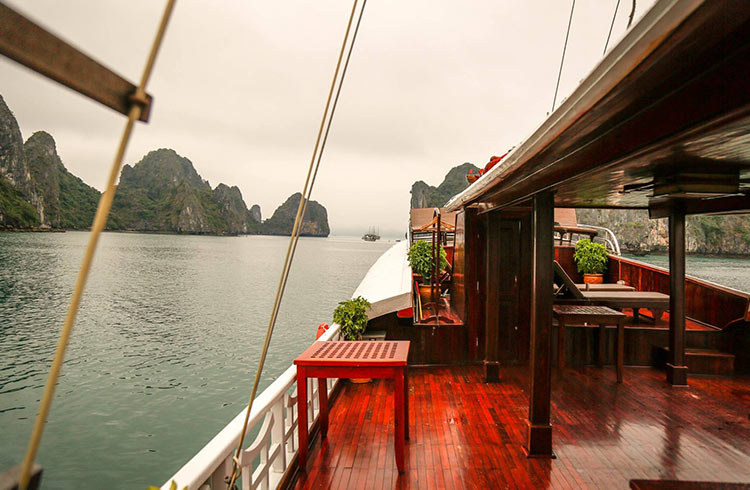 GoAsia Travel and GetYourGuide have some really well-rated tours in Halong Bay. Make sure whoever you book with has a lot of 5 star reviews and that you know what's included.
Beyond Halong Bay
Skip the crowds of Halong Bay for these great alternatives.
Cat Ba Island
Still in Halong Bay, Cat Ba is a beautiful island, in spite of its overdeveloped main town which has seen a massive surge in tourism and thoughtless development. However, the jungle-clad interior of this craggy islet is raw, pristine and untouched. Don't miss the Cannon Fort and Lan Ha Pay, a just-as-beautiful, but less-crowded version of Halong Bay.
Bai Tu Long Bay
The equally dramatic coastal topography of Bai Tu Long may play second fiddle to Halong when it comes to visitor numbers, but that doesn't mean it isn't as beautiful as its southwestern cousin. Come here for a more relaxed Halong experience.
The slower pace of tours here means that you'll have more time to explore the accessible caves, swim in the clear waters between the towering limestone formations, possibly spot dugongs, enjoy kayaking and explore the forest reserves found on the larger islands in the bay.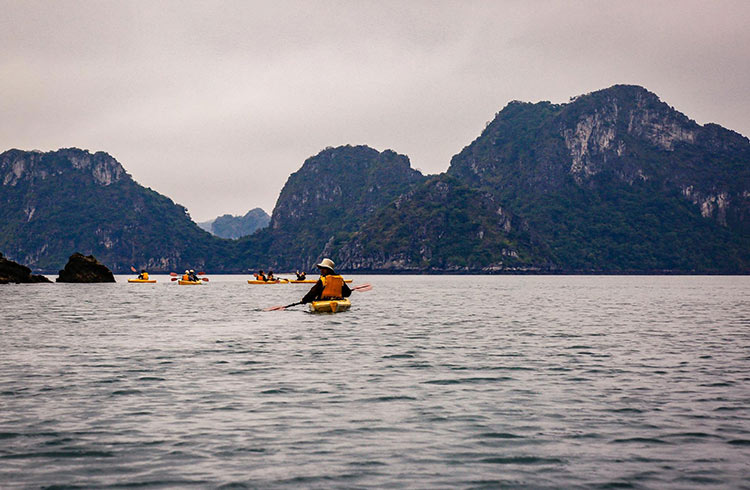 Sapa & Surrounds
Home to Fan Si Pan, Vietnam's highest peak, and hillsides of emerald green rice terraces, Sapa is one of the most beautiful places in the country. First developed by the French as a refreshing hill station, it's far from the sweltering heat of the jungle, and also the gateway to the region.
Following WWII, there was a series of battles in the Tonkin region which left many of the most notable colonial buildings leveled in their wake.
In the 1940s to early 1950s, Sapa was attacked by independence fighters who drove the colonists from the region, but the French retaliated by bombing the area in a series of air raids. It wasn't until the late 1990s that tourism was reborn in the region, and Sapa began to flourish as one of Vietnam's best outdoor travel hot-spots.
A great place to base yourself for trekking, Sapa has way too many hiking trails to list, and local tour operators (as well as ones based in Hanoi) can guide you through these stunning landscapes for a fee.
If you prefer hiking independently, there are plenty of marked trails around Sapa, and you'll likely bump into plenty of other hikers every 45 minutes or so. Cat Cat, Giang Ta, and Lo Chai are just three of the trails that are quite easy to do without a guide. They are all beautiful trails and lead to lovely little villages.
It's a good idea to hire a local guide, however, because it helps the economy (on top of the entrance fees you'll pay for different places) and they will help you to communicate with the locals in the villages.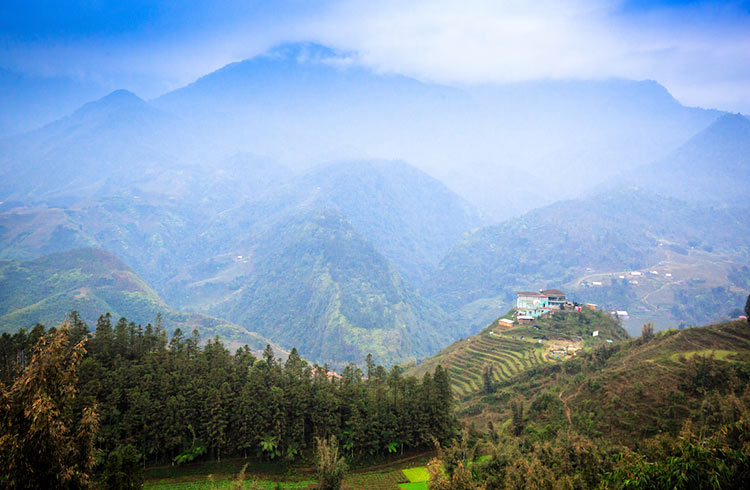 Dong Van Plateau
Dong Van Plateau (also known as the Dong Van Karst Geopark) is a wonderful alternative to popular Sapa. Previously off the tourist radar, due to difficult access on poor roads, visitor numbers to Dong Van are slowly starting to rise.
This is a stunning area of Vietnam to trek in, the trails are less worn, there are plenty of easy, well-marked day treks, and the locals are more interested to see visitors here.
Located in Ha Giang Province, this region boasts some of the most beautiful trekking routes in the country, and is also the most ethnically diverse population, with 80% of the people living in remote, rural areas.
As you trek from village to village, deeper into the Dong Van Karst Plateau Geopark, you'll notice the numbers of tribal and ethnic groups increasing, dressed in fascinating clothes and selling local wares.
Mai Chau
About 99 miles (160km) southwest of Hanoi, Mai Chau is world's away from the noise of the Vietnamese capital. Here, rice terraces spill down the hillsides around the tiny village and are great to explore on foot or by bike, or just to chill out in.
The ethnic minorities in Mai Chau are predominantly White and Black Thai, whose ancestors are from Thailand. These people live in traditional stilted homes but have all but abandoned their traditional dress, and the town is now fully set up for visitors, so don't expect a super cultural experience here. Lots of tour buses arrive every hour and the locals know how to sell their beautiful woven souvenirs.
Ban-Gioc & Dietan Falls
These waterfalls are arguably two of the most beautiful sights in Vietnam. You can visit them on a tour from Hanoi or independently by hopping on the public bus at Cao Bằng station. On the way, you can stop at Ngườm Ngao Cave to view the stunning stalactite and stalagmite formations, as well as to enjoy the cooler temperatures as you explore deeper and deeper below ground.
After a visit to the cave, hop on a motor taxi, for about US $2, to take you the final 1.8 miles (3km) to the falls. There are signs everywhere that read "No Swimming" in both Vietnamese and English, but many tourists and locals find it hard to resist the blue pools that surround the cascading falls. It's best to follow the rules and just enjoy these falls from the viewing platforms or from the bamboo rafts that offer tours closer to the falls.
Bac Ha
Bac Ha has a popular Sunday market, and even if you're not here to shop, it's worth visiting to experience the explosion of color and chaos in this otherwise sleepy village. There are also some interesting markets a few miles from Bac Ha, including at Can Cau and Lung Phin, which offer a comparatively low-key village market experience.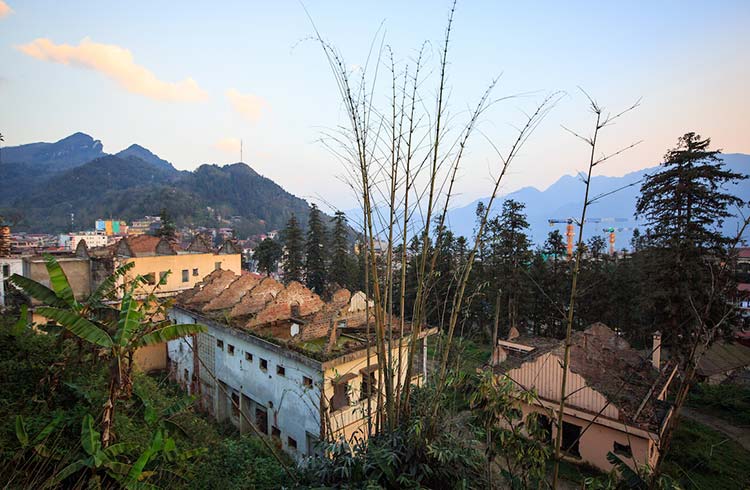 Tam Coc
The location of the Oscar-winning film Indochine, Tam Coc has since exploded onto Vietnam's tourism scene. One of the most conspicuously beautiful places in the country, with large, dark karsts bursting from brilliant green rice paddies, the scenery is larger than life. On a sunny day, when the rice is ready for harvest, you could easily go through an entire memory card of photographs and video clips.
Don't miss the many caves and grottos here, and ask the local women to teach you how to row a Sampan boat the traditional way – which is with your feet!
The best way to explore the rice paddies and limestone karsts is by bike. You can rent them in town, or join a tour that takes you around these beautiful formations, and usually includes lunch.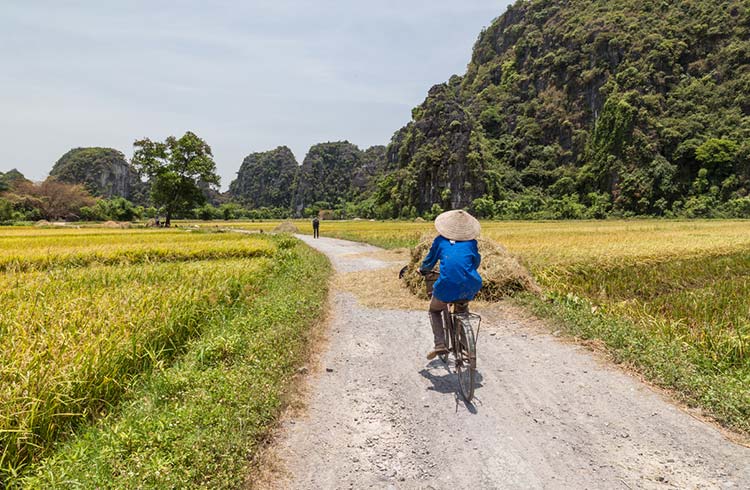 Hoa Lu
History buffs should check out the incredibly ornate ancient capital of Hoa Lu. There are dozens of historical monuments in the area, including Dinh Tien Hoang Temple, Le Dai Hanh Temple, and Le Dai Hanh Tomb. Also, explore the 15th-century Bich Dong pagoda, a fascinating group of mountain temples that lies a few miles north of Tam Coc. Built in 1428, this historical site climbs up Ngu Nhac Mountain. Visitors typically ascend the mountain, viewing three separate pagodas along the way (Hạ, Trung, and Thượng) before reaching the top and enjoying expansive views of the surrounding countryside and karst formations.