Whiskey production is a staple of Tennessee culture, pioneering techniques like charcoal chip filtering and charred-oak barrel aging. Persisting even through Prohibition, the state's whiskey business today is booming. In 2017, the Tennessee Whiskey Trail was founded, featuring 30+ craft distilleries.
Here in part 1, we highlight the first 5 destinations with the best tours and smoothest spirits in the state. Don't forget to check out part 2 here.
Nashville
Forget country music – whiskey is what Nashville is really known for.
After a 2009 law that reintroduced distilling for the first time since Prohibition, new craft distillers began popping up on the scene. Since opening in 2016, the Nashville Craft Distillery has already made a name for itself with its sustainably sourced spirits, tours, tastings, and—most recently—private label, the Nashville Craft Original Bourbon Whiskey. The distillery has a minimalist, gunmetal facade and slick industrial decor distillery. Just a 5-minute walk away, you'll find the Corsair Distillery. Here, experimental recipes include pumpkin spice moonshine and quinoa whiskey alongside rich, smoky classics like the Triple Smoke single malt. There's also Nelson's Green Brier Distillery (the largest Tennessee whiskey pre-Prohibition manufacturer in the late 1800s), Prichard's Distillery at Fontanel, Leiper's Fork Distillery, and many more. Just a 6-minute drive from Nashville Craft Distillery is the Kimpton Aertson Hotel where Bookers can enjoy cocktails next to its rooftop pool.
Knoxville
Try the award-winning Old City Heirloom Corn Whiskey at Knox Whiskey Works
Knoxville is the state's third largest city and home to some stand-out distilleries.
There's also PostModern Spirits, a huge facility with a laid-back vibe. They host tastings, tours, and special events out on their expansive terrace which is the perfect spot for Bookers to sample some of the distillery's creative cocktails. Also, likely the most popular is Knox Whiskey Works, which was the city's first distillery to offer tours and tastings legally. They source local ingredients to produce handcrafted drinks like coffee liqueur and award-winning Old City Heirloom Corn Whiskey. Book a classic suite at The Oliver Hotel for a 12-minute walk back from your tasting.
Sevierville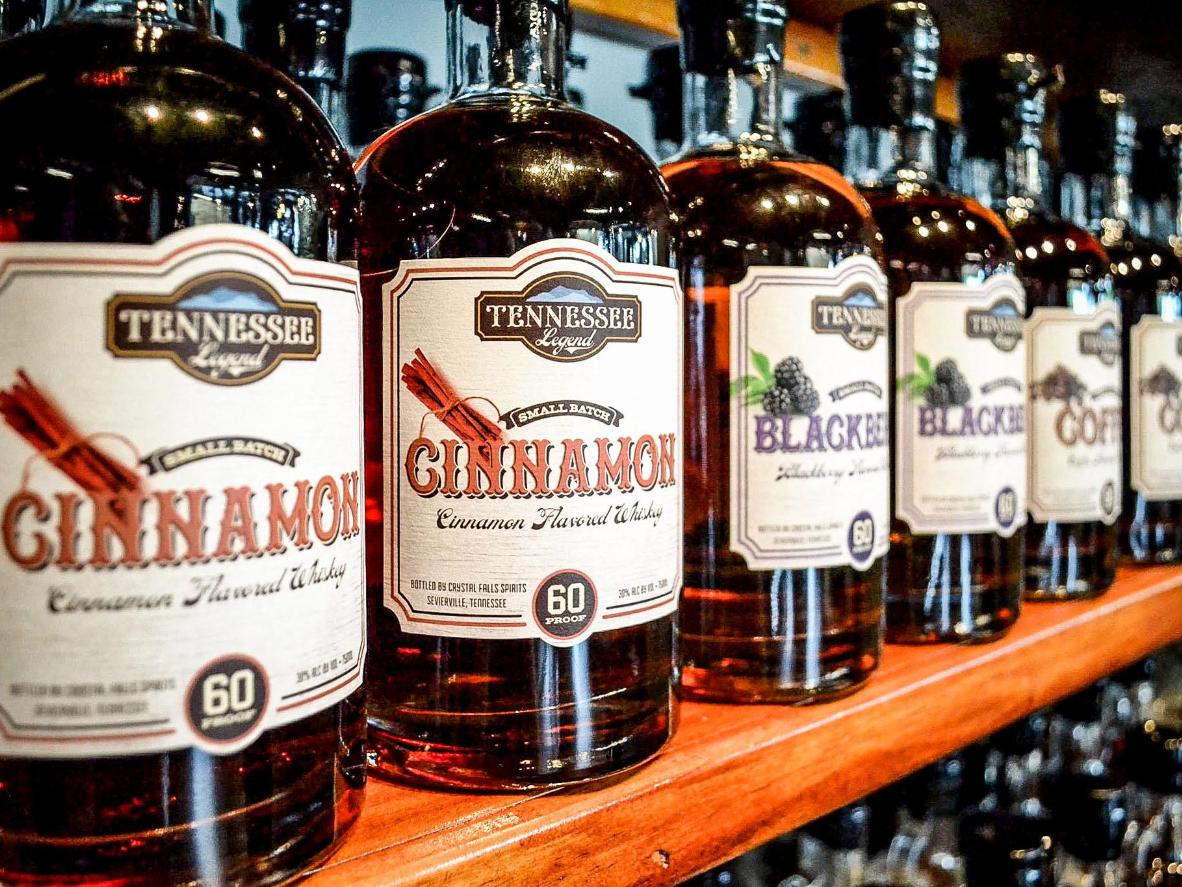 Tennessee Legend Distillery specializes in flavored whiskeys and smooth moonshine
Half-an-hour east of Knoxville, you'll arrive in Dolly Parton's birthplace, Sevierville, which is also home to Tennessee Legend Distillery. Their friendly and knowledgeable staff provide tastings and tours highlighting specialized whiskey flavors, smooth moonshine, and other classics – salted caramel or blackberry are the house favorites. Then check out Sevier Distilling Company. Nine-generations old, this family-run distillery practices traditional techniques and speciality spirits like Yenoh – distilled 30 times and made from 100% honey. Stay a 5-minute drive away at Clarion Inn Willow River.
Pigeon Forge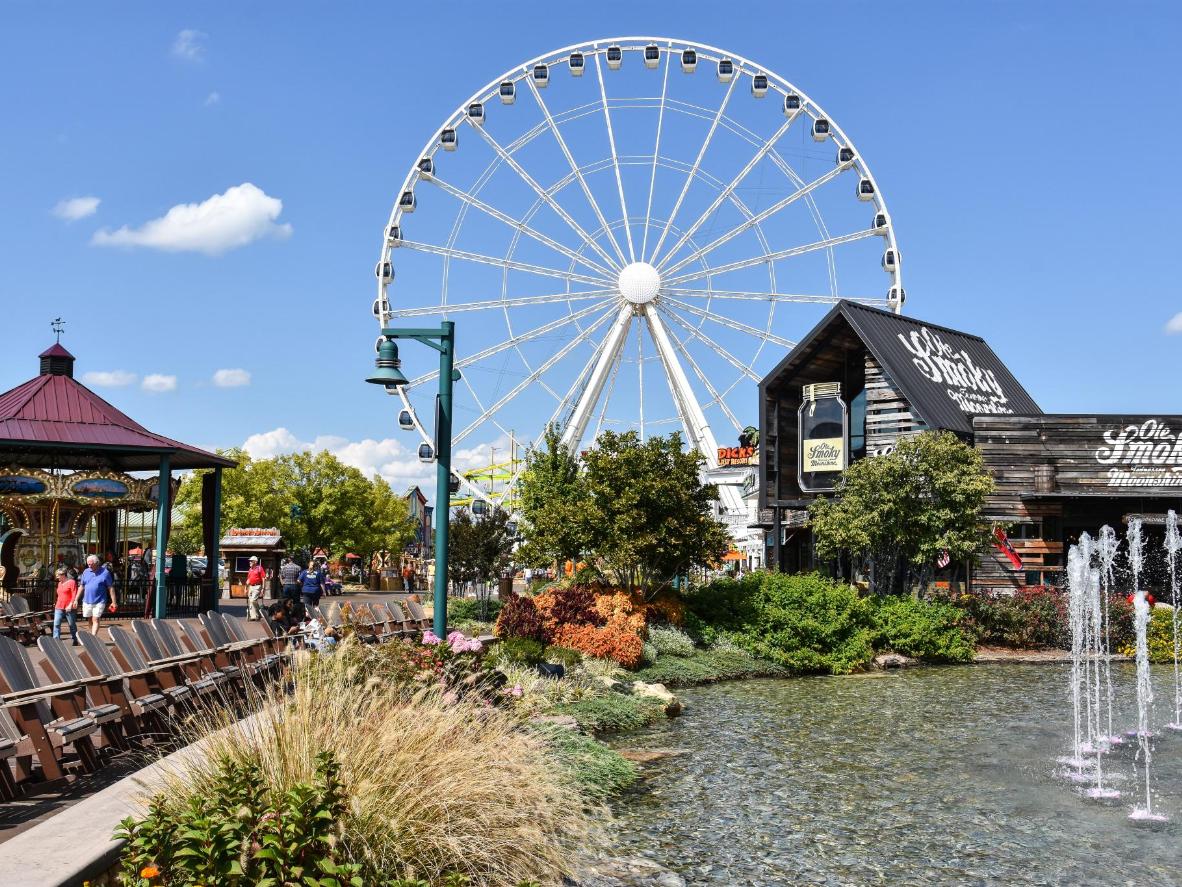 After a cocktail or two, hop on the Great Smoky Mountain Wheel in Pigeon Forge
While many Bookers come for Dollywood, Pigeon Forge's distilleries are well worth a visit, too. Stop at Old Forge Distillery for fun, informative tours and tastings in a traditional wooden barn. They're organized by request, so don't forget to book in advance. At the bar, the staff makes custom cocktails based on your favorite flavors, or—if you prefer a classic drink—they make an out-of-this-world old fashioned. Then head to The Island, Pigeon Forge's 23-acre entertainment area with tons of attractions including a ferris wheel. Here, try Ole Smoky Moonshine, a corn-whiskey distillery where you listen to live music outside while tasting expertly brewed moonshine. Check in to the highly rated Black Fox Lodge Pigeon Forge, a short walk or drive from Old Forge Distillery.
Gatlinburg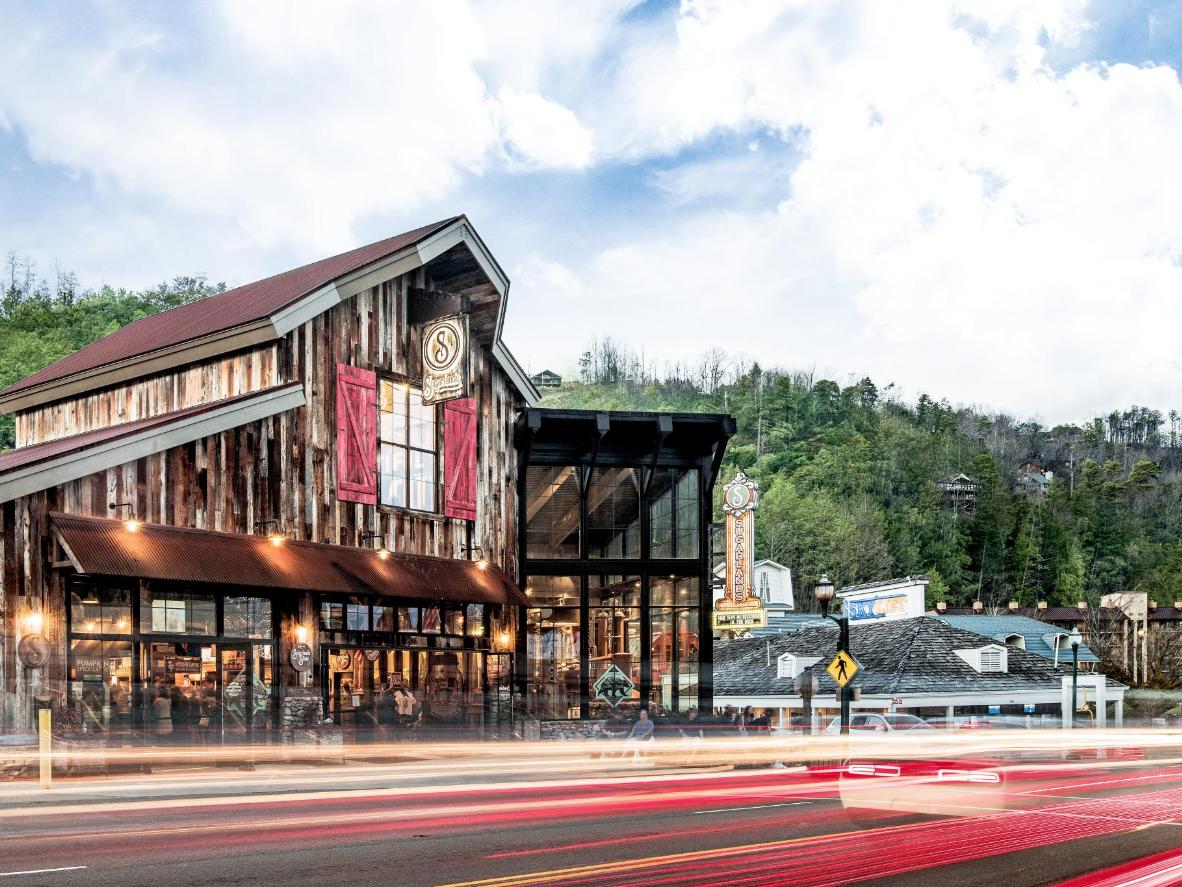 The mountain town of Gatlinburg uses fresh spring water to distill their whiskey
Bookers who had to tear themselves away from Ole Smoky Moonshine will be thrilled to visit the mountain town of Gatlinburg, home to another branch of the infectiously fun and entertaining Ole Smoky. For something new, head to Doc Collier Moonshine whose recipes use fresh spring water from English Mountain peak. Or try Sugarlands Distilling Company where tours end with live music on their back porch while whiskey loving-Bookers sip on unique flavors like Maple Bacon or Dark Chocolate Coffee Cream. Stay at the Gatlinburg Inn, located just across the road.