Whiskey production has a rich history in Tennessee, with traditional techniques like filtering with maple charcoal chips (known as the Lincoln County Process) and aging in charred oak barrels. But it hasn't always been plain sailing for Tennessee whiskey producers, having endured national and statewide Prohibition in the early 20th century. These days, business is burgeoning with the opening of craft distilleries all over the state and the establishment of the Tennessee Whiskey Trail in 2017, featuring around 30 distilleries.
Here, we present the last five destinations of a 10-day suggested itinerary, highlighting the best tours and tastings of the smoothest spirits in the state. Read part one here.
Townsend
Branded 'the peaceful side of the Smokies', the city of Townsend and its wild surrounds promise a burst of fresh mountain air, hikes through dense forest (and the wildflower-dotted valley of Cades Cove), and a network of caves known as the Tuckaleechee Caverns – this mile-long subterranean system is between 20 and 30 million years old, with underground rivers, waterfalls and cave onyx (a glittering calcium deposit that lines the walls). But Townsend isn't all about nature – for whiskey-lovers, there's the Grains and Grits Festival that takes over town every November (this year's falls on Saturday 2nd November 2019), featuring every distillery in the Tennessee Distillers Guild alongside locally sourced food and entertainment. There's also the Tennessee Shine Company, where Bubba and Big Sexy – two of the company's helpful and knowledgeable staff members – will offer you diverse samples of Tennessee moonshine and show you how to mix it into various cocktails. Spend the night in the middle of the woods just outside Townsend at Dancing Bear Lodge, with gnarled tree trunk bed frames, a wood-burning fire and a hot tub.
Chattanooga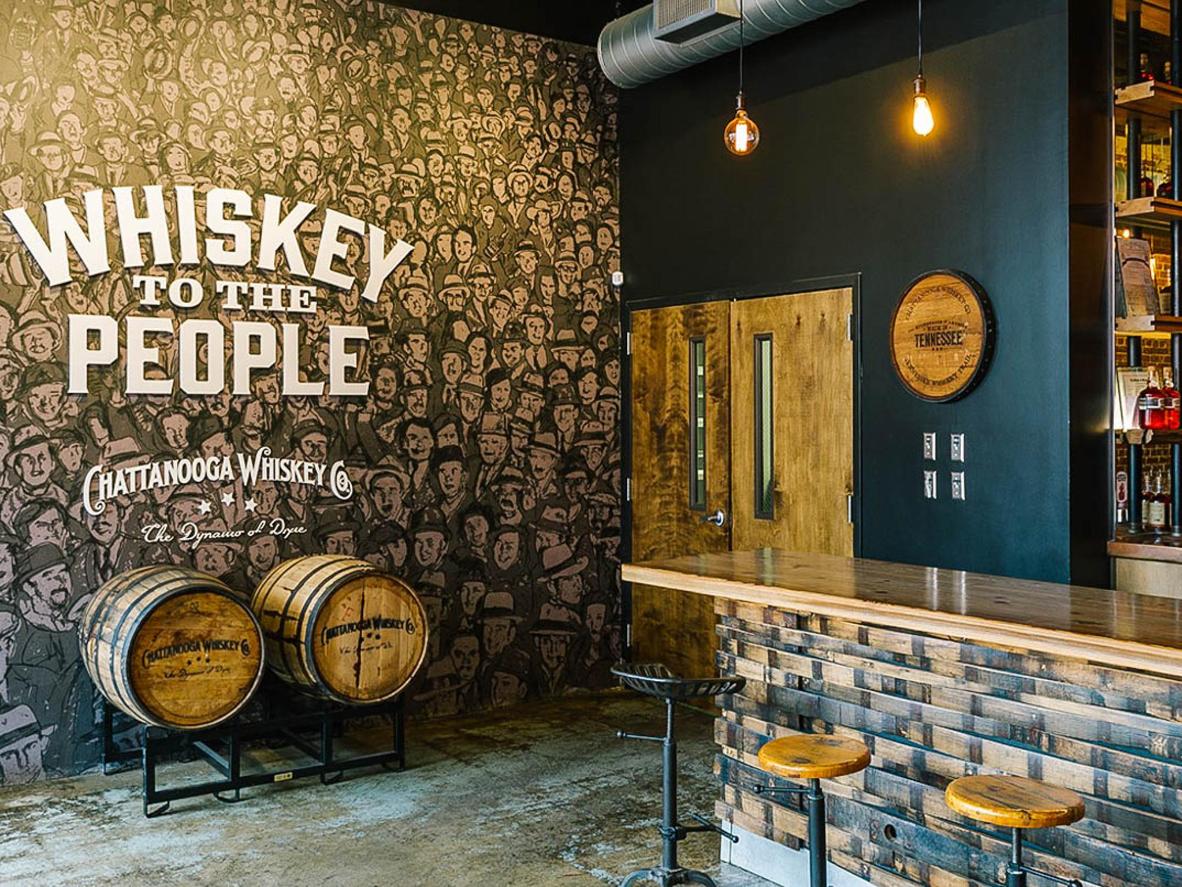 Visit the experimental micro-distillery, Chattanooga Whiskey Co, for artisanal cocktails, tours and tastings
Another stop along the trail that'll appeal to both whiskey aficionados and outdoorsy types, Chattanooga has come a long way since its reputation as a dirty city in the 1960s. Or since big-band leader, Glenn Miller, wrote a song called 'Chattanooga Choo Choo' in 1941. Built beside the Tennessee River, it's now known as one of the world's best cities for kayaking, rock climbing as well as hiking in the nearby Appalachian mountains. Spend your days appreciating the area's natural beauty before heading out in the evening to indulge in a whiskey tasting or two. There's a notable, dynamic startup scene in Chattanooga, boosting new companies like the sophisticated and on-trend Chattanooga Whiskey Co (formerly Tennessee Stillhouse). This experimental micro-distillery and tasting room opened shop in 2015, making the first legal whiskey in Chattanooga in over a century. Enjoy seasonal artisanal cocktails, daily tours and tastings in the low-lit whiskey lounge. Check in to a classic four poster bed suite at Bluff View Inn in Chattanooga, overlooking the Tennessee River.
Lynchburg & Tullahoma
The George Dickel Distillery can be found amid forest, pastures and gargling mountain springs
Between the south-central Tennessee cities of Lynchburg and Tullahoma, you'll find plenty of whiskey to taste. Lynchburg is the hometown of the Jack Daniel's Distillery, where numerous tours with samplings are available; the 1.5-hour Angel's Share is the most popular, teaching you all about this top-selling brand – did you know that Jack Daniel's has maintained its original distilling process for over 150 years and Lynchburg is the only location that produces every drop served around the world? Next up, try the tabasco whiskey or Sour Mash Whiskey at the boutique George Dickel Distillery outside Tullahoma. Found amid forest, pastures and gargling mountain springs, this distillery's slogan is 'handmade the hard way', referring to its eschewal of computer technology in favour of a manual charcoal mellowing process (which gives it a real edge in terms of smoothness). If you still haven't had enough after these two visits, you'll find small-batch artisan spirits at the Tenn South Distillery or moonshine that follows a secret family recipe at Southern Pride Distillery. Stay a 2-minute drive down the road from the Jack Daniel's Distillery at the Lynchburg Country Inn.
Franklin & Leiper's Fork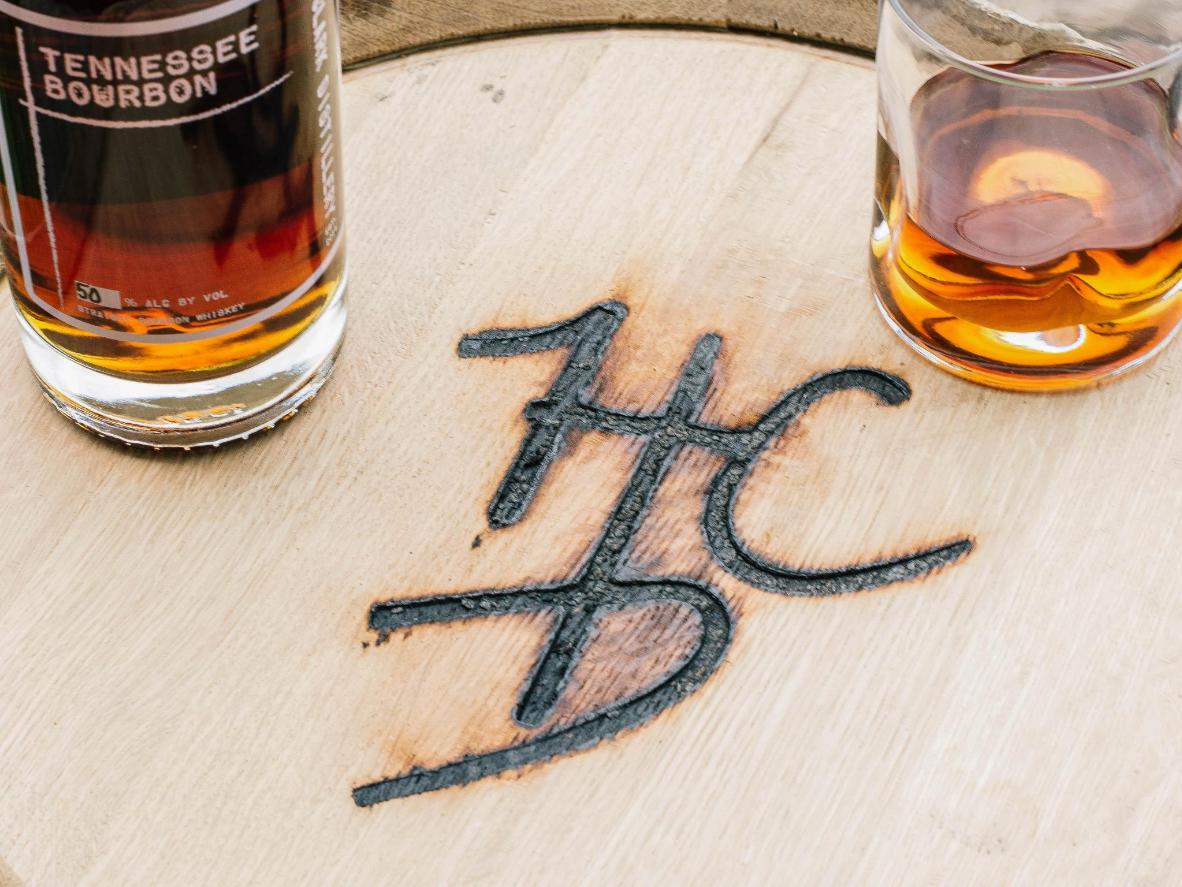 Visit the H Clark Distillery for an intimate tasting of hand-crafted, micro-batch Bourbons
Not far south of Nashville, the towns of Franklin (the site of the last legal distillery to operate in Tennessee over 100 years ago) and Leiper's Fork each have a strong whiskey tradition alongside their Civil War history and Antebellum architecture. Just a short drive from Franklin is the fairly new but already renowned Leiper's Fork Distillery. Run by a husband-and-wife duo, this distillery strives to recapture the lost art of small-batch distillation using local ingredients – visit for a tour and sample some hand-crafted spirits in the 200-year-old log cabin tasting room. Then there's H Clark Distillery, consisting of several small buildings around a historic train depot and pastoral scenery. Here, the focus is on quality over quantity – visit for an intimate tasting of hand-crafted, micro-batch Bourbons, whiskeys and gins that are all incredibly smooth. Stay at Aloft Nashville Franklin, a playfully designed, modern hotel that's a short drive from both distilleries.
Memphis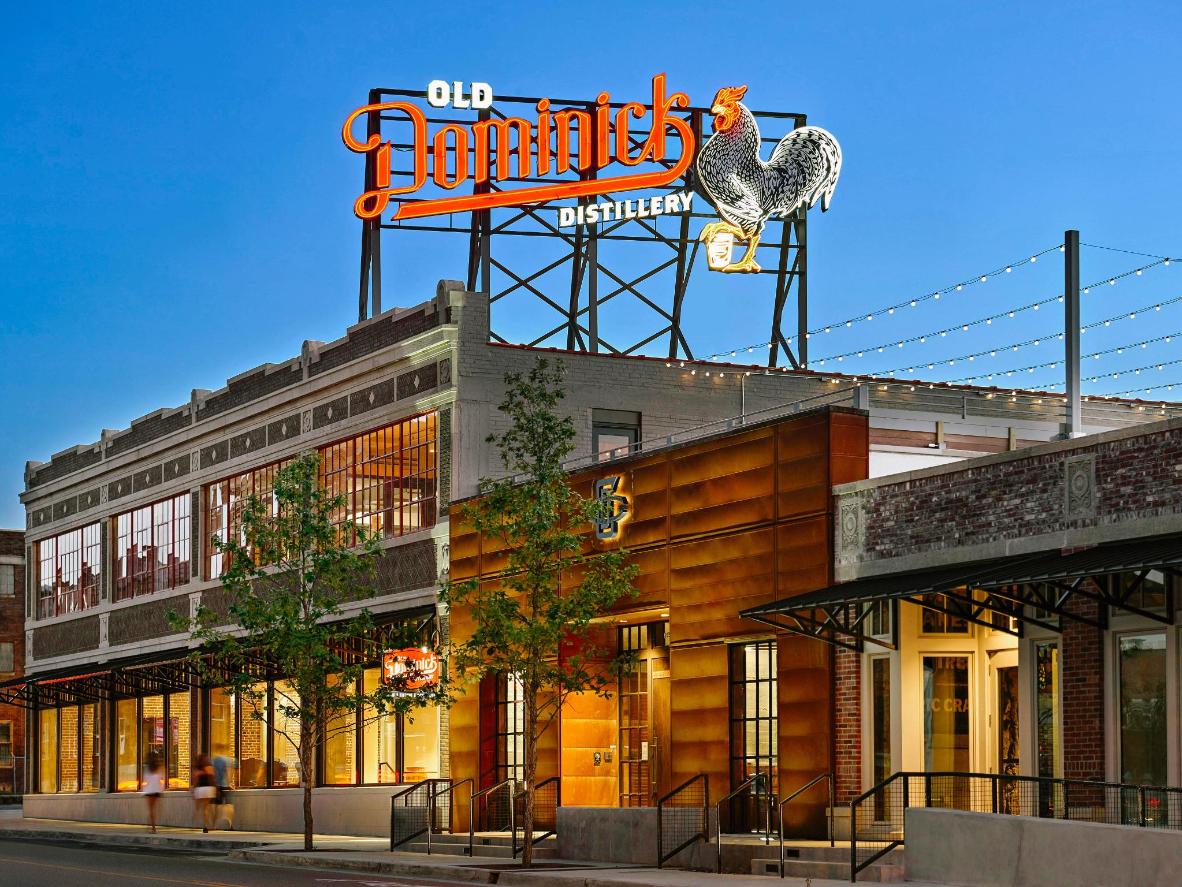 The family-run Old Dominick Distillery (purchase a bottle of the Dominick Toddy to take home)
Last but not least, the Tennessee Whiskey Trail will take you to the fabled southern city of Memphis on the banks of the Mississippi River. Before heading off to one of the city's many breweries or distilleries, absorb some of its musical legacy at Elvis Presley's Graceland estate, the Memphis Rock & Soul Museum or wandering the neon-lit strip that is Beale Street in Downtown Memphis, where live music pours out of cafés and bars. When you're ready for a whiskey, visit the family-run Old Dominick Distillery within a warehouse dating back to the 1920s. The space has been renovated in a clean-cut, industrial style and now houses two tasting rooms, an event space and a restaurant that's perfect after one too many artisanal samples (or you can also pop across the road to the city's celebrated Gus' Fried Chicken). We'd also recommend purchasing a bottle of the Dominick Toddy to take home. Treat yourself to a night in an art deco suite at Hu Hotel Memphis on the banks of the Mississippi River.