Those who have a liking for photography often indulge themselves with journeys to create their own collections. This type of traveling is called "photo tours," and some Vietnam-based travel firms have recently arranged such tours to meet tourists' demands.
Thanh Vu, marketing manager of a foreign corporation in Vietnam, said that in spite of being busy, he and his friends often carry photo cameras to roam everywhere for snapshots when having spare time. "We don't put heavy emphasis on artistry, so we take very real and live pictures. The importance is when you look through the lens, the beauty alone is recorded. We really like this meaning, so we often self-organize such photo tours," he said.

Many young students in Hanoi at the weekend entice to each other to take photos in cabbage flower fields, longan gardens or reed fields. The beauty of nature offers amateur photographers many unforgettable shots.
It is now the vogue that a great number of young people in metropolises often set up offline groups to compose their own photo albums freely. They often go to renowned destinations which have stunning landscapes and outstanding culture to take pictures. Those who cannot travel far just take pictures in the city where they are living, but thanks to their searches for new corners, they still have vivid photos.
Nguyen Ngoc, a 22-year-old student in a HCMC's university, said, "In order to have satisfactory photos, I sometimes have to roll over, drag or crawl on the ground."
Tailor-made tours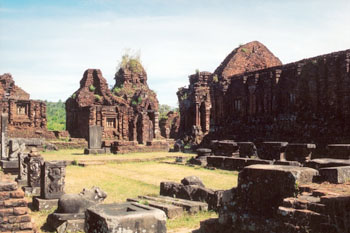 Grasping big opportunities, many local travel agencies open photo tours to serve guests. Their clients are the youth, business people and foreign tourists who have the same hobby, photography.
Nguyen Huy Son, a photographer and a tour guide, revealed that domestic tourists love to take photos in heritage sites and scenic spots. Foreign visitors, however, have many different requirements. "They often ask me to tell them what is the best of Vietnam. Although they love famous tourist attractions such as Hue, My Son and Ha Long, they don't have enough time to photograph. But a scene of high-schoolgirls wearing white áo dài (Vietnamese traditional long dress) after class, workers after working time, a scene of a family reunited by the cooking fire somewhere in the central region can attract foreign photographers for hours. The lens of Vietnamese tourists is recording, while the lens of foreigners is discovering the daily life in Vietnam," Son said.
Nguyen Thi Bang, director of Huong Bang Travel, told Chào! that a group of tourists who take a photo tour consists of maximum 10 persons, and travel company has to flexibly offer all services, from hotels and restaurants to transportation, to satisfy their high demand. "Sometimes we have to arrange the models and backgrounds such as local kermises, a scene of young females rowing boats on the river, and so on," she said.
Ly Viet Cuong, director of Nam Phuong Tourist, said that organizing a photo tour is more sophisticated than normal tours. "Travel agents have to seek new and strange destinations, catch right moments, find original corners and beautiful seasons for tourists to take lively pictures," he stated.
Due to high demand of such type of tours, the fees are often 25-30% higher because the travel company has to invite photographers and models to serve a small group of tourists. Several local tour operators have cooperated with professional photographers to organize photo tours for domestic and foreign guests. Nam Phuong Tourist has signed a contract with famous photographer Thai Phien to instruct their clients from techniques to the artistry of photography. Le Phong Travel has invited experienced photographer Do Dien Khanh to join its photo tours.
Bang said that due to the specific characters of photo tours, a tour guide should be a photographer so that he or she can show travelers spectacular corners in each destination and arrange everything log for tourists to have unique shots.
Le Phong Travel joins hands with a Japan-based tour operator to organize photo tours for Japanese tourists who are over 60 years old and have a passion with taking pictures. Khanh said that because Japanese tourists live in a developed country, they want to discover the beauty of daily activities and landscapes of a country which has not much been urbanized.
When coming to Vietnam, Japanese travelers often asked Khanh to take them to places that they can take photos of hawkers, fishing nets on the rivers, rice harvests, herdsmen, countryside markets, fish markets, or salt fields. "They are interested in such unique sceneries in Vietnam," Khanh said.
A bright future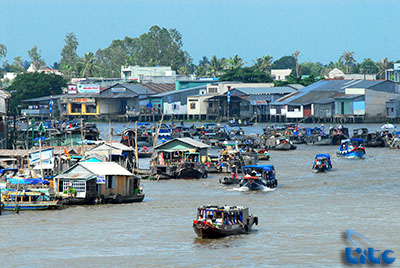 Every two weeks, Nam Phuong serves a group of local tourists taking a photo tour, with some 10 to 15 persons per group. Last month, Huong Bang received a group of tourists from the U.S. and the company expects more foreign tourists will join its photo tours this year.
Cuong said increasing demands of tourists in taking artistic photos, sharing their own works with their friends and discussing with professional photographers about photo-taking experience make him believe in a bright future of photo tours. "One important thing is that more and more people can now afford to possess a camera," he added.
Photographer Khanh said that every year, he takes four or five groups of tourists participating in photo tours. "In spring, I take them to take pictures in the highlands of the northeastern region. In summer I take them to the central region and the Mekong Delta, and even to Cambodia," he added.
Khanh also said that photo tours are not only for amateur photographers but also for professional ones. "Some years ago, I welcomed a delegation of professional Japanese photographers to Vietnam to join a photo tour. They were in the judging panel of the Asahi Shimbun Award, a well-known photography award in Japan," Khanh said.
According to Vietnam-based travel firms, in the near future, photo tours will develop because the country has a lot of heritage sites, tourist attractions, ancient villages, craft villages and colorful pictures of the daily life of Vietnamese people.
Huong Bang Travel will promote photo tours in European countries and the U.S. whose people love beautiful natural landscapes as well as simple and mild daily life of the Vietnamese, Bang said.
"Photography and life are the same, the most important thing is the way and the corner you access," photographer Son concluded.