The United States is the birthplace of fast food and the drive-through, but what happens when you get hungry on your feet? While American cuisine is generally defined by its fusion of diverse dishes and flavors, each of these cities brings its own unique, mouth-watering treats to the street, to the delight of on-the-go locals and tourists alike.
From the District of Columbia to the island of Oahu, we've compiled a list of the best street food cities in the country.
Washington, D.C.
Take a peek inside DC's self-proclaimed "epicenter of culinary creativity."
Constitution Avenue runs from the U.S. Capitol Building, past the White House, the Smithsonian museums, and Washington Monument, all the way to the Lincoln Memorial, but—most importantly—is teeming with delicious street food. No
DC
visit is complete until trying a half-smoke, the messy yet legendary local take on a chili dog.
Later, if you've had your fill of sightseeing but not local street cuisine, head to Union Market, the self-proclaimed "epicenter of culinary creativity in DC." The
Eaton DC
makes for a great base for your trip, located halfway between both of our picks for street food hotspots.
Philadelphia, Pennsylvania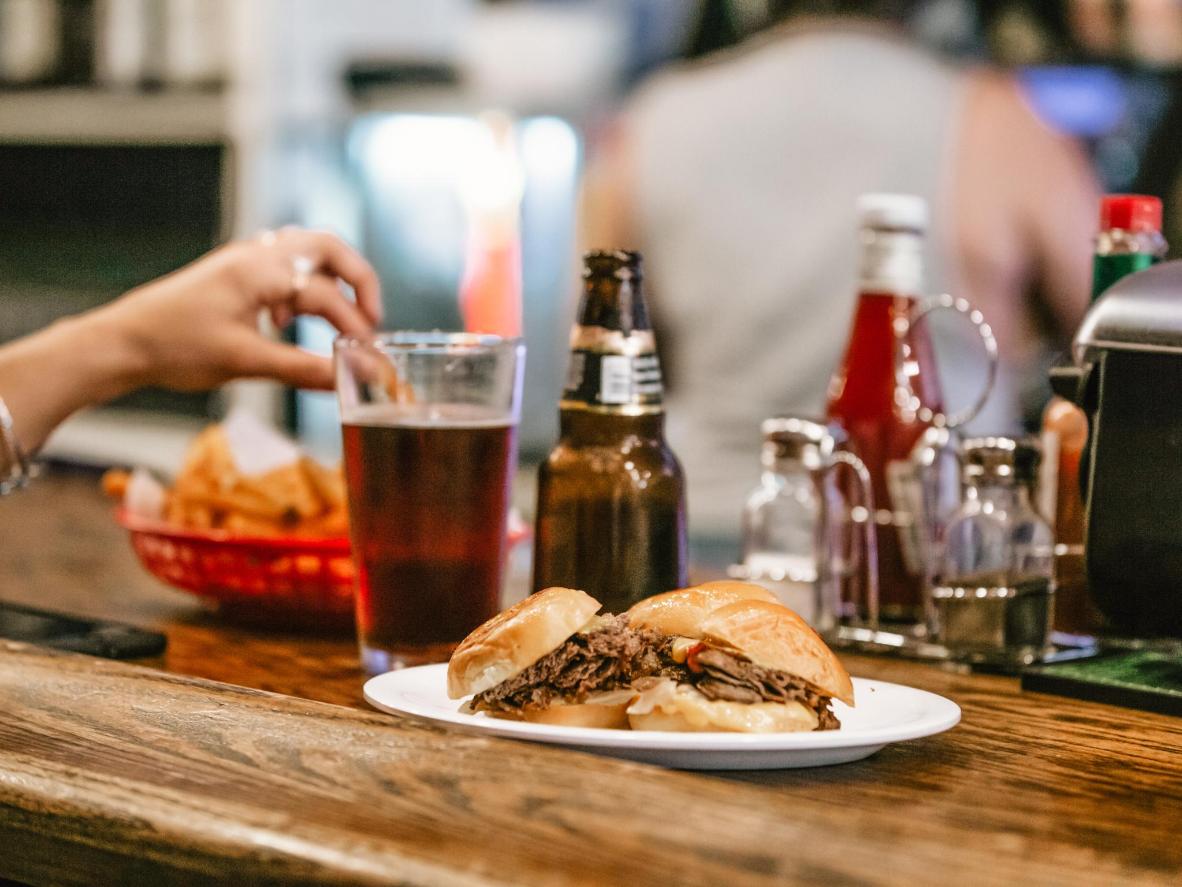 The cheesesteak is just the tip of Philly's street food iceberg
For over 40 years, a fierce dilemma has ripped apart the city of brotherly love: who has the best cheesesteak? The rivalry has spread beyond South Philly, where two competing spots—Geno's and Pat's—claim discovery rights, but now the rib-eye and cheez-whiz wonder is dished up at dozens of stands and restaurants around town.
If you'd prefer to stay neutral, there are plenty of other street foods to keep you from taking sides. The hungriest, most indecisive visitors will love both the Reading Terminal Market, the country's longest running farmers market housed in a former railroad terminal, and the 9th Street Italian Market, both of which have vendors dishing up the best from Pennsylvania Dutch favorites to Middle Eastern delicacies. Once you've had your fill, restup at the Lokal Hotel Old City, which draws its design inspiration from the historic district it's located in.
Portland, Oregon
Food truck pods promise to satisfy every street foodie's cravings
Portland likes to do things its own way, which goes for its food trucks, too. Rather than setting up shop during the lunch rush and rolling off later, their food trucks stay put, gathered in "pods." Clusters of deliciously unique food trucks plant themselves around picnic tables and string lights to form pop-up markets that establish themselves as neighborhood landmarks over time. Cartopia and Pod 28 are high on our list, and you can even get your food-cart-pod fix before flying out of the Portland Airport. Bring Portland's stylish yet no-frills vibe inside for the night with a stay at The Society Hotel whose understated aesthetic perfectly echoes the streets'.
New Orleans, Louisiana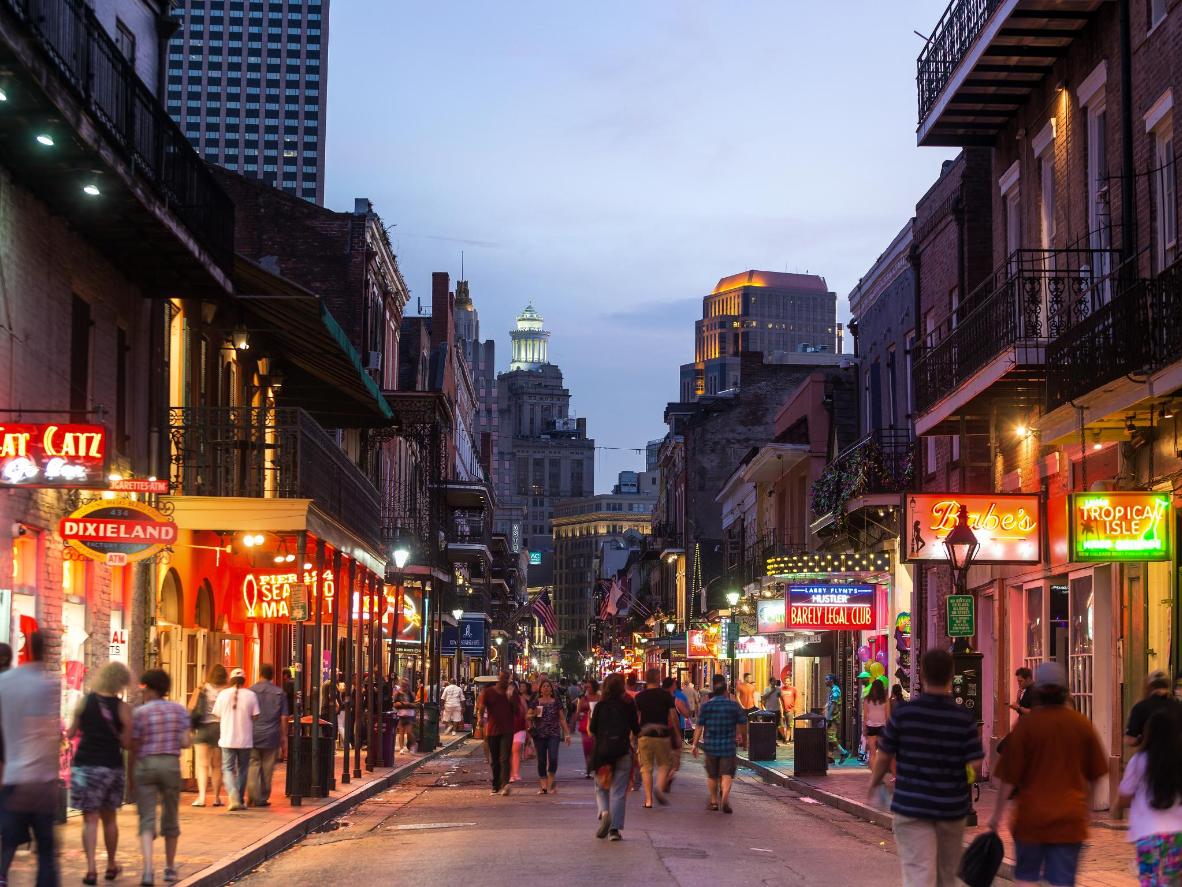 The French Quarter's street food is as colorful as its history
The vibrant multicultural history of New Orleans shines in its vast—and delicious—array of street foods. Through the centuries, the French Quarter has been home to Native American, French, Spanish, Italian, African, and Irish inhabitants (to name a few), all of whose traditional cuisines fused into unique treats. You can cover a full day's meals while wandering the streets of the French Quarter, with beignets for breakfast, a muffuletta or po' boy sandwich for lunch, a dinner of jambalaya, gumbo, or crawfish etouffee, and some New Orleans pralines for dessert.
The Cornstalk Hotel has an unbeatable location, and its antique decor is as charming as the French Quarter's streets.
Honolulu, Hawaii
Whether you pick up malasadas or musubi on the street, enjoy it on the beach
Honolulu's climate is a tropical paradise, so it's no wonder so many people enjoy dining outside. The islander cuisine can trace its influences all the way around the world. Japanese sashimi appears in poke bowls, malasadas (custard-filled pastries) stems from Portugal, and shaved ice was inspired by the sweet Filipino favorite halo-halo. The ultimate local on-the-go snack is musubi (Spam and white rice belted with nori), which you'll find on sale everywhere, from food trucks to convenience store counters.
Don't want to leave the beach but need some sleep? Even after stepping inside the VIVE Hotel Waikiki, you'll still get to enjoy Honolulu's tropical, laid-back vibe.