Walking is one of life's greatest pleasures and was our savior throughout the pandemic, allowing us to explore the great outdoors in the UK when travel abroad wasn't possible. For anyone looking to take the activity to the next level, a pair of the best hiking boots are worth the investment - and Black Friday is a great time to shop for discounted footwear.
Providing you with all the support, grip, and protection you need for a good ramble, we've rounded up the top hiking boots for women and men you can buy right now.
Maybe you're heading out for a hike on rugged terrain, planning some woodland walking over the weekend, or heading abroad for a lake and mountain holiday - whatever your hiking style you'll want a pair of high-quality boots that fit your budget and activity.
How to choose the best hiking boots
There are various things to consider when buying hiking boots, including the material, breathability, price, and support offered.
You might wish to consider technicalities, such as whether the hiking boots are waterproof or lightweight (especially if you plan on packing them for a holiday).
Then there's the sustainability of the materials used, as well as the fit, which will determine how comfortable they really are and whether you can spend all day wearing the boots.
To help you choose the best hiking boots for you, we've brought you the styles from top brands, including Berghaus and Scarpa, and the ones loved by walkers all around.
Here are the best hiking boots for women and men in 2021, including Black Friday deals.
Hiking boots for women
BLACK FRIDAY DEAL: BEST LIGHTWEIGHT LEATHER HIKING BOOTS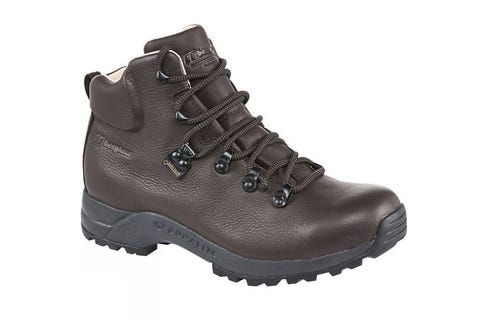 BERGHAUS
Berghaus Women's Supalite II GTX Boot, was £155 - now £115
Leather hiking boots can be particularly heavy but if you're looking for a pair that doesn't compromise on quality while offering you a lightweight option you'll be wearing for years, look no further than Berghaus' Supalite II GTX Boot. The women's hiking boots weigh just 970g and have a royal following too - they're the hiking boots you might have spotted on the Duchess of Cambridge. In terms of other features, they're made from high-quality Pittards leather, they stay soft and supple while maintaining durability, plus they're engineered with Gore-Tex waterproof, breathable technology for maximum comfort, whether it's leisurely winter strolls or challenging all-day hikes you're planning.