The USA has some of the world's most exciting and unique cities, so it's easy to see why everyone wants to visit New Orleans' French Quarter or the Las Vegas Strip. But for every urban attraction, there's an equally impressive natural wonder you don't want to miss.
Fish Camp, California
Fish Camp is a small, tight-knit community located right outside Yosemite National Park. Just drive a few minutes to the south entrance and you'll be greeted by the incredibly beautiful Mariposa Grove. This road is lined by ancient Giant Sequoia trees including the Grizzly Giant, a tree estimated to be between 1,900 and 2,400 years old.
From there, it's about 45 minutes to Yosemite Valley, where you'll instantly feel tiny next to the massive granite cliffs. Take a selfie with the incredible rock formation, El Capitan, or the impressive Bridalveil Falls in the background. Even though you'll be surrounded by the amazing light purple glow of the granite and the deep greens of pine, fir, and cedar trees, don't be surprised if your camera doesn't do the scenery justice.
Located in a beautiful Victorian farmhouse, Tin Lizzie Inn offers B&B accommodations for bookers, close to the South Entrance of Yosemite National Park.
Everglades City, Florida
Bright blues and greens in the Everglades National Park
Most people pass through Everglades City on their way to Everglades National Park (the largest subtropical wilderness area in the USA) and the Ten Thousand Islands. This maze of small, interconnected islands and twisted mangroves is a magical place for canoeing, exploring tree-covered tunnels and stopping on empty patches of sand. Bookers can take guided eco-tours on foot, by small plane, bike, or power-boat – just keep your eyes peeled for manatees, birds, and other exotic plants and animals.
Ivey House B&B is an eco-friendly property close to Everglades National Park.
Bluff, Utah
See the glowing red rock formations of the Grand Canyon by visiting Bluff
Utah is home to some amazing natural wonders and Bluff is the perfect starting point for checking them out. A few hours away, you'll find the Grand Canyon, a natural masterpiece of complex rock formations that glow red in the desert sun. There's also Gooseneck State Park, a deep bend of the San Juan River with layers of rock curving out like fingers clawing into the sand.
With windows facing huge rock formations and the desert, La Posada Pintada is in a great location in downtown Bluff.
Twentynine Palms, California
Joshua Tree National Park is named after its beautiful and mysterious trees
One of the USA's most popular national parks, Joshua Tree is just minutes away from the desert city of Twentynine Palms. The park is an oasis between the Mojave and Colorado Deserts and is named after its native Joshua trees – strange evergreens with spiky, cactus leaves reaching towards the sky. Bookers can follow the hiking trails that weave through the expansive landscape and valleys, stopping at points like Keys View for panoramas that stretch for miles.
Campbell House is a historic Philadelphia-style house in Twentynine Palms, with easy access to Joshua Tree National Park plus an outdoor pool and hot tub.
Gardiner, Montana
See plenty of wildlife at Yellowstone National Park
The tiny town of Gardiner has been the gateway to Yellowstone National Park even before the town was officially founded in 1880. Yellowstone is one of the USA's best-known reserves, covering three states and 2.2 million acres. It's also home to elk, bison, moose, bears, deer, and tons of other wildlife – and don't forget Old Faithful, a cone-shaped geyser that erupts almost every hour.
Bookers can check in to Yellowstone Gateway Inn, the highest-rated property in Gardiner.
Jackson, Wyoming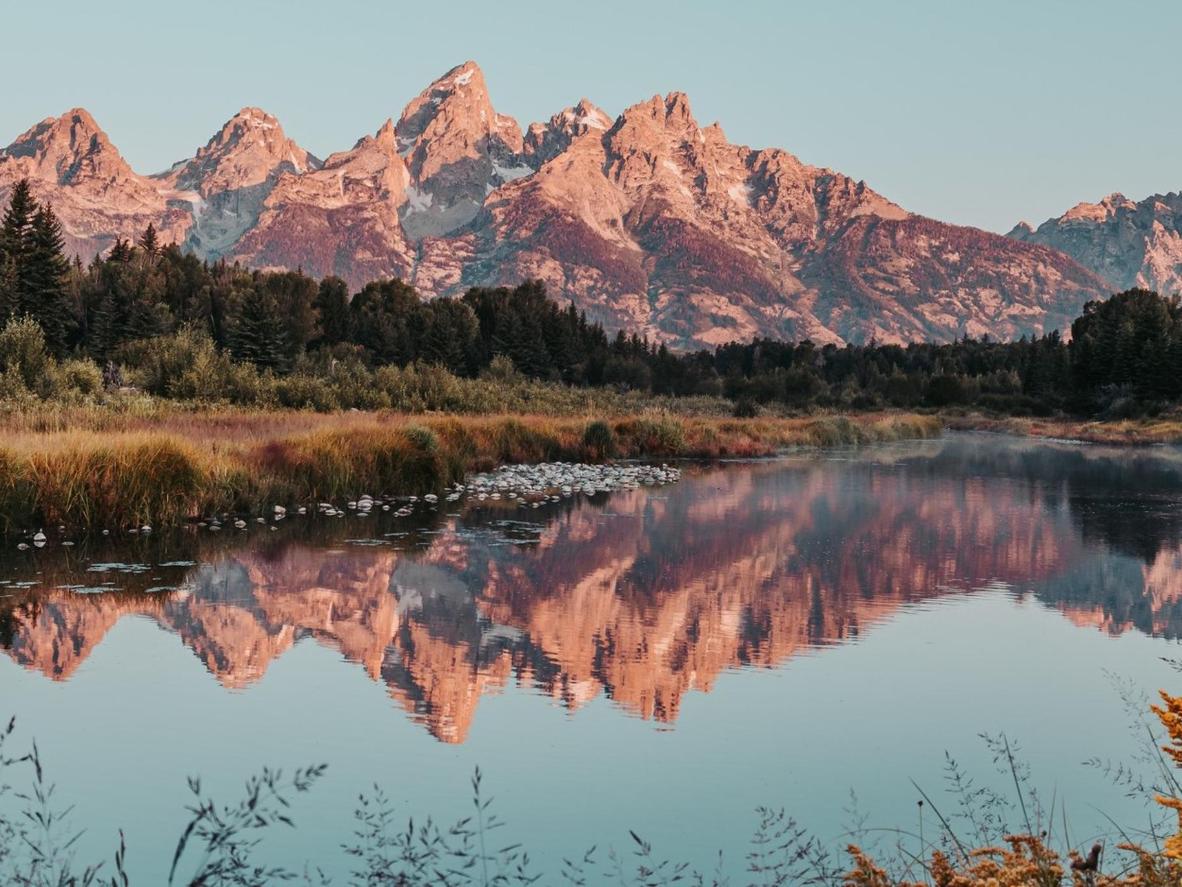 Climb to the peaks of Grand Teton National Park
Jackson is an ideal gateway option to Yellowstone National Park. This small town surrounded by towering mountains is located only minutes away from Yellowstone on all sides. Before heading into the park, explore the historic town square, and, after your day in nature, relax at Granite Hot Springs. Inside the park, you're close to the National Elk Refuge—the largest wild Elk herd in the world—and the famous Teton Mountains which, depending on the trail, can accommodate anywhere from beginner to expert level climbers.
Stay the night at The Lexington at Jackson Hole, only 5 minutes from the entrance to Grand Teton National Park.
Monument Valley, Utah
Monument Valley was created over a period of millions of years
In the southeastern corner of Utah, standing proudly in the middle of the flat desert, are the red rock formations known as Monument Valley. Created over millions of years by wind erosion, these formations aren't hikable unless you have a paid guide with you – but you can always take a sunrise drive to see them at their prettiest.
Abajo Haven Guest Cabins is a collection of wooden cottages where bookers will be surrounded by nature and close to Utah's Monument Valley.