When it comes to cherry blossoms, the first destination that comes to most Americans' minds is Washington DC. However, there are plenty of spots around the country to enjoy the budding springtime beauty – without all the huge crowds.
Descanso Gardens, Pasadena, CA
A short drive from the bustle of Downtown Los Angeles lies Descanso Gardens, a 160-acre oasis featuring a lake, forest, and bird sanctuary. Visit between mid-February to mid-March to catch the white and pink blossoms framing the Japanese garden. To learn more about the garden's impressive collection, don't miss the Spring Bloom Walks – guided tours available February to May. Or check out a complimentary origami session, where an expert will teach you about the art of Japanese paper-folding as the cherry blossom petals flutter around you.
Stay at the charming Bissell House Bed & Breakfast, where you can bask in the beauty of its lush garden while enjoying afternoon tea.
Dallas, Texas
Have a picnic under the snow-white cherry blossoms in the Dallas Arboretum
The Dallas Arboretum has amassed a collection of about 150 Yoshino cherry trees over the last 20 years. The white blooms pop to life in early to mid-March, creating an ethereal canopy down the central walkway. After a stroll among the garden's the tulips, daffodils, and peach blossoms, settle in for a picnic under the flowering boughs. Activities offered here include afternoon tea, craft-making classes, and local wine tastings, so check their calendar to stay up-to-date.
Stay at The Adolphus. You'll want to indulge in a treatment at their spa, where it'll feel like you're relaxing in your own private garden.
New York, New York
Watch New York City bloom back to life at the end of March
Winter typically gives way to spring in New York City at the end of March. It's the perfect time to visit Roosevelt Island, when its 600 cherry trees explode to life in shades of white, pale pink, and fuschia. There's also Brooklyn Botanic Park, which is home to over 18 varieties of cherry blossom trees. Walk through its tunnel of fluffy pink Kanzan trees in the Japanese Garden, where weeping cherry trees frame the floating red torii gate. Late April hosts Sakura Matsuri, a celebration of Japanese culture with concerts, arts and crafts, street vendors, tea ceremonies, traditional classes, pop-up eateries, and more.
From the Brooklyn Botanic, it's just a short walk back to The Brooklyn – a modern hotel with chic amenities and NYC-themed rooms.
Portland, Oregon
The home of a beautiful cherry-blossomed park with a historic past
The Japanese American Historical Plaza marks where Portland's Japantown once stood. This monument in commemorates the Japanese Oregonians who returned to Portland after being detained at internment camps. Today, many Japanese Portlanders enjoy hanami—"flower-viewing" in Japanese—under the 100 Akebono cherry trees lining Tom McCall Park from late March to early April. The views from the waterfront are as beautiful as the plaza's historical stone inscriptions are fascinating.
Check in to The Society Hotel, just three blocks from the Japanese American Historical Plaza to enjoy the sunset from its nature-themed terrace.
Philadelphia, Pennsylvania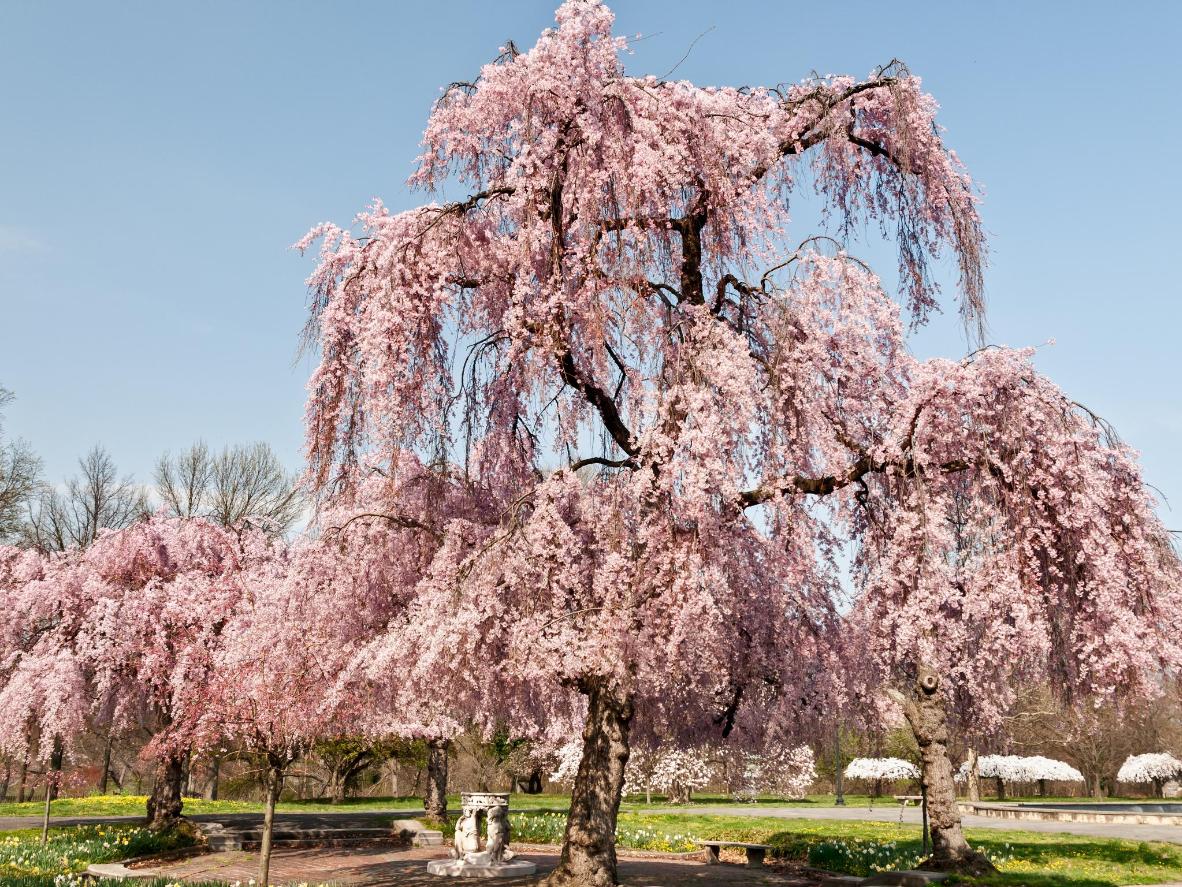 Stroll through a traditional garden during Philidelpia's Cherry Blossom Festival
Fairmount Park in Philadelphia is home to over 1,000 cherry trees that usually reach peak bloom in mid-April. While the park offers lots of scenic spots, don't miss the Shofuso Japanese House and Garden in the spring. Nestled in the traditional Japanese garden amid weeping cherry blossom trees, this structure was designed and built in Japan using traditional techniques and materials, exhibited in MoMA, then finally transported to West Fairmount Park. The park also hosts the annual Subaru Cherry Blossom Festival of Greater Philadelphia, a weekend-long celebration with traditional performances, workshops, and food vendors.
Check in to the Courtyard by Marriott Philadelphia City Avenue, just a 5-minutes walk from the northern part of Fairmount Park.
Chicago, Illinois
Enjoy the springtime breeze of the Windy City's Cherry Blossom destinations
Chicago
is home to several incredible cherry blossom viewing spots. Right outside the Museum of Science and Industry, the banks of the Columbia Basin will be lined by blossoming, pale-petaled trees . A short walk away is the Garden of the Phoenix—a traditional Japanese garden—where even more trees can be seen. There's also the Elizabeth Hubert Malott Japanese Garden at Chicago Botanic Garden, where three islands are decorated with stone lanterns, wood bridges, manicured trees, and a zen rock garden.
Head back to the
Omni Chicago Hotel & Suites Magnificent Mile
to enjoy views of the Millenium Mile while sipping a cocktail. Then head to the in-house 676 Restaurant, which uses locally-sourced ingredients from the hotel's very own rooftop organic garden.