The rhythm of the city is important when picking a vacation spot but certain destinations take that old saying quite literally. From live jazz in New Orleans to country concerts in Nashville, we curated a list of the country's most musical cities and the unforgettable musical experiences they offer.
Nashville, TN
Nashville's toe-tappin', country-lovin' nightlife earned it the title of "Music City." This city has attracted hopeful artists since the 1800s and launched the careers of countless stars including Taylor Swift, Tim McGraw, Dolly Parton, and Blake Shelton. You can visit big concerts or music festivals, but— for a true Nashville experience—check out the local clubs that showcase fresh talent like the Bluebird Cafe – you just might catch the next big act in music. After a night out, head back to the Dream Nashville, which is housed inside two historic landmark buildings and only a short walk from all the gigs downtown.
New Orleans, LA
Walk to the jazzy rhythm of the New Orleans streets
Jazz is synonymous with New Orleans. It's said to be the birthplace of jazz, and has been home to stars like the legendary Louis Armstrong. Walk through the French Quarter, Mid-City, or Uptown, and you'll hear the music on the street, or else head into venues like The Spotted Cat Music Club for an authentic NOLA live music experience. Stay in the French Quarter at the Hotel Le Marais and kick back with a cocktail at the on-site bar, or on the outdoor patio to lap up that warm southern weather.
Atlanta & Athens, GA
Hip-hop and R&B take center stage in Georgia
Atlanta, Georgia is a hub for all things hip-hop and R&B that brought to fame names like Usher, Childish Gambino, and CeeLo Green. Here you can head to venues like 529 to enjoy a drink and some live music before calling it a night at the centrally located Atlanta Marriott Marquis, which offers an on-site restaurant, bar, and spa. In the morning, hire a car and head off on an hour-and-a-half drive to the college town of Athens, Georgia. Home to bands like REM, Athens is an iconic site for 90s indie rock – the whole town centers around its love of music. Round out your adventure with a musical walking tour before heading to live venues like The Foundry or the 40 Watt Club for an evening of good tunes.
Austin, TX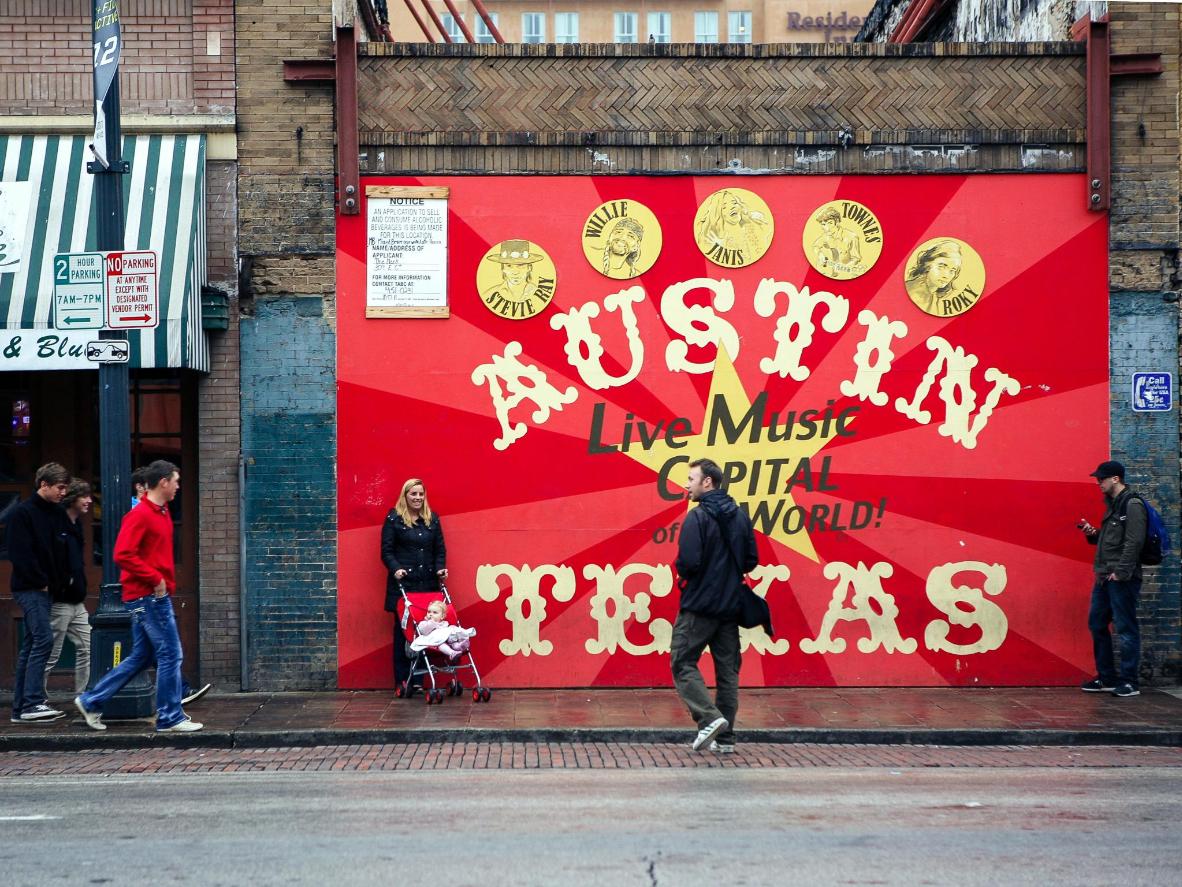 Welcome to the Music Capital of the World in Austin, TX
Austin's official motto is—fittingly—the "Live music capital of the world." It has more music venues per capita than anywhere else in the world, hosts several huge music festivals, and is home to over 1,900 bands in and around the metro area. Plus, with over 250 music venues open on any given night, you'll never have a lack of concert options in Austin. After rocking out all night, stay at The LINE Austin. Here you can use their complimentary bikes to get around the city or take some time out from sightseeing by relaxing on the hotel's sun terrace.
Seattle, WA
The Museum of Pop Culture, Seattle, Washington
The rainy city of Seattle were key incubation grounds for the alternative and grunge scenes, which made it a key destination for both head-bangers and rule-breakers. More than just a place for great record shops, Seattle brought bands like Pearl Jam and Nirvana to popularity. Hit up grunge venues like The Crocodile or learn more about music history at The Museum of Pop Culture. Afterwards, rest up at Motif Seattle. This modern hotel has views of Elliott Bay and the Olympic Mountains, so you can enjoy some of Seattle's best views.