No-one appreciates the beach as much as a dog, and to watch your four-legged friend canter over the sands and frolic in the sea is to witness pure, unbridled joy. Best of all, they don't mind how cold it is, or whether the ice cream hut is open or not!

This is where the UK's best
dog-friendly
beaches come in, allowing us to spend quality time with our best friends as they roll around in the sand and make the most of the open space.
While dogs adore beaches, not all beaches reciprocate, so it's important for dog-lovers to know which of the UK's shorelines welcome four-legged visitors. That's why we've rounded up the best dog-friendly beaches in the UK for you to visit on a staycation.
Though lots of beaches will tolerate your pooch in the winter months or during high-season evenings and early mornings, our pick of the best dog-friendly beaches in the UK are happy to host your dog all year round, come rain or shine.
To help you decide where to take your dog on holiday next, we've selected dog-friendly beaches across the UK, which include powder-soft sand, miles of space and lovely places to stay nearby.
From the rugged north-eastern coastline of Embleton Bay in Northumberland to Saunton Sands Beach, at the heart of the North Devon biosphere reserve, you can expect a range of dramatic backdrops and lung-lifting fresh air.
To save you the search, we've picked out the best accommodation close to each dog-friendly beach so that you can really make the most of your seaside staycation and avoid subjecting your pooch to too long in the car.
So pack a lead and some treats (for both of you) and head to one of these breathtaking dog-friendly beaches in the UK this summer.
1. Marloes Sands, Pembrokeshire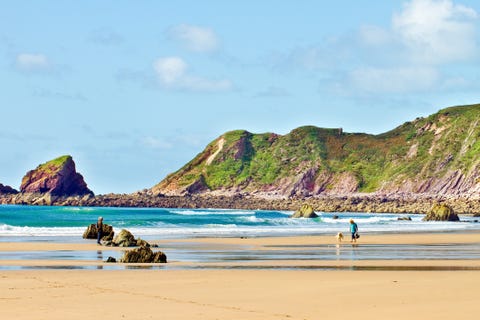 RON EVANSGETTY IMAGES
The drama of this dog-friendly beach - jutting out of Wales' south-western rim - is inescapable. Blackened, volcanic rock formations and views across Stockholm Island and the Atlantic beyond, for as far as the eye can see, create a beach feel straight out of a poetic novel.
To get down to the sands themselves, visitors park in the carpark and then head out on the half-mile descent along the side of the cliffs - which shelter the beach itself - to get down to the series of small bays that make up Marloes Sands.
Your dog will enjoy the rock pools and exploring Gateholm, a tidal island with the remains of an ancient settlement, while you marvel at the surrounds here.
Where to stay: Timber Hill Self Catering Cedar Lodges is situated in Broad Haven and offers a garden, barbecue facilities and a terrace. Guests at the holiday home can enjoy billiards on site, or go hiking or fishing in the surroundings.
2. Embleton Bay, Northumberland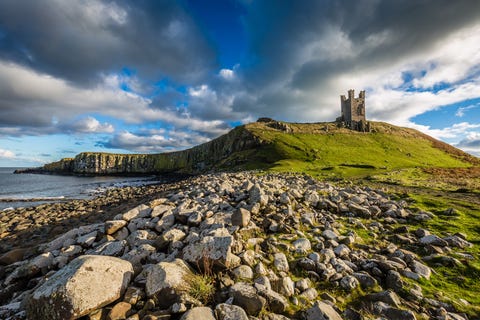 MICHAEL_CONRADGETTY IMAGES
Exuberant dogs and equally as exuberant owners will love Embleton Bay, a jewel in the crown of the dramatic coastline here. With the 14th-century ruins of Dunstanburgh Castle presiding over all below, the coast here has a rugged, romantic feel to it, and offers a sense of freedom for both animal and human alike.
A short walk south will lead you to the fishing village of Craster (known as the home of smoked fish), where dogs are welcomed with open arms.
Where to stay: Situated in the heart of Embleton, a picturesque village on the Northumberland coast, The Dunstanburgh Castle Hotel boasts an award-winning restaurant, which serves fresh, ethically-produced food daily.
3. Seacliff Beach, East Lothian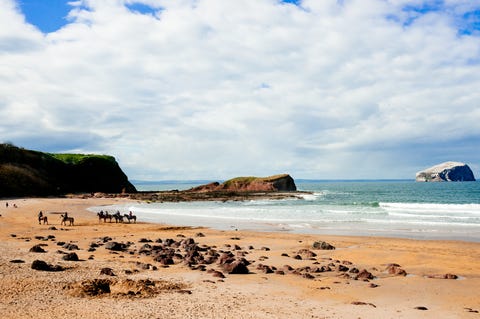 VERSEVENDGETTY IMAGES
East of Edinburgh, perched at the mouth of the Firth of Froth, Seacliff Beach is a dog-friendly haven, gazing out over Bass Rock (a chunk of volcanic rock rising from the waters).
Dogs will enjoy the rock pools, endless sands and leadless way of life here, while owners can bask in the atmospheric views of 14th-century Tantallon Castle looming overhead and the tiny harbour beneath.
4. Chapel Porth, Cornwall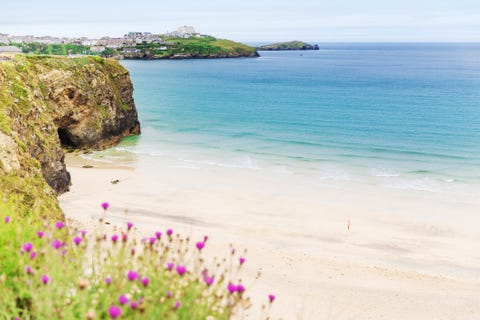 ANNAMOSKVINAGETTY IMAGES
Though high tide renders Chapel Porth rather un-explorable, low tide rewards its visitors with golden sands that outrun even the most boisterous of four-legged friends.
The entrance can be found at the base of the valley here, dotted with ruins and wheelhouses, prehistoric structures from the Iron Age, before the land opens out onto endless azure waters.
Where to stay: The stylish family-run Beacon Country House Hotel
is surrounded by picturesque Cornish countryside, close to the rugged coast and the restaurant's beautiful views means you can watch the local wildlife while enjoying breakfast or dinner.
5. Rossglass, Northern Ireland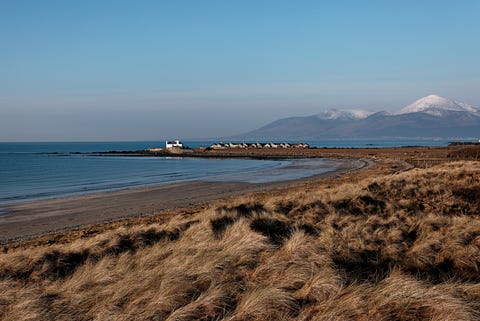 DAVID MITCHELLGETTY IMAGES
This large sandy, dog-friendly beach extends for over a mile and offers sandy shingle at high tide with rocks beyond the shoreline. The dramatic, snow-topped mountain range behind this rugged section of coast means that you'll have something to gaze at while your dog digs holes in the sand and splashes about in the shallows.
Where to stay: Located in Newry, within day-trip distance of The Cathedral of Saint Patrick and Saint Colman, Carrick Lodge Mourne Mountains self-catering accommodation boasts four bedrooms and breath-taking views from the garden.
6. Rhossili Bay, Swansea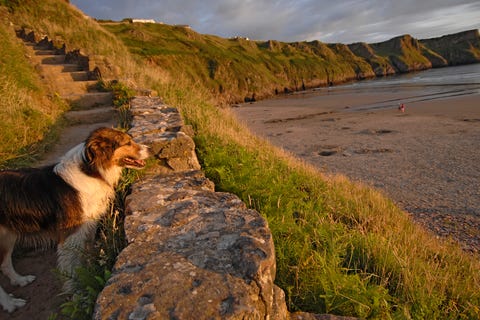 PHOTOGRAPHICSOLUTIONSUKGETTY IMAGES
Wherever you stand on Rhossili Bay, you're treated to spectacular views - which is unsurprising when you find out that the stretch of coastline here sits within the first Area of Outstanding Natural Beauty in the UK.
Your dog can roam free across the sands here, and at low-tide, you can cross the causeway to Worms Head (though careful timing is advised!).
Where to stay: The highly-rated Broad Park is loved by couples, and those who are looking to explore the area. The accommodation is room-only but is nearby to lots of other dining options.
7. Holkham Beach, Norfolk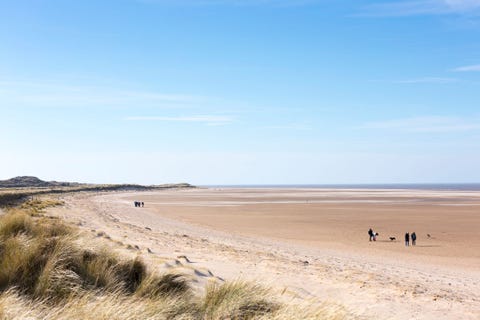 TIM GRAHAMGETTY IMAGES
For dogs that appreciate plenty of space, there are four miles of this dog-friendly beach to enjoy, and at low tide it stretches out over a mile from entrance to sea. And Holkham Beach - besides its renowned sunsets that swirl out across the open skies here -can also be recognised as one of the backdrops for Shakespeare in Love.
A nature reserve runs alongside the sands, separated by pine woods and wild growths, and though the beach is by no means a secret, it retains a peaceful feel all year round.
Where to stay: Located within the grounds of the Holkham House Estate, the Victoria Inn in as a former hunting inn that has undergone a chic modern makeover.
8. Balnakeil Beach, Scottish Highlands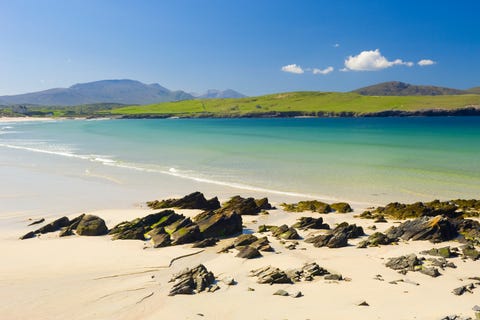 NORTHLIGHTIMAGESGETTY IMAGES
The Scottish Highlands and known across the world for their breathtaking beauty, rugged mountain ranges and crystal-clear waters. In fact, it was no easy task to narrow down the various beaches here to just one - but we managed it.
Balnakeil Beach's partly sheltered bay could be mistaken for the azure coastline of Thailand, but it actually sits on the edge of the mainland to the north-west of the highlands.
Overlooked by church ruins, the water gently bubbles up onto the sand here and makes it ideal for a paddle with your pooch.
Where to stay: Situated in Balnakeil in the Highlands region, Balnakeil House is a breathtaking mountainside self-catering property that will certainly leave both you and your dog with enough space to run around.
9. Fistral Beach, Cornwall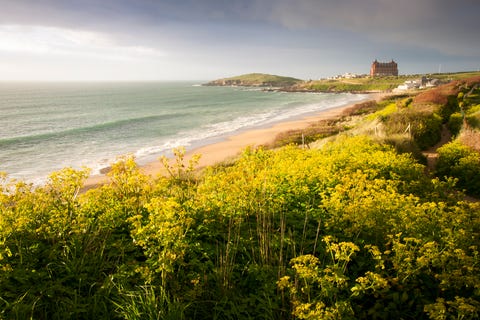 PHOTOS BY R A KEARTONGETTY IMAGES
A year-round, dog-friendly beach, Newquay's Fistral Beach is a lovely expanse of sand fringed by beautiful rolling sand dunes. It's the perfect place for exploring with your furry friend, where the land meets the sea.
You'll find a complex on the beach, which contains surf shops, restaurants and bars (including The Fish House, lauded by Gordon Ramsay), with many welcoming dogs.
Where to stay: Directly overlooking Fistral Beach, Oceanside Hotel is a new dog-friendly hotel, formerly the Carnmarth Hotel. On arrival, coastal canines get a paw-some welcome pack containing a cosy blanket for snuggling into, a bowl for lapping, scrumptious arrival treats and emergency poo bags.
10. West Angle Bay, Pembrokeshire
Located at the mouth of the Milford Haven Estuary in the heart of the Pembrokeshire Coastal National Park, West Angle Bay is great for dog walking, swimming, kayaking, fishing, boating and rock pooling.
The dog-friendly beach is right on the Pembrokeshire Coast Path and has a superb café Wavecrest serving fresh coffee, teas and milkshakes, plus salads, baguettes and afternoon tea.
Where to stay: The nearby Globe is a luxury B&B which can also be rented exclusively. It's walking distance from West Angle Bay and boasts a spacious mix of bedrooms for families and couples, as well as disabled access, a large garden with a hot tub, roof terrace, BBQ area and parking.
11. Runswick Bay, Yorkshire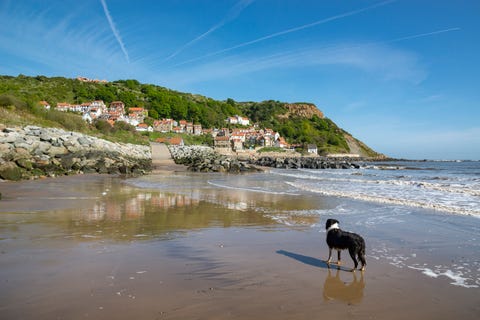 PHOTOS BY R A KEARTONGETTY IMAGES
Runswick Bay is a stunning stretch of sand between Whitby and Staithes on the North York Moors National Park coastline and is a dog-friendly spot with no restrictions. The bay curls round in a long swathe of sandy beach from the small village of Runswick Bay, with just a café on the beach side, a dog-friendly pub and a jumble of cottages.
There are walks up onto the coastal section of the Cleveland Way National Trail, enabling walkers to venture in either direction, towards Staithes or Kettleness, up onto the cliff tops as well as letting their dogs have along run along the beach.
Where to stay: Hideaway Lodge is a luxurious holiday home set close to the beach. The pet-friendly rental has two bedrooms, modern interiors and a cosy kitchen/living space.
12. Saunton Sands, Devon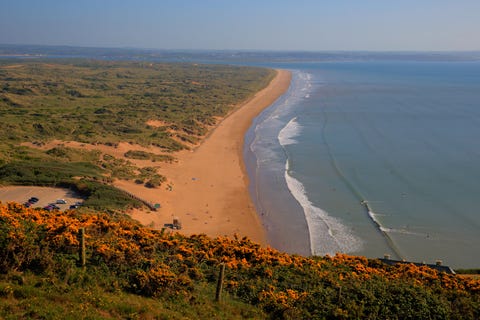 ACCELERATORHAMSGETTY IMAGES
Dog-friendly beach Saunton Sands is situated at the heart of the North Devon Biosphere Reserve and is a true sight to behold. 3.5 miles of sandy beaches will ensure even the most boisterous of dogs has used up their energy reserves by the end of the visit.
It stretches north to south from the cliffs of Saunton to the Taw-Torridge Estuary, so stunning scenery can be expected.
Where to stay: The HideOut offers pet-friendly self-catering accommodation in Braunton, and means that after a long day of walking you can spread and relax in your own space, without having to worry about leaving your dog in your room when going down for dinner.
13. Pink Bay, Bridgend
Located a 15-minute walk from Porthcawl's Rest Bay, Pink Bay is the town's quieter beach and is popular with locals and surfers.
The dog-friendly beach has a steep pebble bank down to the golden sand. The rocks at the top of the beach have a unique pink marbling effect, hence the name Pink Bay.
Where to stay: The Best Western Heronston Hotel is an ideal option for pet-friendly accommodation and is in a great location for exploring both coastal and inland attractions. It sits around 20 minutes from Pink Bay by car.
14. Robin Hood's Bay, Yorkshire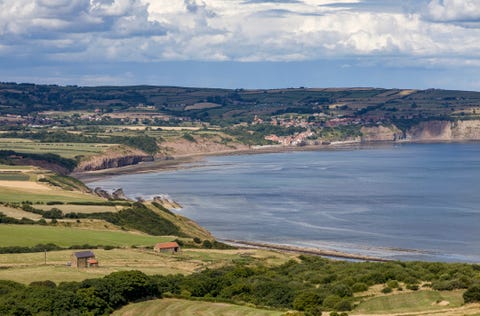 GRAHAMMOORE999GETTY IMAGES
Robin Hood's Bay welcomes dogs come rain or shine, summer or winter, and provides ample space for both you - and your pet - to sretch your legs and soak up the fresh sea air.
The village itself - with its picture-perfect setting - offers a range of dog-friendly pubs and cafes for when you're both in need of a little refuelling.
Where to stay: Blacksmiths Boutique B&B offers 6 individually themed rooms set in the North Yorkshire Moors National Park, although only one room allows dogs so it's worth booking early. Expect fresh milk, homemade biscuits and slippers whichever room you say in though.