Stretching between the huge Velebit mountains and the pebbly Dalmatian coast, Croatia's landscape is as diverse as it is dramatic. To free up as much time as possible to take in leafy national parks, rocky terrain, and saltwater lakes, consider booking your whole trip with flexible flights, accommodations, and a scheduled taxi from the airport before you leave home.
To help with your planning, we found some of the best places to experience Croatia's natural beauty, as selected by global travelers.
Zlatni Rat Beach, Split-Dalmatia County
Zlatni Rat's pointy peninsula of fine sand makes it Croatia's most recognizable beach. Jutting out from Brač Island's pine-forested coast, the "Golden Horn" attracts sunbathers, snorkelers, and surfers. The headland's natural shelter makes windsurfing especially popular. For shimmering Adriatic scenery, you can climb up the Vidova Gora mountain and survey the beach's angular shape from above. After a day outdoors, the seafront bar at Zlatni Rat Beach Hotel provides refreshing relief.
Blue and Red Lakes, Split-Dalmatia County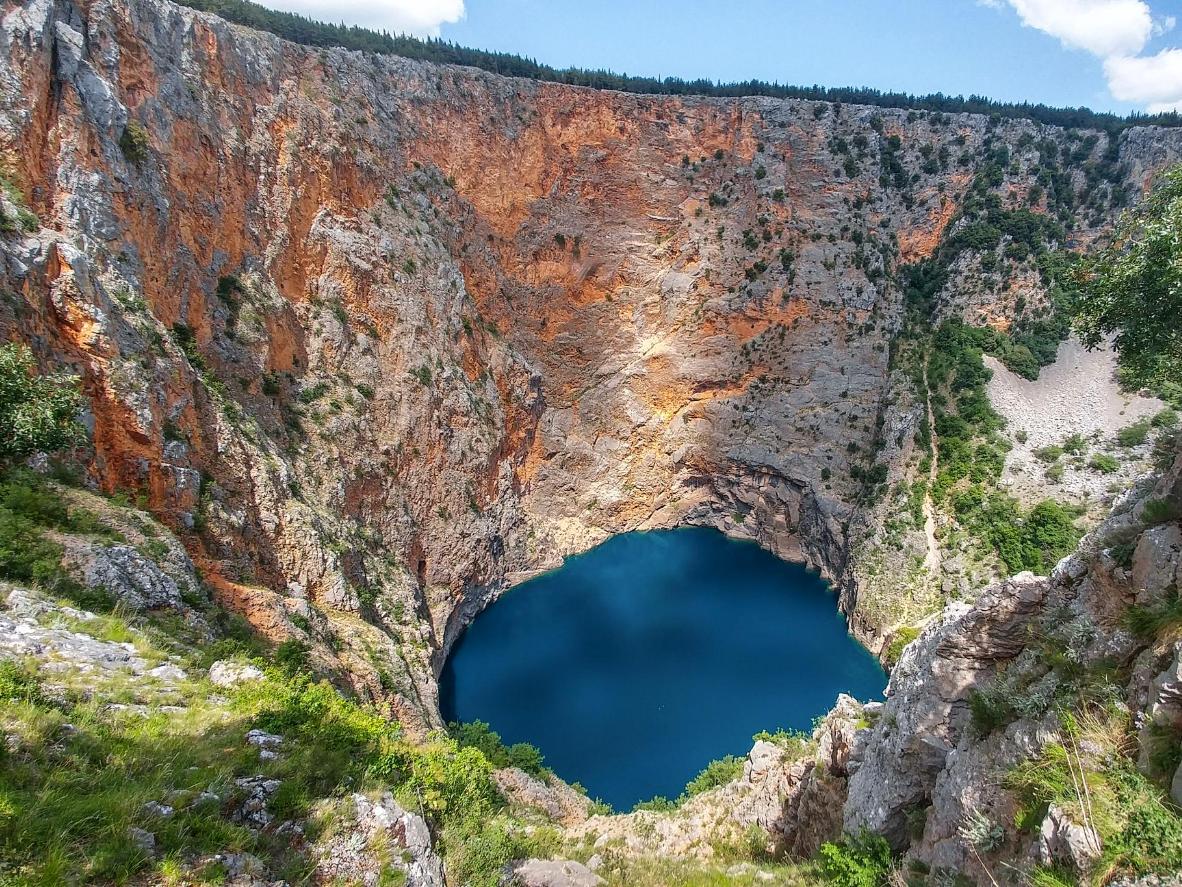 The breathtaking Red Lake nestles inside Europe's largest collapsed sinkhole
Formed by collapsed caves, the huge karst sinkholes on the edge of Imotski village will leave you in awe. During spring, melting snow fills the 720-foot-deep Blue Lake, creating a stunning cyan surface, while in the summer you can hike down to the dried bed and watch locals play football. Then there's the Red Lake, whose corroded cliffs stretch 850 feet above—and below—the water. Before visiting the lakes, enjoy views of the Biokovo mountains with some smoked pršut ham at Hotel Venezia Imotski.
Skradinski Buk Waterfall, Šibenik-Knin County
Skradinski Buk Waterfall is the showpiece of Krka National Park
In the vast and verdant Krka National Park, the teal Skradinski Buk Waterfall is the star attraction. Admire its cascades, limestone terraces, and mini lakes from wooden walkways, or take a guided boat tour to hear how Skradinski Buk once powered Europe's first hydro-electric station. You can even change into your swimwear and wade in to experience the falls' majesty up close. At Rooms Ive in nearby Lozovac, cap off the day with a glass of wine from the property's vineyard.
Blue Cave, Split-Dalmatia County
The otherworldly hues of the Blue Cave leave visitors spellbound
There are many grottoes carved into Biševo Island's limestone coast, but the 80-foot-long Blue Cave is truly special. When sunlight hits the water below its natural chamber, the grotto glows in celestial aquamarine and electric blue, turning everything beneath the surface silver and pink. To bask there in peace, hop on the small boats that depart Mezuporat Bay first thing in the morning. The air-conditioned Apartments Kastelani is 15 minutes away, on neighboring Vis Island.
Plitvice Lakes, Lika-Senj County
Plitvice Lakes' pools and falls descend downstream for five miles
Croatia's most famous waterway is right out of a fairy tale. The magical Plitvice Lakes comprise 16 basins and 90 waterfalls that tumble down stepped deposits of moss-clad tufa rock. Waters flow at full tilt during spring, but you can venture onto the larger Gavanovac and Kaluđerovac lakes in a rowboat in the summer. Even in low season, the autumnal tones and icy cascades are worth the venture. Right next door, Hotel Plitvice has rooms offering views of the park.
Northern Velebit National Park, Lika-Senj County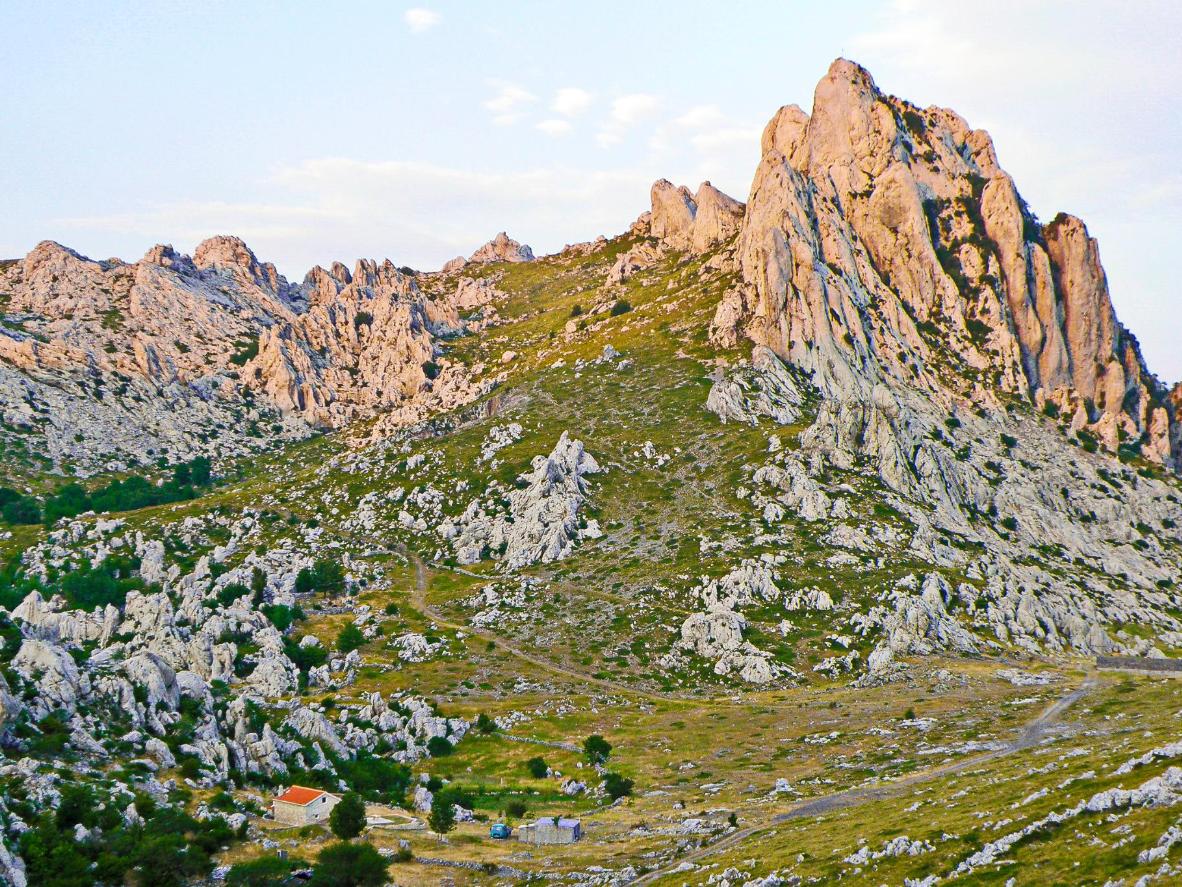 Fascinating rock formations dominate the Northern Velebit landscape
Famous for its rocky terrain and rich biodiversity, Northern Velebit National Park encompasses a huge swathe of Croatia's largest mountain range. Along its winding trails, you'll come across jagged limestone grooves, purple blankets of Siberian iris, and ancient grasslands. For sweeping vistas of valleys, peaks, and coastlines, head up to the Zavižan weather station beneath the mile-high Vučjak summit. Stay close to the village of Jablanac for easy access to the incredible natural surroundings.
Mljet National Park, Dubrovnik-Neretva County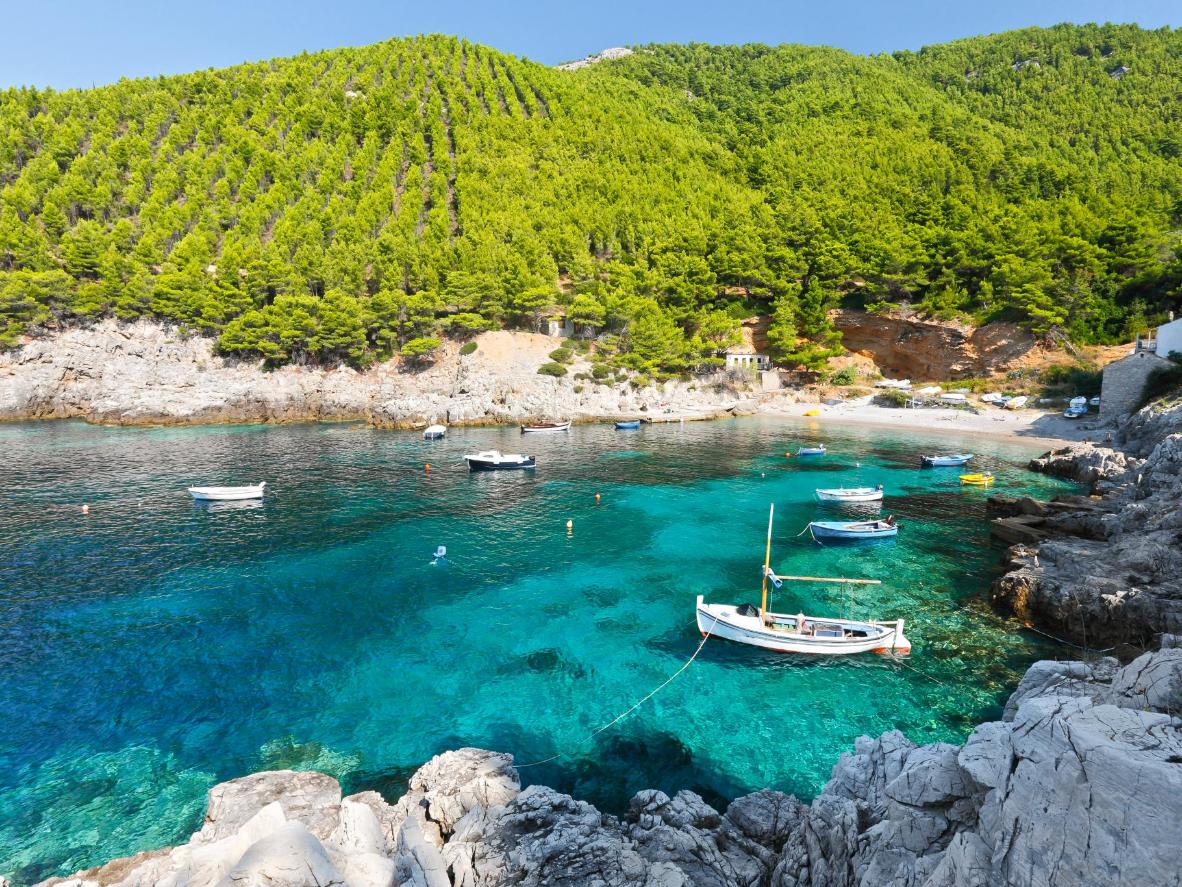 The charming village of Polače is your gateway to Mljet National Park
Only a short catamaran ride from Dubrovnik, the thickly forested Mljet Island is a lush escape. Mljet National Park engulfs the north-western part, where hiking and bike trails circle two glistening saltwater lakes. Rent a kayak and paddle out to the pretty 12th-century Benedictine monastery on Veliko Jezero, then cool off in the lagoon-like Malo Jezero. At Villa Radulj, you can sample fresh seafood and vivid seascapes just a 5-minute drive from the park's eastern edge.
Galešnjak Island, Zadar County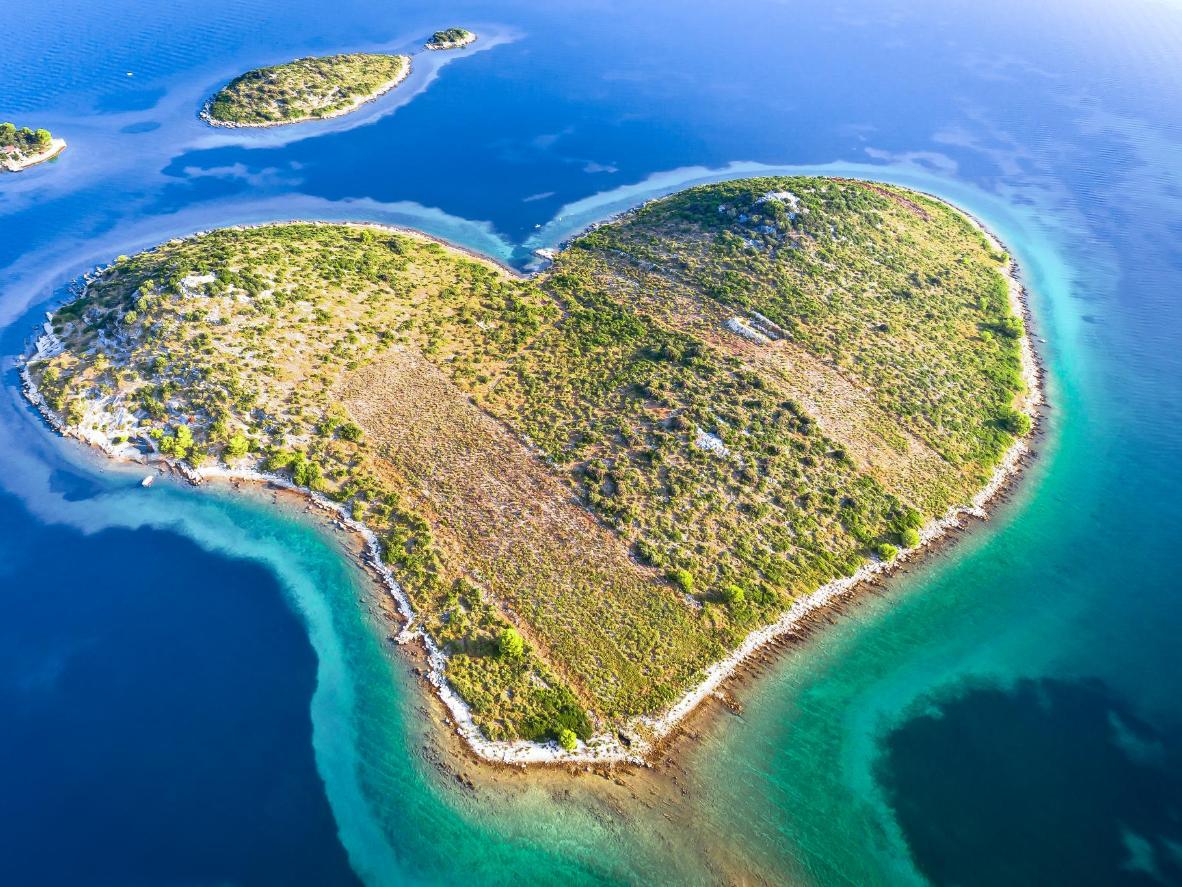 Galešnjak is a much-loved, pristine island in the Zadar archipelago
Nicknamed "Lovers Island," Galešnjak's heart-shaped outline was first noted by Napoleon's imperial cartographer in 1806. Today, its secluded pebble beaches and turquoise waters entice travelling couples to take desert-island dips and romantic picnics. If you dare to pop the question, the only onlookers will be wild rabbits skipping through rows of olive and fig trees. Set the mood with flower-strewn beds, towel origami, and island views at Apartments Katarina in nearby Sveti Petar.