The Pacific Northwest of the US boasts of natural hot springs. Besides the undeveloped 'wild' hot springs in the middle of the forest or a rocky scrub, there are many resorts where you can enjoy mineral water more comfortably, and they are also secure to children.
These curative mineral-rich waters attract many visitors, couples as well as families every year. The essential minerals and the geothermal heat offer a cure for many conditions from eczema to arthritis and restoring the soul and relaxing the mind.
Probably the best time to visit these places is autumn or winter when the temperature drops a little. There are many established resorts offering excellent services in this thermal wonderland. Many of them are kids friendly with differing pool temperatures and secure surroundings.
If you are planning a weekend getaway with your loved one(s), here are ten Hot Springs Resorts that will warm you up during the chilly days.
Bonneville Hot Springs Resort & Spa, Washington
Bonneville Hot Springs Resort is located in the beautiful scenery in Washington state near Portland. Surrounded by wonderful forests, visitors are greeted with gardens and waterfalls. You can have a room with a hot tub on your patio. It is one of the most luxury-oriented hot springs lodges in the Pacific Northwest with a 30-foot-high river rock fireplace in the lobby, spa with signature treatments, and fine dining experience. It is also a family-friendly establishment. The resort aims to separate families from couples and honeymooners.
Follow them on Facebook
Website: www.bonnevilleresort.com
Harrison Hot Springs Resort, British Columbia
Located on the picturesque shores of Harrison Lake, about three hours from Seattle, the Harrison Hot Springs Resort is one of the best resorts in the Northwest. Open all year round, the resort offers family adventure, romantic relaxation, nightlife, and great cuisine. The marina features fishing, kayaks, and bumper boats, something to suit everyone.
Follow them on Facebook
Website: www.harrisonresort.com
Sol Duc Hot Springs Resort, Washington
Spend the night in a rustic, charming Sol Duc Hot Springs Resort cabin to experience the hot springs' serenity in the Olympic National Park in northwest Washington. The cabins are surrounded by towering evergreens along the Sol Duc River in a picturesque valley, providing convenient access to the hot mineral-spring pools, massage therapists, and restaurant. and convenience store. Sol Duc has a really nice campground that is great for kids as well.
Follow them on Facebook
Website: www.olympicnationalparks.com
Breitenbush Hot Springs, Oregon
The Breitenbush Retreat and Conference Center lays on 154 acres of a wildlife sanctuary in the Willamette National Forest of the Oregon Cascades, about a five-hour drive from Seattle. The center offers seven unique, relaxing pools with nature-infused views, a steam sauna, yoga and meditation classes, hiking trails, and vegetarian meals. While this is not a luxury resort, there are comfortable cabins with private baths available. The price includes all meals, yoga, and 24-hour access to the hot springs.
Follow them on Facebook
Website: www.breitenbush.com
Carson Hot Springs Resort, Washington
Carson Resort is a historic property built in 1901, and the cabins and bathhouse were added later and are still being used. The resort offers a relaxing, rejuvenating experience in the original 1930s bathhouse. Located in a beautiful tree-shrouded valley, you can enjoy nature and the peaceful surroundings. A golf course is also available.
Follow them on Facebook
Website: www.carsonhotspringresort.com
Kah-Nee-Ta Resort and Spa, Oregon
Kah-Nee-Ta Resort & Spa offers different accommodations from rooms with private balconies to teepees and even a full-service RV Park. They also have 15,000 square feet of flexible meeting space to host any event. Located in central Oregon's just over Mt. Hood, about two hours from Portland, in wonderful surroundings.
Follow them on Facebook
Website: www.kahneeta.com
Belknap Hot Springs Lodge and Gardens, Oregon
Belknap Hot Springs is located on the McKenzie River, one of Central Oregon's hidden jewels. The lodge is open all year round with two mineral hot spring pools and many acres of gardens, including the extravagant Secret Garden. Belknap offers day-use passes and overnight stays in lodge rooms, RV, cabins, or tent sites.
Website: www.belknaphotsprings.com
Fairmont Hot Springs Resort, British Columbia
Tucked away in the magnificent BC Rocky Mountains slopes, Fairmont Resort is open year-round, offering unlimited access to the hot springs and fun resort activities for all ages. You can enjoy skiing, golfing, fishing, hiking, and spa treatments in the beautiful surroundings. After you spent a day outdoors, the hot springs will relax you completely.
Follow them on Facebook
Website: www.fairmonthotsprings.com
Eagle Rock Lodge, Terwilliger Hot Springs, Oregon
The spectacular McKenzie River Valley is home to the Terwilliger Hot Springs that consist of six cascading pools. There is a fee to use the hot springs ($6 per person), and also, these hot springs are clothing-optional. Close to the springs, Eagle Rock Lodge offers beautiful family-sized damselfly rooms with a McKenzie River view.
Follow them on Facebook
Website: eaglerocklodge.com
Hunter's Hot Springs Resort, Oregon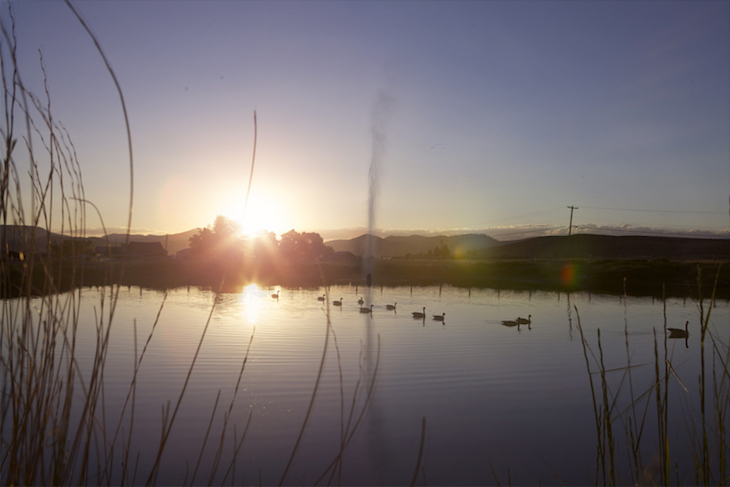 Hunter's Hot Springs Resort is located near soothing mineral hot springs and Old Perpetual, the only active geyser in Lake County. The resort is a beautiful lodge in Lakeview, Oregon, that provides excellent lodging with natural mineral hot springs and a pool. Watch the sun go down over the fields and mountains from the pool and forget about stress.
Website: michael-greenman.squarespace.com