America has a strong foundation of great novelists. Their words changed thought in our country and questioned American beliefs about culture, writing, and humanity.
Book nerds or history aficionados alike can learn more about the figureheads of the American literary canon by stepping into their homes and lives at these places around the country.
Ernest Hemmingway – Key West, Florida
The Nobel Prize winning force of the 20th century, Ernest Hemingway, arrived in Key West, Florida in 1928. He had no intention of staying on the sunny island, but after months of drafting A Farewell to Arms, he fell in love with the tropical paradise. He moved into his home at 907 Whitehead Street in 1931 and stayed for the remainder of the decade.
Today, the home is an official historic landmark and museum championing the life and work of this complex literary figure. Visit the desk where he wrote many novels, meet the descendants of Hemingway's cats, or—if the romanticism really sweeps you up—elope in the gardens.
Stay on the water at the Southernmost House Hotel. This adults-only hotel has a private beach, pool, bar, and delightful historic architecture – all the necessary ingredients to inspire your very own great American novel.
Mark Twain – Hartford, Connecticut
Explore the American dream at Mark Twain's Connecticut home
Samuel Clemmins—more commonly known as Mark Twain—moved to Hartford, Connecticut as a newlywed in 1871. Over his next 17 years in Connecticut, he helped raise his three children and wrote some of the most important novels in American history, including The Adventures of Tom Sawyer and The Adventures of Huckleberry Finn.
Now you can visit Twain's family home and museum to learn more about his life and career, and also see original manuscripts, photographs, and furnishings.
Stay downtown at The Capitol Hotel, Ascend Hotel Collection for a contemporary hotel with all the comforts for your stay.
Emily Dickinson – Amherst, Massachusetts
Poeticize the commonplace at Dickinson's Massachusetts home
Famed poet and notorious recluse, Emily Dickinson spent the majority of her life in Amherst, Massachusetts. In one of the two Dickinson family houses available to visit, she wrote—quite literally—piles of poetry, most of which were only published after her death in 1886.
Take one of four guided tours, each focusing on a specific aspect of Dickinson's life. Visit her main home, the "Homestead," where she wrote, gardened, and rarely left the grounds during her adult life. Then head to her brother's home for more original artifacts.
Channel your inner poet at the Allen House Inn bed & breakfast. Then, if you want to keep the poetry tour going, head a half-hour south to the wonderful and wacky Dr. Suess home and museum in Springfield.
Louisa May Alcott, Ralph Waldo Emerson, Nathaniel Hawthorne, and Henry David Thoreau – Concord, Massachusetts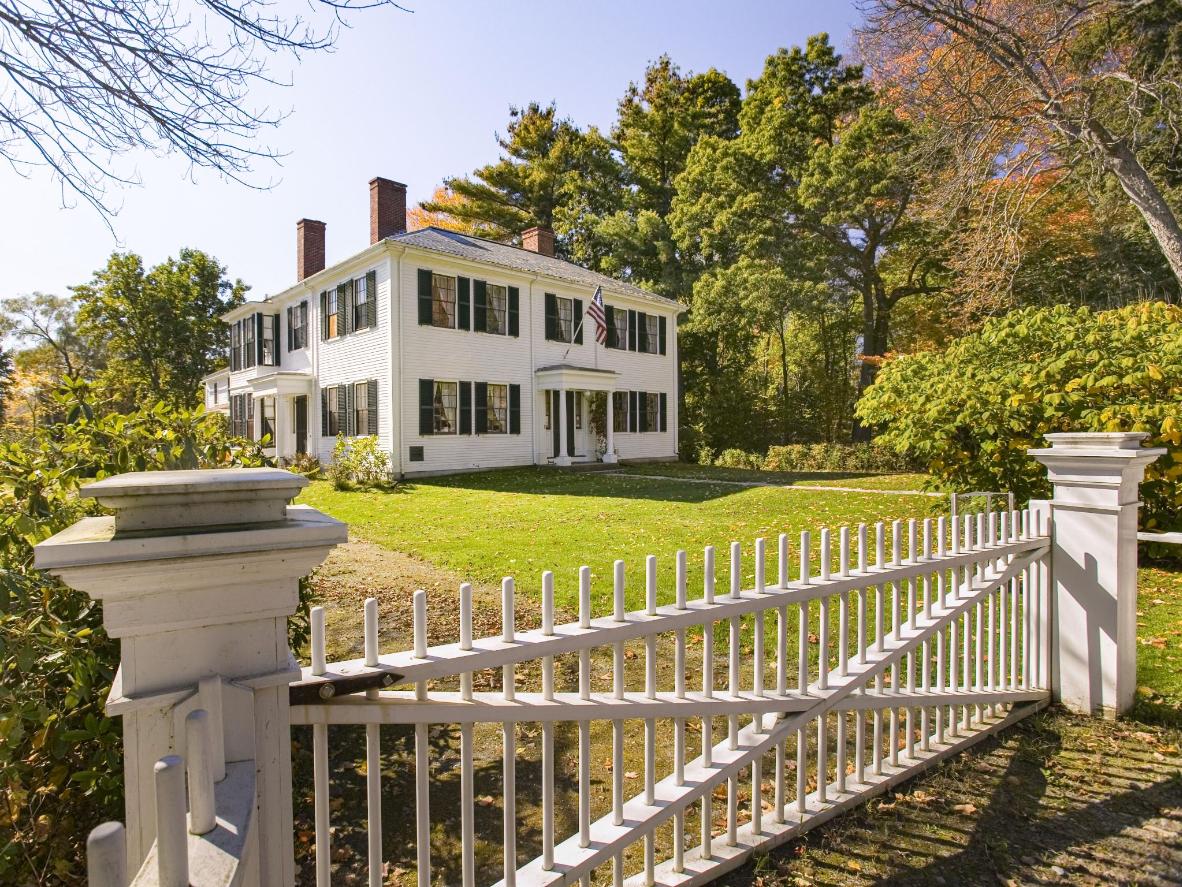 Experience lifetimes in Concord, Massachusetts
An hour and a half away from Emily Dickinson's home is quite possibly the most literary town in the country, Concord, Massachusetts.
Tour the life, home, and school of the Little Women author, Louisa May Alcott, at "The Orchard House." Next door is "The Wayside," which was—at different points—home to Louisa May Alcott and Nathaniel Hawthorne. Before that, Hawthorn lived at "The Old Manse" – a haven for writers that had also housed Ralph Waldo Emerson. Then visit Emerson's home, "The Bush" – now a museum commemorating the great author.
For more literary adventures in town, visit the Walden pond made famous by Thoreau's book of the same name, before heading to the Concord Museum for a full collection of Thoreau's artifacts. Last, be sure to visit the Author's Ridge in Sleepy Hollow Cemetery to see the final resting place of all of these great American authors.
Stay a half an hour away in Boston at Hotel 1868, where you'll be able to continue your literary exploration in this historic city.
Edgar Allan Poe – Richmond, Virginia
Get spooky inside Poe's Richmond museum
After being orphaned as an infant, Edgar Allan Poe went to live with a couple in Richmond, Virginia – the state where he lived the longest until he left in 1826 when he joined the army.
Though very few of the actual places where Poe actually lived in Richmond still exist, the "Old Stone House" serves as his symbolic dwelling in the town Poe called home. This building contains the world's largest collection of Poe artifacts including furniture from his homes, as well as many first editions and early drafts of his works, including The Raven.
Visit many other Poe sights including his monument, church, and fiance's home before getting some rest at The Berkeley Hotel, a contemporary downtown hotel with all the southern charm you could ask for.