Explore 400 million years of history inside Vietnam's Phong Nha-Kẻ Bàng National Park, a UNESCO Heritage Site in central Vietnam that remained undiscovered until two decades ago. Rose Munday shares her experience.
I ease my body into the cold water, trying to distract myself from what might be swimming below me. I glance upwards instead, and my gaze is returned by a sea of curious bats.
I am exploring Phong Nha-Kẻ Bàng National Park, a UNESCO Heritage Site in central Vietnam, that remained undiscovered until two decades ago. The karst mountains of the region date back 400 million years, making them the oldest in Asia. However, the real beauty lies beneath your feet: a bubbling underworld simmering below the soil.
There are warrens of caves to explore in Phong Nha, and while you can see many of the caves independently, I booked a day tour to explore one that can be tricky to visit alone. To get to the park you can catch a train or 10-hour overnight bus from Hanoi.
Tra Ang Cave
Paradise Cave
8 Ladies Cave
Hang En Cave
Getting Around Phong Nha-Ke Bang National Park
How to Get There
What to Pack
Tra Ang Cave
Despite its age, Tra Ang is one of Vietnam's most recently discovered caves and was only opened to visitors two years ago. In that time, it has received minimal footfall. To reach it, you have to trek through the dense jungle and rock climb over a craggy mouth, and the easiest option is to explore as part of a tour. Once inside, you can only get around by swimming the river running through it.
The tough journey is well worth it. Twisted stalagmites and stalactites drip from above, their curving limestone figures casting shadows in the beams of head torches. They look as if they'd been created by aliens – or at least a wildly out-of-control pottery wheel.
Swim through Tra Ang's interior, which is 0.62miles (1km) long and 164ft (50m) wide. After reaching the end, you can lie on your back and let the current float you back to the mouth.
Continue the journey to discover more of Phong Nha's caves, which are all a short drive away and can be explored in one day.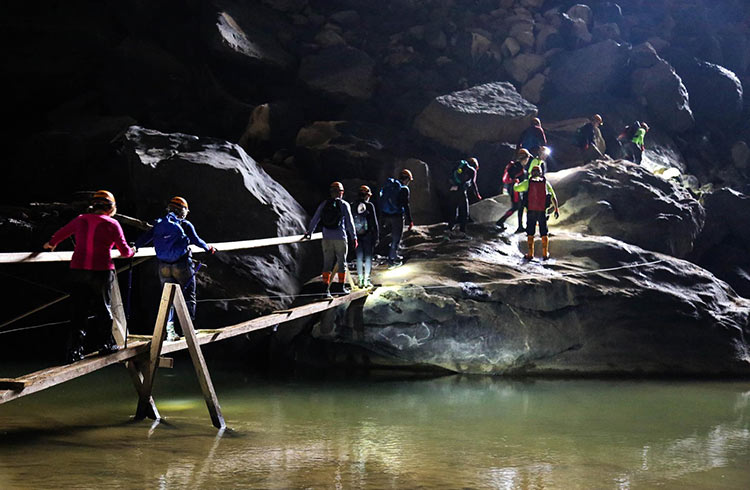 Paradise Cave
Just a 20-minute drive from Tra Ang lies the enormous Paradise Cave. At 19mi (31km) long, its limestone formations match cathedral pillars in size. Since it was discovered by a local man in 2005, it's become one of the most impressive locations to visit in Phong Nha National Park.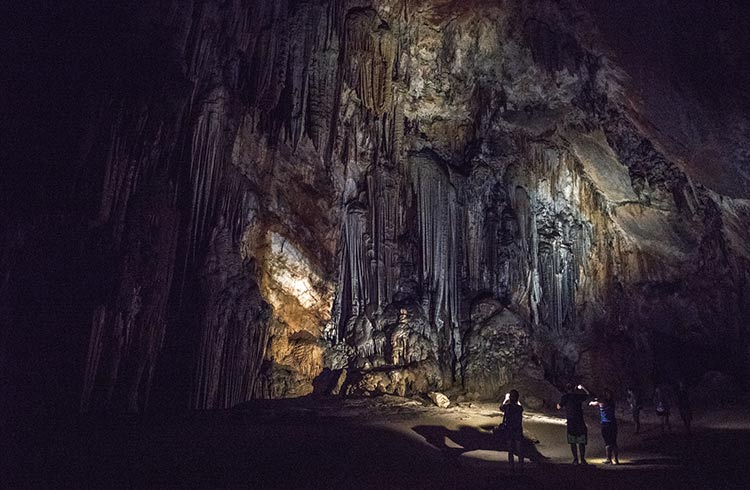 8 Ladies Cave
8 Ladies Cave is one of the easiest to visit without a tour guide, and is a 20-minute drive from Paradise Cave. Vietnam's rich yet heartbreaking history is apparent inside the small 8 Ladies Cave. Here in 1972, a group of women perished after they became trapped inside by a bomb blast during the Vietnam War. Today, a cave shrine and temple stand to honor them.
Hang En Cave
If you're after a more serious adventure, the Hang En Cave is the third largest cave in the world, and can be explored on a two-day, one-night camping and trekking adventure tour. For this trip, you'll have to go with Oxalis Adventure Tours. They take care of the safety and logistics of the trip and employ locals from Phong Nha and Tan Hoa village for a sustainable, eco-friendly experience.
After hiking through the dense jungle and making numerous river crossings, you'll enter the mouth of the cave wading through the waist-deep water of Hang En's very own beach! Once on the sand, you will each be assigned a beach-front tent for the night. Local food is prepared by the tour operators on a campfire, where they'll share with you the history of the largest caves in Vietnam and the world. You'll need to be moderately fit to enjoy this experience, but if you're up for the challenge it will be well worth the effort.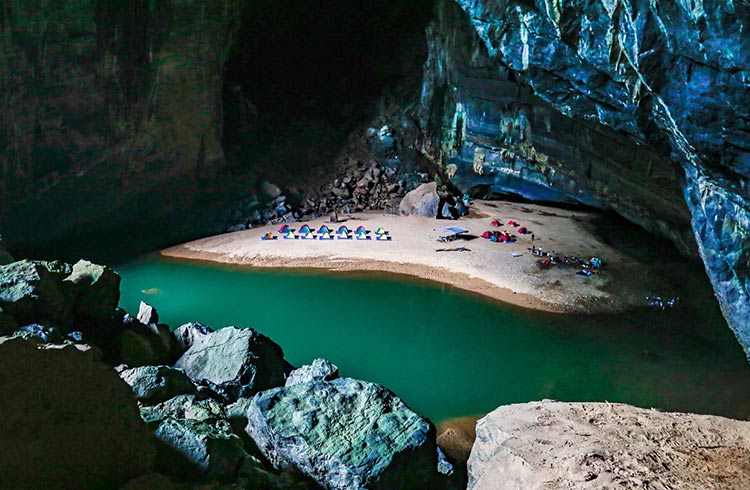 Getting Around Phong Nha-Ke Bang National Park
Paradise Cave and 8 Ladies Cave are accessible by scooter, but Tra Ang is more challenging. I'd recommend going with a guide since the path isn't mapped on Google and you'll need a head torch and life jacket. It's easy to book a day tour through a guesthouse tour agency in town.
How to Get There
Affordable, comfy buses arrive and depart Phong Nha daily. From Hanoi, they arrive at 4am but all the hostels are a short walk from the stop, and will be open waiting for you.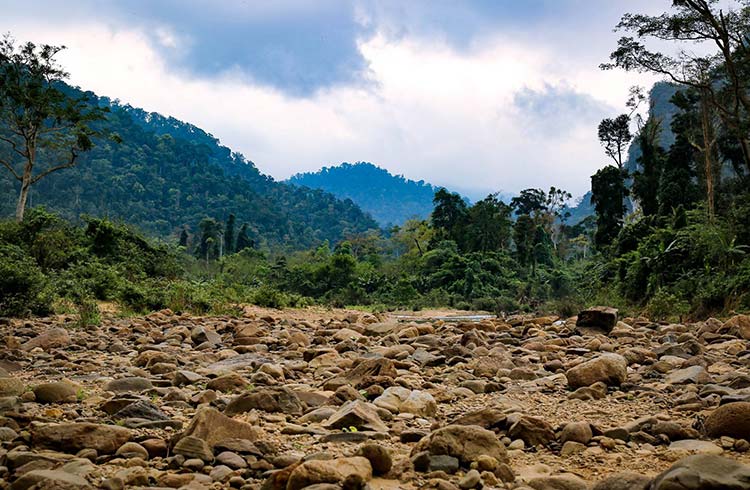 What to Pack
Assuming you'll be borrowing a tour company's life jacket and head torch, you'll just need swimwear to visit Tra Ang. For photos, ensure you have a waterproof camera, preferably with a head mount as you'll require both hands for swimming. For the other Phong Nha caves, bring comfy shoes and plenty of water.