Chicago may be called the second city, but it comes second to none in terms of new experiences to try. This midwest hub is rich in music, culture, food, and nightlife, so look no further than your very own city for your next adventure.
We've curated a list of the best staycations in and around Chicago for those barely adulting to the young at heart and everyone in between.
Explore the local history
Chicago has a rich history. From the infamous legend of Catherine O'Leary's cow that burnt down the city, to Al Capone's beloved booth at the Green Mill, and even the Cubs breaking their nearly 100 year curse, this city has a colorful past begging to be explored.
Take one of many walking tours around the city that will teach you how Lake Michigan swampland transformed into one of the country's largest cities. Learn about the iconic Chicago flag, Lincoln's Chicago HQ as he rose to political power, and President Obama's Grant Park victory speech at the Chicago History Museum. Then stay at The Palmer House, which actually burned down in the Great Chicago Fire only 13 days after opening. It reopened its doors in 1873, making it one of the oldest buildings in the city and a bucket list item for any fan of Chicago history.
Have a feast – Chicago style
Enjoy Great food around every corner
If there is one thing Chicagoans hold dear to their heart, it's their food. Everything tastes better Chicago style, so why not treat yourself to a new culinary adventure during your next staycation? For fine-dining lovers, try the three-Michelin-starred restaurant Alinea in Lincoln Park. Rated the 7th best restaurant in the world, they don't just serve a meal, but a culinary experience.
If you prefer your dinner with a view, head to the Hancock building for a meal at The Signature Room at the 95th. For a more casual menu, head one floor up to the Signature Lounge – just remember to ask for a window table, so you can take in the spectacular skyline.
And if you're more of a classic Chicago eater, book a room at the LondonHouse Chicago, put on the complimentary robes, order some drinks from room service along with hot dogs from Portillo's or some deep dish pizza to enjoy at a whole new level of luxurious comfort.
Immerse yourself in the arts
Laugh, dance, sing, and observe the Chicago arts
Chicago has lively music, art, and theater scenes, so checking out all the creative expressions the city has to offer is an absolute must.
The first stop on a Chicago artistic adventure is The Second City. This small cabaret theater is home to an improv troupe known for raising to fame Tina Fey, Stephen Colbert, Keegan-Michael Key, and Steve Carell (just to name a few). Catching a show is sure to make you laugh, and you just might catch the world's next big comedy star, too.
Jazz and Blues are in the air of Chicago. Experiencing a night at a blues club like Kingston Mines will take you back to the roaring twenties and to the music that defines the city. And, if you've never been, visit The Art Institute of Chicago. Notable works include Wood's "American Gothic," which will speak to the midwestern soul, as well as Hopper's "Nighthawks," a piece for urbanites everywhere.
Keep the artistic vibes going by staying at the Acme Hotel Company Chicago where cool murals and striking art decorate all the rooms and halls.
Head onto the water
Sail, suntan, or swim at Lake Michigan
The water is as much a fixture of Chicago as is its architecture, so for your next staycation, take to the lake. Brunch and dinner cruises leave from Navy Pier each day. You can choose between lively lunches or romantic evenings as you float across the lake. If you want to take the adventure into your own hands, you can even charter your own sailboat for the day.
If you prefer your water staycation on the coast, spend a day at one of the many Chicago beaches. One of our favorites is North Avenue Beach, where you can rent kayaks and try out other water sports. Stay at the Aloft Chicago Mag Mile to be conveniently close to the Ohio Street Beach and Navy Pier.
Explore the countryside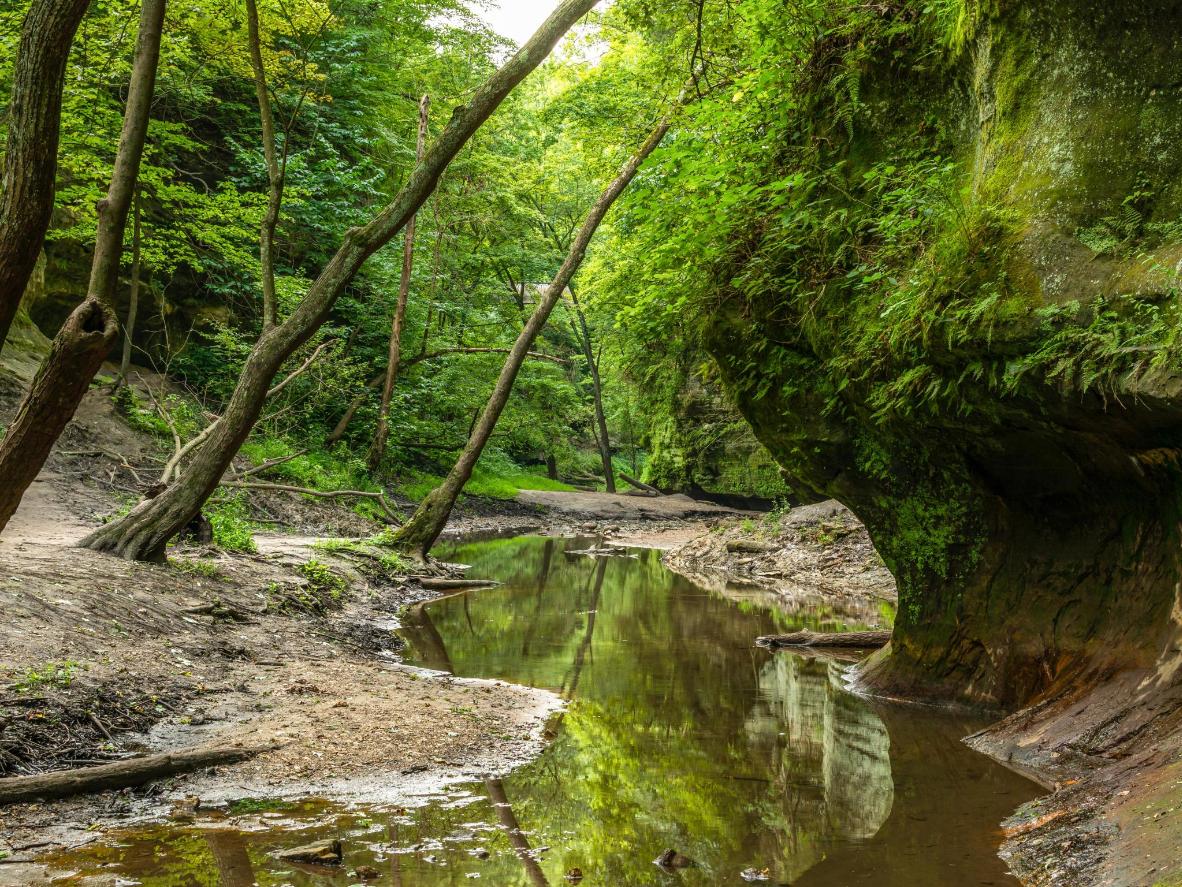 Out of the city and into nature
The Chicago Metropolitan Area may feel like it stretches through half the state, but outside of the city there's breathtaking wildlife to explore. Only 30 minutes from The Loop, the Morton Arboretum preserves and protects rare and endangered plants to learn about and enjoy. Farther out, Starved Rock State Park has miles of hiking trails, canyons, and waterfalls that will make you feel as if you are in a completely different world.
And if you're really itching to get out of the state, Indiana Dunes State Park is only an hour away. Make a weekend of your dune-riding, Indiana adventure by staying overnight at Spring House Inn, from where you can easily make your way to the sandy, hilly shores.