Menorca is well known for being the chilled-out Balearic sibling to party island Ibiza and family favourite Mallorca. Think stretches of pristine sand, rolling hills with verdant greenery, whitewashed villages and top food. Best of all, you don't have to visit in summer to enjoy all the island has to offer. In fact, as the high season ends, there are even more things to experience. These are our top 6 reason to visit Menorca in winter.
1. Pull on your walking boots and admire the view
The whole island of Menorca is protected as a biosphere reserve, designated by UNESCO in 1993. That means plenty of unspoiled landscape to explore. The Camí de Cavalls path runs around the island's coast, weaving between coves of crystalline waters and emerging at stunning beaches. Wait for winter and you'll likely have the track to yourself, plus the weather is cooler and more friendly for hiking.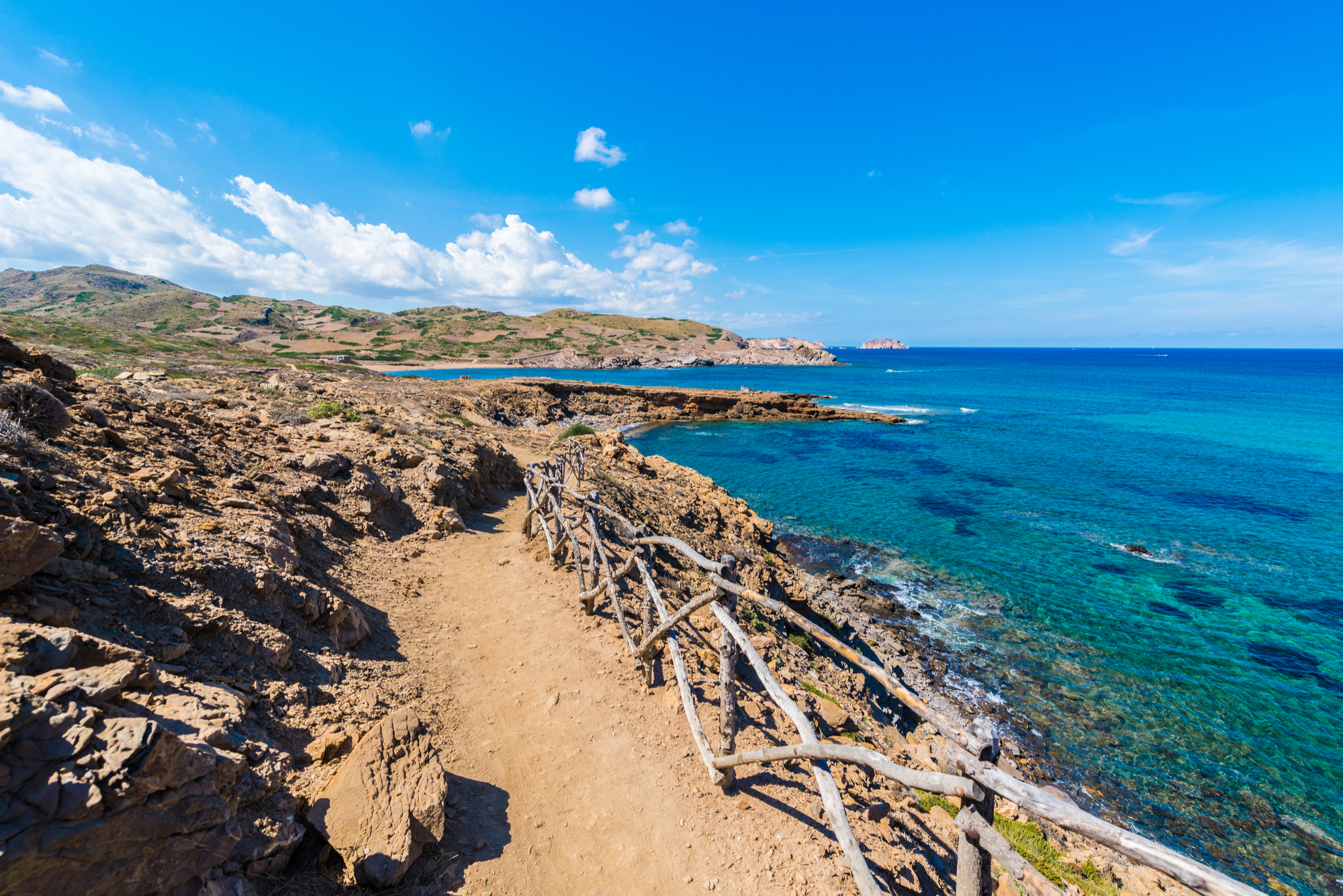 Anibal Trejo/Shutterstock
The Camí is a whopping 115 miles so best tackled in segments. Section two is a favourite, hugging the coastline of pristine S'Albufera des Grau nature reserve, the island's largest wetland.
Or, section 20 passes Fort Marlborough built by the British and offers cracking views of the harbour at Mahón, the Menorcan capital. At three miles in length, this dramatic coastal inlet is said to be Europe's second largest natural harbour. Pick up the official map from the tourist office for the lowdown on the route, which is also well signposted.
2. Go birdwatching
Thanks to its diverse landscapes, Menorca's buffet of different habitats also brings it plenty of wildlife. S'Albufera des Grau nature reserve is the best place to spot native species, with hides dotted around the wetlands and overlooking the lagoon at its centre.
Winter is best for birdwatching when the multitude of berries hanging from the bushes brings the birds to feast. There are numerous ducks, cormorants and grebes wintering in the waters here as well as plenty of species rarely or never seen in the UK, including the purple swamphen, crag martin and penduline tit.
Perhaps most exciting though is the Egyptian vulture, a raptor that when standing has the appearance almost of a chicken but is far feistier, feeding on carrion and soaring in the thermals around the island. There are some 500 pairs on Menorca so sightings are common.

Jesus Noguera photography/Shutterstock
Listen out for frogs too – both green tree frog and Balearic toads – and in the later months of winter expect plenty of brightly coloured orchids to be sprouting beneath the olive bushes.
3. Feast on exquisite cuisine
Menorca and its vast harbour have long stood at the crossroads of the Mediterranean, and with so many people, cultures and products passing through here one thing was certain, Menorca would end up with a fantastic hybrid cuisine.
You'll find quesadillas made with the local sobrasada cured sausage, bao filled with local fish and chubby octopus tentacles hauled fresh from the sea and topped with kimchi and spicy mayo.
The most creative menu is at Ses Forquilles, where pork crackling is served on a skewer and the dishes are small enough to order a table-full, while Sa Vinya des Port has the best fresh seafood, including jumbo prawns and calamari.
There's also unforgettable cheese, the salty, tangy Mahón cheese made on farms across the island here. Farmers & Co can organise visits and tastings.
4. Relax in peace and quiet
In winter, Menorca rests. Without tourists arriving daily, a hush descends on the island and Mahón echoes with the noise of local kids bouncing basketballs along quiet cobbled streets.
At this time of the year there's no need to sharpen those elbows to get the best seat on a harbour boat trip aboard the Don Joan, or to take your turn with the gin bottle at the Xoriguer distillery – where samples are free and plentiful.
Even better, you may well get a Talayotic site to yourself. These ancient communities are dotted across the island and generally feature a central talayot, or circular tower, surrounded by homes dug into caves and built in gold-hued stone. The most impressive is Torre d'en Galmés near the town of Alaior, where at the farthest reaches you'll find the island's best-preserved house. What's more, in winter the site is free of charge.

Ugo Burlini/Shutterstock
5. Join in with a fiesta
Menorca is an island that knows how to have a good time during the colder months. On the first weekend of December, Els Llumets, four local sprites, scale Santa Maria church in Mahón, switching on the Christmas lights, while most towns also hold a Fira de Nafal open-air Christmas market, with plenty of seasonal produce and traditional handicrafts on offer.

Ajuntament de Maó
January sees one of the highlights of the year. The Diada is the island's "national day" and celebrates its patron saint Sant Antoni Abat. In the days leading up to 17 January, there are folk concerts, street markets and public barbecues (torradas), before special church services on the morning itself, when people bring animals to church to be blessed.
Over the last two weekends in February, Jornades Gastronòmiques de Peix, a food festival, takes place. Local restaurants serve special menus to celebrate the island's delicious fresh seafood.
6. Warm up and chill out at a spa
Summer is about warming your skin in the sun before cooling off with a dip at one of the island's numerous coves. Winter, though, is all about cosiness – and spas. The new Illa spa at Jardi de Ses Bruixes hotel has been hewn from the basement of this merchant's mansion.
A tempting candlelit pool and hot hydrotherapy jets await but this is a place for more than just a dip. A 90-minute circuit slips by soporifically as you pass from bubble bench to swan-necked jet, sauna to plunge pool. There are treatments too but simmering in the water can be relaxing enough.