What makes the Isle of Harris supremely captivating is it neatly embodies all that's great about the Hebrides and Scotland. To the north, the peaks provide Highland drama. To the south, across a narrow isthmus, the coast has staggering beaches hemmed in by wildflower-strewn machair and boulder fields.
And it also seamlessly blends yesterday with today. Chalky crofts are often the only mark of reference on the hills, the ramshackle fields filled with little else but woolly sheep. Yet it also has portrait-perfect designer cabins that overlook the seaboard and a spiffy, architecturally-dazzling distillery that's second to none on the Atlantic seaboard. Here are seven reasons to visit the Isle of Harris.
1. For world-beating beaches
Ask someone from the Isles and they'll say Scotland has the best beaches in the world, no argument. This seems self-evident when arriving at Luskentyre Beach on the west coast shoreline. Scrolled machair and lopsided dunes lead to a wide curve of sand – sieved-soft, gently-sloping, no one around – onto which breaks luminescent water from the most beautiful tidal bay.
Look beyond that, past the scattering of islets, beyond the tip of the bay, and there's a feature few other British beaches can match. The sheer beautiful nothingness of the hoary, moshing Atlantic. Even in grainy light, or when experienced in the midst of a rolling bank of Atlantic mist, it's spectacular.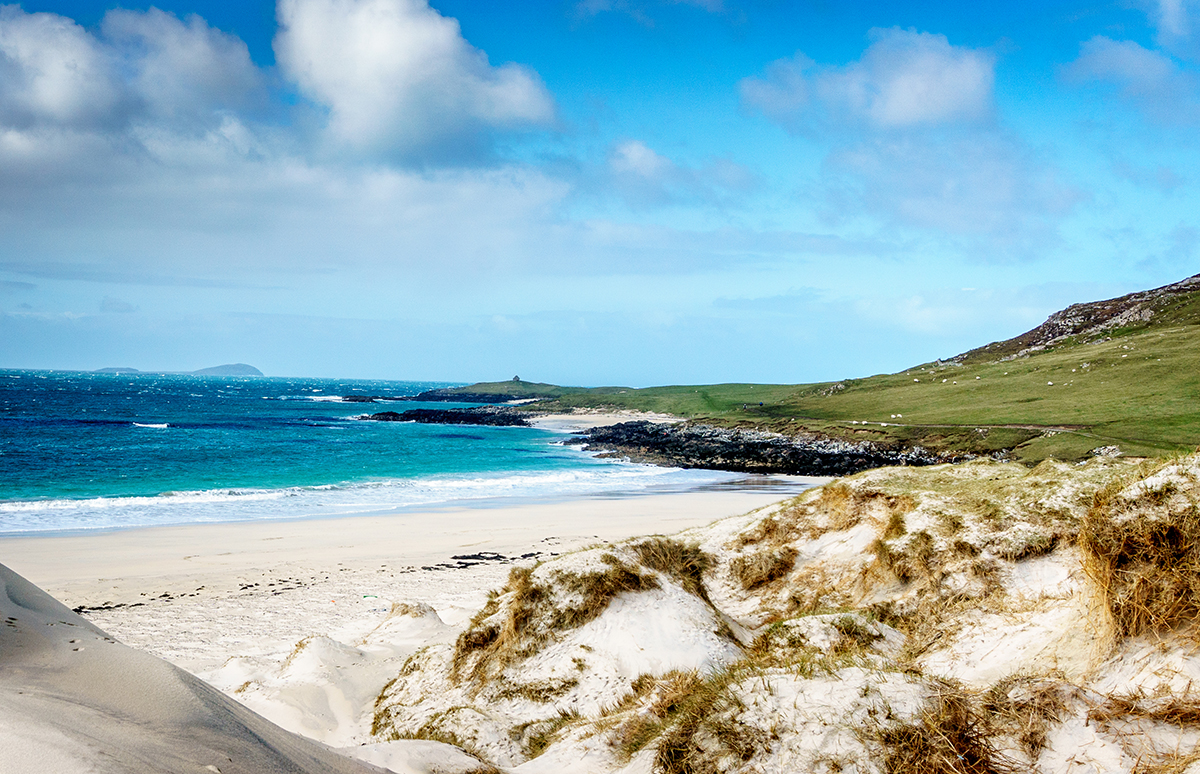 Adrien_G/Shutterstock
2. For Hebridean food & hospitality
Food is always better when tracked down off the roadside, and in Harris there is often no alternative. All the great restaurants and cafés demand a detour, and, sometimes, it's as if the islanders have tried to throw up as many obstacles as possible to keep you away.
At Croft 36 in Northton, a rudimentary timber shack off the main east coast circular road through The Bays, the low-key design belies the creativity on offer. Come for crab-stuffed pasta, rabbit stew and venison pie, all served takeaway style to heat up in your camper van or tent (plus deliveries in high season). Next, in Tarbert, try The Pierhouse Restaurant, a seafood specialist known for generous rope-grown mussels, hand-dived scallops and peat smoked salmon.
And The Machair Kitchen, on a hilly vantage point on the west coast, is essentially a community cultural centre that's outgrown its boots, all framed by stirring Atlantic views, dunes and beaches. In other words, the perfect place to savour dishes such as potted crab, Hebridean lamb and just-landed monkfish.
3. For the height of fashion
In days gone by, Harris was a destination for crofters tending to Highland cattle and black-faced sheep. Now the local economy is booming thanks to around 400 Harris Tweed weavers and designers, who collectively produce the in-demand, hand-woven material in local mills.
Using a 2500-year-old process, the tweed was made by women to provide hard-wearing clothing for their families in the fields. At first, the wool was plucked, then washed and scrubbed, dyed with lichen and heather flowers, before finally being carded, spun and woven as material. The result? A tradition turned global fashion icon, presented in better than tartan stripes.
Tapping into a recent vogue for tweed suits, waistcoats and wedding jackets, garments in unsurpassable colors can be bought in a handful of small-scale designer boutiques, including Tarbert's Harris Tweed Isle of Harris showroom and The Harris Tweed Company in Grosebay. Both have a fabulous selection of pre-made knits and suits, plus they also tailor-make to order. Don't think twice if unsure: Harris Tweed is in the island's DNA, and it's the only place in the world where it's legally allowed to be made.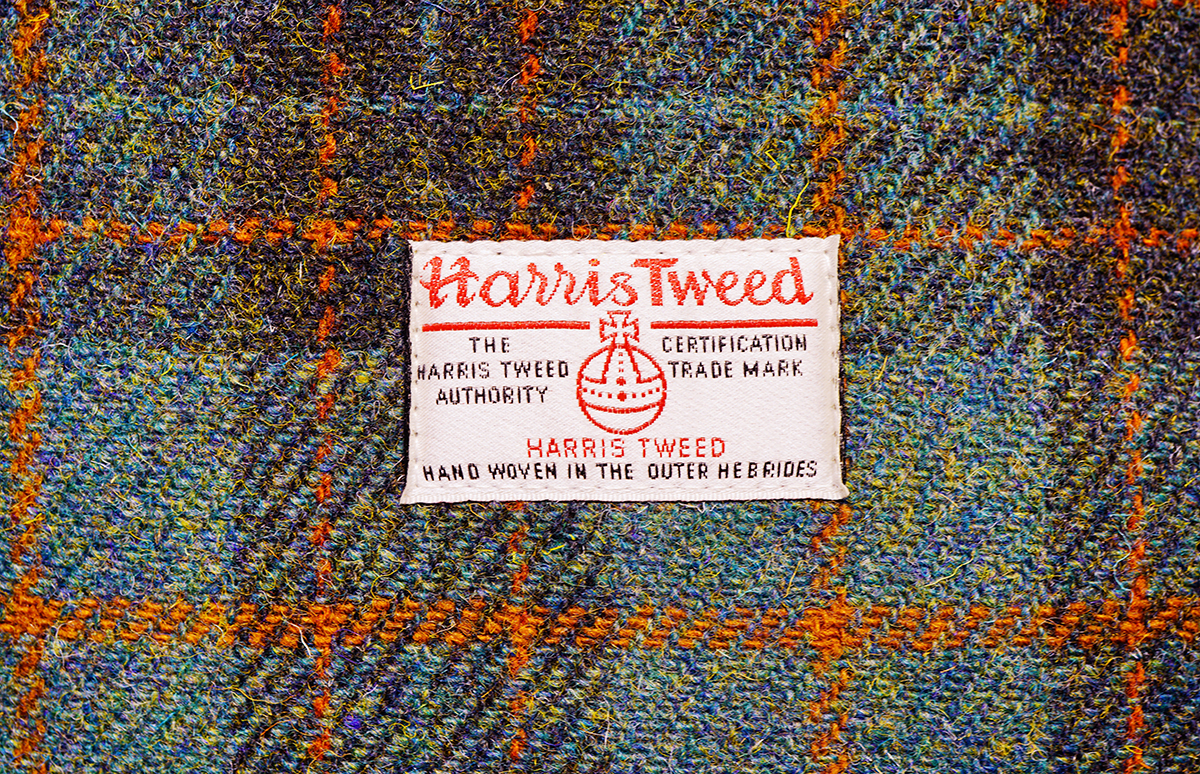 EQRoy/Shutterstock
4. For lip-smacking gin
With a prime position overlooking the steeply-sloped houses and snug harbour of Tarbert, the Isle of Harris distillery was a real shot in the arm when it opened in 2015. It produces the first whisky in the Outer Hebrides since 1829, yet has become better known for its sugar kelp-infused gin, which can be sampled on regular tours.
Breaking the seal releases the east coast drama of the landscape and the unpredictable light and the sound of the tides as it funnels in and out of Tarbert harbour. Pour a dram and you'll hold all of Harris in your hand.
5. For wild camping (done as it should be)
Pick your spot, pitch your tent, then – be thankful – wonder why no one else is here. There are plenty of oceanfront campsites to choose from, but two to savour on South Harris, particularly on a late summer's night when the sky turns a deep whisky-gold, are Lickisto Blackhouse Camping, a rugged strip of land by the sea, and Horgabost Campsite, south of Seilebost on the jigsaw-cut west coast.
It's a Shangri-La like setting, overlooking a sheltered sweep of Luskentyre Bay with a rippling dune front and sheep-dotted slopes in the background. As is often the case in Harris, payment is cash only, to be deposited in an honesty box attached to a sheep fence near the shower block.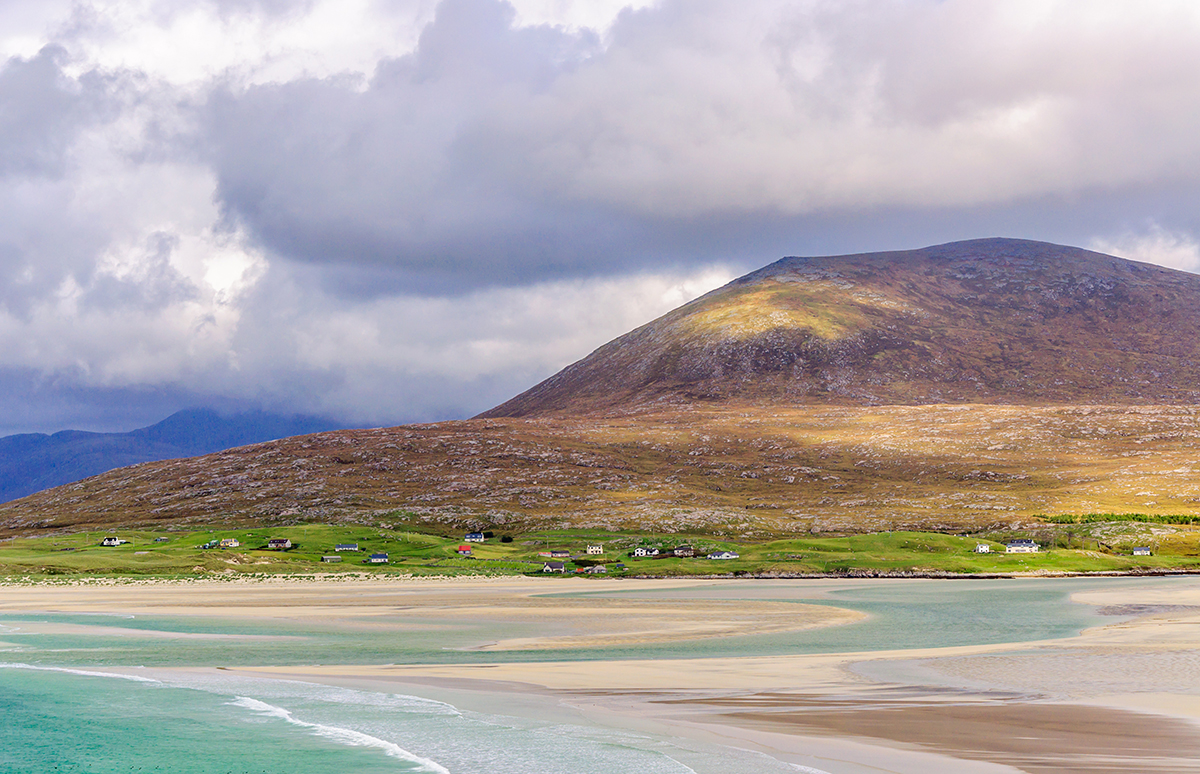 Skully/Shutterstock
6. For geological riddles & rocky landscapes
Few roads in Scotland match the rising and plunging A859 for sheer performance. Cutting through north Harris, it climbs towards the pyramid-like Sgaoth Aird and Clisham, two quartz-studded mountains of gneiss, before slipping to sea level and fjord-like Loch Seaforth.
Glacial-carved and almost devoid of life – bar a few crofter's houses and an off-grid youth hostel on a craggy peninsula – this is wild terrain and hillwalking country at its best. Remember: these are elemental hills, exposed to ever-changing weather conditions, so take walking gear for all eventualities.