Plush resorts, sun-kissed skies, palm-fringed beaches and clear blue waters – that's what you get in Mauritius right? Well, yes. However, step away from the alluring coastline and cosseted resorts and you'll discover an island that has so much more to offer. Here are just a few more excellent reasons to visit Mauritius.
1. For fascinating heritage
The Indian Ocean island, which lies 1,200 miles off the southeast coast of Africa, celebrates 50 years of independence on 12 March. It's been colonised by the Dutch, French and Britain, and finally gained independence from the latter in 1968 and became a republic in 1992. The anniversary will see fervent celebrations in this harmonious island nation with many street parties planned.
Drive around the island and you'll see mosques, temples and churches sit side by side – a result of the population's Indian, African, Chinese, French and British make-up. Religious festivals – Hindu, Christian, Muslim and Buddhist – are often celebrated by all.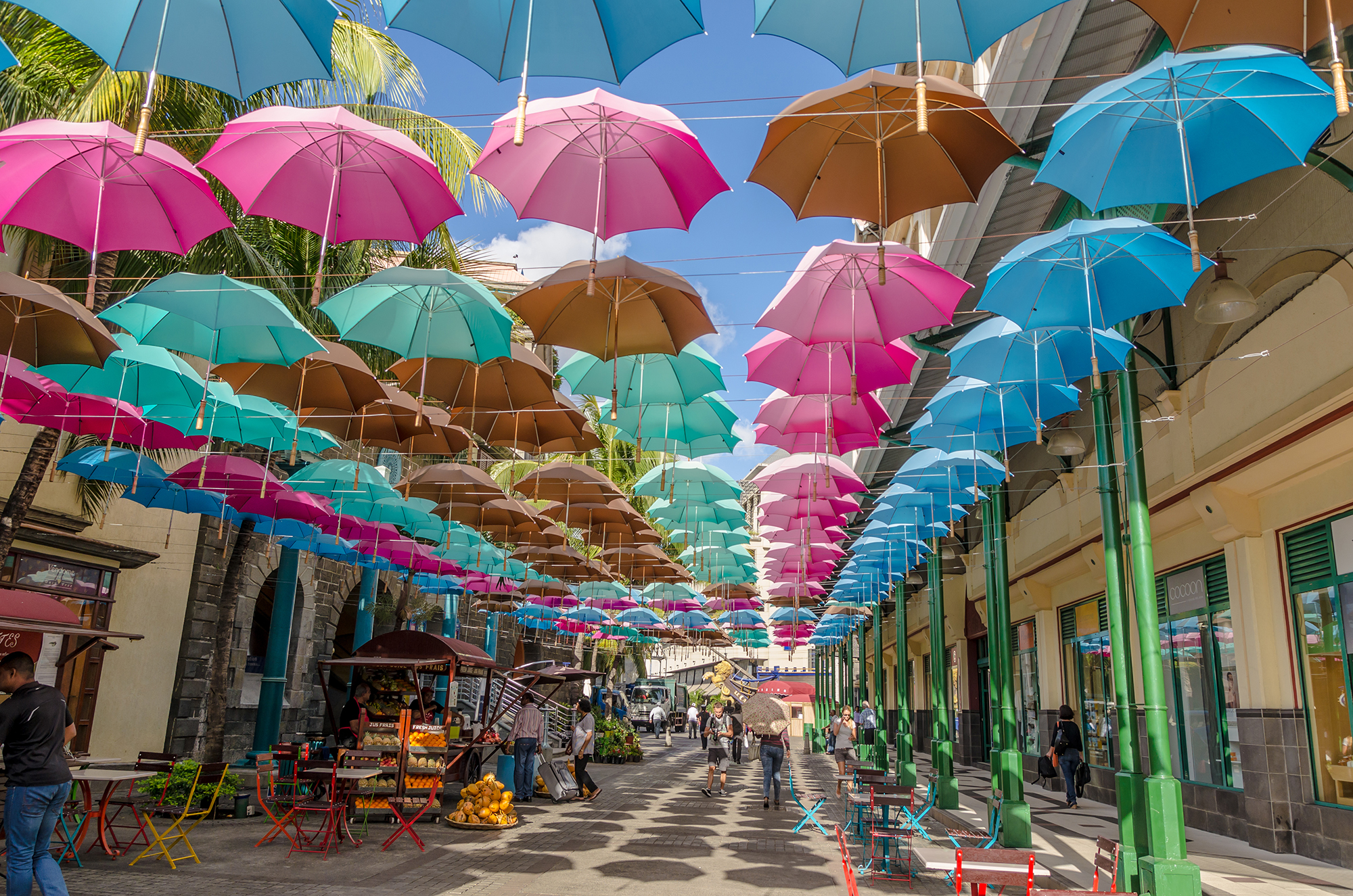 lenisecalleja.photography/Shutterstock
2. For fantastic fusion food
Colonisation and immigration have created a unique culture and, as a result, cuisine. Different culinary traditions – Indian, French, Chinese and Creole – have mingled over the centuries with delicious results.
Seek out street food for the best way to try the local cuisine. Try gâteau piment, a deep-fried fritter made of chickpea flour studded with chillies, and dholl puri, a thin pancake made with ground yellow split peas, seasoned with cumin and turmeric and stuffed with butter bean curry.
Look out also for octopus curry and rougaille, a spicy tomato sauce, both popular Creole dishes. Join one of My Moris' excellent street food tours around capital Port Louis to try these and more with a passionate local as your guide.
In an island stuffed with exclusive resorts, there's some serious fine dining on offer too. Don't miss British-based Indian chef Vineet Bhatia's Amari at LUX* Belle Mare for his modern Indian dishes with a Mauritian bent.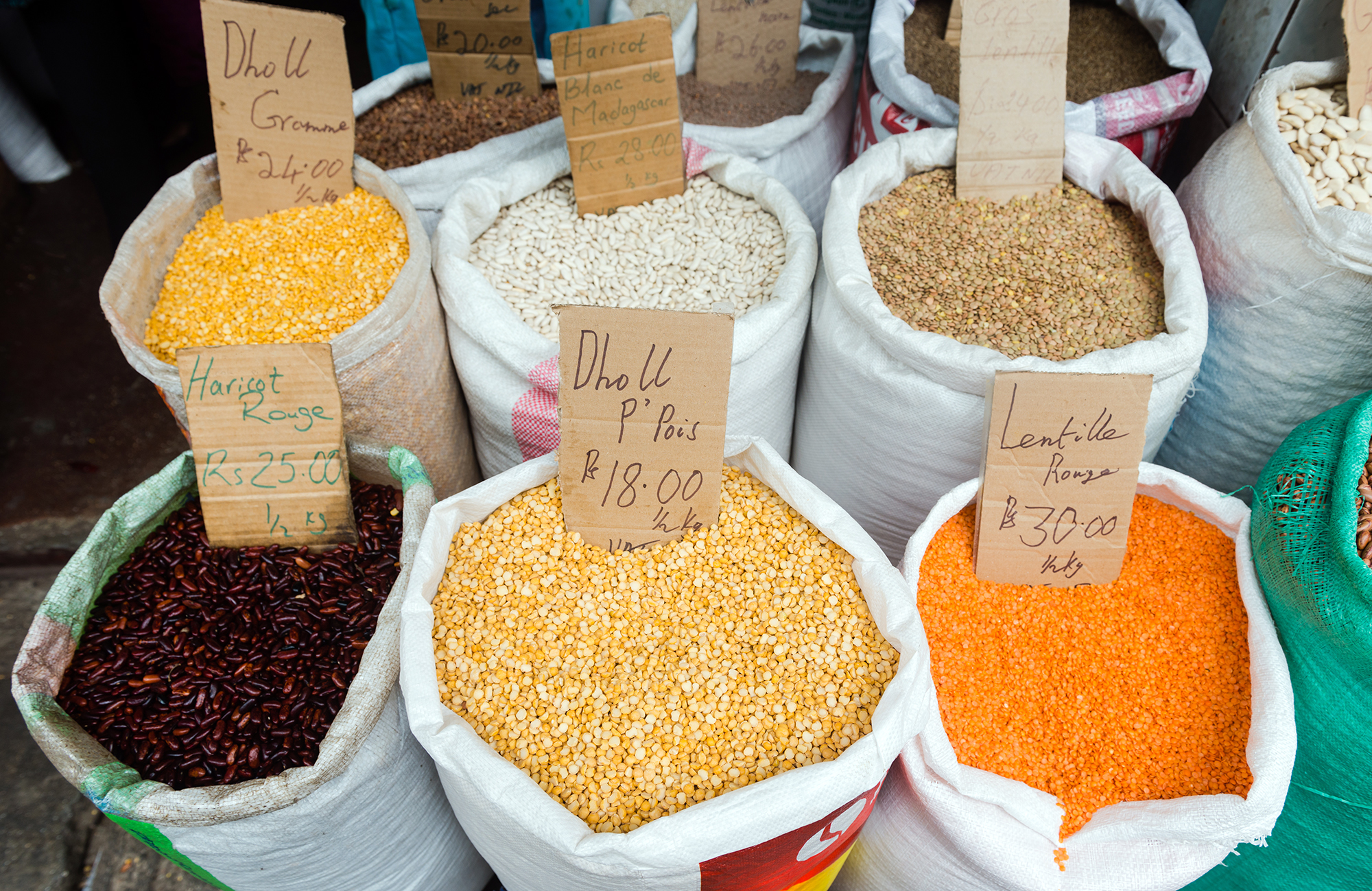 Karl Ahnee/Shutterstock
3. For striking natural beauty
Away from the gorgeous beaches, the volcanic island's interior is also stunning: endless fields of swaying sugar canes, lush tropical forests where macaques dangle and tropical flowers blaze, craggy gorges, and thundering waterfalls. Ancient volcanoes now swathed in vegetation look like soaring emerald-green jagged peaks. This country is ridiculously picturesque.
4. For action-packed adventures
The best way to appreciate the small island's terrain is by bike. Sign up for an ElectroBike Discovery tour starting from Chamarel, a small mountain village in the southwest. Even keen cyclists will find the electric bikes a godsend as they whiz effortlessly up and around the mountain roads. You'll pass through sugar, pineapple, coffee and banana plantations and admire the extraordinary coloured earth at the Seven Coloured Earths (the island's most famous geological wonder) and crashing waterfalls, before winding along the coast road.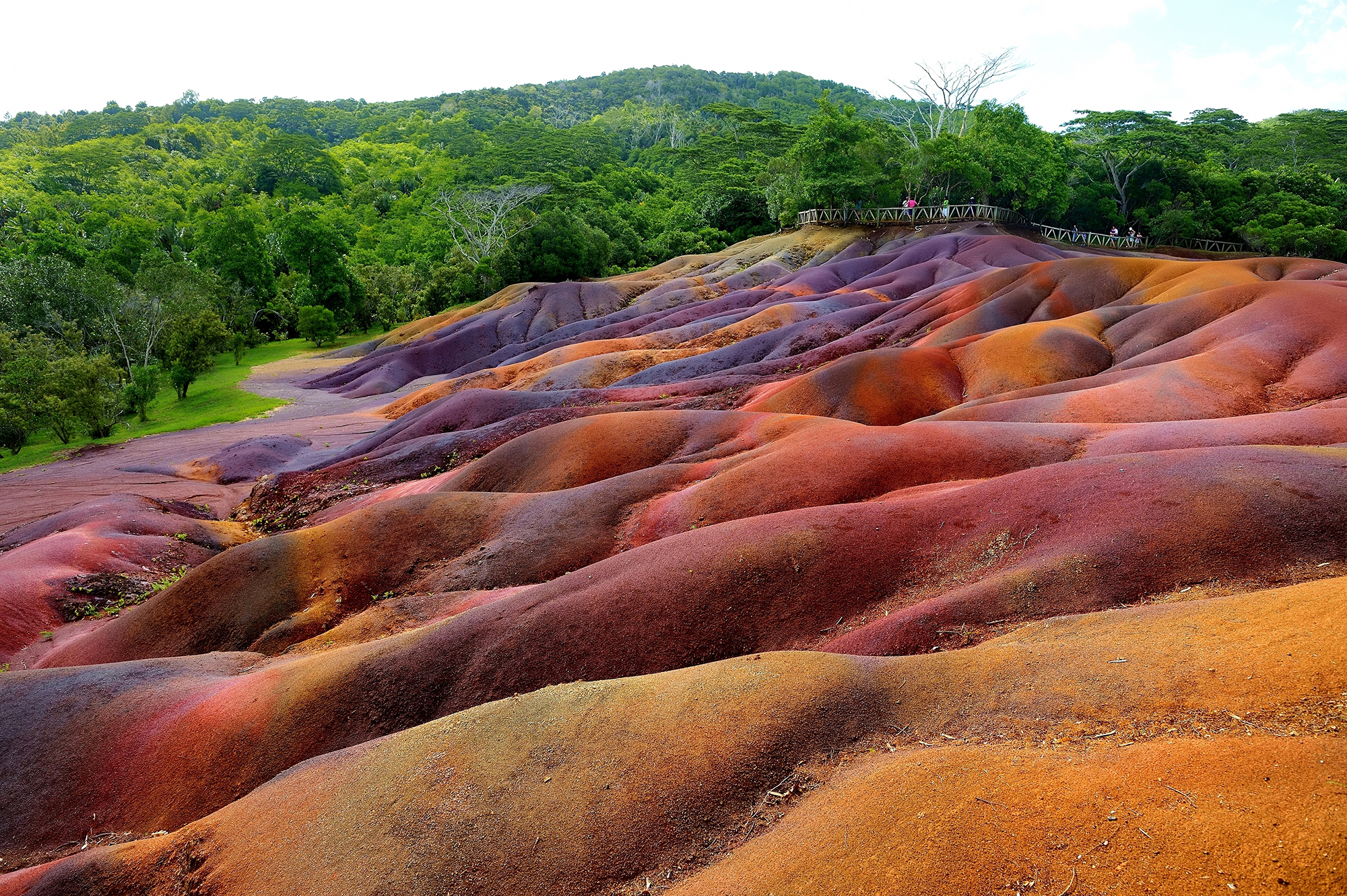 MNStudio/Shutterstock
In the south, striking peak Le Morne Brabant, a UNESCO World Heritage site, makes for a wonderful but challenging hike. Make it to the top and you'll be rewarded with seriously jaw-dropping views of the southern coast.
Rather stick to the water? You can kitesurf here too – the lagoon below Le Morne is a top spot for learners and pros. Snorkellers should head to the Blue Bay Marine Park to spot parrotfish, trumpetfish and damselfish. Another extraordinary patch of wilderness is the Black River Gorges national park – home to native birds like the pink pigeon and echo parakeet.
5. For blissful luxury and budget-friendly options
There's a reason that well-heeled honeymooners love Mauritius: it has some of the best 5-star beach resort hotels in the world. Gorgeous places include LUX* Belle Mare on the northeast coast and its sister property LUX* Le Morne in the south, set against the beautiful backdrop of Le Morne Brabant.
It's not all about the all-inclusives though with some charming options like La Vieille Cheminée, a Mauritian farm stay on a lush estate in Chamarel. Otentic Eco Tent Experience on the east coast is the island's only eco glamping site where guests can feast on wonderful Mauritian food and can join kitesurfing and paddleboard excursions to some of the island's quietest beaches. There are plenty of lovely Airbnb places to stay too.
6. To potter around Port Louis
Port Louis is the place to get a flavour of local life. It's hot and busy but full of atmosphere. Admire the eclectic architecture: there are modern high-rises, a cluster of beautifully faded 18th-century French buildings, mosques and a Chinese pagoda.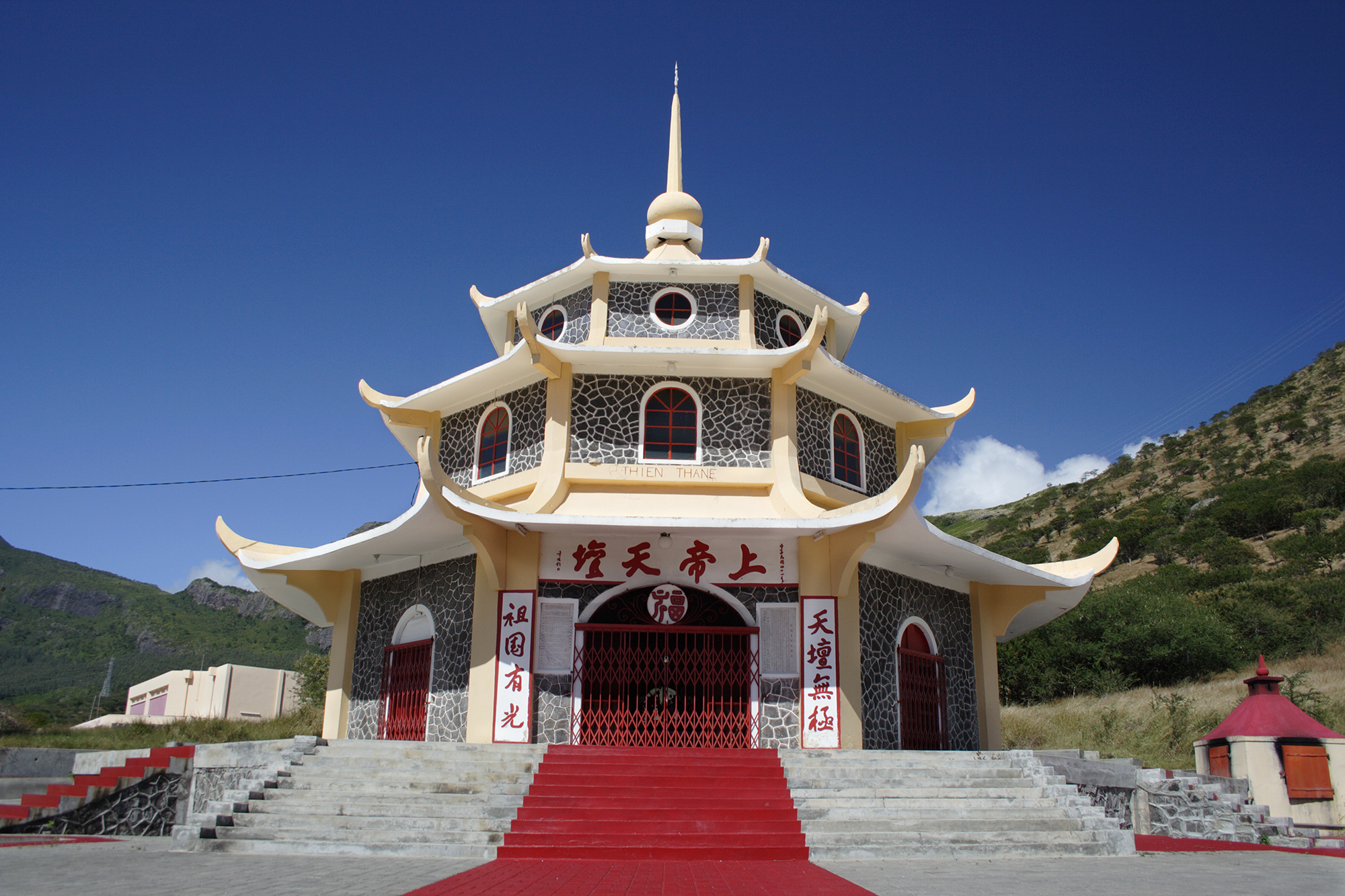 Morris Mann/Shutterstock
Explore the old town's narrow streets, home to great little shops and artisan workshops. Go for dim sum in the small Chinatown then head into the old market hall for tropical fruits, vegetables and spices. Don't miss the poignant Aapravasi Ghat museum, a former immigration depot where thousands of indentured labourers first came ashore from India, nor the wonderful Institute of Contemporary Art Indian Ocean.
Ask any local what is a must-do and they'll say the Champ de Mars racecourse – horse racing is hugely popular here and the track, which was built in 1812, is the oldest in the southern hemisphere.
7. For the local rum
You'll soon realise how dear the locals hold their rum. For the full experience, take a distillery tour. At the boutique Rhumerie de Chamarel, you'll see the production process and get to taste the goods. Generous shots are accompanied by a platter of the estate's own pineapples – plain segments are dipped in a green chilli sauce, others caramelised and some sprinkled with a moreish chilli salt.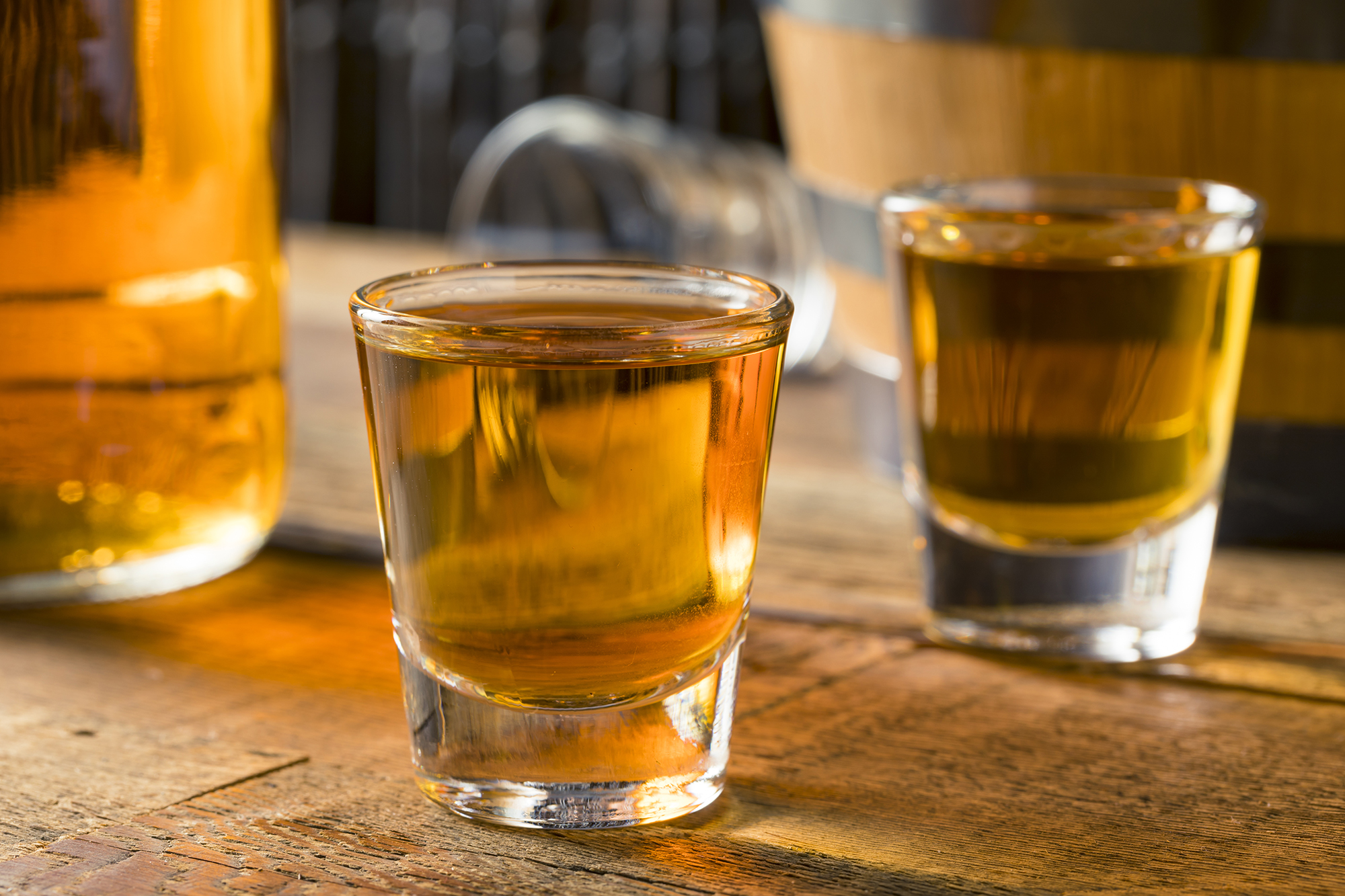 Brent Hofacker/Shutterstock
8. For relaxing on those dreamy beaches
Ok, so we couldn't miss the island's famed beaches off the list entirely. The long stretches of powdery-white sand are perfect for lounging, calm coral-reef-edged lagoons are ideal for snorkelling and wind-whipped beaches are great for surfing. There's something for everyone on the island – and all the beaches are public.
The gorgeous Baie du Cap road which wends along the southern coast through villages, sugar cane fields and past gorgeous beaches, is a fantastic stretch for beach hopping. On the Île aux Cerfs, off the east coast of the island, join a catamaran day trip for a leisurely cruise ending with a swim and a cocktail. Surfers should head to the western coast and Tamarin Bay.