There's plenty to do in North Dakota, so here are eight reasons you should explore the Peace Garden State.
1. You can find some peace
The International Peace Garden straddles the border between North Dakota in the US and Manitoba in Canada. North Dakota added the "Peace Garden State" to its vehicle registration in 1956, claiming it as the state nickname the next year.
The gardens, entered from Dunseith in North Dakota or Boissevain in Manitoba, are in neither country – a kind of beautified no man's land. Four concrete pillars once marked the border, but the columns became unsafe and were recently removed. They are now being replaced by a new monument called Interwoven.
The park covers 3.65 square miles, encompassing hiking trails, bike paths and a wildlife refuge. There's also a large floral clock redesigned annually, using anywhere from 2,000 to 5,000 plants. The park has its own soundtrack too, with the Carillon Bell Tower tinkling out the Westminster Chimes every 15 minutes.
Regardless of your country of exit, you'll need to swing by the Port of Entry on the way out, so don't forget your passport.
2. You can visit the real Fargo
The Coen Brothers' movie, Fargo, may start with the words "This is a true story," but it holds no truth on Nortk Dakota's eponymous city. The film was in fact inspired by an event in Connecticut, and come to North Dakota and you'll find the folk in Fargo are as friendly as they come. They don't run unwary tourists through a wood chipper, though the Fargo-Moorhead Convention & Visitors Bureau does have the wood chipper from the movie on display, along with several other props and original script copies.
Movie buffs can also get excited about the iconic 1926 Fargo Theatre, which now serves as an art house theatre showing independent and foreign films. For visual arts fans, Fargo houses the impressive Plains Art Museum, showcasing more than 3,000 works by regional and national artists.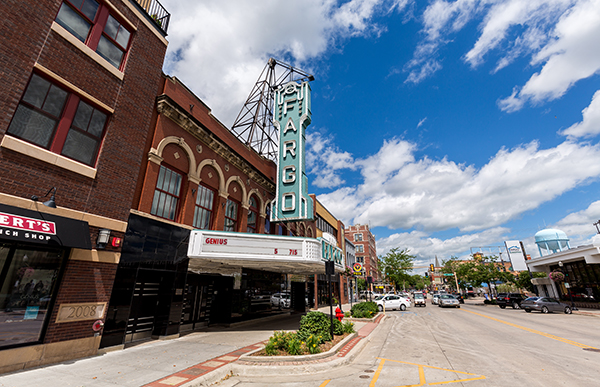 David Harmantas/Shutterstock
3. There's fascinating insight into the Cold War
But nuclear relics remain, just north of Cooperstown. In the Cold War era, the US Air Force buried a thousand Minuteman missiles across tens of thousands of square miles of the Great Plains. The missiles remained on alert for three decades, until they were deactivated in 1997.
Sited behind an innocuous security fence, The Ronald Reagan Minuteman Missile State Historic Site is composed of two facilities – Oscar-Zero and November-33. Oscar-Zero is the last intact launch control centre, and the top-side of the November 33 missile facility appears exactly as it did when it was active.
Descending 50ft below ground to see the 13.5 tonne blast door, a floor suspended from the ceiling by shock isolators, and 5.5ft-thick concrete and steel walls is a fascinating, if eerie, experience.
4. There are white buffalo
According to the National Bison Association, white buffalo happen in only one of 10 million births, but the National Buffalo Museum in Jamestown has two in the herd that roams on around 200 acres of pasture land by the Interstate 94.
Dakota Legend was born to a regular brown buffalo, while Dakota Miracle is the offspring of White Cloud, an extremely rare albino bison who sadly passed on to the great paddock in the clouds in 2016.
Jamestown also boasts the world's largest buffalo sculpture, named Dakota Thunder. It's crafted of cement and stucco around a steel frame and is 26ft tall, 46ft long and weighs 60 tonnes.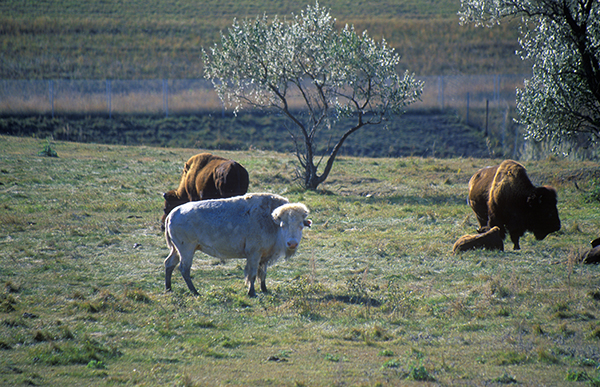 Joseph Sohm/Shutterstock
6. There's a spectacular national park
South Dakota might have the Badlands National Park, but North Dakota has Theodore Roosevelt National Park, which has 70,000 acres of badlands, painted canyons and grassy hiking trails. Theodore Roosevelt loved the state so much he bought a ranch there, subsequently establishing 150 national forests, 51 federal bird reserves, four national game preserves, five national parks and 18 national monuments across the country, as well as enabling the 1906 American Antiquities Act.
The park, named in his honour, is separated into two units 50 miles and a time zone apart, with Roosevelt's Elkhorn Ranch in the middle. The southern area is more visited, but the northern is just as spectacular. Expect to hike or drive past bison, barking prairie dogs, and towering hoodoo rock formations.
Andrew Bertino/Shutterstock
7. It sings with history
Medora is the gateway to Theodore Roosevelt National Park, and as well as being a quaint cowboy town – it's home to the North Dakota Cowboy Hall of Fame after all – it offers a history lesson in musical theatre form. The colourful Medora Musical relives Teddy Roosevelt's cowboy days in a toe-tapping extravaganza held at the Burning Hills Amphitheatre, an open-air venue amidst the rugged landscape.
For a novelty meal, book a pre-show dinner of Pitchfork Steak Fondue at Tjaden Terrace. The cowboy chefs load steaks onto pitchforks and plunge them into hot oil while you're serenaded with western melodies by The Coal Diggers from the Medora Musical.
8. There's an enchanted highway
North Dakota is known for long roads verged by grassland and farms, but along the Enchanted Highway, the scenery is more visually arresting. There are many strange things to be seen across the US from the comfort of your car, but in North Dakota there are seven huge scrap-metal sculptures dotted along a 32-mile stretch of county highway between Regent and Gladstone. At the northern end, Geese in Flight was in the 2002 Guinness Book of World Records as the largest scrap metal sculpture in the world.
Other topics range from giant grasshoppers to Pheasants on the Prairie, made up of five imposing birds. The creator, Gary Greff, wanted to rejuvenate his hometown of Regent and has also transformed a former 1960s-era elementary school in the town into a whimsical inn, called The Enchanted Castle.
Gary ran a Kickstarter campaign in 2015 to fund an addition to highway – a spider web sculpture. He raised over $20,000, but ran into a roadblock when he couldn't find land for the piece. Rather than spiders, a knight and dragon sculpture will be next, in front of the Enchanted Castle.