With no pier, a shingle beach and definitely no slot machines, the genteel Suffolk town of Aldeburgh has always prided itself on being a cut above other seaside resorts, attracting a mix of bohemian artistic types and second homers of a certain vintage and standing.
It's an immediately appealing place, with weatherboarded fishermen's huts selling the daily catch off the beach and a broad Georgian high street that's barely changed in a century. Fill your lungs with gulps of fresh, salty air along the seafront promenade, lined with high-gabled houses in cheery pastel hues, and you'll be glad you weathered the Friday-night traffic on the A12.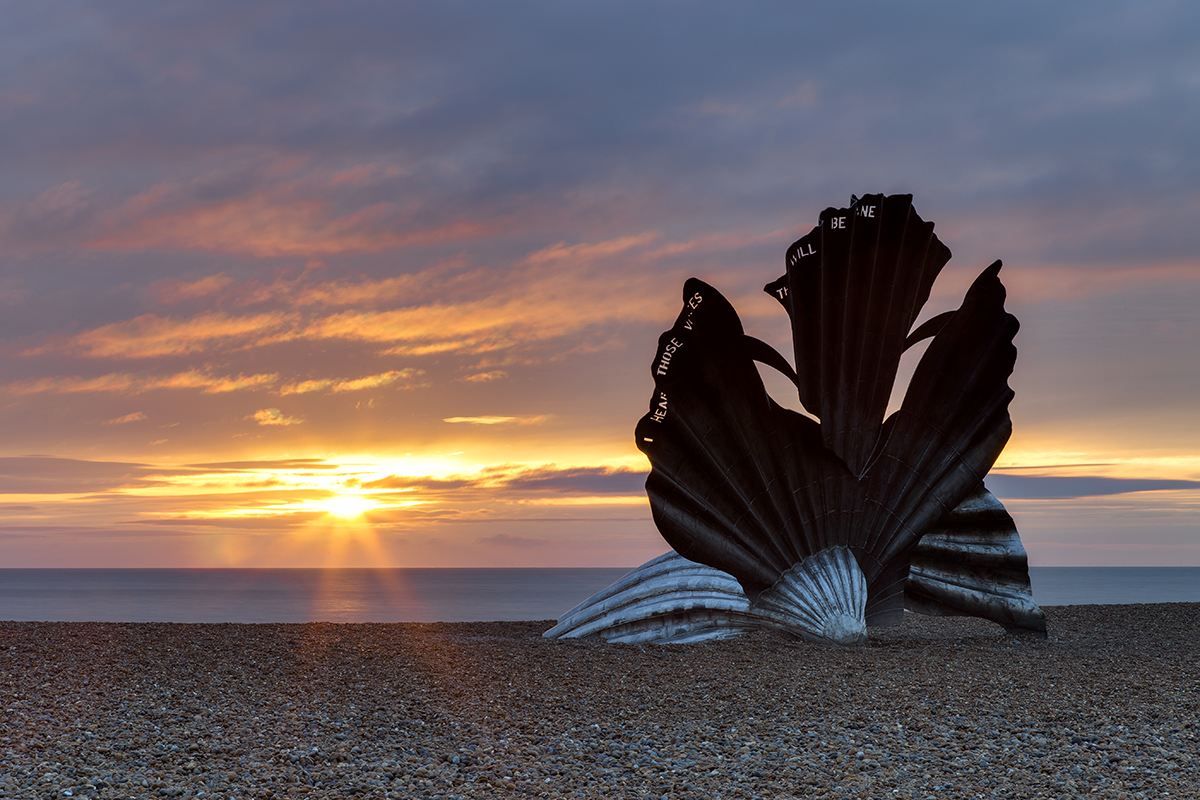 Richard Bowden/Shutterstock
That Aldeburgh's residents display a certain independence of spirit should come as no surprise given the town's isolation on a wildly beautiful, occasionally bleak stretch of coast, hemmed in by the North Sea and cut off to the south by the meandering River Alde. The seasons are felt more viscerally here, especially in winter when the wind whips off the ocean and long, lonely walks invite contemplation. Perhaps that's why Aldeburgh has inspired so many artists and writers, from JMW Turner to Wilkie Collins and ghost story maestro, MR James.
It was composer Benjamin Britten, though, that really put Aldeburgh on the map. The town's most celebrated son established a world-renowned annual festival of classical music in the wake of which have grown a lively roster of high-brow arts gatherings – from literature and poetry to contemporary theatre and documentary – that punch well above their weight.
Virginia Woolf once dismissed it as a "miserable dull little sea village", and that's what locals want you to think – for they know it's anything but. Here are our favourite things to do in Aldeburgh.
Friday
Check-in to: Ocean House. In a peerless position on the parade, this homely B&B has two light-filled oceanfront rooms – ask for the top-floor suite with a piano – great breakfasts and good-value self-catering at the back. Alternatively, Best of Suffolk lists dozens of beautiful holiday cottages, some available on short-term lets.
Eat at: Aldeburgh Fish & Chip Shop. Regularly voted the best in the land, Aldeburgh's legendary chippy – uber-fresh fish, crisply battered; perfect pillowy chips, best drenched in salt and vinegar – has fans as diverse as Spanish chef José Pizarro and local boy Ed Sheeran.
It's traditional to munch them on the sea wall – though mind the pilfering herring gulls that prey on the unwary – or, if the wind's up, head along to The Golden Galleon, sister to the original shop, where you can dine upstairs at The Upper Deck.
Have a pint in: The White Hart. Suffolk is awash with excellent brewers, but Adnams – the original and the best – still reigns supreme in these parts. Right opposite the fish and chip shop, this convivial wood-panelled pub, its walls hung with nauticalia, is Aldeburgh's cosiest choice for a pint of Broadside or Explorer – and if you buy a drink they'll let you see off your fish supper in their sheltered garden.
See what's on at: Aldeburgh Cinema. Celebrating its centenary in 2019, the cute, half-timbered cinema retains a little of the atmosphere of the picturehouses of yesteryear. The programme is up-to-the minute though, and interspersed with screenings of local films and live theatre and opera performances.
Saturday
Start the day: with a bracing dip in the North Sea, before you think yourself out of it. Even in winter a small hardcore of doughty residents don their striped towelling robes and totter across the pebbles for a character-building morning bathe. Curious seals have been known to pop their heads up along the beach.
Warm up at: Munchies. With a handful of tables out front, this is a premium spot to watch the high street goings-on over coffee and a brownie.
Shop: along Aldeburgh High Street. Staffed by book lovers with a superb range belying its size, long-established Aldeburgh Bookshop is one of the best independent bookstores in the country, perfectly laid out for leisurely browsing.
Another local institution, O&C Butcher is a classic outfitter in the traditional mould. Its sales see Aldeburgh at its most frenzied – think a gentrified Primark stampede with Barbours and mustard cords as battle dress.
Lunch at: The Aldeburgh Market. Generous portions of market-fresh seafood is the winning formula at this diminutive café attached to an excellent deli – book ahead. Firmly focused on fish, though catering well to vegetarians, the great-value menu ventures further afield than most in Aldeburgh. Try the beautifully spiced South Indian fish curry.
Stroll along the seafront parade to: The Scallop. Facing the ocean on a lonely stretch of beach a few hundred yards north of town, Maggi Hambling's dazzling tribute in steel to Benjamin Britten – the words pierced through its upper shell quote Britten's opera, Peter Grimes – is Suffolk's most controversial artwork, loved by visitors and scorned by starchier residents. See for yourself and make up your own mind.
Rent a rowing boat on: The Meare, Thorpeness. With its mock Tudor and Jacobean-style buildings and fairy-tale House in the Clouds, the Edwardian holiday village of Thorpeness – a mile and a half along the coastal path beyond The Scallop – is the product of a peculiarly English brand of whimsy. Its centrepiece is the Meare, a fantastical, Peter Pan-themed boating lake (Easter–Oct) with dozens of tiny islets and secret waterways to explore.
After tea and cake at The Kitchen or a pint at The Dolphin, return to Aldeburgh along the old railway line through North Warren RSPB Reserve, where in spring and early summer you may hear the boom of the elusive bittern.
Dinner at: The Lighthouse. Always offering a warm welcome from its ebullient owner, Sam Hayes, this buzzy, informal bistro consistently provides Aldeburgh's best cooking. With a slant towards local fish, the kitchen focuses on doing simple things well – the fat, juicy pan-fried scallops with bacon and samphire are a winner – and the pre-cinema menu (also available at lunchtime) is a steal.
Sunday
Walk to: Snape Maltings. A gorgeous six-mile walk through woodland, marshes and reedbeds, past freshwater dykes home to otters, the Sailor's Path to Snape was once used by stranded mariners forced to tramp to Aldeburgh on foot from the silted River Alde.
Rising from the rustling reeds like a ship, Snape Maltings is the focus of the Aldeburgh Festival. As well as one of the UK's finest concert halls, the complex of former malthouse buildings encompasses various craft shops, galleries and cafés, and in summer boat trips cruise the tranquil rivers Alde and Ore.
Lunch at: The Golden Key. All three of Snape's pubs serve excellent food strong on local produce, but this cosy, 16th-century inn just edges it for its roaring open fires, low-beamed ceilings and high canine-to-person ratio.
Visit: The Red House. A visit to the secluded farmhouse on the edge of Aldeburgh that Britten shared with his partner, the tenor Peter Pears, can easily fill an afternoon. Enthusiastic tours of the house (March–Oct at 2pm), left much as it was during their lifetimes, provide an intimate portrait of the couple's contented domestic life, though the real highlight is Pears' varied art collection. Temporary exhibitions are always worth catching, and the state-of-the-art archive is a treasure-trove for fans.
Have a cream tea at: Cragg Sisters. With its mismatched crockery, retro furnishings and real passion for teas, this dinky tearoom on the High Street is an ideal last stop for a cuppa and a slice of Victoria sponge or lemon drizzle before your trip home.