Leeds' smattering of bars, stylish Victorian shopping arcades and thriving arts scene lend the West Yorkshire city a dynamic vibe. Riverside restorations have helped transform once down-at-heel mills into attractive structures that proudly reflect the region's industrial heritage, and a number of grand, Victorian buildings have been repurposed to serve modern needs.
Luxury accommodation and two elegant restaurants now sit behind the stonework façade of the Old Post Office, which looks onto City Square. Cafés and independent shops are well-lit by the skylights in the domed ceiling of the Corn Exchange, which once enabled Victorian merchants to examine the quality of grain being traded. Leeds isn't a place that shouts about its history, but glance up – above the modern ground-floor shopfronts – and you'll spot inscriptions and bas-relief sculptures that nod to its past.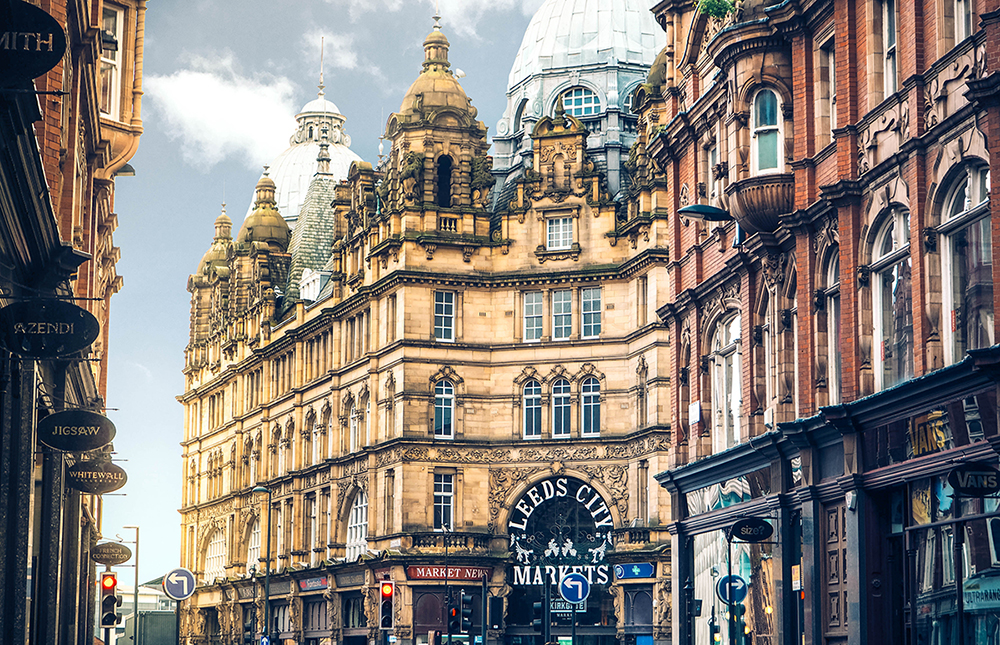 Prawrawee Lim/Shutterstock
The city's heritage is also evident in its quirky owl trail. Figures depicting nocturnal birds of prey, which feature in the Leeds coat-of-arms, sit atop of railings and buildings. Two golden owl figures adorn the towers of Leeds Civic Hall, an Art Deco building that faces Millennium Square, the pedestrianised heart of the city where festivals and outdoor cinema screenings are held regularly.
Leeds has a relatively compact core, meaning most places of interest are within easy walking distance. Here are our top things to do in Leeds for a weekend away.
Friday
Check-in to: Quebecs. The independent, 44-room hotel is handily placed for walking to attractions in the city centre, alleviating the need for a late taxi ride after a night out. The hotel occupies listed, red brick premises that once housed the Leeds and County Liberal Club. The bedrooms have high ceilings typical of grand Victorian buildings, and the wood-panelled meeting rooms and broad staircase convey a sense of the building's heritage.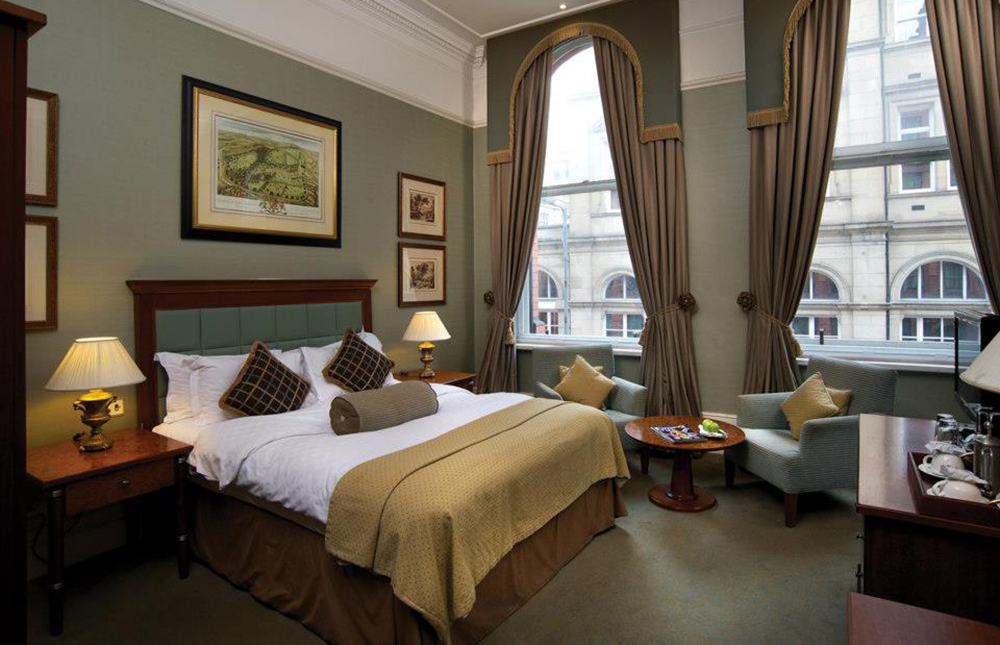 Quebecs Hotel & Luxury Apartments/Facebook
Eat at: Nawaab. Situated a couple of minutes' walk from the railway station, Nawaab is a long-established restaurant with modern décor and subtle lighting. There's a broad choice of vegetarian options on a menu packed with dishes from northern India. The subtly spiced lamb chops and Balti dishes are a good bet if you need help in narrowing it down.
Have a pint in: Whitelock's Ale House. This traditional pub is tucked down a passageway in the Turk's Head Yard. With a pedigree dating to 1715, Whitelock's serves an array or regional beers and a decent selection of gins. On balmy evenings you can take your drinks out onto tables in the yard.
Saturday
Visit: Leeds Art Gallery. Natural light floods into the first-floor Central Court Gallery, via restored Victorian skylights. One of the free-to-visit gallery's best-known works is Scotland Forever! by Elizabeth Thompson, depicting the cavalry charge by the Royal Scots Greys regiment at the Battle of Waterloo.
Stop for coffee at: Tiled Hall Café. Taking a seat in this spacious, pillar-lined café provides an opportunity to gaze at the details of the décor. Tiles are arranged into patterns on the vaulted ceiling of what was once the reading room of Leeds Central Library.
Shop: Victoria Quarter. You don't necessarily need to be an avid shopper to enjoy strolling around the grand County and Cross arcades – restored Victorian shopping galleries housing designer stores under an arched glass ceiling. If you're looking for luxury, pop inside the nearby Harvey Nichols department store.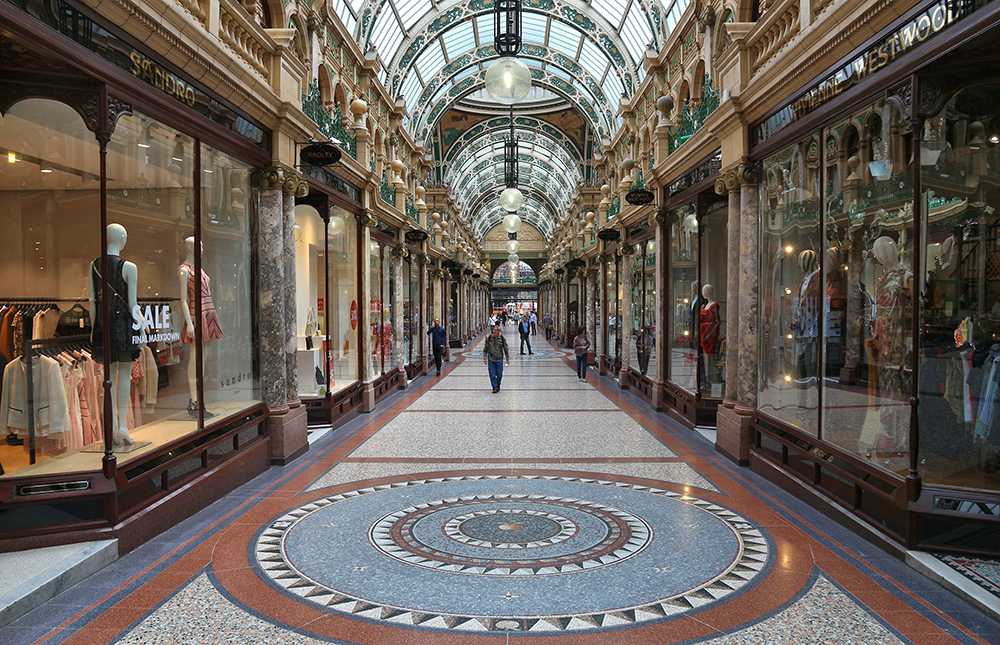 Tupungato/Shutterstock
Take afternoon tea at: Laynes Espresso. The name of this popular café hints it's a place for coffee aficionados, but loose-leaf teas are also served. Don't be disheartened if it looks at capacity: there's also a subterranean floor. A tempting selection of cakes and pastries is displayed on the countertop.
Visit: The Henry Moore Institute. Bearing the name of the Yorkshire-born man widely regarded as one of Britain's greatest sculptors, this research centre holds white-walled galleries in which sculptures are displayed.
Dine out at: Issho. This stylish Japanese restaurant has a rooftop bar. Arriving early gives you time to enjoy an aperitif: possibly one of the many sakes listed on the drinks menu. The restaurant has an open kitchen. A seat overlooking the chefs can prove a rewarding choice if you're an avid foodie. The dishes served look and taste delicious: the menu runs well beyond sushi and sashimi. Chicken dishes, tuna tartare and filling ramen noodles count among the choices.
Have a nightcap in: Epicurus. Leeds is not short of choices for late-night bars. Simply wander along Merrion Street and take your pick of places to pop into. Nearby Epicurus has a chilled vibe: the low-lit bar is a good choice for discerning cocktail drinkers. Death and Taxes, accessible through a door at the back of Epicurus, is a speakeasy style bar.
Sunday
Take a stroll: along the banks of the River Aire as it snakes through Leeds. Many warehouses and waterfront industrial buildings have been restored, making the riverside footpath is a pleasant place to stroll. If you're interested in industrial heritage keep your eyes open for information boards with details about the former use of mills and wharves.
See: Royal Armouries. Purpose-built to house the national museum of arms and armour, it's part of a vast collection of military artefacts once based at the Tower of London. The free-to-visit attraction includes lifelike exhibits, plus models of weapons such as the crossbow range on the fifth floor. Short films explain the significance of key battles and actors perform intermittently, telling stories about historic engagements and demonstrating the use of weapons.
Lunch at: Mumtaz. For a late lunch, stop by this classy Indian restaurant, on the opposite side of the dock to the Royal Armouries Museum. The masala fish is a sumptuous, moderately spiced starter to share. If you appreciate a good dal take your pick from three varieties. Fancy trying something a little out of the ordinary? Why not opt for the brain or trotters of lamb?
Drink in: The Tetley. Tetley Brewery's erstwhile headquarters have been transformed into a hub for contemporary arts. You can peek inside of the oak-panelled room where board meetings were held and view art exhibitions within this Art Deco style building. Alternatively, stay on the ground floor and order a drink. The Tetley Bar and Kitchen serves a range of food and beverages, including Tetley beers.