Inverness is unlike any other city in Scotland. For starters, it's the most northerly, which brings its own benefits (a natural, rugged playground on its doorstep, for one) and challenges (namely, the weather). It's also part of a proud region that has its own traditions and heritage which, over the centuries, have created a distinct character.
In many ways, Highland life remains at odds with the frenetic, fast paced existence so many of us lead, and a weekend in this laid back gateway to the north is simply not enough to explore the countless castles, distilleries, and museums, or tackle the range of the outdoor activities. It is however, a good introduction to northern Scotland, giving you a flavour of the history, customs, and way of living that has shaped this indomitable city.
Friday
Check-in to: The Black Isle Bar & Rooms, smack in the centre of the city. Owned and operated by the Black Isle Brewery, which lovingly brews its own organic beer across the Beauly Firth, this urban hub is full of rustic charm. It's an affordable hostel affair with both simple, modern dorms and private rooms.
Eat at: your lodgings. Drop your bags and go straight to the Black Isle Bar, which not only pours its own craft beers but also serves up creative creations from its wood-fired pizza oven. Try the 'Hebridean' with organic lamb meatballs, or the fusion venison salami with smoked Orkney cheddar. Most ingredients come from the brewery's farm – even the resident sheep and hens are fed on spent grain from the mash tun, keeping it local and sustainable. Don't miss the hidden beer garden if the sun's shining.
Settle in for the evening at: The Malt Room. Get in the spirit at the city's finest whisky bar, where whisky pros will guide you to your perfect dram. Try the whisky flights to broaden your palate or a whisky cocktail if you're just dipping your toe.
Saturday
Discover: at the Inverness Museum & Art Gallery. Here you can learn about the history and culture of Highland life as the museum charts the story from the Picts and Jacobites, to the modern day with everything in between. Admire carvings, silverware, traditional dress, original photographs, and try your tongue at Gaelic.
Next, make for the art gallery and set to work interpreting its ever-changing portfolio of paintings and sculptures. The gallery's collection includes pieces by artists both local and international, and covers a broad range of themes and topics.
Stop for sweet treats at: So Coco. A mere minute's walk from the museum, here you'll find arguably the city's foremost selection of chocolate-based goods. From churros and macaroons to choux buns and creamy-topped mochas, So Coco is the place for a rich, mid-morning pick-me-up.
Leakey's Bookshop/Facebook
Shop: all over town. Inverness has an eclectic selection of high street and independent shops, ripe for weekend perusing. Leaky's Bookshop is somewhat of an institution for secondhand-reads and curious finds – go for the interiors if nothing else.
There's also the Victorian Market, a traditional favourite with everything from jewellers and barbers to chocolatiers under one roof. Meanwhile, the clue is the name at Oil & Vinegar, where the friendly owners encourage you to try before you buy across its range of tasty condiments.
Have a pint at: The Castle Tavern. A beloved boozer with locals and visitors, The Castle Tavern has draught beers, a pub menu for the peckish, and an excellent beer garden for sunny afternoons.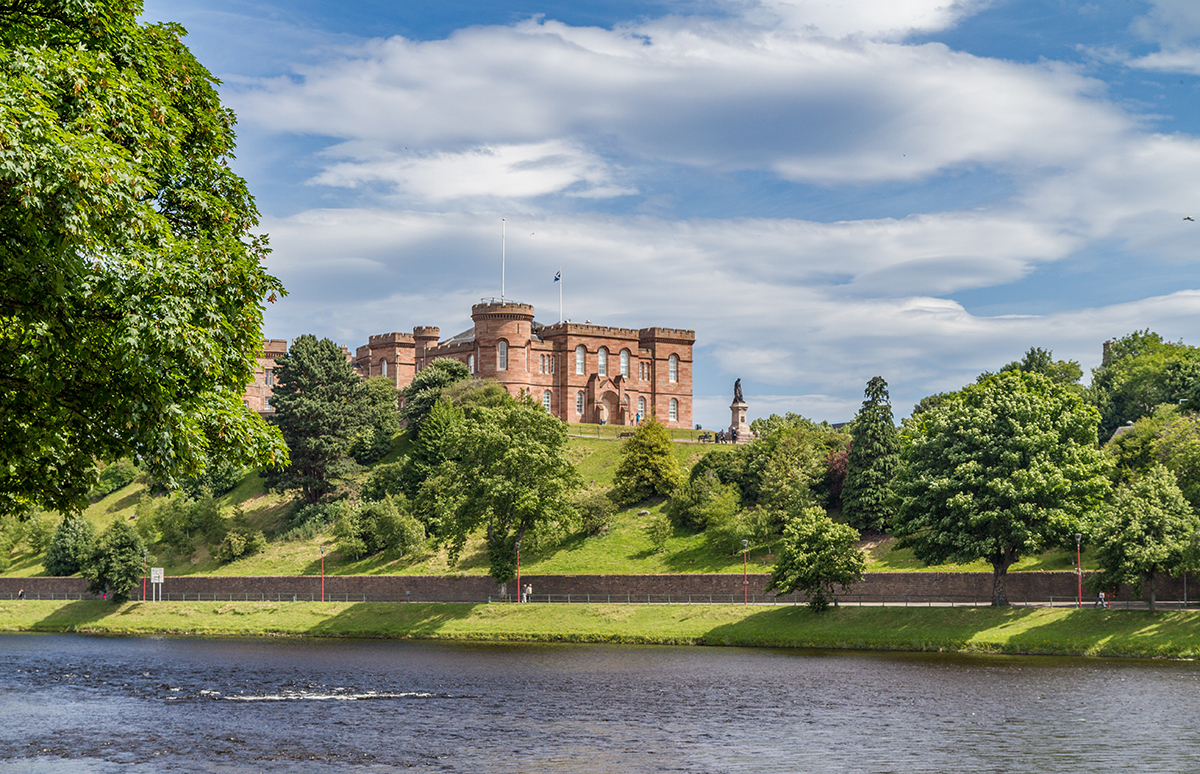 gNesher/Shutterstock
Take in the view from: Inverness Castle. Post pint, pop up to Inverness Castle, which dominates the city's skyline. Located on the site of medieval fortifications, the current castle dates back to the mid-1800s and is not yet open to the public. You can, however, climb the north tower to the Inverness Castle Viewpoint, where you'll learn about local myths and legends as you ascend to the top for spectacular 360-views across the city and surrounding landscape.
Have a special dinner at: Rocpool Restaurant. You can't beat on the west bank of the River Ness and in this restaurant it's all about provenance, where everything is carefully sourced, cooked, and presented reflecting hearty Scottish fare in a deliciously contemporary way. While Scotch beef and Highland venison are tempting, as the name suggests, you must try the seafood.
Get toe-tapping at: Hootananny. No trip to the Highlands would be complete without a evening of Scottish folk music, so make for one of country's leading live music venues. The atmosphere is loud and good natured, and the bar is always well stocked. Everything from ceilidhs to comedy can be enjoyed here – just check the calendar to see what's on.
Sunday
Take a Sunday stroll: Blow away the morning-after cobwebs with a walk northwards along the River Ness to the Merkinch Local Nature Reserve. All sorts of wildlife can be spied at this tucked away reserve, from roe deer and otters, to seals, waders, ducks, dolphins and passing migratory birds including, on occasion, ospreys. You will also get a cracking view of the Kessock Bridge.
Eat at: Girvans. From light bites to full on feasts, Girvans is a great place to fill up before heading home. There's something for everyone on its assorted menu, including baked tatties and red Thai curry, while the bar offers more craft beer options in the shape of Cromarty Brewing Co. ales from across the Moray Firth.
Extra time in Inverness?
Many people visiting Inverness use the city as a base from which to explore the Scottish Highlands. If you're planning a slightly longer trip, here are a few more things to do within half an hour of Inverness:
Dolphin spotting: Make your way to Inverness Marina, where Dolphin Spirit (which is an accredited member of the local Dolphin Space Programme) offers both speedy RIB tours and more sedate cruises to find playful bottlenose dolphins from March to the end of October.
Culloden Battlefield: Walk in the footsteps of the fated Highland clans on that dreich day in April 1746 at Culloden Battlefield. The visitors' centre sets the scene of this historic battle well, and it's impossible not be moved walking around the battlefield. A must for history lovers and those keen for a greater understanding of the Jacobite Rebellion. It's only 15 minutes by bus or car from Inverness.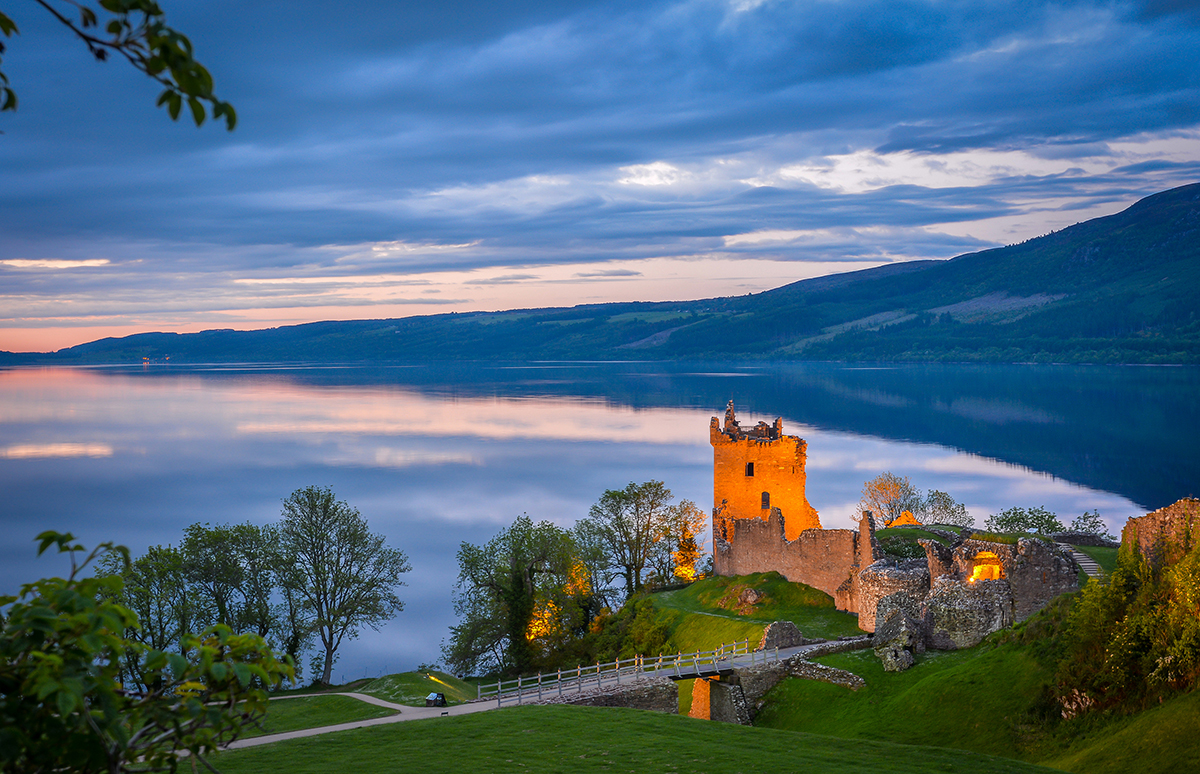 nitsawan katerattanakul/Shutterstock
Loch Ness: Whether you want to walk the Great Glen Way, visit Urquhart Castle, be the one who finally captures a clear shot of Nessie or take a boat trip, Loch Ness won't disappoint. Hiring a car is a great way to explore by yourself, while various tours can be arranged in Inverness, or you could plan a route via public transport.
Fort George: Built in the wake of Culloden, 18th-century Fort George remains one of the most impressive fortifications in Europe, and is still used by the British Army today. Although it never saw action, it is an incredible place to visit – check out the Highlanders' Museum and take in the sea air from the ramparts (the eagle-eyed may see dolphins from this vantage point). Half an hour by car from Inverness.