While its university makes Aarhus' population one of Denmark's youngest, the city itself is one of Northern Europe's oldest. It was founded by the Vikings in the eighth century but really expanded in the 1900s, when a palace was built here for the Danish royal family.
They were so charmed by the laid-back city they quickly made it their official second residence and they still stay here every summer, although during the rest of the year you can visit Marselisborg Palace.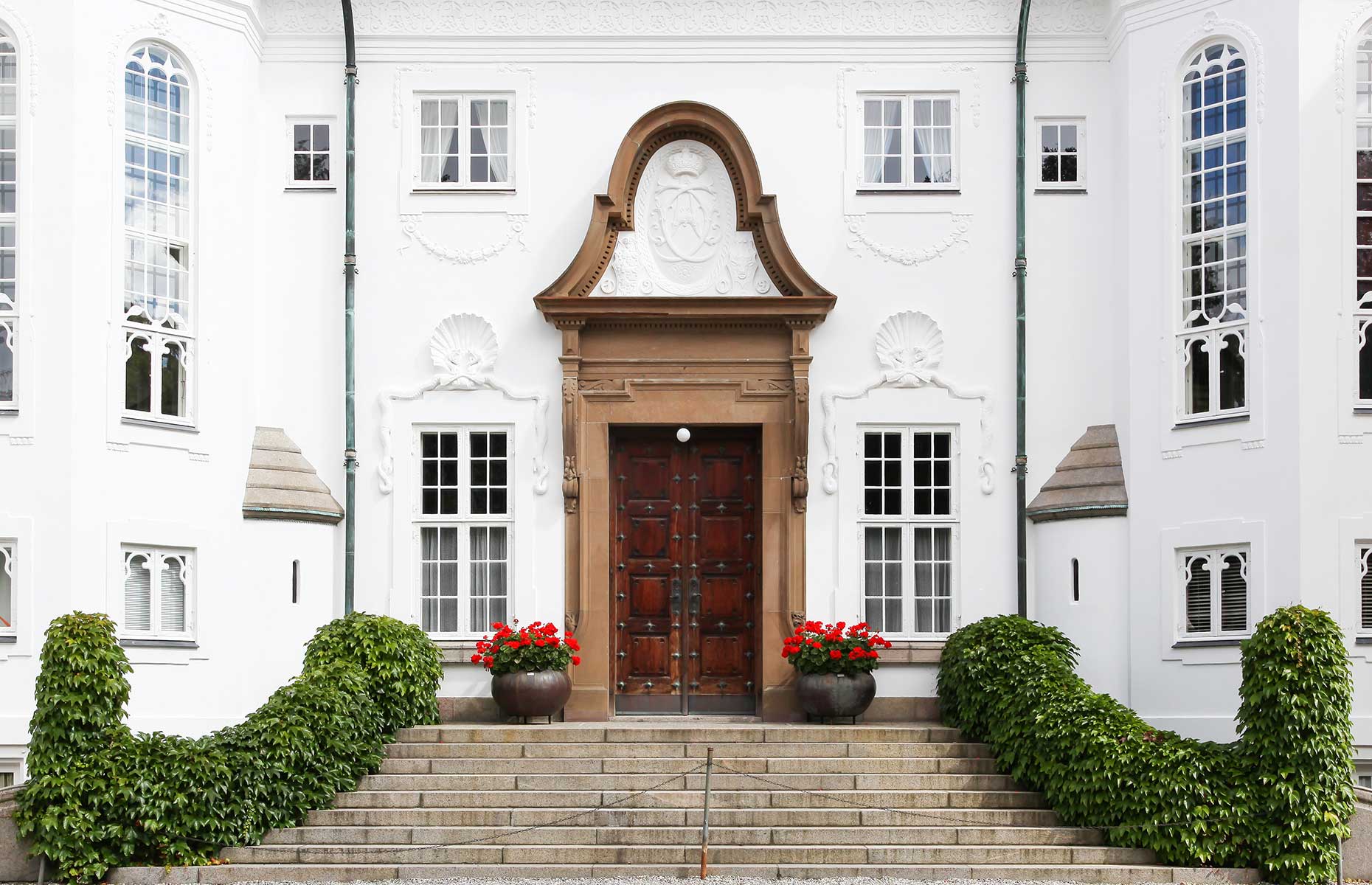 Ricochet64/Shutterstock
But far from being a historic set-piece, Aarhus today is thriving. Spend some time in the Fredriksbjerg neighbourhood and you'll see bustling streets lined with independent shops, cafés and venues.
Or visit Godsbanen for studios, workshops and flea markets – a great place to buy some local crafts, like Denmark's famous ceramics (keramik). At Aarhus Ø you can see a new neighbourhood blossoming, with cutting-edge residential buildings like the iconic Isbjerget springing up along the waterfront.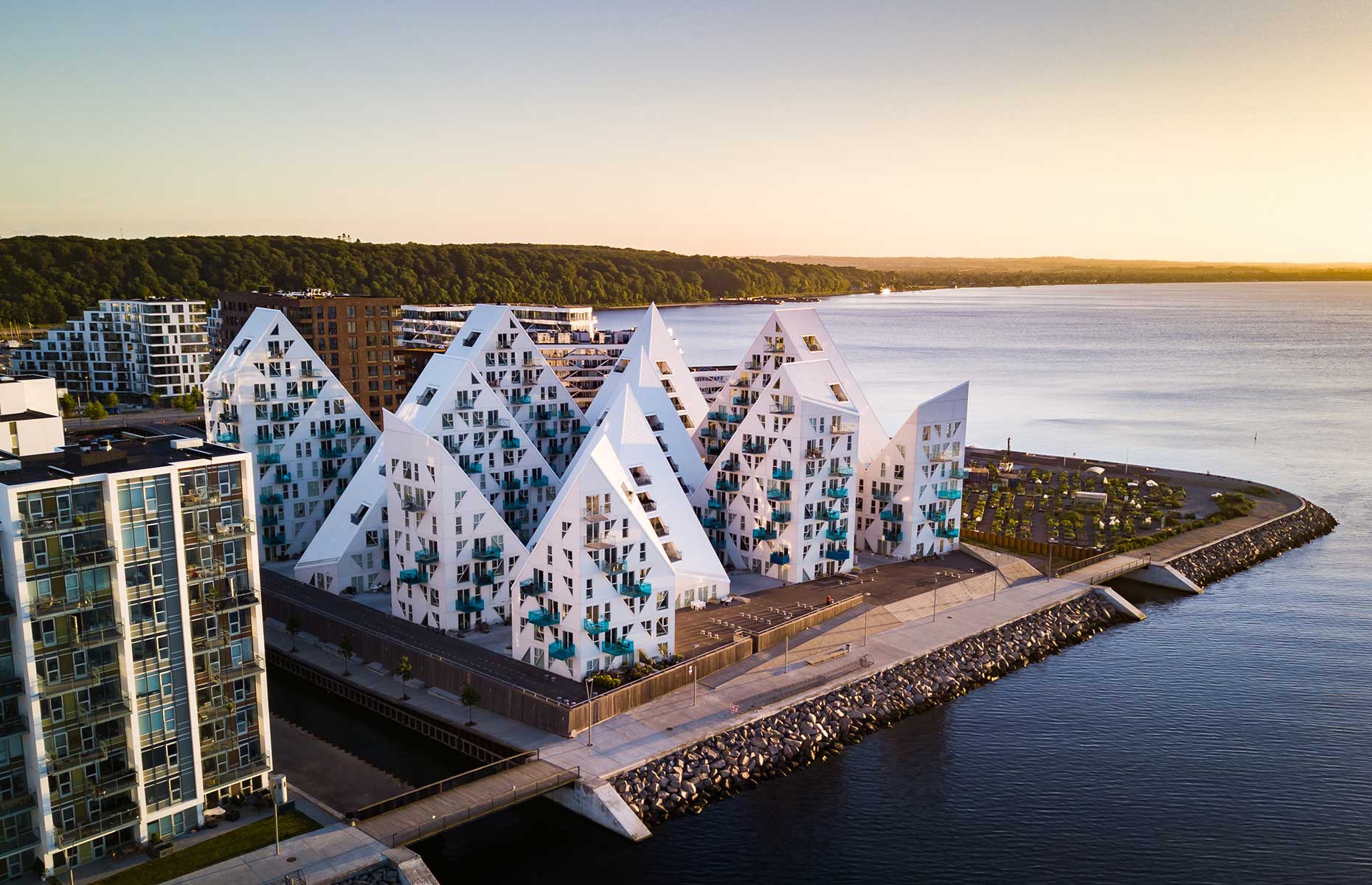 Dennis Borup Jakobsen/VisitDenmark
To really get ahead of the curve, though, look to the old industrial area of Sydhavnen. This newly developing area is already home to Denmark's first dedicated gin distillery, Njord, and the Kulbroen project, which is constructing a High-Line-style pedestrian walkway on a disused coal bridge.
Families will find plenty to do in Aarhus. As well as the museums – with open-air Den Gamle By (pictured below) leading the pack for family-friendly activities – kids will love the amusement park at Tivoli Friheden. As the seasons change, so does the park, getting a spooky makeover for Halloween and a magical one for Christmas. You can enter for free with an AarhusCARD (though it doesn't cover rides), which also gives free access to many of the city's key attractions, travel on Midtraffik buses (including the airport bus) and discounts in several shops and restaurants.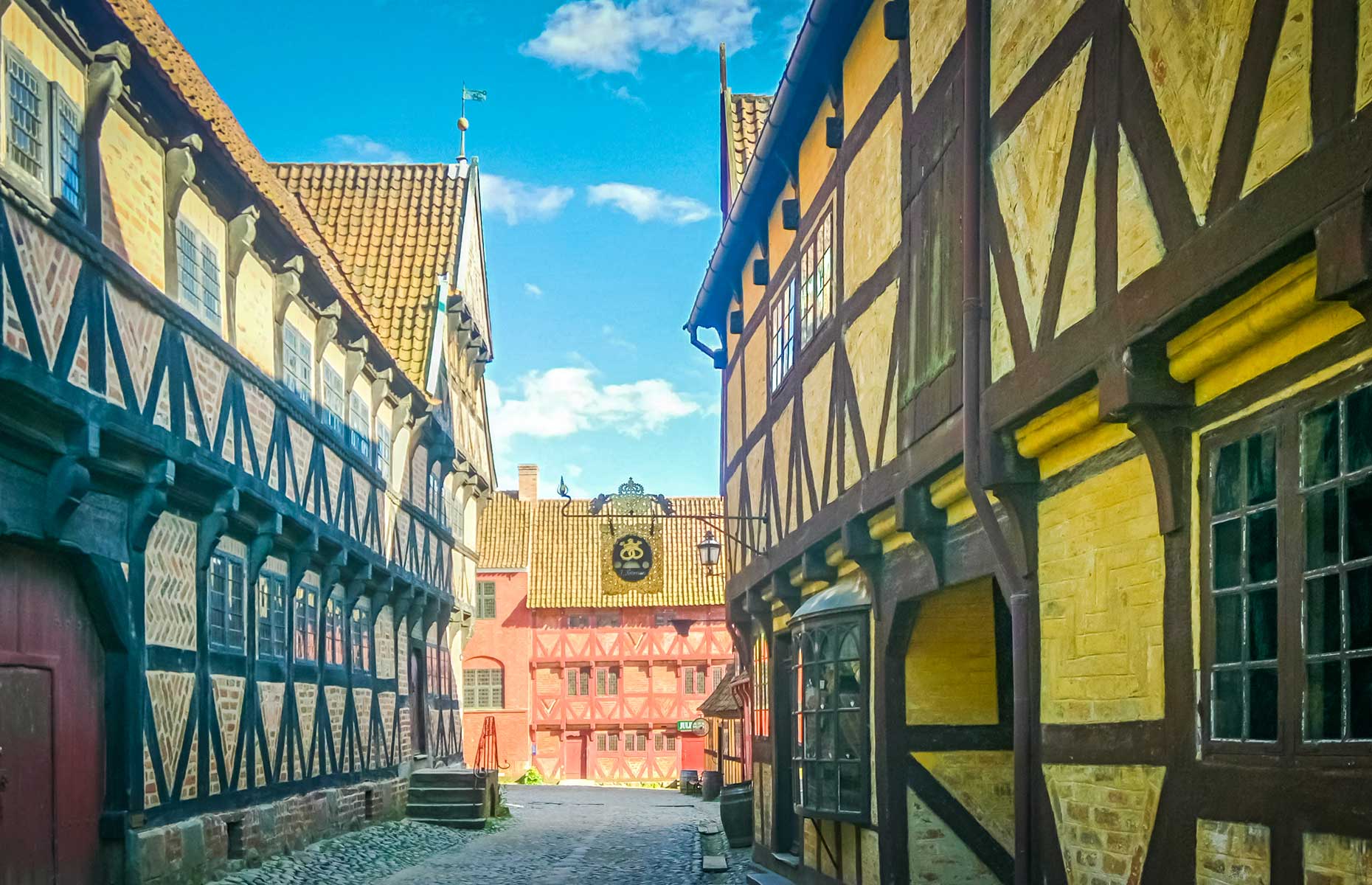 Vivvi Smak/Shutterstock
Aarhus may be a small city, but you'll be surprised by how much there is to do. To help you narrow it down, here's what we'd do on a long weekend.
Friday
Check into: CABINN. You couldn't ask for a better location: on one side is the cathedral, on the other the river. As their tagline – "all you need to sleep" – suggests, CABINN focuses on function over frills, but the small, well-kept rooms cover all the essentials, and help you save a few kroner.
Explore: the Latin Quarter. CABINN is situated in the city's oldest district, the Latin Quarter. As well as the imposing Romanesque cathedral (Domkirke), it's home to Denmark's only female-focused museum – the Women's Museum, housed in the beautiful old City Hall. The district, filled with picturesque buildings and independent shops, is also a pleasure to wander through.
Eat dinner at: Mefisto. Continuing the Latin Quarter's cosy feel is Mefisto, its low lighting, knowledgeable staff, and jazz soundtrack making for a relaxing atmosphere. Try the open sandwiches, or the cod – a house speciality. Fish is the focus, but they're happy to cater for vegetarians (and for other dietary requirements, if you give them notice).
Sip a drink at: No 16 or Alberts Bar. For the perfect finish to a summer evening, soak up the lingering sunlight on the rooftop bar at No 16. In the cooler months, ramp up the hygge by heading underground at Alberts. Housed in the city's oldest cellar (dating from the fourteenth century), it's a great spot for a candlelit glass of wine or inventive cocktail.
Saturday
Enjoy the view from: ARoS. Start your day by strolling down the river to the city's impressive art museum – the modern building, crowned by a ring of coloured glass, is impossible to miss. Though this Your rainbow panorama walkway would be attraction enough, the museum holds consistently brilliant exhibitions and is well worth a couple of hours.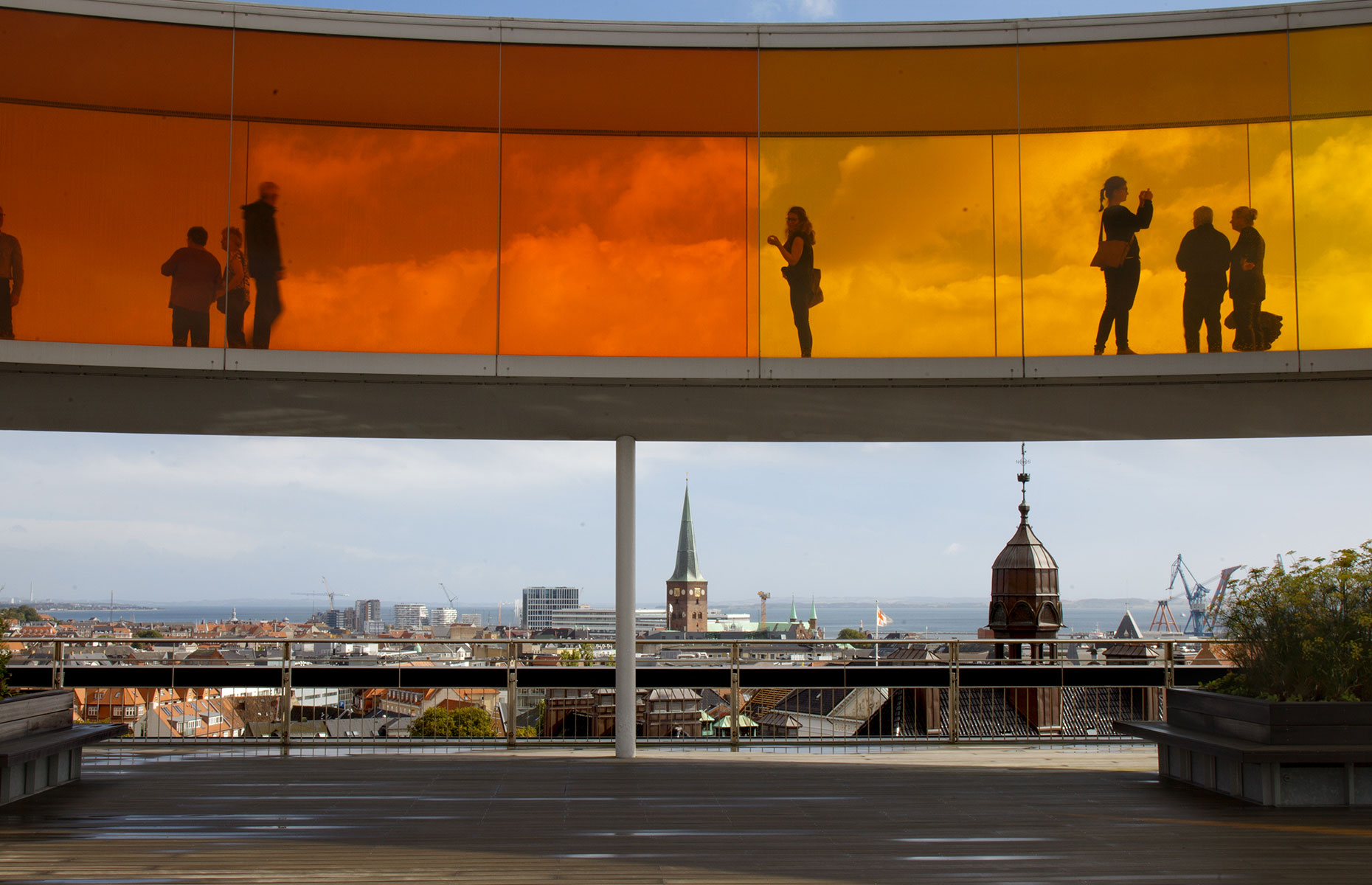 Olafur Eliasson/ARoS Aarhus Art Museum
Get lunch at: Aarhus Street Food. This street-food market is always busy – and for good reason. With everything from crispy pork (Denmark's national dish) to fresh pasta, jerk chicken to pad thai, you're sure to find what you're craving. And for dessert? Fresh-baked cakes, artisanal ice lollies, piping-hot Æbleskiver with jam… or simply a fresh juice.
Rent a bike from: Cycling Aarhus. Aarhus is a perfect city to explore by bike, with cycle lanes clearly marked and bike hire simple. Visitors with an AarhusCARD get 20% off at Cycling Aarhus – which also does particularly beautiful bikes. From the pick-up point on Frederiksgade, head northeast to the harbourside to see Dokk 1 – the public library's sleek new home – and the already iconic buildings of Aarhus Ø. Then, stick to the waterfront as you make your way south along Strandvejen, cruising along with grand houses to your right and the open sea to your left.
Learn some history at: Moesgaard Museum. Moesgaard's angular concrete structure should feel out of place in the rolling countryside, but its sloping, grass-covered roof instead blends seamlessly into the landscape. Inside is one of the country's best museums, tracing the human history of Denmark and beyond, with innovative and engaging exhibitions. Set aside a good amount of time to see Grauballe Man; the eerie bog body is displayed with sensitivity and compassion, in a fascinating exhibition explaining his discovery in 1952.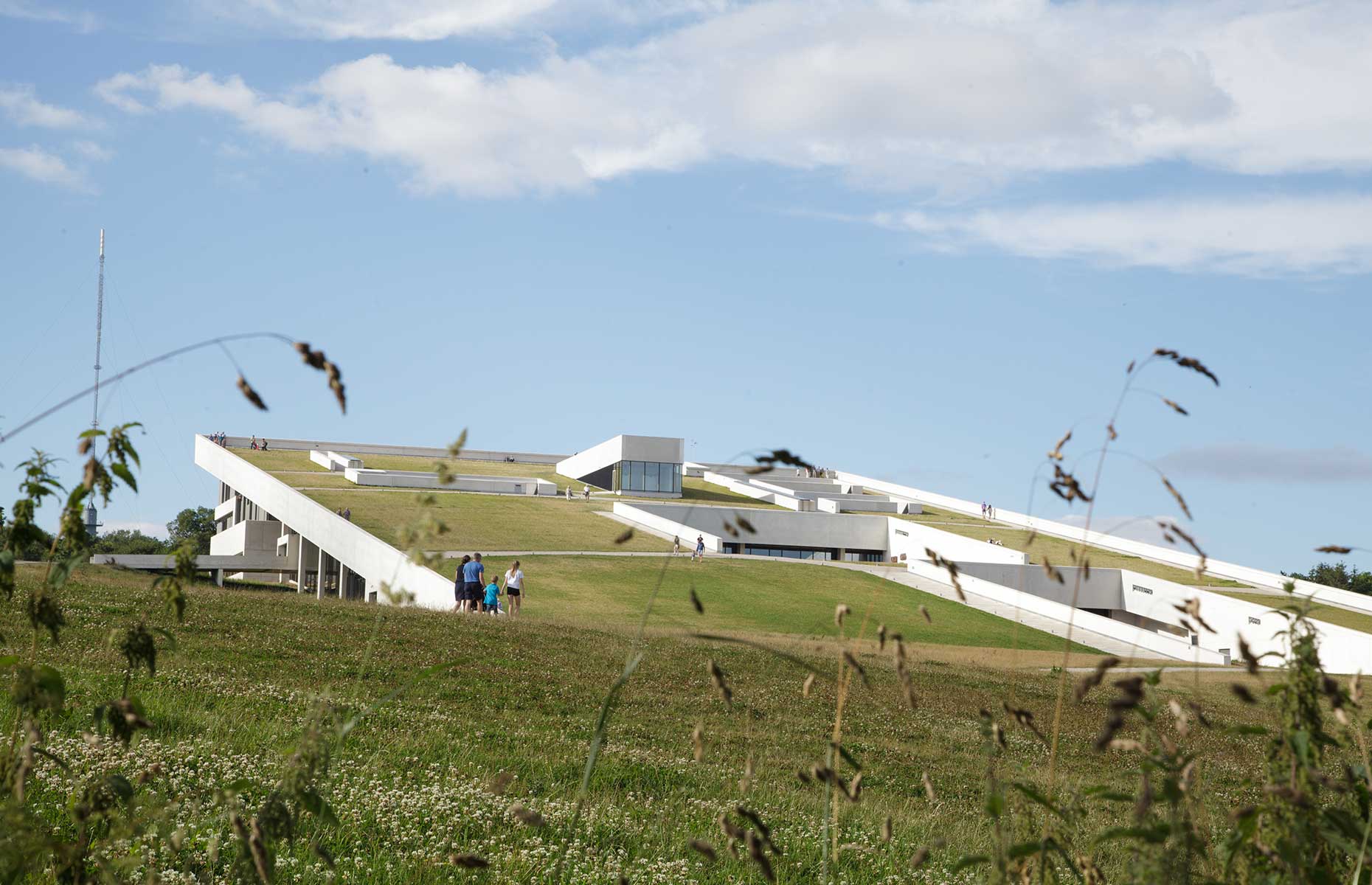 Kim Wyon/VisitDenmark
Enjoy dinner at: Nordisk Spisehus. Back in the city, treat yourself to dinner at the excellent Nordisk Spisehus. Alongside haute cuisine versions of classic Nordic dishes, the menu is peppered with international flavours, as Nordisk Spisehus collaborates with Michelin restaurants around the world. Give them notice, and they'll adapt the menu for dietary requirements.
Sunday
Explore old Denmark at: Den Gamle By. This open-air museum is perfect for a morning wander, the gorgeous buildings sourced from around Denmark, and ranging from the sixteenth to twentieth centuries. Everyone loves the picturesque water wheel and the half-timbered buildings of the old market square, but make time for the 1970s section too – complete with jazz bar, TV shop and gynaecology clinic.
Have brunch at: Aarhus Central Street Food Market. An ideal spot for a filling brunch, with everything from ramen to shakshuka – but the famous open sandwiches from Kähler Smørrebrød are a perfect choice. A more casual version of Kähler Spisesalon restaurant, it's famous for its chicken salad smørrebrød, (the goat's cheese option is ideal for veggies). Stay and eat in the chic warehouse space, or order them to take away – along with some delicious chocolates from Vanilla Chocolatier & Konditori for the road.