Flying to more destinations than any other Scottish airport, Edinburgh Airport offers a wide range of flights. From Scandi breaks and Mediterranean getaways to holidays on America's east coast, Edinburgh Airport has it all. We've picked 12 of the best destinations.
1. New York, USA
New York can be overwhelming on your first visit but the trick is to take it easy. Start with a walk over Brooklyn Bridge to take in that skyline then pick a neighbourhood to explore. We suggest grabbing a coffee, enjoy people-watching or taking a tour with the excellent Lower East Side Tenement Museum and uncovering the history of one corner of this frenetic city. Read our guide to New York City for more ideas.
Where to stay in New York:
If you're after a central Manhattan location and don't mind small but comfortable rooms, Pod 39 is just the ticket. Alternatively, stay in hipster Brooklyn and enjoy views over the water from 1 Hotel Brooklyn Bridge.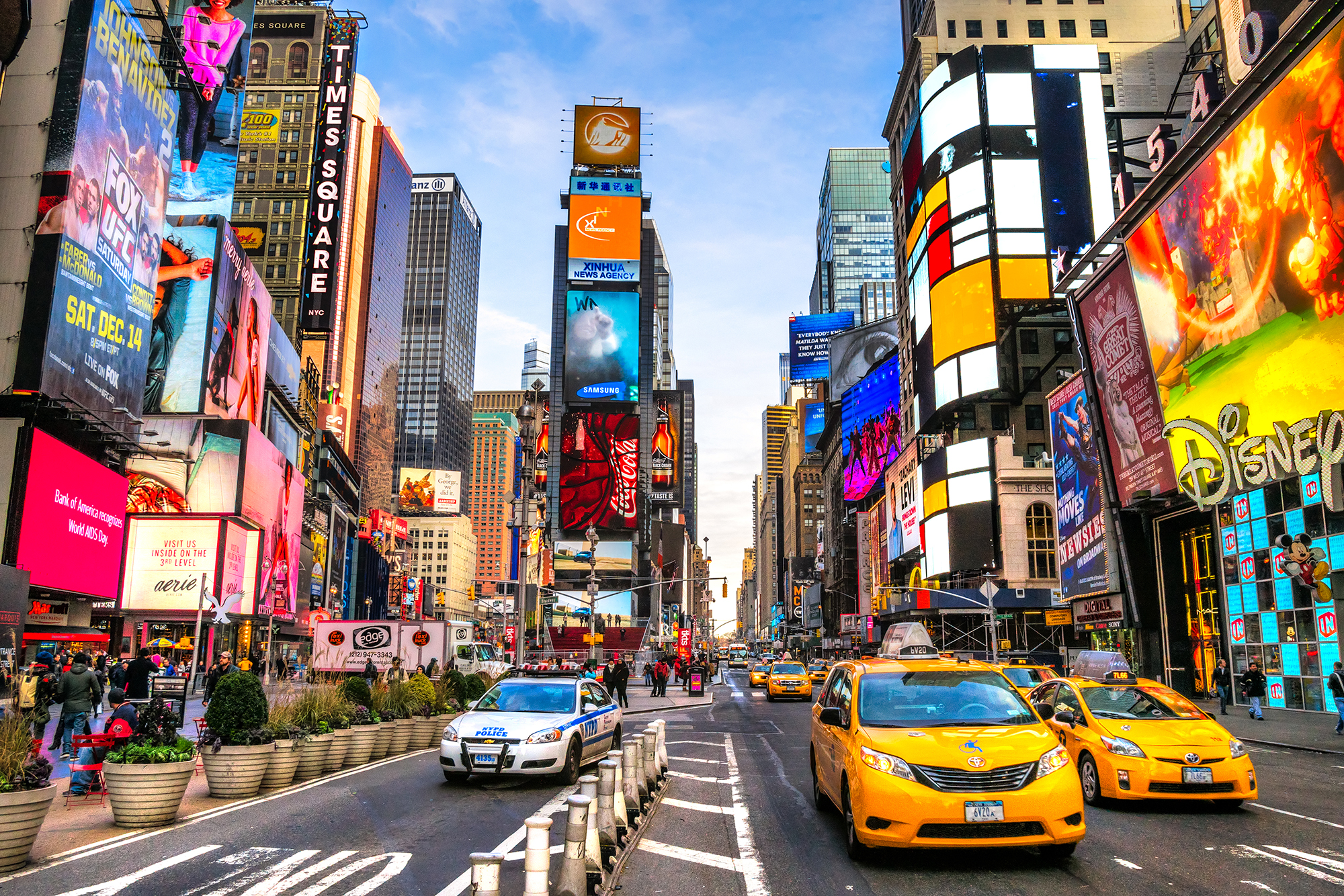 Luciano Mortula - LGM/Shutterstock
2. London, England
Regular flights to all of London's main airports – Heathrow, Gatwick, City, Luton and Stansted – put the English capital just an hour and a half from Edinburgh. Visit for a summer weekend music festival – Hyde Park sees the big-name acts while East London's Victoria Park hosts an alternative stellar line-up.
If art's more your thing, head to the newly refurbished Hayward Gallery on Southbank. Or visit the Postal Museum where you can ride the long-abandoned mail rail deep under the streets of the city. For more ideas read our London guide.
Where to stay in London:
The Great Northern Hotel is a beautiful renovation of a classic Victorian hotel. For good value and an unbeatable location for sightseeing, opt for Citizen M overlooking the Tower of London.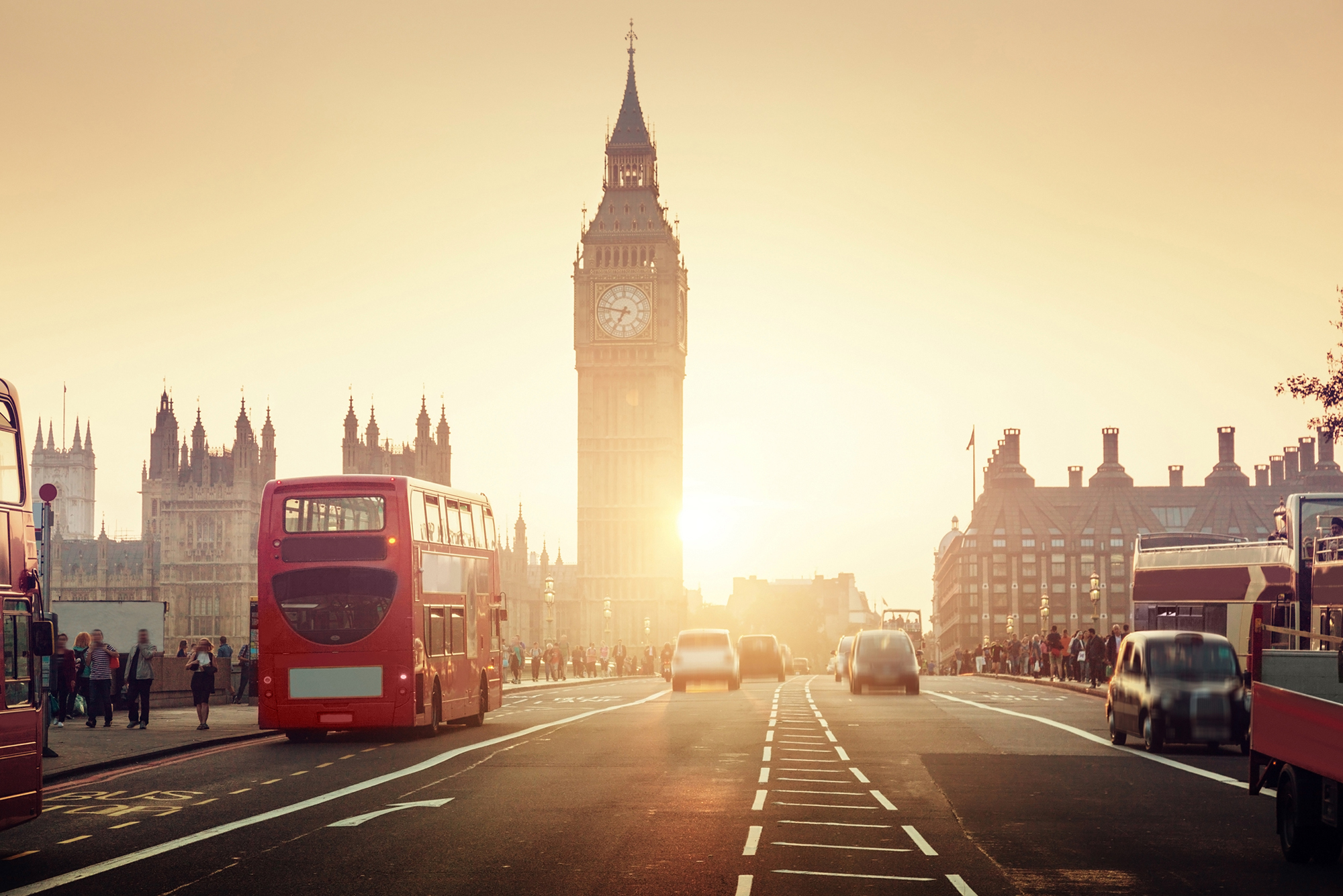 ESB Professsional/Shutterstock
3. Copenhagen, Denmark
For fans of all things Scandi, Copenhagen won't disappoint. Wander the streets of the Danish capital, stroll along the waterfront and browse design shops in the pedestrianised centre. Make sure you check out the cafés in hip neighbourhoods like Vesterbro and Nørrebro. The modern art gallery Louisiana is well worth a visit for its stunning location on the waters' edge and wonderful sculpture garden.
Where to stay in Copenhagen:
For luxury Scandinavian design and a central location, opt for Nobis Central Hotel. If you crave colour, the rooms at Andersen Boutique Hotel will appeal where splashes of rich jewel tones add character.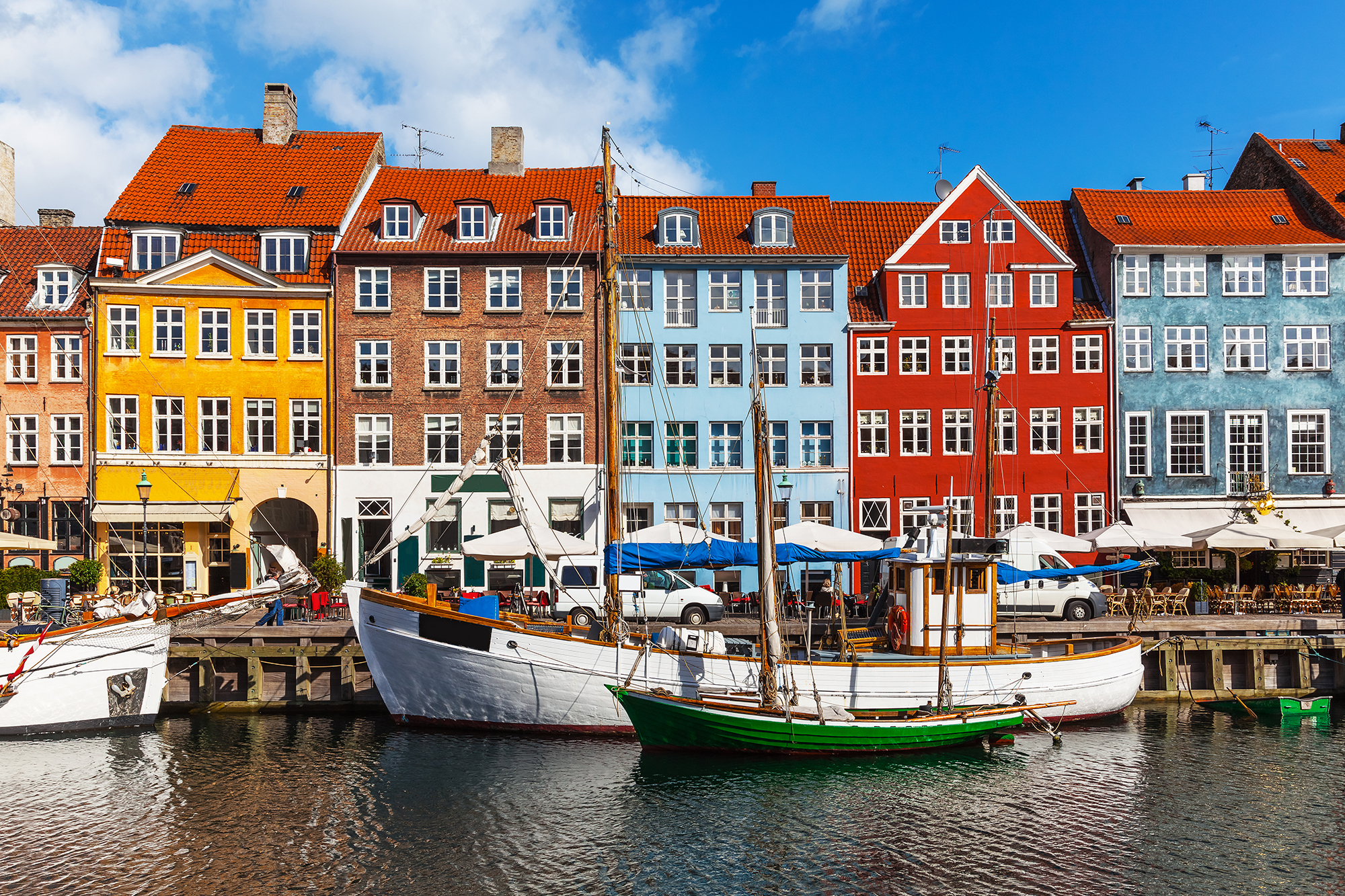 Scanrail1/Shutterstock
4. Reykjavík, Iceland
The small Icelandic capital offers a mix of pint-sized city life with extraordinary big nature on its doorstep. Under three hours direct from Edinburgh, visit for a long weekend or as a starting point for a longer holiday around Iceland – to see the volcanos and hot springs, go whale-watching and seek out the northern lights. Read our full guide to Reykjavík.
Where to stay in Reykjavík:
Social and stylish, Kex Hostel offers dorms, single rooms and family rooms. Eyja Guldsmeden has good eco-friendly credentials and has been designed with considerable attention to detail.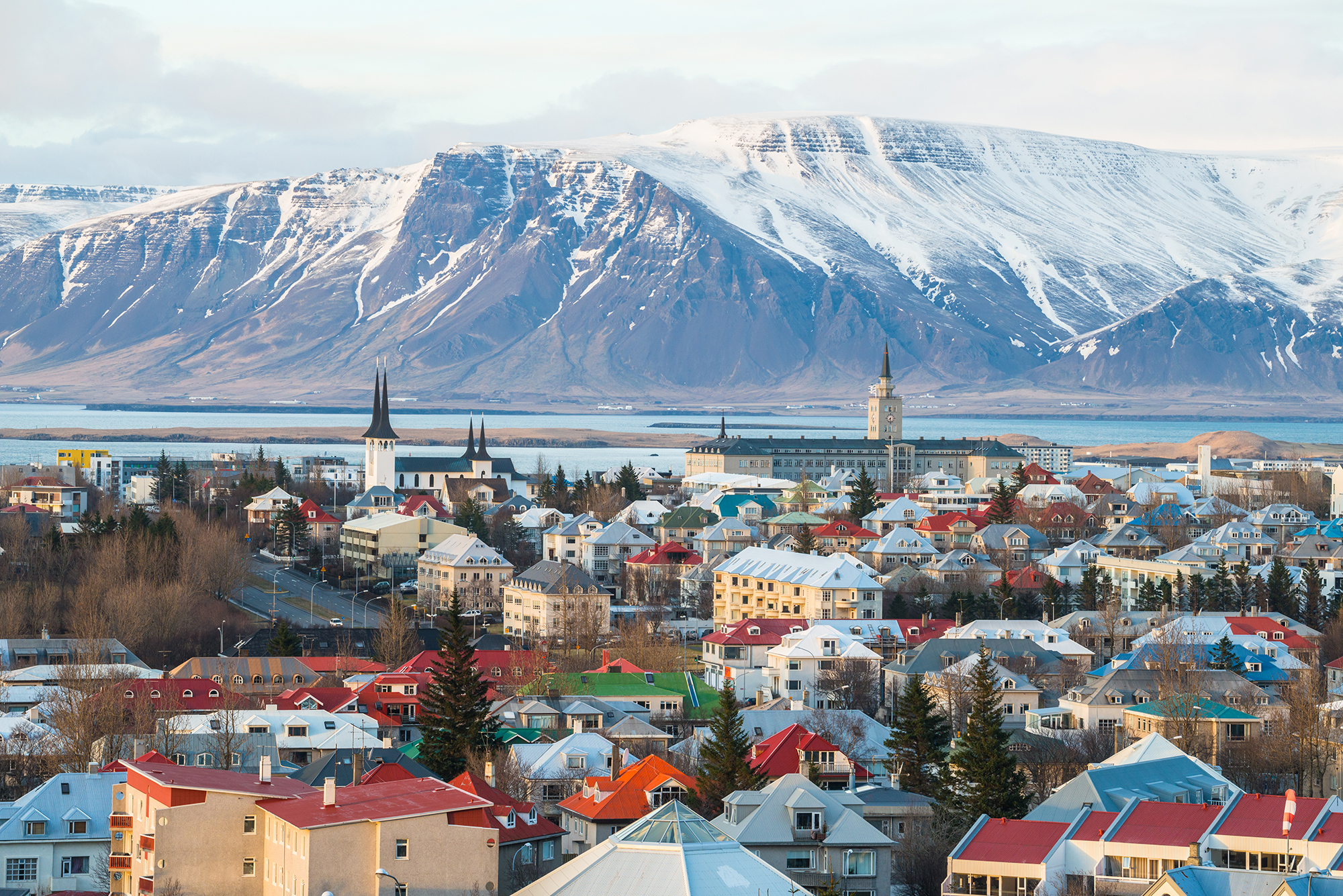 Boyloso/Shutterstock
5. Malta
Valletta, Malta's capital, is the European City of Culture for 2018 so there's never been a better time to visit. Renovation projects have revived the city's old markets, buildings and palazzos and the centre is crammed with stunning architecture. Beyond the capital, you can explore historic villages and the coastline before visiting tiny Comino island, with its Blue Lagoon, and pretty Gozo island.
Where to stay in Malta:
For a central location in Valletta, the small and bright Luciano al Porto offers stunning harbour views. If you're after complete Mediterranean relaxation, the Kempinski San Lawrenz on Gozo has all you need – spa, pools, and quiet.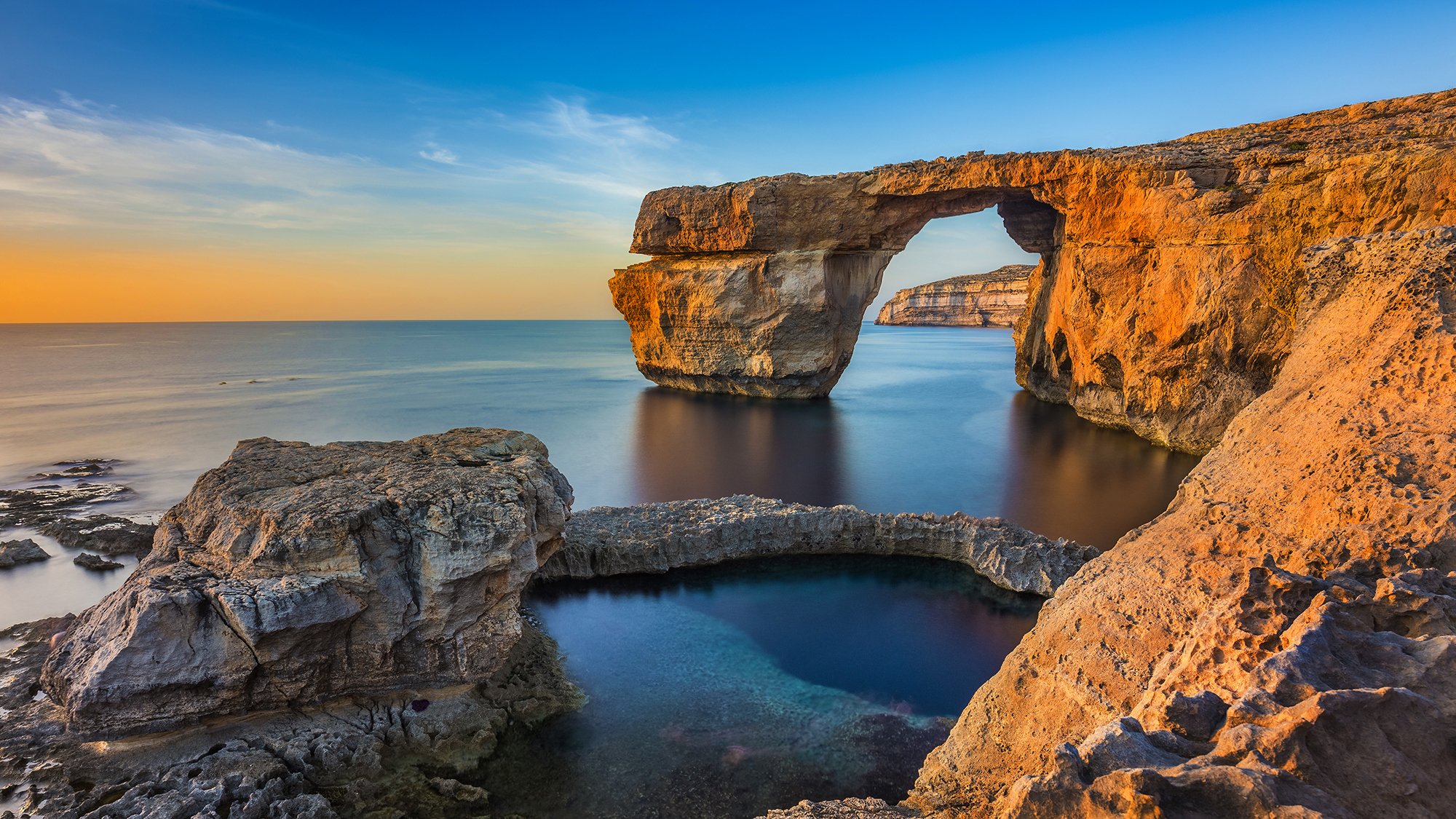 Zoltan Gabor/Shutterstock
6. Stockholm, Sweden
Scattered across a series of islands where the Swedish mainland meets the Baltic Sea, Stockholm is a beauty. Wander the cobbled streets of the old town Gamla Stan before hopping on a boat and visiting Vasa, a magnificently preserved 17th-century warship. It's now housed in a museum where you can walk around the vessel and see every detail up close.
Where to stay in Stockholm:
An art nouveau convent school building has been artfully converted into Miss Clara, a chic hotel, restaurant and bar. If you want to stay in the heart of the hip Södermalm district, Nofo is an excellent choice with a range of rooms and prices.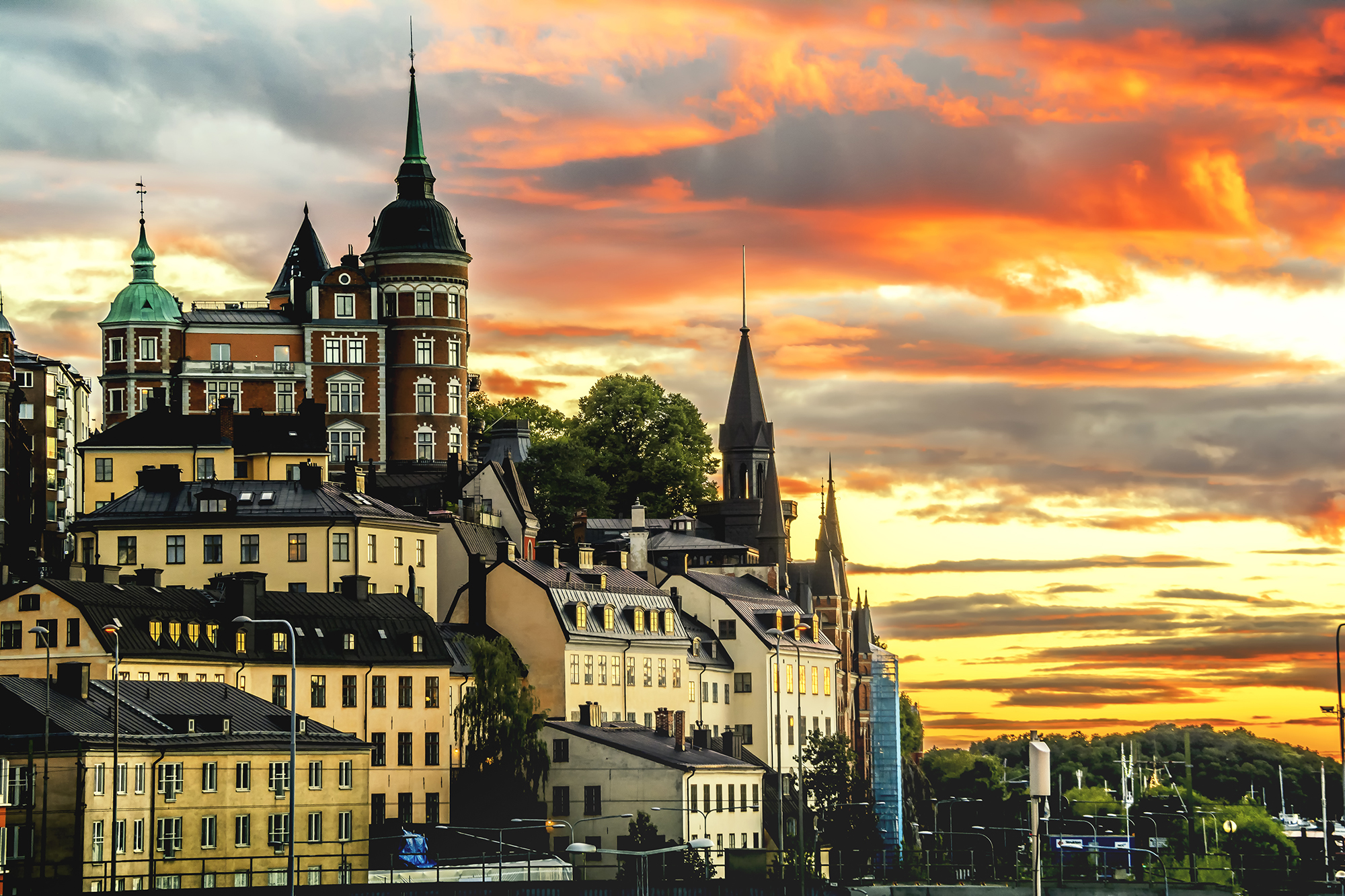 Kriangkrai Thitimakorn/Shutterstock
7. Venice, Italy
Venice is impossible to beat for atmosphere and beauty. The Basilica di San Marco and Doge's Palace are breathtaking but the real charm of the place is away from the crowds. Explore the narrow alleyways, bridges, canals and tucked-away neighbourhood campos (squares).
Where to stay in Venice:
Small and traditional with a charming garden and patio, Accademia Villa Maravege has a lovely canalside location in the district of Dorsoduro. Hotel Sant'Antonin is just a short walk from central sights in Castello while offering peace and calm in its own garden.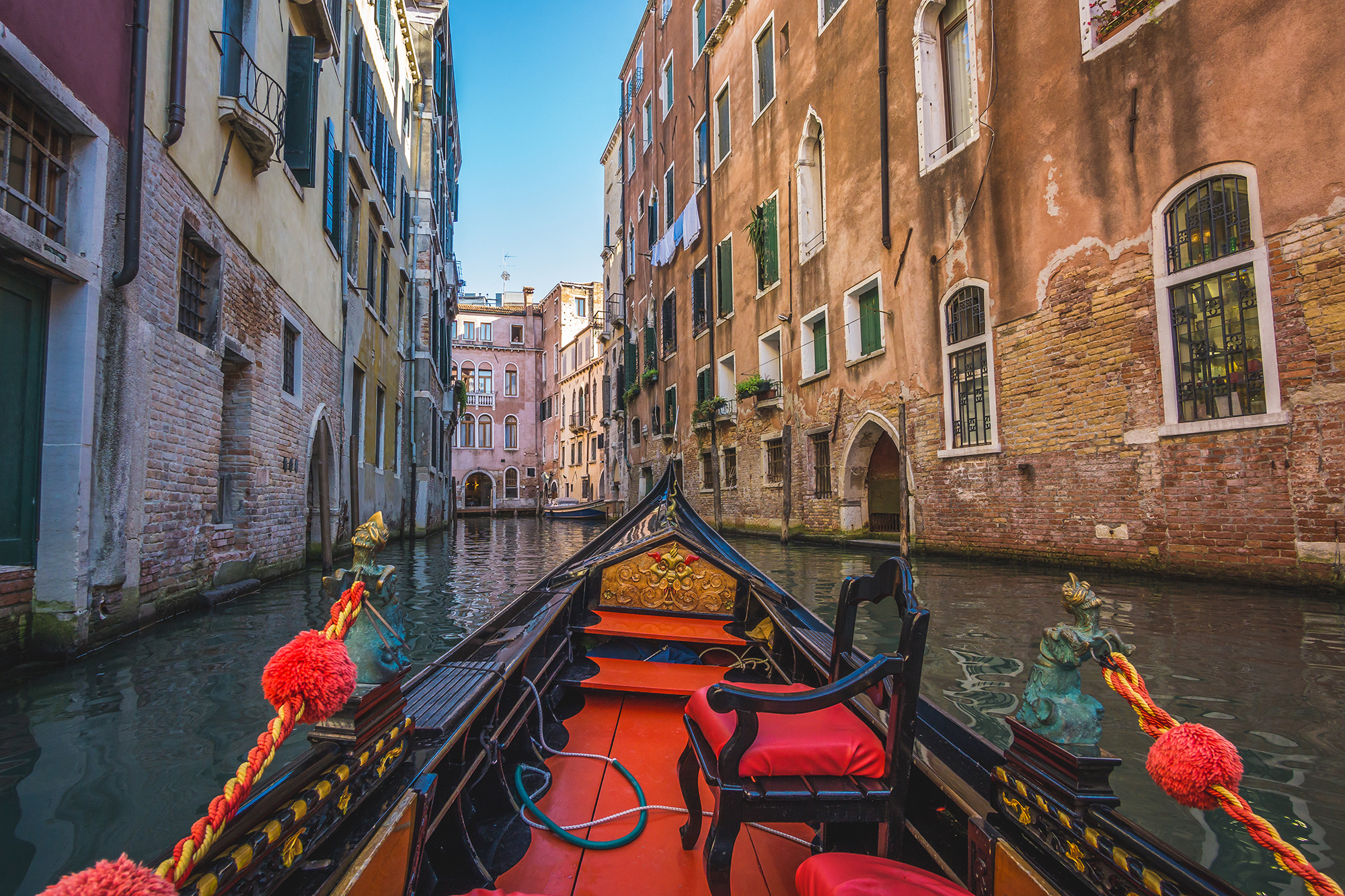 Christopher Talbot/Shutterstock
8. Athens, Greece
The mighty Acropolis, topped by the Parthenon, dominates Athens. Wander along the pedestrianised archaeological promenade and journey through Athens' history. Visit the Acropolis museum, then see the Theatre of Dionysus and Odeon of Herodes Atticus before ascending to the Parthenon. Once you've had your fill of history, embrace contemporary life in neighbourhoods like charmingly pretty but touristy Pláka and market-filled Monastiráki.
Where to stay in Athens:
Cosy and simple, Marble House is well-priced and within walking distance south of the Acropolis. If your priority is nightlife, opt for A for Athens in Monastiráki which has a stunning rooftop bar.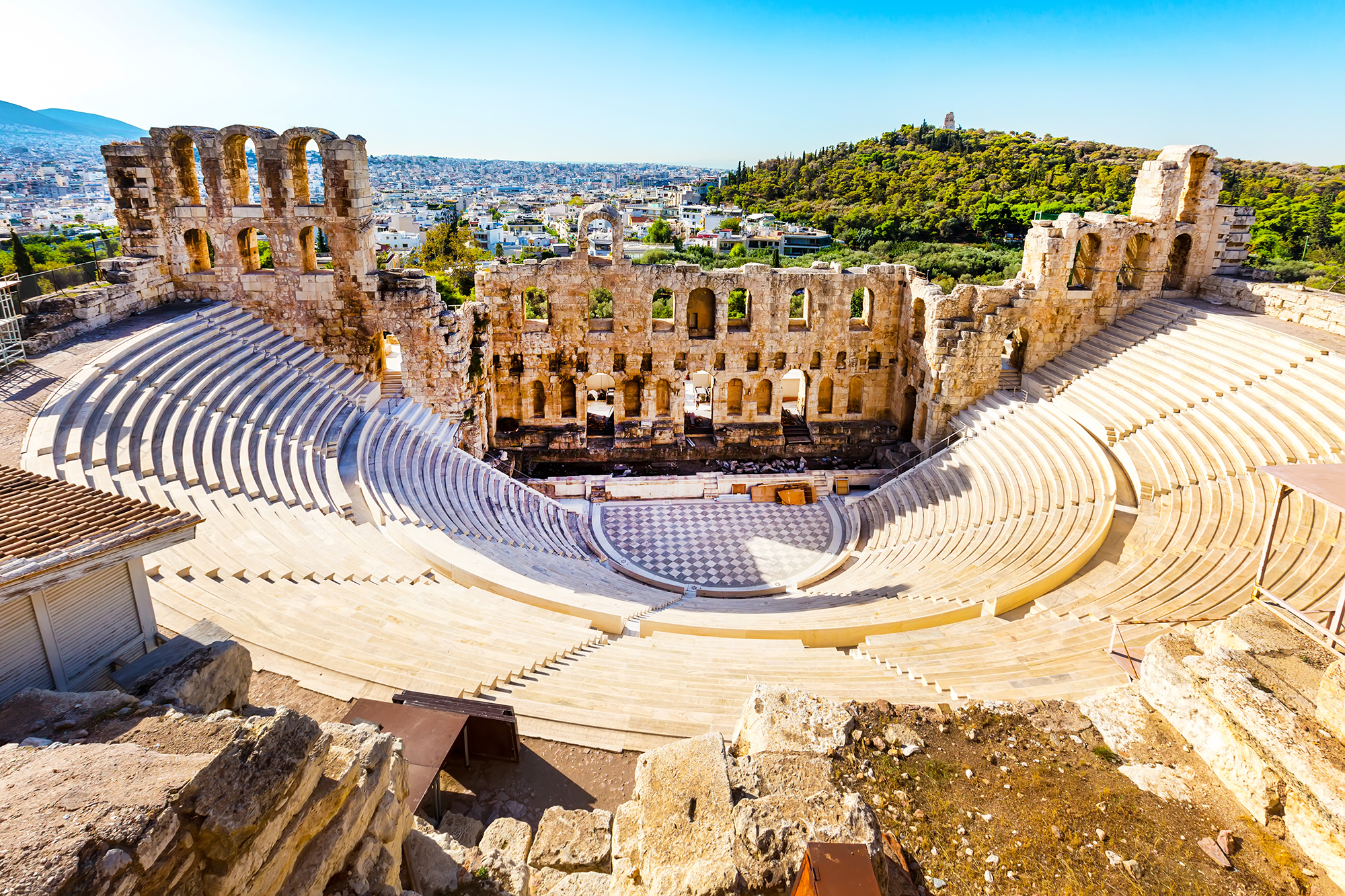 Nataliya Nazarova/Shutterstock
9. Chicago, USA
Summer flights take you straight from Edinburgh to this all-American city and birthplace of the skyscraper. Take a river cruise for unbeatable cityscape views, from the extraordinary neo-Gothic Tribune tower to the mid-century twin "corncob" residential towers and glorious art deco Carbide and Carbon Building. Near the lakefront, the shimmering, twisting Pritzker Pavilion in the Millennium Park makes an great setting for summer festivals.
Where to stay in Chicago:
Stylish business hotel, Hotel Palomar offers a 17th-floor sundeck with skyscraper views and indoor pool. The James, near the Magnificent Mile, offers sleek design with mid-20th-century furniture.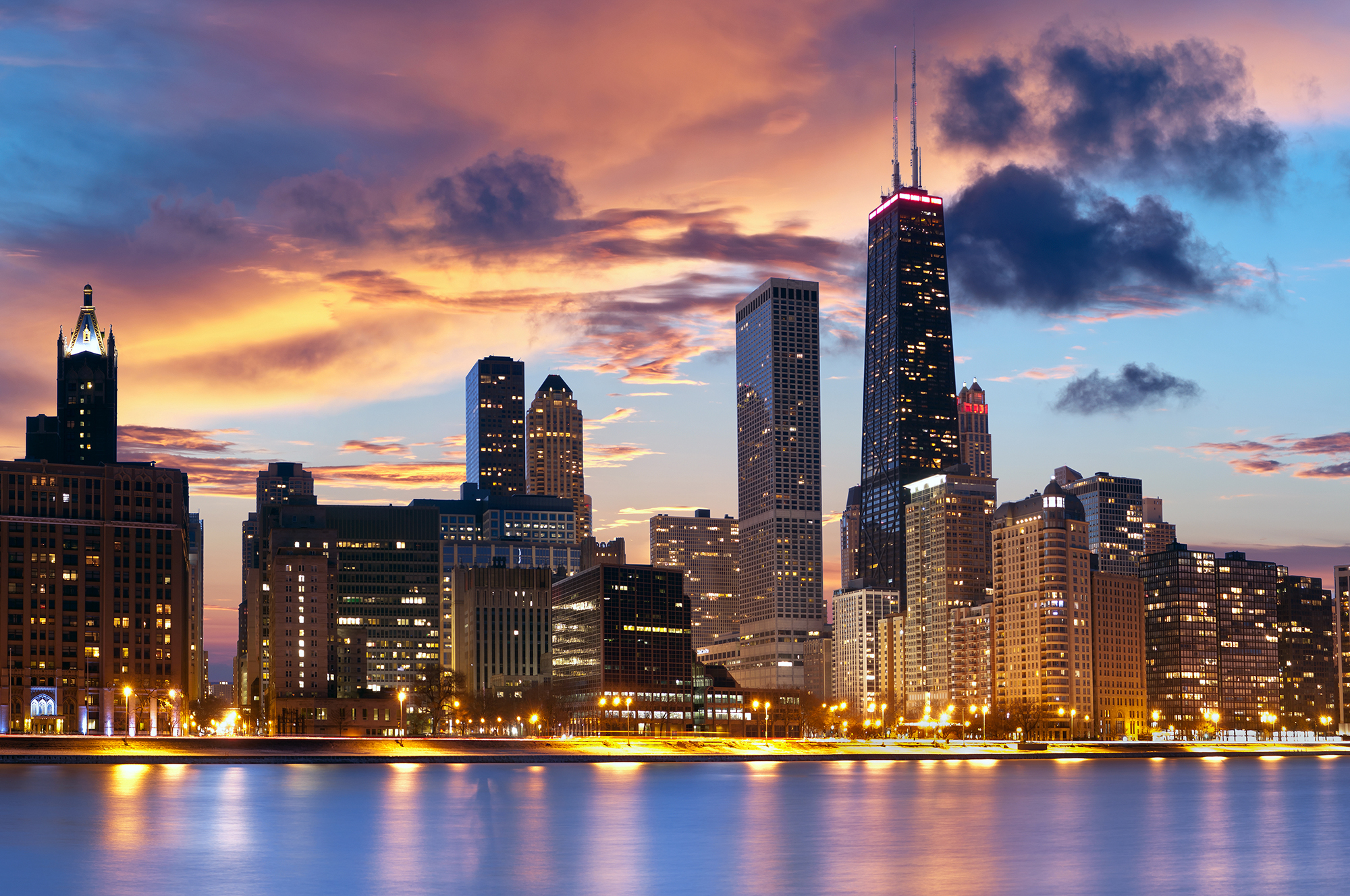 Rudy Balasko/Shutterstock
10. Hamburg, Germany
Since it opened at the start of 2017, Hamburg's Elbphilharmonie concert house has made waves – and not just for its glistening, undulating roof. It's proved to be a popular destination in Germany, both for its impressive concert programme and views over the water. It's emblematic of this dynamic and vivacious port city.
Where to stay in Hamburg:
If you want a location near the Elbphilarmonie in the HafenCity district, stay at the new 25Hours Hotel HafenCity. In the city centre, Henri Hotel Hamburg Downtown has a relaxed home-away-from-home vibe and retro cool vibe.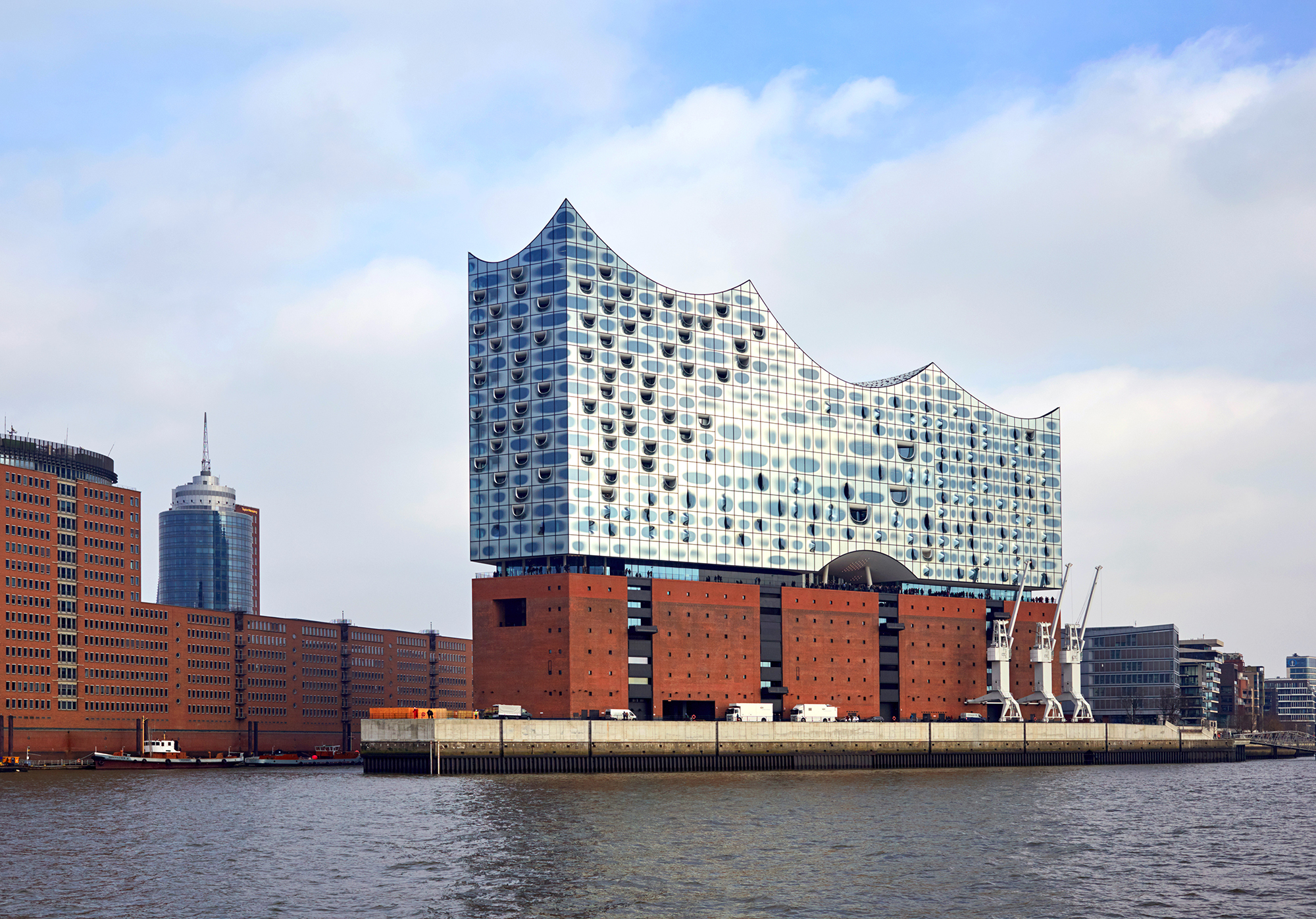 MaraZe/Shutterstock
11. Palma de Mallorca, Spain
The largest of Spain's Balearic islands, Mallorca has been attracting sun-seekers for decades. For many, a Mallorcan holiday means lounging on the beach, but it would be a mistake to miss out on a day or two in charming Palma, Mallorca's capital. The city blends Moorish and Mediterranean styles, and is dominated by its soaring gothic cathedral. From Palma, head out to the beach, travel to villages and coves, or hike along the ridge of Serra de Tramuntana. Planning a trip? Find out where to eat here.
Where to stay in Palma de Mallorca:
Look out over the rooftops of Palma from the terrace bar at central and chic Puro Hotel. The cool stone walls, vaulted roof and airy spaces of a former monastery make Convent de la Missio a luxurious and calm city retreat.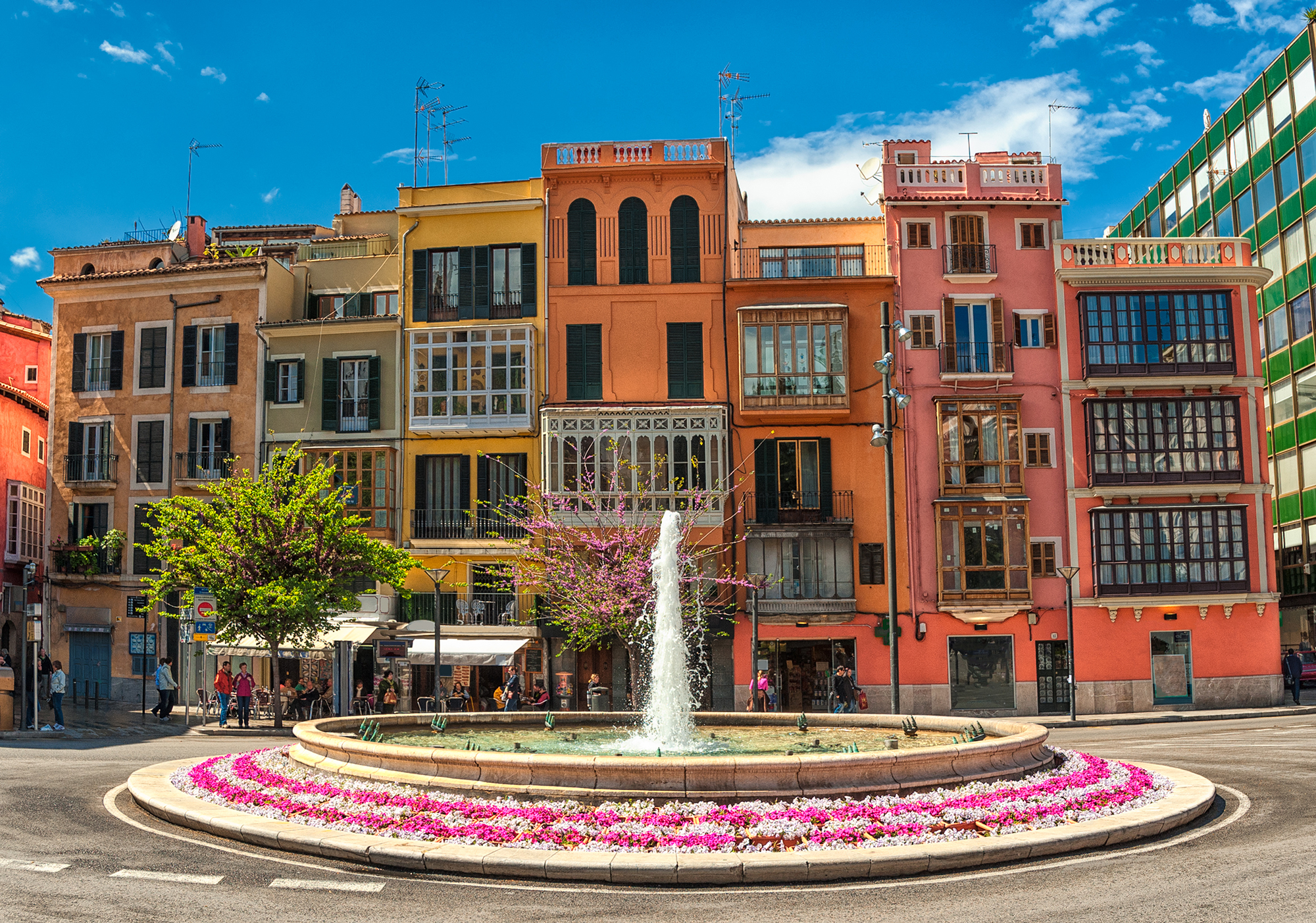 Boris Stroujko/Shutterstock
12. Seville, Spain
One of Spain's most beautiful and beguiling cities, Seville has an irresistible energy. It's one of the best cities for traditional tapas and its streets filled with bars so you can hop between places, sampling specialities. Seville is also the home of flamenco so make sure you seek out a late-night bar or club to be swept off your feet. Seville is served by direct flights from Edinburgh throughout the summer.
Where to stay in Seville:
Right in the centre of Seville, TOC Hostel offers bright, cute rooms and pod hostel beds in a quirky style. For a more traditional look – chandeliers, period details, cool courtyard patio – the Hotel Sacristía de Santa Ana is for you.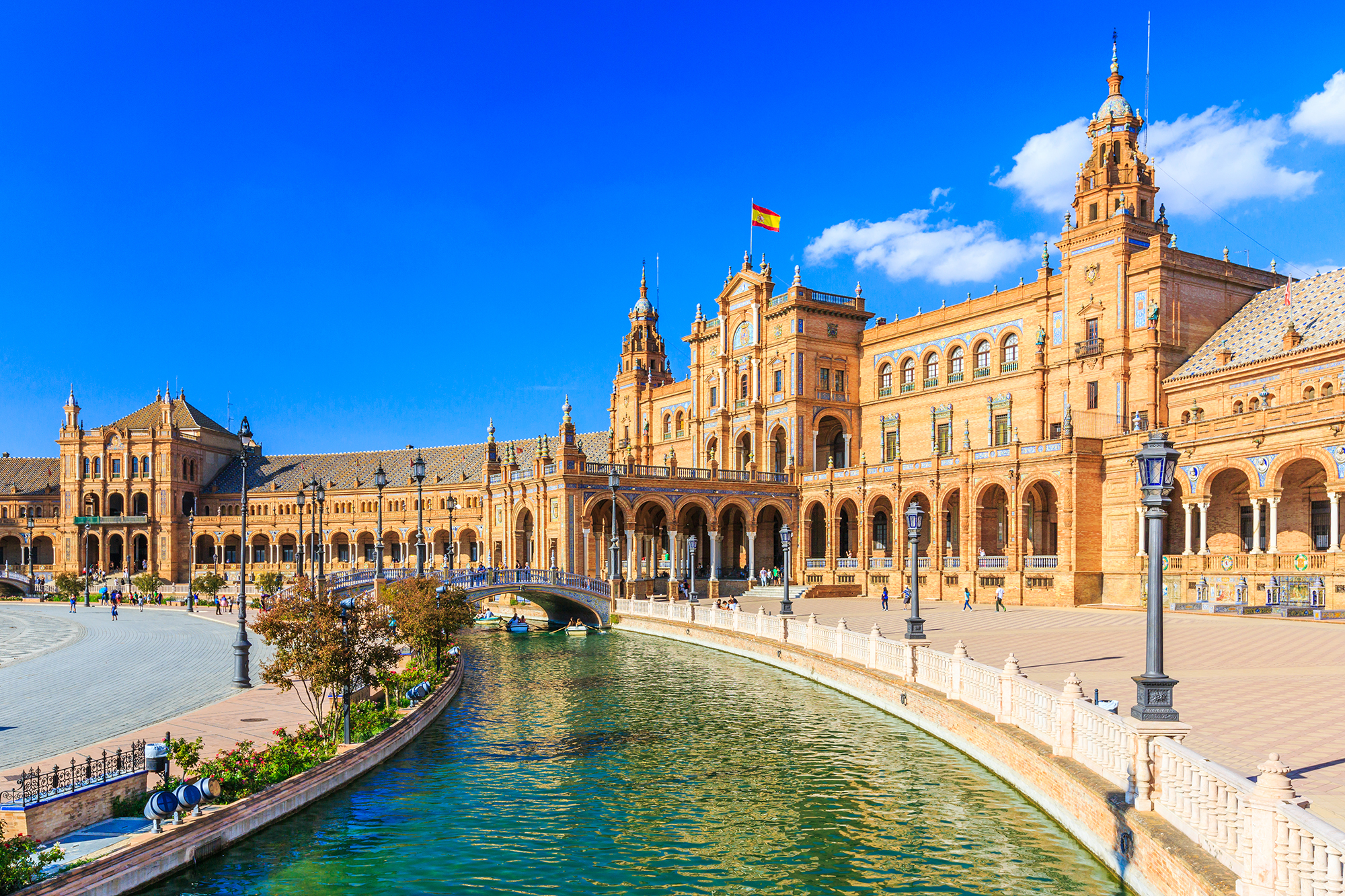 empororcosar/Shutterstock