Who knows where that hedgerowed back road might take you? Perhaps it will lead to a long-forgotten Norman church or a ruined medieval castle, woods shaded by 1000-year old oaks or a smuggler's cove, a wind-blasted moor or a cracking pub with a roaring fire and real ales.
We've combed England to bring you seven lesser-known highlights – from craggy islands where puffins burrow to the country's highest pub and Constable's former hometown.
1. For art: Sound II, Winchester Cathedral, Hampshire
You might gasp quietly when you first clap eyes on Anthony Gormley's Sound II – we certainly did. Hidden in the gloomy depths of Winchester Cathedral's Norman crypt is this life-size figure of a man, contemplating the water cupped in his hands.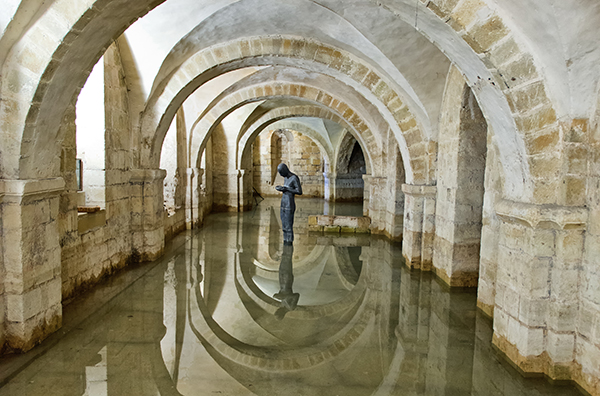 PlusONE/Shuttrestock
Modelled in lead from a plaster cast of the artist's own body, the solitary figure is most captivating when the crypt floods and reflections shimmer on the low vaults.
Winchester Cathedral is a staggering example of Gothic artistry, with one of the longest medieval naves in Europe. Linger to notice the little details, such as Jane Austen's grave (near the entrance) and carvings in the 14th-century oak choir stalls where monks once sang their daily offices.
2. For an island escape: Lundy, Devon
Even if you know Devon like the back of your hand, you might not be familiar with Lundy Island, a three-mile-long chunk of granite marooned off its north coast in the Bristol Channel.
Caves, narrow inlets, rock stacks and cliffs sheering into the Atlantic add drama, while carpets of wildflowers (from foxgloves to red campion) carpet the island in spring.
The lack of cars keeps things peaceful – and that's just the way the wildlife likes it. In summer, migratory birds like Manx shearwaters, kittiwakes and razorbills flock here in their thousands. But it's the puffins that steal the show with their comical antics and give the island its name: Lundy is Norse for "Puffin Island".
Hugh O'Connor/Shutterstock
The MS Oldenburg ferry runs from Bideford and Ilfracombe several times a week from March to October. If you fancy staying the night, there are self-catering cottages and sites to pitch a tent.
3. For a pint at England's highest pub: Tan Hill Inn, Yorkshire Dales
Pubs are ten a penny in England and choosing a favourite is quite a personal endeavour. But there are no quibbles when it comes to picking the highest one: the Tan Hill Inn in Yorkshire Dales stands head and shoulders above the rest at 1,732 feet.
A hostelry for workers digging coal pits in the 18th century, it's now a charming boozer: outside all honey stone and sweeping views across the Pennines, inside all low beams and blazing fires. It's just how a good old-fashioned pub ought to look, especially after you've hiked your ruddy socks off to get here.
Stay the night (in a dorm or double) for the full-on impact of the lonely surrounds, but bear in mind you might get snowed in in winter. Food is no-nonsense pub grub: Tan Hill sausage in Yorkshire pudding, Whitby scampi and chips and the like. Enjoy with hoppy real ales from the Dales, with names like Black Sheep and Hair of the Dog.
4. For coastal seal spotting: Blakeney Point, Norfolk
Norfolk is often mentioned in the same breath as the Broads, but it also has one of England's most underrated stretches of coast, with long ribbons of sand fringed by dunes and pinewoods. For close-ups of the resident seals, head north to Blakeney Point.
The four-mile sand-and-shingle spit forms part of a National Trust reserve, with muddy creeks and wide-open expanses of saltmarsh that attract tons of wildlife, not least sizeable colonies of Common and Grey seals.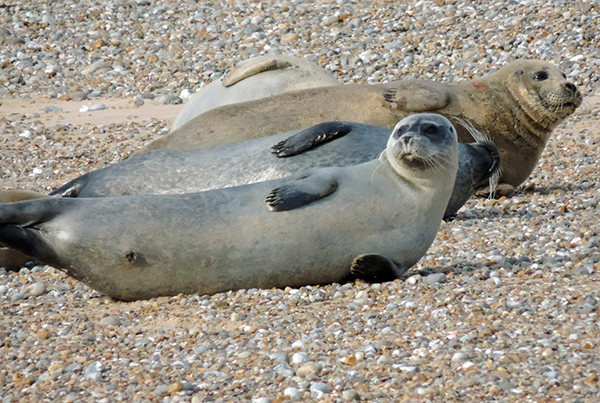 Image by Dun.can on Flickr (CC BY-ND 2.0)
Come during pupping season (June to August and November to January) for heart-melting glimpses of the snow-white furball pups, which can be seen at close range on the Beans and Temples Seal boat trips departing from Morston Quay. Also keep an eye out for migratory terns, ducks and geese.
Blakeney is a six-mile drive from Wells-next-the-Sea, which has a superb sandy beach backed by pastel-painted beach huts. Try local crab at the Wells Crab House.
5. For hiking through the green heart: the Pennine Way
There's something special about a trail that connects two countries and the 268-mile Pennine Way does just that, beginning in Edale in the Derbyshire Peak District and rambling over hill, forest and dale to the Scottish border at Kirk Yetholm.
This long-distance hike takes you along the backbone of Britain, through the rolling, remote Yorkshire Dales, over the Cumbria Fells and up to the bare upland moors of the Northumberland National Park, brushed purple-pink with heather in summer.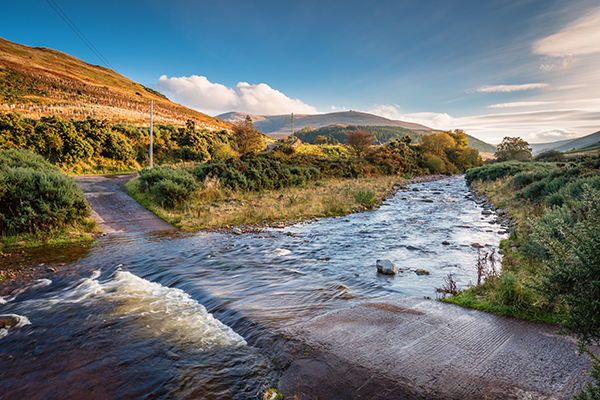 Dave Head/Shutterstock
It goes without saying that you need to be fit as the trail can be tough at times, with exposed moors, sharp ridges and sudden changes in weather. Get the lowdown before striking out by visiting the National Trails website.
6. For English countryside romance: Constable Country, Essex
Few Romantic painters could capture the quiet beauty and shifting skies of the English lowlands like John Constable (1776-1837). With its sagging timber-framed houses, the village of Dedham on the Essex-Suffolk border is a pretty base for a walk in the countryside the artist loved and painted.
The son of a farmer, miller and corn merchant, he spent his "careless boyhood" on the banks of the Stour. A two-hour circular walk takes you through water meadows and along the willow-lined river to places that inspired some of his most famous paintings, including Willy Lott's House, immortalised in his 1821 painting The Hay Wain.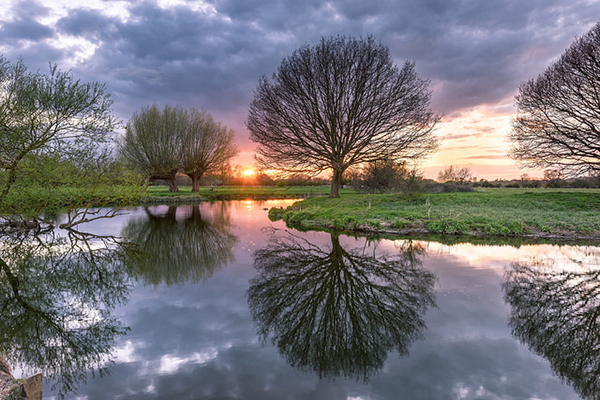 Dedham by Nick Rowland on Flickr (CC BY-ND 2.0)
The Boathouse offers rowboat hire from March to October if you fancy a paddle along the Stour. It also rustles up tasty lunches and has river views from its terrace.
7. For forest adventures: Forest of Dean, Gloucestershire
Sidling up to the Welsh border and hugged by the River Wye to the west, the 42-square-mile Forest of Dean was for many centuries a royal hunting ground – and fallow deer and wild boar still roam here today.
Some of the country's oldest oaks grow alongside beech and sweet chestnut trees in these lichened woods, which apparently inspired Tolkien's Middle Earth. If you're a fan of bluebells, the areas around Soudley and Coleford are blanketed in blue in spring. Come to cycle, hike a section of the long-distance Offa's Dyke trail or canoe along the Wye.
Aleks Gjika Photography/Shutterstock