One of the most beautiful cities in the world, Cape Town is pushing back on its 'just a pretty face' reputation with an endlessly expanding food scene and its new status as a major international art hub. For active types, the city is a dream, with countless opportunities for hiking, surfing, kayaking, kite-boarding, beach yoga and stand-up paddle boarding.
Key Cape Town neighbourhoods
Gardens
Gardens is one of the most popular neighbourhoods for both tourists and residents in Cape Town. Just above the CBD in the city bowl, it's full to bursting with restaurants, bars and guesthouses. Most of the action is on and around Kloof Street and Bree Street.
Sea Point
Sea Point is one of the more affordable beachfront neighbourhoods in the city of Cape Town. As a result, there's quite a cool vibe about the place, with loads of yoga studios, restaurants and some of the city's most popular brunch spots. Along the promenade is where you'll find Capetonians enjoying an early morning power walk, jog or bike ride.
Woodstock
Every city has a hipster district, and Woodstock is Cape Town's, with artisan markets, craft beer and gin bars, the famous Test Kitchen and Pot Luck Club restaurants, laneways of street art and independent design and jewellery stores.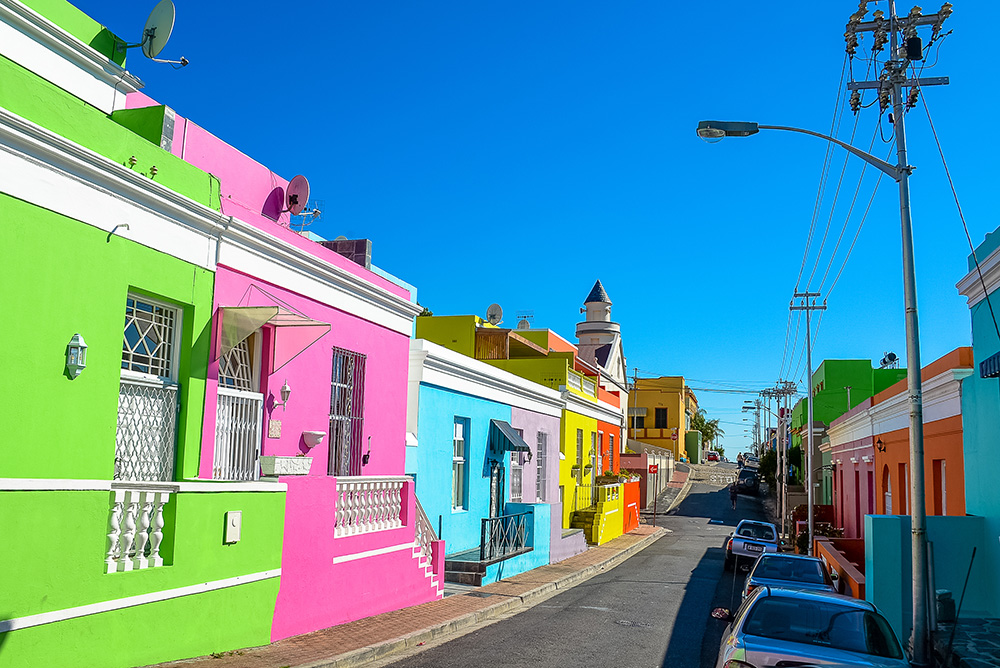 Bo-Kaap by MG Africa/Shutterstock
Constantia
Affluent Constantia is the oldest wine producing area in the Southern Hemisphere and only about 20 minutes outside the city centre. It's a great place to head for wine-tasting with sensational views of the mountain and vineyards, without having to drive out to Stellenbosch or Franschhoek.
The V&A Waterfront
Ever popular with visitors, the Waterfront is home to harbourfront hotels, the V&A shopping centre and lots of places to eat and drink. The Silo area of the Waterfront is a fast-developing patch, with a couple of spanking-new hotels with public rooftop bars, coffee shops and design stores.
Bo-Kaap
Chances are you've seen photos of Bo-Kaap, with its photogenic candy-coloured houses. This is the Cape Malay neighbourhood of the city, set on the slopes of Signal Hill. Take a stroll through, stopping to admire the pretty houses, buy a couple of samoosas and browse the spice stores.
Where should I stay in Cape Town?
Classic luxury resorts include the One&Only Cape Town by the waterfront and the sugar-pink Mount Nelson in the Gardens neighbourhood, both of which are popular with visiting celebrities.
A more intimate option, Cape Cadogan is a luxury boutique hotel with 15 rooms, also in Gardens. It's well located to explore the dozens of restaurants and bars in this area of Cape Town. Welgelegen is another good-value, boutique guest house.
Outside the city bowl, the boutique, stylish yet homely Cape View Clifton has glorious Atlantic views from its clifftop perch. The 208-room Vineyard Hotel, an old English manor house, is a short drive from the city centre, in the leafy suburb of Newlands.
What to eat & drink in Cape Town
Cape Town's food scene has exploded in recent years and it sometimes feels like there is an on-trend opening every week.
Try local Cape Malay dishes like curries and samoosas. Gatsbys are enormous sandwiches (enough for several people; they have to be seen to be believed) stuffed with chips and meat. Traditional South African dishes include tomato bredie (like a stew) and pap (a porridge-type food made from maize). And South Africans braai (barbecue) all the time, for any occasion.
Capetonians certainly 'do' brunch and avo toast is a menu staple. Rooftop drinks (opt for MCC, South Africa's fizz) are always popular, as well as sundowners from any scenic lookout. The 'ginvolution' has also hit Cape Town hard, with various fynbos-infused gins readily available.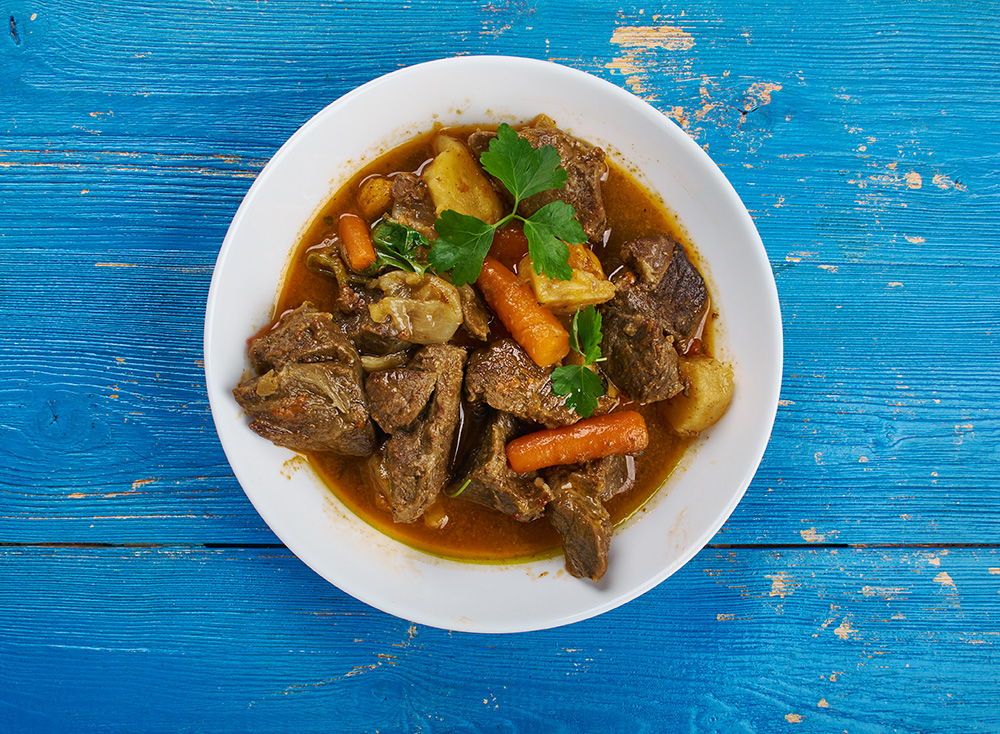 A Cape Malay Curry by Fanfo/Shutterstock
The top things to do in Cape Town
Explore the city's art scene, by starting at the much talked about Zeitz Museum of Contemporary African Art (MOCAA) in the striking restored grain silo at the Waterfront. Woodstock is where you'll find most of the city's street art.
Delve into Cape Town's history at the fascinating District Six museum, which tells the tale of those displaced from this city neighbourhood during Apartheid. Tours to Robben Island, where Mandela was held at the beginning of his 27 years in prison, leave from the Waterfront. For part of the tour you'll be guided by an ex-prisoner who can reveal what life was like as an imprisoned anti-apartheid activist.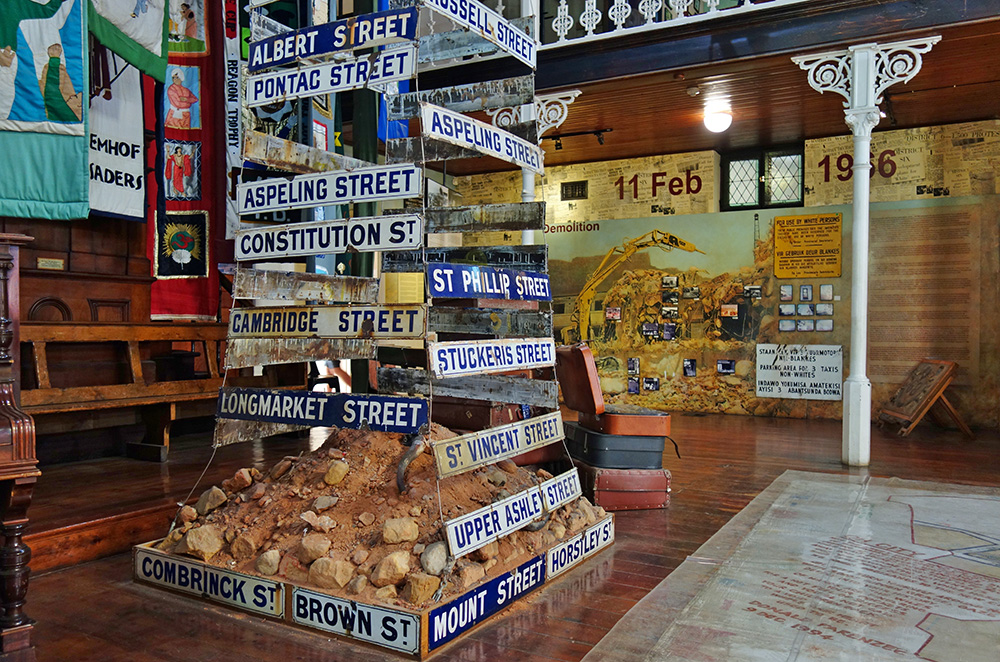 District Six Museum by EQRoy/Shutterstock
Hiking trails crisscross the mountains that form Cape Town's backyard. Try the scenic Skeleton Gorge trail, which starts in Kirstenbosch and ends up at the top of Table Mountain. For mountaintop views without any of the huffing and puffing, take the cable car.
Cape Town's water is bone-numbingly cold, but gear up in a wetsuit and you'll be fine. There's surfing at Muizenberg, stand-up paddleboarding in Bloubergstrand for that classic view of Table Mountain from across the water, and kayaking tours, on which you might be joined by dolphins, penguins or even whales.
Who can show me around?
The hop-on, hop-off red bus is a convenient way to see the city and surroundings inexpensively. Cape Fusion do excellent food tours, which reveal the city through its local cuisine and the people who prepare it. You'll stop for Cape Malay snacks in Bo-Kaap and a proper South African lunch from David, a vendor in the city centre.
For the city's history, Lesley Cox of Amber Tours can show you around Cape Town's most poignant places and museums.
Juma Mkwela runs Township Art Tours and is a Zimbabwean artist who has been part of the city's street art scene for years. Join him to learn about Woodstock's street art; many of the murals are painted by artists he knows personally.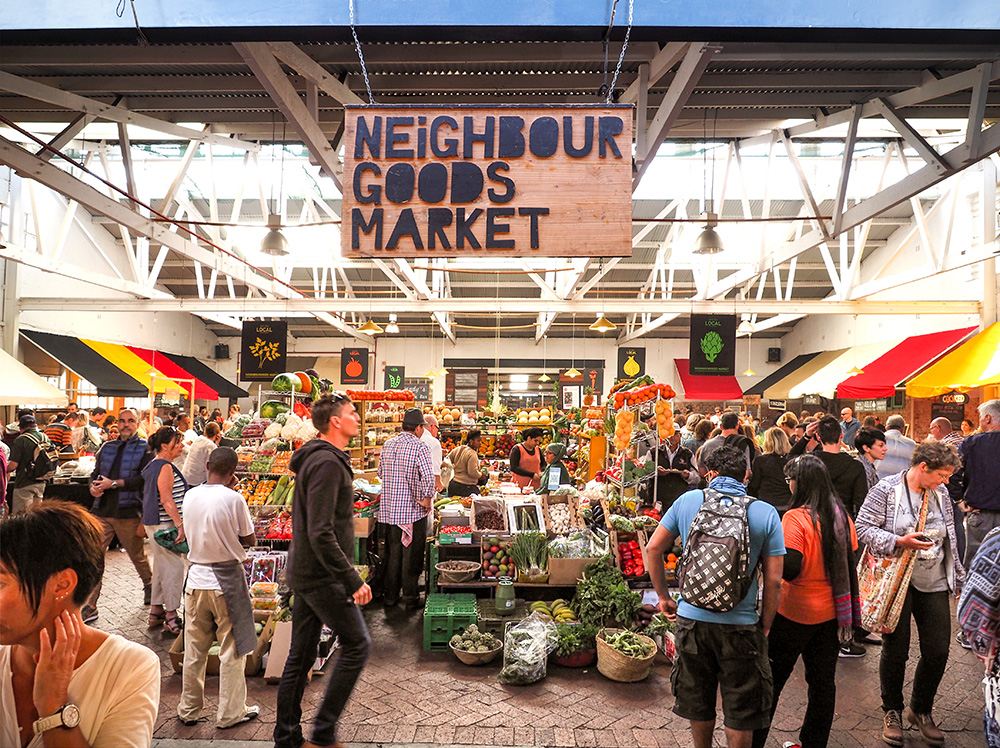 Woodstock market by Moobattoo/Shutterstock
Uthando is a not-for-profit that works in the townships. On a tour with, you'll visit a women's craft club or a successful coding school run by a reformed ex-convict. It's a great way to give back by supporting Uthando initiatives, while learning a bit about the townships of Cape Town and what life is like for a great many South Africans.
The ultimate Cape Town itinerary
Friday
Check-in to: Cape Cadogan in Gardens. If your flight touched down early, you can freshen up and head out for brunch at Manna Epicure, also in Gardens, a Capetonian favourite.
Stretch your legs in: Bo-Kaap, with its multi-coloured houses. Stop at Harvest for a juice or coffee or wander down to the Waterfront for an afternoon glass of wine on the rooftop of The Silo Hotel (book ahead). If that's full, check out the neighbouring rooftop bar at the Radisson Red.
Dine at: Seabreeze Fish & Shell, where you can take advantage of their oyster happy hour ('10 bucks a shuck' – about 60p per oyster) from 5pm to 6pm.
Have a nightcap at: the 'secret gin bar' at the back of Honest Chocolate. It's not much of a secret anymore, but the inventive G&Ts are very good.
Saturday
Spend the morning in: Woodstock. The Biscuit Mill Neighbourgoods market in Woodstock is open every Saturday morning. If that's too busy, pop into nearby Tribe Coffee (ask to see their on-site roasting machine, Bertha).
Along the same road, you'll find plenty of independent, local design shops, including Chapel for leather goods and Dear Rae for cute jewellery. Or take a street art tour around the area, followed by a stop at Art It Is.
Lunch at: the best spot for local classics, Mariam's Kitchen. They do the best Cape Malay curries and Gatsbys in the city.
Get out on the water: with an evening kayak from either the Waterfront or Sea Point. Bring a cold beer for a sundowner on the ocean.
Dine at: Thali, a modern Indian-inspired restaurant with a tapas-style fixed menu from Chef Liam Tomlin.
Sunday
Hike: up Lion's Head. Capetonians are early-risers so join the locals for a sunrise hike up Lion's Head. It's a small peak next to Table Mountain, but one that still requires a little bit of scrambling.
Breakfast: at Jarryds in Sea Point. This place is popular with residents, so don't leave it too long after your hike or you'll find it gets busy. Active wear is always acceptable in Cape Town.
Take a coastal drive: along Chapmans Peak Drive, one of the most scenic coastal roads in the world. The route heads towards the end of the Cape Peninsula, where the Indian and Atlantic Oceans meet.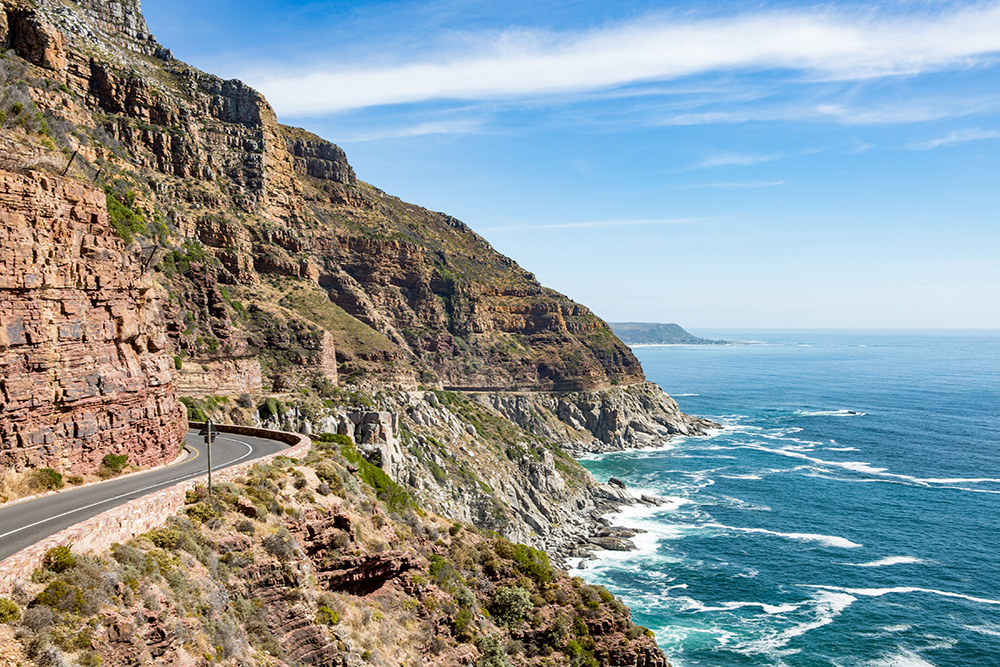 Chapmans Peak Drive by Razzel/Shutterstock
On the way back, stop at Boulders Beach to watch the tiny African penguins do their thing (a quieter place for penguin spotting is Betty's Bay, a short drive out of the city).
Lunch: in Hout Bay, for harbour-fresh fish and chips at Fish on the Rocks.
Sip sundowners: at hip Chinchilla in Camps Bay, from where you can watch the sun set over the ocean.
Dine at: Gold for a tasting menu of South African favourites alongside other dishes from all over Africa.
Map of Cape Town
We've pinned all our favourite things to do in South Africa's Mother City on this map of Cape Town.