Southeast of France, and just north of Sardinia, Corsica is one of the most appealing Mediterranean islands, mingling French and Italian influences alongside a dose of fierce, independent island spirit. You may be drawn here for easy summer sun, clear waters and craggy rock-strewn coves enclosing sandy beaches, but you will find yourself lingering – and returning – for the mountains, the culture and, above all, the food.
Essential experiences in Corsica
Beyond the food, there are a few quintessentially Corsican experiences, sights – and indulgences – to see and try.
See traditional knives in the making
Traditional Corsican knives are both fearsome and beautiful, hand-crafted from steel, with folding handles fashioned from local materials such as ram's horn. Traditionally they were used for everything from animal husbandry to fighting, but now they are often very expensive collectors' items. You can see them being made at the forge at Coutellerie du Lotus in Levie (see below), and buy them in their shop.
Treat yourself at a local spa
What's the secret to immortal life – or at least ageless skin? In Corsica, they claim it is immortelle, a distinctively scented yellow-flowered plant (with a subtle spice or curry aroma). You can buy immortelle products in the markets and boutiques, and you'll find local herbs will scent the scrubs and serums used for beauty treatments in local spas.
Spot wildlife among gorgeous landscapes
Watch out as you're driving those winding roads – you may spot a wild boar or two scurry into the undergrowth. Game birds are also a common sight, while you may be lucky enough to hear cuckoos in the distance – pack your binoculars, it's a fabulous bird-spotting destination. In spring and early summer, the island is covered in wildflowers, including wild irises and poppies, so keep your eyes peeled for rare flowers as you hike.
Sample excellent wines & liqueurs
Corsica produces some excellent wines, and the whites have an international reputation for distinctiveness and quality. Visit a vineyard, and you can sample delicate white and rose wines, as well as complex reds made from made from blends of Sciaccarellu and Niellucciu grapes.
Typical Corsician ingredients are used to make local liqueurs: try the clementine or citron (a large, nobbly citrus fruit) varieties or the deep purple, myrtle-infused one. If you try just one, make it the delicious chestnut-flavoured spirit (liqueur de chataigne).
What to eat in Corsica
Now to the real point of a visit to Corsica. The cuisine blends Italian and French styles, but most of all draws on the products of the island – fresh, seasonal and simply prepared. On the coast, you'll enjoy seafood: sea bass and John Dory, spider crab with pasta or octopus. More distinctively Corsican are the meat specialities from the inland mountain regions, including wild boar, and particularly a wide range of charcuterie.
For cheeses, on a menu – or in the markets – look out in particular for brocciu, a fresh sheep's cheese, delivered from farm to table each morning. Like ricotta, but a little firmer and with a distinct flavour, it appears in both sweet and savoury dishes: stuffed in cannelloni, used in courgette fritters (beignet); paired with mint in an omelette; in tiramisu or fiadone, a Corsican lemon cheesecake.
Tangy, aged sheep's cheeses (brebis) and goat's cheeses also grace the Corsican cheeseboard, best accompanied with a fig preserve.
Through the whole menu, it's the herbs of the maquis (the island's scrubland) and fruits of the land that add distinctive Corsican notes. Chestnuts – fed to the pigs to bring flavour to the hams – also appear in ice creams and pastries, are used in the form of flour for chestnut breads and biscuits, and flavour the local beer, Pietra (there's even a chestnut festival in Bocognano in December). Rosemary accompanies meats or is re-worked into a delicious refreshing sorbet; varieties of wild mint are added liberally to dishes, and there is even Corsican saffron.
Getting to & around Corsica
It has never been easier to reach Corsica from the UK. Air Corsica has begun direct summer flights from Stansted to Ajaccio, the capital on the west coast, Bastia in the north and Figari in the south, near the popular coastal holiday towns of Porto Vecchio and Bonifacio. Easyjet also fly to all three, and British Airways to Figari.
It's best to hire a car to get around. Roads are steep, with some alarming twists and turns, but generally in good condition. A Corsican will tell you to allow a minute to travel every kilometre on these winding roads, but a first-timer on the island might want to take it a little slower (not least to stop and admire the views).
The ultimate three-day Corsica itinerary
If you fly into Ajaccio, it's worth spending a day in the small harbour city, before setting off to explore the surrounding region for a few days or a week.
Day one
Start the day at: the central market at Place Foch (every morning except Mondays in winter). You can taste and buy local cheeses, charcuterie, honey and wines here, and it's an appealing mix of locals buying their fruit and veg and visitors, all under shady palm trees and watched over by a statue of Ajaccio's native son, Napoleon Bonaparte.
Lunch at: Le Cabanon Bleu. Wander the harbour boulevard, taking in the views of colourful Italianate buildings framed by the mountains behind and long stretches of beach on either side. Pause for a seafood lunch right on the water at Le Cabanon Bleu before paddling in the sea.
Follow: the Napoleon trail. Visit his birthplace, the townhouse where he spent his first nine years, but leave plenty of time for the splendid Musée Fesch, the grand mansion and art collection of his uncle, Cardinal Fesch (there's a splendid bust of him by Canova).
It's an extraordinary testament to how one family rose to such pre-eminence and wealth in a generation (and then fell again). As well as the Bonaparte-related artworks, and tombs of the cardinal and Napoleon's parents in the chapel, there are three floors of Italian masterpieces, including an exquisite Botticelli Virgin and Child.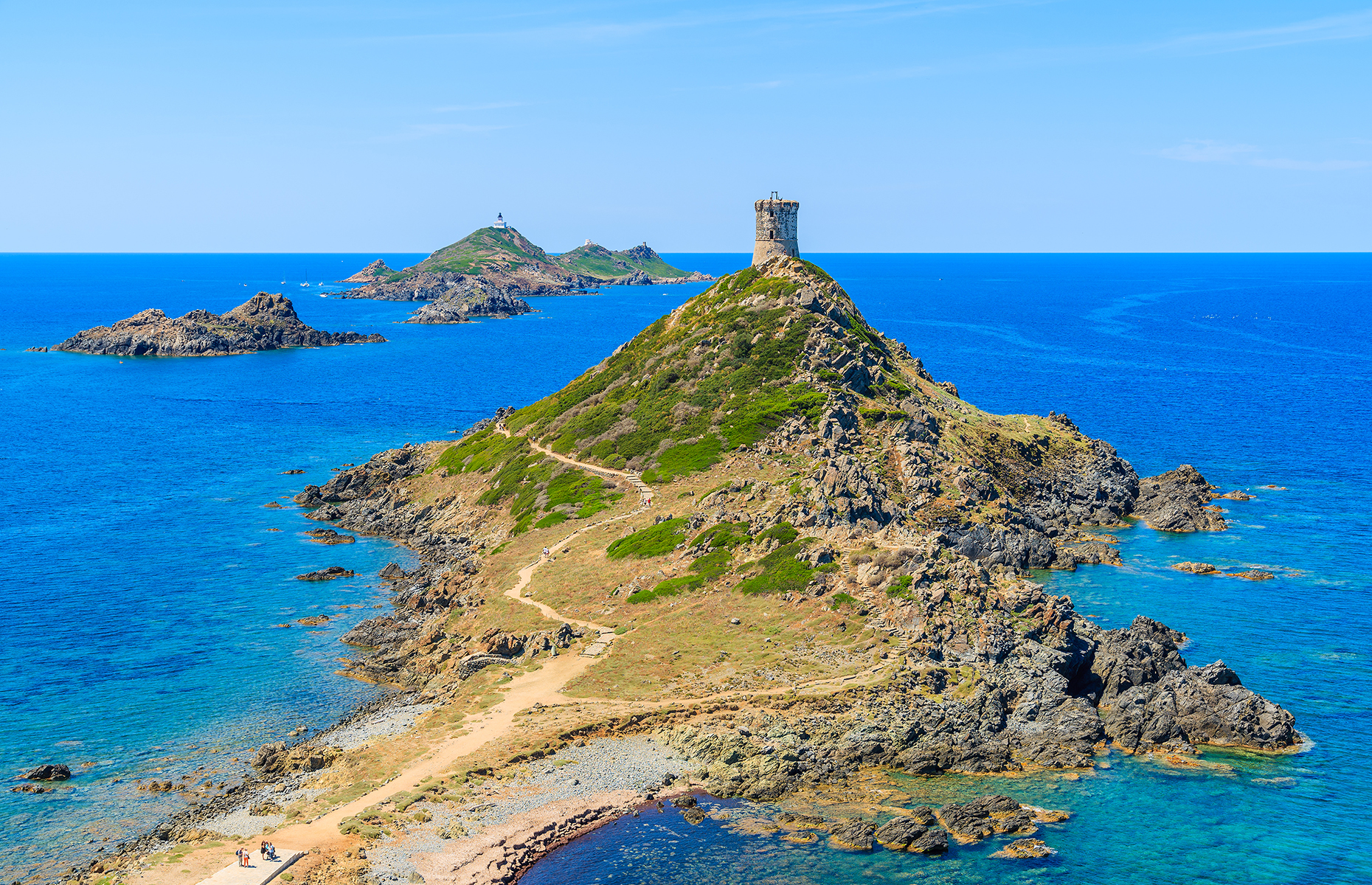 Pawel Kazmierczak/Shutterstock
See the sunset at: the Golfe d'Ajaccio. Drive out to Tour de la Parata – one of 83 remaining Genoese watch towers, which dot the Corsican coast – at the north-western tip of the Golfe d'Ajaccio. Clamber around the promontory and you can look out on the Îsle Sanguinaires and watch the sun set over the sea.
Stay overnight at: Le Week End. Right on the beach, this is a very chic, contemporary restaurant with suites. Get up in time for a morning swim in the sea or infinity pool, then enjoy the excellent breakfast spread of local cakes and pastries.
Day two
The next morning: Corsican waters have some of the best visibility in the Mediterranean, so set out on a diving trip from Porto-Pollo. Alternatively, take a boat trip along the coast to one of the hidden coves nearby.
Visit: Filitosa. Just a short drive away, this is one of the islands enigmatic Neolithic sites. Carved megaliths, including five figures standing sentry around a thousand-year old olive tree, and the remains of dwellings and a stone quarry are dotted around a lush, peaceful valley.
Stay and dine at: Hotel Le Golfe. This Porto-Pollo, harbour-side 4-star hotel and restaurant has comfortable, contemporary rooms, where chef-patron Antoine Garaudelle produces local specialities with a deft touch.
Day three
Stop for the views: at Sainte-Lucie-de-Tallano. Take a slow drive up the winding mountain roads inland. The village of Sainte-Lucie-de-Tallano, with its oversized Baroque church and houses raked up the forest-cloaked mountainside, is jaw-droppingly beautiful.
Head into the mountains: to Cucuruzzu, another prehistoric site. With a few days to spare, you could embark on longer hikes of the Alta Rocca.
Dinner & overnight at: Auberge A Pignata. High in mountains near the village of Levie, where the silence is broken only by the sounds of wildlife, Auberge A Pignata is a farm-inn with chic-rustic rooms, including a few 'treehouses'.
Sit out for an aperitif on the terrace overlooking the mountains, then enjoy dinner in the cosy farmhouse-style dining room with open fire, and tuck in to some of the finest Corsican-style home-cooking, with charcuterie (reared and then cured on site) and mains of slow-cooked lamb or pork from their own estate.
Stop for lunch: in Sartène, a charming town back towards the coast, with narrow-stepped alleyways, gift shops and cafés spilling out on the main square.