Tenerife is a name often said with a sniff. But to those in the know this package holiday big-hitter could well be the perfect island escape. The sandy beaches here are bathed in year-round sun, the catch of the day is a feast of glorious fish and shellfish and the local towns are Spanish right down to their tapas bars.
Where to stay in Tenerife
If you want to stay in the sun-drenched south don't be swayed by the vast all-inclusive hotels that pack the resorts. Instead, indulge in some adults-only exclusivity at the Gran Meliá Palacio Isora Red Level.
This is a boutique hotel inside a monster-sized one. You can use the facilities of the main hotel (pools, restaurants, spa) but your room is squirreled away in an annex, and has its own hut tub on the balcony. Breakfast is served outside by the pool and there are more hot tubs (with service from the chiringuito, or beach bar) overlooking the Atlantic.
In the quieter north there are two stand-out small hotels. Hotel La Quinta Roja in Garachico is a Baroque mansion with wooden balconies and walls of volcanic stone. In La Orotava, Hotel Alhambra is unassuming from outside, but step through the door and it's all Moorish opulence, from the interior courtyard to the hammam-style tiled bathrooms. Both hotels have only a handful of rooms so service is personal.
Where to go in Tenerife
Tajao
This sleepy fishing village is the best place to feast on fresh fish. The busiest restaurant is Agua y Sal, where you'll order from a counter groaning with squid, prawns and whole fish. Overordering in excitement is almost guaranteed.
Garachico
Once the island's main port, a volcanic eruption in 1706 changed Garachico's fate forever, engulfing the town and destroying its harbour. Today those lava formations offer sublime swimming in natural rock pools, and there's also a gorgeous main square for sipping coffee and watching the locals play chess.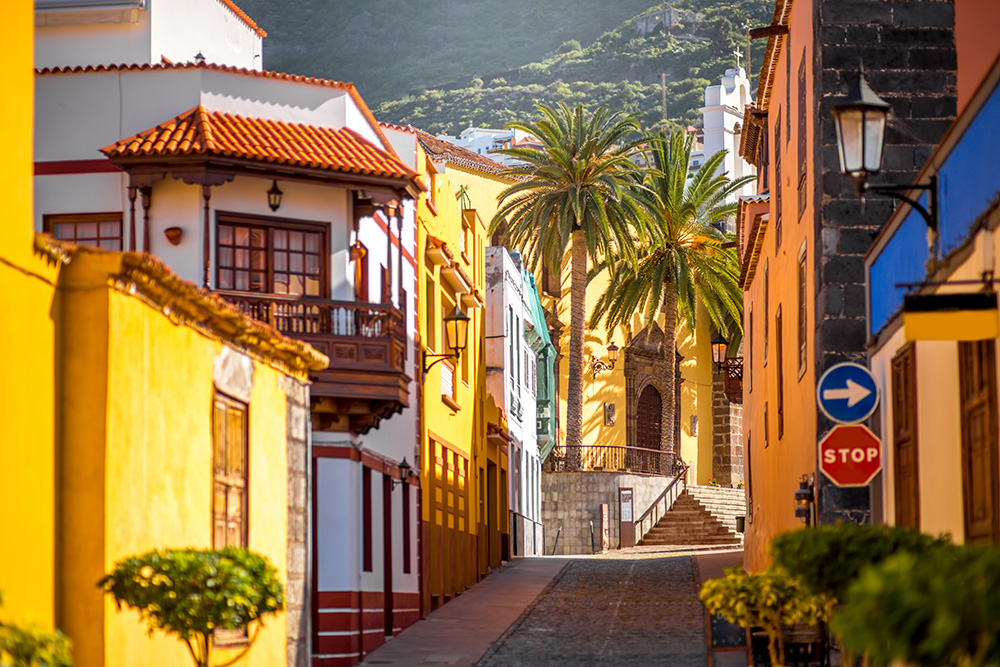 Garachico by RossHelen/Shutterstock
La Laguna
If you want to see what the Canaries used to look like, hit the streets of La Laguna. This UNESCO World Heritage-listed town is said to have been the blueprint for hundreds of colonial towns in the Americas and its grid of cobbled streets is lined with pastel-coloured mansions, tiny bars and eccentric shops.
The best beaches in Tenerife
You've probably heard that Tenerife's beaches have black sand. And most of them are. But the island knows this can put people off and so white sand is imported from the Sahara to keep the most tourist-friendly beaches gleaming.
The best are at Costa Adeje, lined up like a string of pearls held together by the pedestrianised promenade. Top pick is Playa del Duque – this is the beach to be seen on, its creamy sands and shallow waters attracting the most discerning sun-worshippers.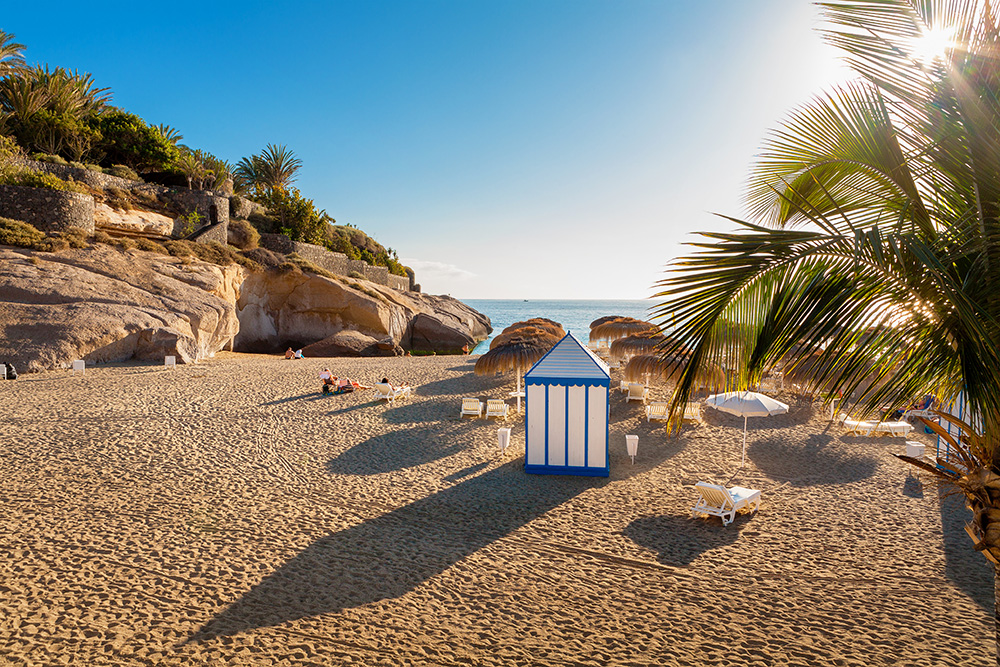 Playa del Duque by Andrei Nekrassov/Shutterstock
In the north, Teresitas beach is popular with locals. Head here in the week and you should get a sizeable patch of this mile-long strand to yourself.
Fancy something more active? El Médano is Tenerife's kitesurfing capital and the beach here has designated areas for watersports. There are several schools offering lessons (Tenerife Kitesurf has three-day courses from €290) and the waves are reliably strong.
Hiking in Tenerife
You can't miss Teide – literally – on your visit to Tenerife. This whopper of a volcano stands more than 12,000-feet-tall at the centre of the island tempting visitors to rise above the clouds and stand atop Spain's highest mountain. Even better, there's a cable car (€27) that can get you as far as La Rambleta at 11,500-feet.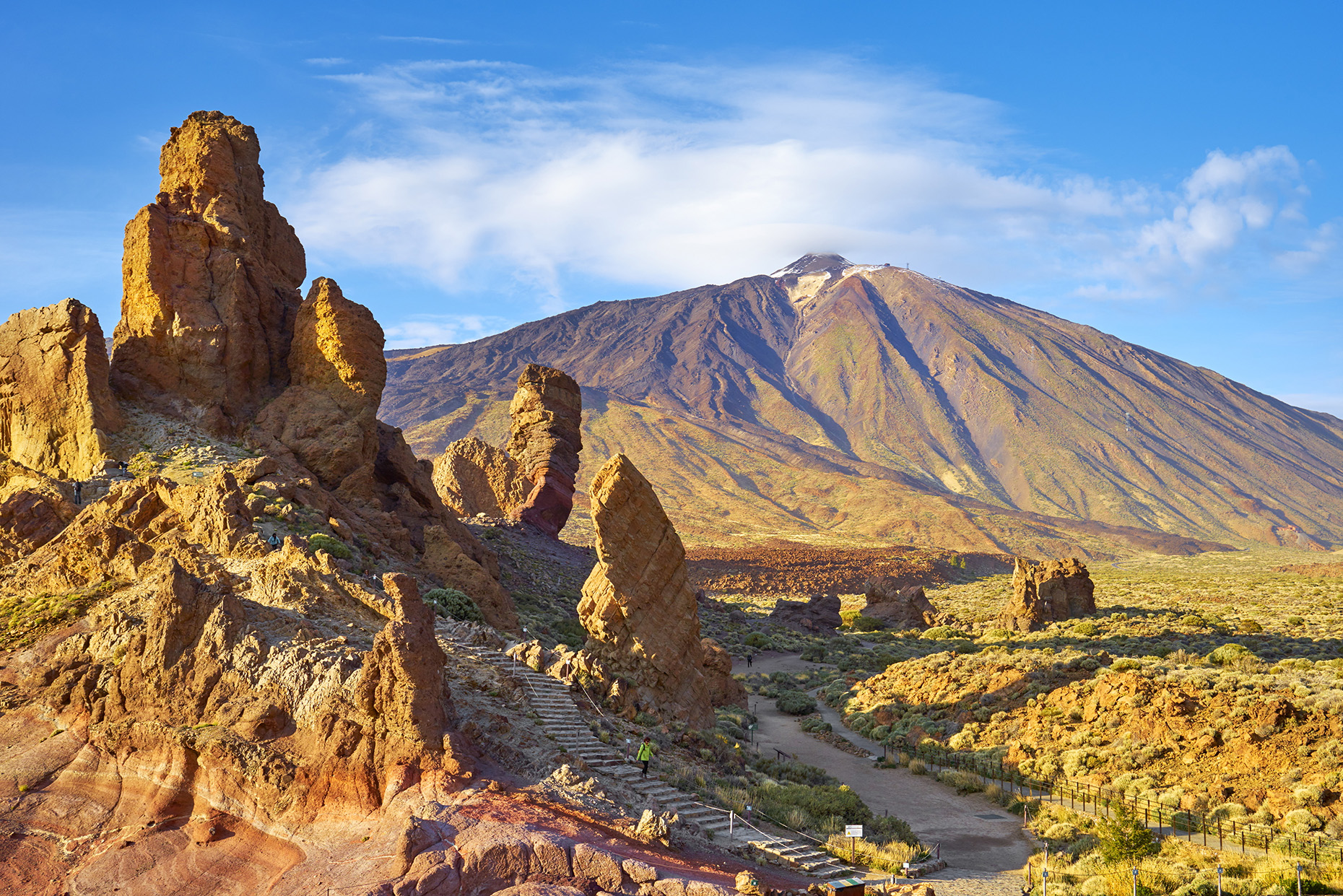 Teide by John_Walker/Shutterstock
This is where most visitors stop – to take a few selfies and see if they can spot the neighbouring islands – but get yourself a (free) permit in advance and you'll be able to walk on along the Telesforo Bravo Trail to the very top. It takes around 40 minutes and is a straightforward hike (less than half a mile each way).
After something more adventurous? Start at Montaña Blanca and make the four-hour ascent on a twisting track up to Altavista Refuge at 10,600 feet. Spend the night here (€25) and rise before dawn to make the final ascent. It takes about two hours and is well worth the early start to see the shadow of Teide's triangular peak reflected by the sun across a soft pink sky.
From Teide it's clear that Tenerife is a verdant island. Dense forest runs down towards the sea in every direction and to the north is Anaga, a subtropical wonderland of moss-covered laurel trees and giant ferns. Start at Cruz del Carmen for a walk here, following signs for Chinamada, and you'll plunge into storybook forest, the trees reaching up to clasp branches above your head. Around Chinamada you'll emerge, among fruit trees and terraces packed with vegetables, before descending to sea level at Punta del Hidalgo. The six-mile walk takes around four hours.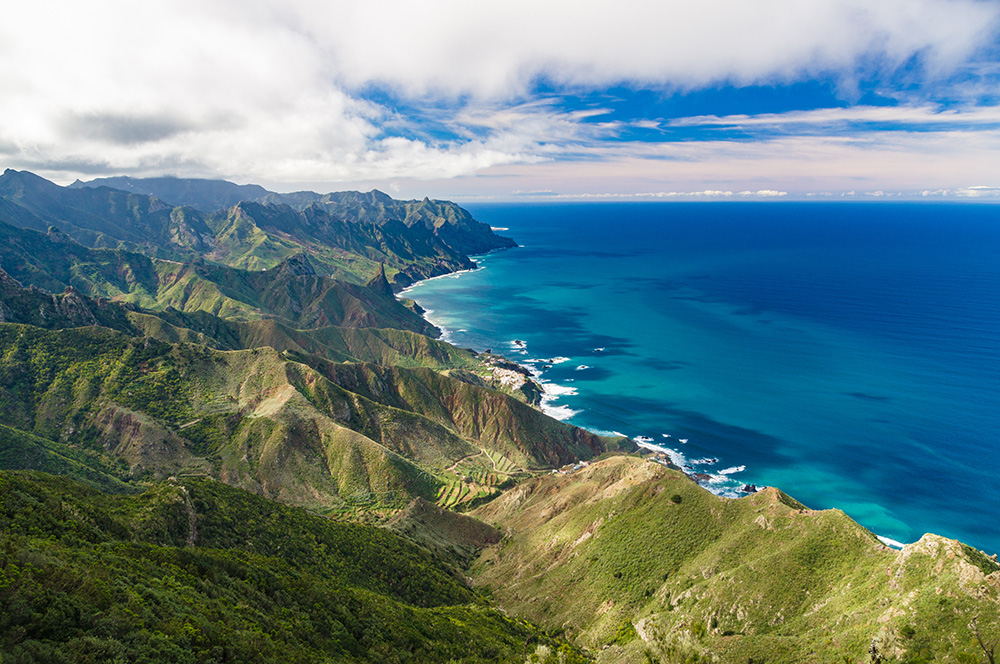 Anaga by Alex Polo/Shutterstock
What to eat in Tenerife
You can't leave Tenerife without eating papas arrugadas – largely because they tend to come with every meal. These "wrinkly potatoes" are a Canarian specialty and best dipped into the green and red mojos (sauces) they're always served with.
Those same mojos go beautifully with the island's fresh fish, though locals will insist only the green, coriander-based mojo verde is meant for this. Order bocinegro, a succulent white fish, or dorada, best grilled (a la parrilla) and washed down with local white wine.
Tenerife has plenty of great wines, both white and red; Viña Norte and Suertes del Marqués are labels to look out for. When it comes to beer, try the local lager, Dorada. Order it on draft as a caña (small) or jarra (large).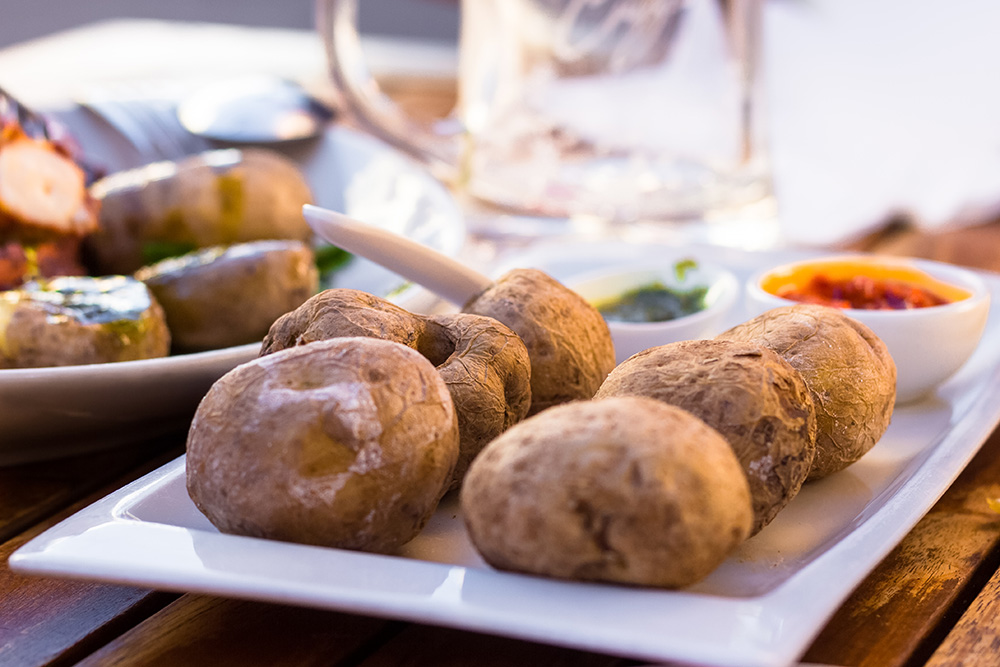 Papas arrugadas by Isidor Delacroix/Shutterstock
The ultimate long weekend in Tenerife
Day one
Check in to: Gran Meliá Palacio Isora Red Level, where the suites are spacious and the pool is in the sun all day long. Get straight in the hot tub – either on your balcony or overlooking the ocean in the gardens.
Take a stroll: In Los Gigantes, down to the fishing harbour where jaw-dropping cliffs tower above the boats.
Dine at: El Rincón de Juan Carlos. This family-run gourmet restaurant has held a Michelin star since 2015 and serves up a dazzling tasting menu of 12 courses (€85). Expect plenty of seafood, with dishes such as shrimp with sea lettuce and squid with artichoke. A "dessert tree" ends the night in whimsical style, its top made from candy floss, its branches holding sweet treats.
Day two
Spend the morning in: Masca. This delightful village is perched in the mountains and has dizzying views down through Masca gorge to the Atlantic. Take a stroll along its precipitous streets and stop for coffee with a view.
Lunch in: La Laguna, where Tapasté serves vegan dishes made with the island's bountiful produce. Afterwards take a walk past the town's fine collection of pastel mansion houses to the cathedral.
Swim at: Garachico. The lava pools here offer reliably calm waters, usually warmed nicely by the sun.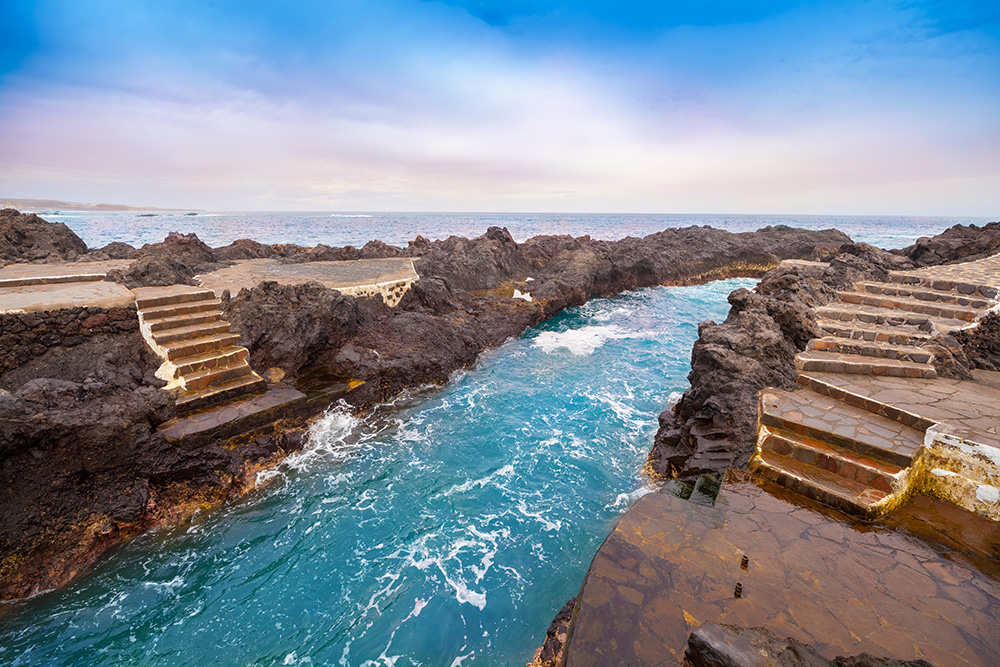 Cristian Balate/Shutterstock
Have dinner at: Pizzería Rugantino. Arrive early (pre-8pm) to snare a table at this extremely popular pizza joint where you'll be surrounded by local families.
Day three
Get up early for: Teide. Head up on the cable car to take in the view. Earlier departures tend to be quieter.
Take a hike at: Roques de Garcia. A two-hour (two-mile) loop winds through otherworldly scenery here, passing lava tubes and improbably shaped volcanic peaks.
Lunch at: Agua y Sal in Tajao, where skewers of garlic prawns whet the appetite for delicious whole fish, grilled to order. Settle in with a bottle of local white and while away the afternoon.