Explore the Isles of Scilly at your peril – you'll find these idyllic islands incredibly difficult to leave. For a staycation that feels more like an exotic vacation, read our guide to Britain's best-kept secret out at sea.
Why go to the Isles of Scilly?
Tiny, low-lying and sparsely populated, the draw here is the Scillies' relative remoteness, the small-scale living and the enforced slow travel – you're at the behest of the tides here so there's no rushing around. Plus, the warm Gulf Stream winds create a balmy subtropical microclimate, offering a pleasant break from the famously unreliable British weather.
With a population of just 2,200 people, most of whom live on the largest isle, St Mary's, visitors inevitably outnumber locals in high season. But even in summer, before the kids break up from school, you'll often find yourself alone on a cliff top, overlooking the rugged, wild beauty of St Martin's or the perfectly curved bays of Tresco.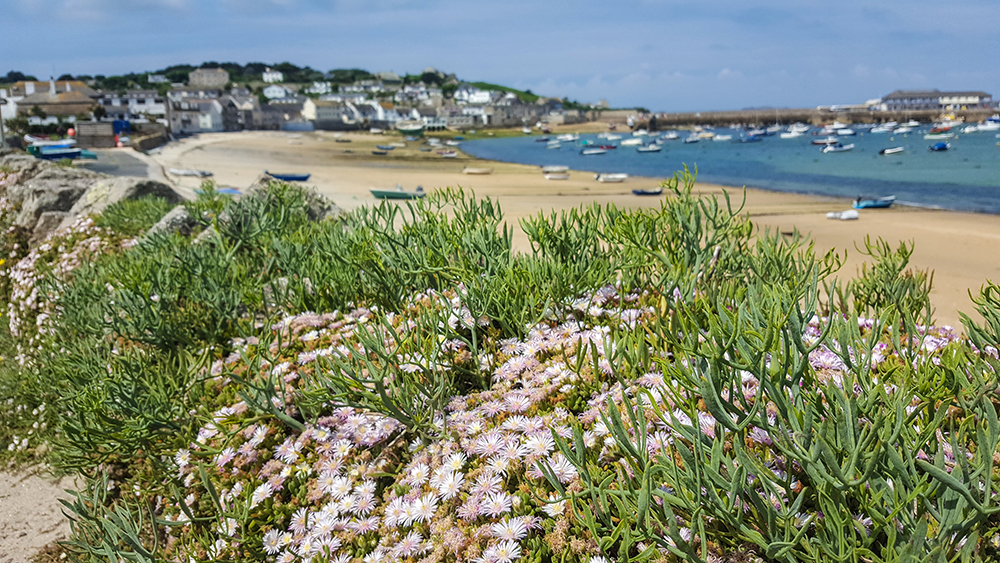 Lottie Gross
The Scillies are home to the kinds of beaches you expect to see in the Caribbean or the Med, but – rather inexplicably – there's no one on them. You can walk for hours on islands just two miles long and half a mile wide and not see another soul. Simply put, it's glorious.
Throw in the fresh fish and seafood and a welcome so warm you'll feel at home as soon as you arrive, and there's no faulting this stunning archipelago.
Where are the Isles of Scilly?
The 140 islands that make up the Isles of Scilly sit directly southwest of the Cornish peninsula, around 28 miles from Land's End. There are five main islands ripe for exploring – St Mary's, St Martin's, St Agnes, Tresco and Bryher – each with their own distinct charms and personalities.
A quick island-by-island guide
St Mary's is the main port of call for all visitors to the Scillies. The boat from Penzance arrives here, and it's home to the islands' only airport. It's the largest of all the islands, and the only one with supermarket chains and banks, but it's hardly cosmopolitan. Here you'll still find empty stretches of sand and honesty boxes full of fresh veg, preserves and bulbs for sale to passers-by.
St Martin's, the most northerly of the Scillies, has just 120 residents, one pub, one fish and chip shop, a bakery, post office and a swanky hotel. This is small-scale Scilly at its best and has some of the wildest scenery, with heathland, rocky outcrops, sparkling beaches and lush ferns and forest.
Lottie Gross
Tresco is world-famous for its spectacular botanical gardens and they're not to be missed on a day trip to this isle. Privately owned, it's a more manicured view of life on the Isles of Scilly, with a cluster of timeshares and apartments on its eastern side and a pretty little town to the west. The north, though, retains that wilderness feeling with a mossy moorland and a couple of ruined castles on its coast – including one of the few remaining Cromwellian fortifications in Britain.
St Agnes, the southernmost inhabited isle in Britain, is a dairy producing island – it's here that the ubiquitous St Agnes ice cream is made at Troytown Farm. You'll also find a gin distillery at Westward Farm which has accommodation within stumbling distance of the bottle shop, and a smattering of galleries and workshops across the island where creative locals showcase their art.
Bryher is small but still spectacular, vying for the title of smallest inhabited island alongside St Agnes. It's just a mile wide and half a mile long, but still packs a punch with seven hills to scale (Bryher is derived from the Cornish word for 'place of hills', breyer). The island fudge maker creates sweet treats with dairy from St Agnes and St Martin's sea salt, and the Crab Shack restaurant serves seafood from these very shores.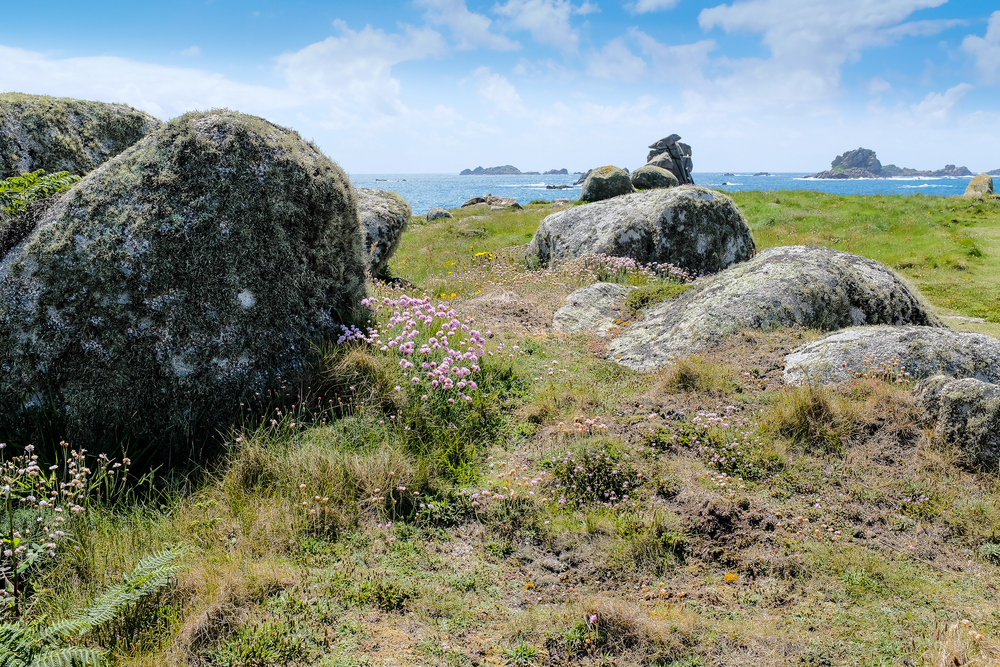 Neil Duggan/Shutterstock
Getting to the Isles of Scilly
Getting to the Isles of Scilly is half the fun. On Britain's south-westerly edge, it's not entirely simple to get there if you're not already in Cornwall or Devon, but make the journey part of your adventure and you'll be richly rewarded.
By helicopter
This is by far the most exciting way to get to the Scillies. Helicopters fly from Land's End Airport to St Mary's twice daily and offer a smooth, 20-minute journey across the Atlantic. The windows are huge, so there's no obstruction to the fabulous views. Head here for more information on schedule and prices.
Lottie Gross
By plane
Flights to the Isles of Scilly are far more frequent and depart from Newquay, Land's End and Exeter airports. You'll find more information on schedules and prices at islesofscilly-travel.co.uk.
By boat
The Scillonian is the only passenger ferry serving the islands and the crossing from Penzance to St Mary's takes around three hours. It's the cheapest option, and you'll often spot ocean wildlife such as dolphins and seabirds along the way.
Top tip: If you're coming from or via London, pair your journey with a night on the London-Penzance Night Riviera, one of Britain's two sleeper trains. You'll go to sleep in London and wake up somewhere along the Cornish peninsula with a bacon sandwich and tea delivered to your bunk. Buses run hourly from Penzance to ferry rail passengers to Land's End for their flight to the islands.
Good to know: The Isles of Scilly are any dog's dream holiday with so much land to sniff at. You can bring your pet on the ferry, and if they're small enough they can even travel with you in the plane.
Getting around the Isles of Scilly
Island hopping here is simple, but forward-planning is not the name of the game: boat times are dictated by the tides so they vary from one day to the next. If you're staying in a hotel you can rely on reception to provide the timetable the night before. If you're self-catering you can follow the relevant local boat services on social media.
St Mary's Boatmen's Association is the main organisation, but also follow Tresco Boat Services and St Agnes Boating.
An idyllic Isles of Scilly itinerary
You could spend a week here and still not be satisfied you've seen it all, but if you have just a few days, here are the top things to do on the Isles of Scilly.
Day one
Get there: on the morning helicopter. Unless you're a millionaire, this might be one of the only chances you get to take a helicopter to your holiday destination. Enjoy the novelty and the astounding views on arrival. The visual treats begin from the air as you fly over St Martin's and the Eastern Isles. When you arrive, take the bus into town and leave your luggage in the waiting room at the quay – no lockers needed, it's just not that kind of place.
Stop for lunch: at Juliet's Garden on St Mary's. There may be no better lunch stop on all the Isles of Scilly, as this fantastic restaurant is set over a series of stepped terraces overlooking Hugh Town. Run by Juliet herself, the kitchen serves open sandwiches with fresh, hand-picked Bryher crab and prawns, or seafood platters with mackerel pâté and fresh salads.
Lottie Gross
Check-in to: Karma St Martin's – a swish beachfront hotel with plenty of sea view rooms and an excellent restaurant (the breakfasts are delicious fuel for the day).
There should be an afternoon boat from Hugh Town on St Mary's to ferry you over to St Martin's. The hotel is on the Lower Town quay, but boats often come into Higher Town – if landing at the latter, the hotel will pick you up on arrival.
Leave your windows open at night and fall asleep to the sound of the ocean waves – it's bliss.
Take a stroll: along the coast. From the hotel, head down the road into Middle Town and pass quaint cottages, honesty boxes and working farms along the way. At the disused red phone box take a sharp left up a forested track and follow the path until you get to the ocean. You'll emerge from the pine woodland onto a slope of ferns leading down to a gorgeous white-sand beach.
This island is small but you can walk for hours and not see another soul. Keep the ocean on your right and relish the isolation and dramatic, rocky views out to White Island and Lion Rock. Eventually, you'll end up back at Karma St Martin's.
Lottie Gross
Have dinner at: The Seven Stones Inn. Just five minutes from the hotel on a hill overlooking the Lower Town coast of St Martin's, the only pub on the island is an ideal place to end your first day. They serve hearty comfort food – think Cornish pasties, pies and ribs – and have glorious views out to the ocean.
The owners – a couple originally from Kent – have worked wonders with what formerly looked more like a working men's club. With an eclectic mix of antique furniture and a ceiling that twinkles with string lights, the pub is now a cosy bolthole for a pint of local Scilly ale or a St Agnes G&T.
Day two
Take the boat: to Tresco. Just 20 minutes across the water and you'll arrive at privately-owned Tresco, the second biggest island in the Scillies where just 150 people reside.
Visit: Tresco Abbey Gardens. Created in 1834 around the remains of a 12th-century priory, there are now more than 20,000 subtropical plants on display here in different themed 'zones', such as 'South Africa Cliff' and 'Mexico'.
The gardens are a haven for bees and home to a small population of cute red squirrels. Don't miss The Valhalla Museum – a collection of old ship figureheads and carvings from the various wrecks that have washed up on the isles.
Emily Luxton/Shutterstock
Stock up at: Tresco Stores. The only shop on the island, here you'll find plenty of Scillonian and Cornish produce at the deli counter, ideal for gifts or treats to take home. One striking thing you'll notice in the drinks fridge is that there's not a single plastic water bottle to be seen. The island is striving to rid all single-use plastic from its shores, so bring a reusable canteen or grab one of the reusable cans of water for sale.
Lunch at: The New Inn. Situated in New Grimsby on the western side of the island, tuck into slow-cooked, Tresco-reared beef or a mammoth burger. There's St Agnes ice cream for dessert and excellent Cornish ales and ciders at the bar – and no plastic straws, of course.
Take a hike: around the north side of Tresco for a wilder view of the island. Head northeast from the pub until you find yourself at yet another glorious white-sand beach, then take the coastal path heading north.
The heathland at the northern end is quite the contrast to the flourishing gardens, and at the north-western tip you'll find two ruined castles perched on cliffs overlooking neighbouring Bryher.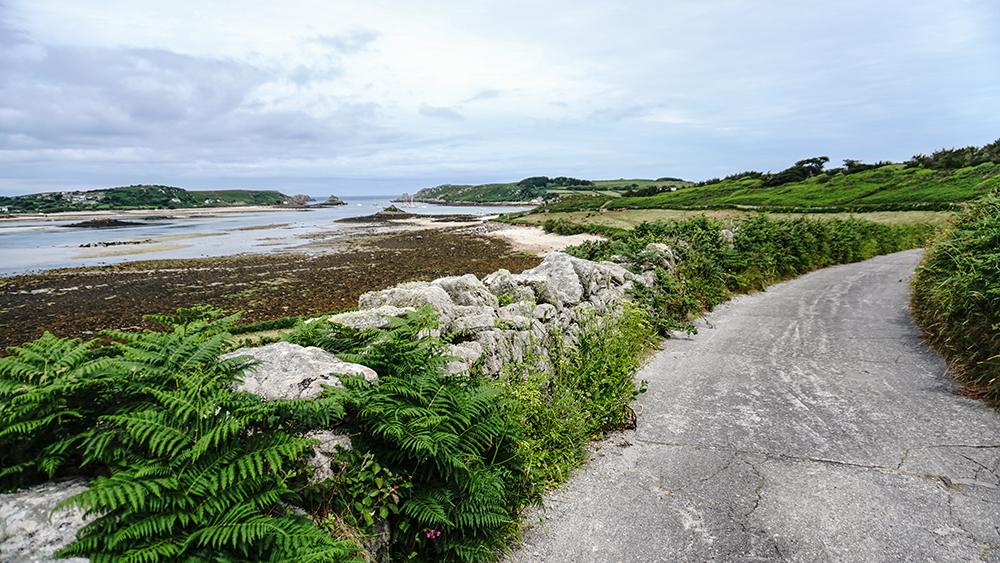 Lottie Gross
Have dinner at: Adam's Fish & Chips. Returning to St Martin's on the afternoon boat, book in for dinner at Adam's Fish & Chips in Higher Town. Adam is the owner, fisherman and often the chef behind this family-run business. He catches lobster and pollock off the coast of St Martin's by day and can be found in the kitchen preparing his haul come evening.
The fish batter is light on grease and superbly crisp, and the scampi-style lobster tail is a deliciously meaty affair. Locals from neighbouring islands will come over just to eat here, and evidence of its growing popularity can be seen in the various extensions Adam and his wife have had to build to accommodate their increasing patronage.
Day three
Explore: St Mary's by bike. Take the boat from St Martin's to Hugh Town and head to St Mary's Bike Hire to get your wheels – there are electric bikes for those who don't fancy scaling the hills on their own steam.
This island is made for cycling, with its quiet country roads and some excellent off-road trails. You can do a slow loop of the island in just a couple of hours, but we recommend taking your time and stopping off in the various galleries, artist's studios and farm shops along the way.
Lottie Gross
Take tea at: the Carn Vean Tea Room. Stop off for a morning cuppa at this lovely little tea room on the northeast side of the island. Once you're refreshed, leave the bikes in the car park and wander down the track to beautiful Pelistry Bay. You can walk out to Tolls Island when the tide is out.
Fuel up at: Dibble & Grub. Cycle back towards Hugh Town and make for Porthcressa Beach on the south side of town. The emphasis here is on locally and ethically sourced produce, all crafted into delicious Mediterranean-inspired dishes like lamb kebabs and Spanish tapas. If the weather's on your side, sit outside on the promenade overlooking the glistening bay.
Shop around: Hugh Town. St Mary's main town has a smattering of gift shops and boutiques, as well as the excellent Farm Deli where you can pick up local produce like St Martin's sea salt and Bryher fudge. A potter around the shops is an ideal way to pass the time before your boat back to St Martin's.
Splash out: on dinner at Cloudesley Shovell, the Karma St Martin's resort restaurant. The fine dining here is worth a good chunk of your budget for a blow-out meal. It's the kind of place where catch of the day is four kinds of fish, not just one, and the presentation is a work of art. Save space for dessert – the sticky toffee pudding served with clotted Cornish cream is not to be missed.
Map of the Isles of Scilly
Use this map to see all our favourite places across the Isles of Scilly.