Famous in history for its eponymous battle in 1066 (albeit held six miles east), this once-fashionable Victorian seaside resort fell into disrepair in the 1980s. But thanks to an influx of savvy DFLs (Down From Londoners), attracted by cheap Regency villas and a burgeoning arts scene, the seaside town has seen a resurgence in popularity.
Hastings town itself is pretty characterless, all high street stores and chain pubs, but a 15-minute stroll east is the old town, a charming enclave, all cobbled lanes and clapboard cottages, where you'll find artisan coffee shops, posh delis and cute homeware stores tucked amongst the flea markets and rock shops.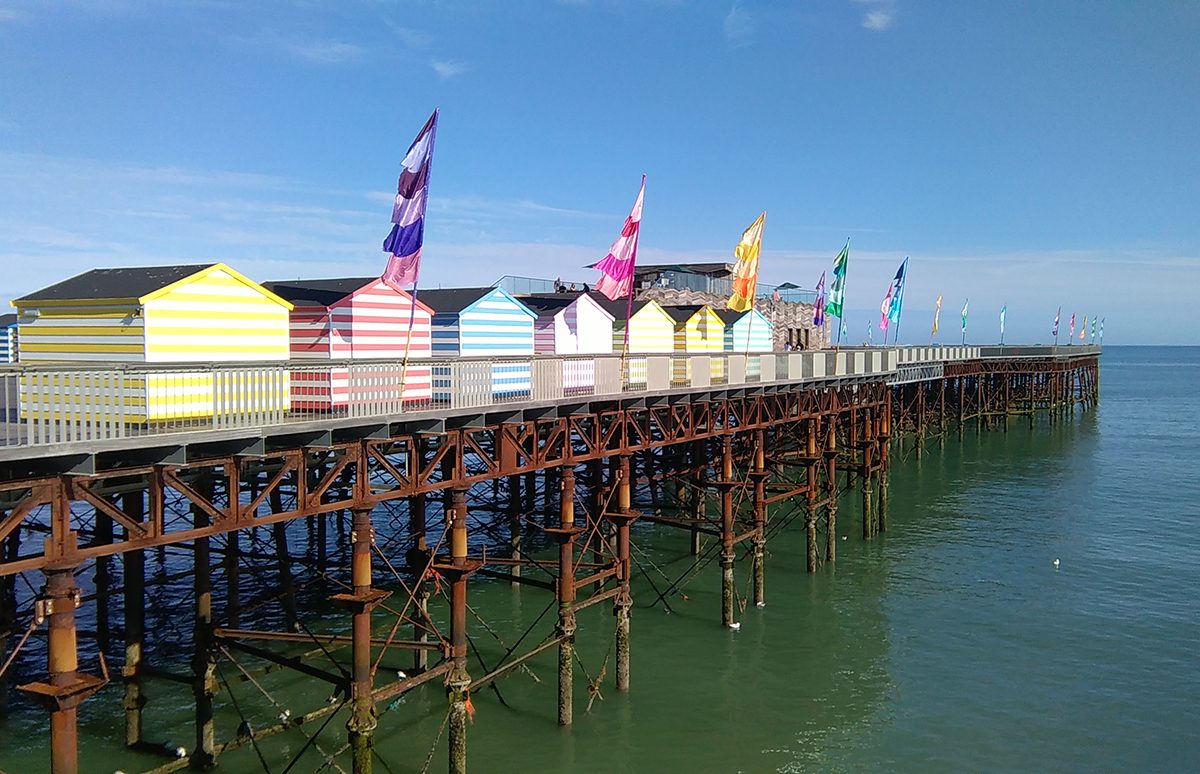 Helen Cradduck/Shutterstock
What's most striking about the town, though, is Hastings' great sense of community. Independent shops and hip cafés are opening up every month, and it has a jam-packed calendar of festivals, including Hastings Fat Tuesday, the UK's largest Mardi Gras, and Jack in the Green, a four-day-long May Day jamboree.
But despite its recent renaissance, Hastings is a seaside resort at heart. From the briny tang of the fresh seafood carts dotted along the promendae to clouds of candy floss floating up from the fairground, it still draws families and old-timers who come to play crazy golf, ride the dodgems and scoff fish and chips on the beach. A mash-up of both, here are the top things to do in Hastings over a weekend:
Friday
Check in to: The Laindons, a chic B&B in Hastings' old town which has its own coffee shop and roastery next door. Housed in a Grade II listed Georgian coach house, it has contemporary, seaside-chic appeal. Nice touches include a glass of wine on arrival and home-roasted coffee in the rooms, while a smashing breakfast is served with views over Hastings Country Park.
Eat at: Maggie's Fish & Chips. It's essentially a crime to visit the seaside and not have fish and chips for supper. While there's no shortage of good chippies, Maggie's Fish & Chips, in one of the tall, tar blackened net huts on Fishermen's Beach serves up sparklingly fresh beer-battered fish, proper fat chips and a tangy homemade tartare sauce. Perfect.
Have a pint at: The Crown, a favourite haunt of the local DFL crowd, this chichi gastro pub is an easy stroll from The Laindons. It serves an excellent line in ales, wines and gins all from local producers, including the Gun Brewery and the Gusbourne vineyard.
Saturday
Visit: Jerwood Gallery. Amidst the ringing arcades and vintage ice cream parlours is some of the south coast's finest contemporary art. After breakfast, wander down to the jet black-tiled Jerwood Gallery and potter through the permanent collections by Patrick Caulfield and L.S.Lowry.
Stop for coffee at: Penbuckles. Hastings old town is home to a clutch of cool coffee shops, including this posh deli, which serves delicious Monmouth coffee, home-baked cakes and has a covetable cheese selection.
Shop at: Open by I Love Mel. Just west of Hastings Pier is St Leonards-on-Sea. Regency villas line the front, interspersed with antique shops, cafés and cool pubs. Pop into Open by I Love Mel on Grand Parade, run by British pop artist, Mel Elliott, who has brought her eclectic mix of art and cool curiosities to the seaside in her shop-cum-juice bar.
Explore the darker side of Hastings at: True Crime Museum. Hidden away in the old smugglers' caves, it has the largest collection of crime memorabilia in the UK, all chillingly enhanced by dripping ceilings and crackling electricity effects.
Have an afternoon tipple in: The Albion.There's only one place to be on a Saturday afternoon in Hastings and that's The Albion, a charming arts and crafts pub on the seafront. A local landmark since 1730, it's renowned for serving excellent local beers and live music.
Dine out at: St. Clement's. "Local, local, local" is chef Nick Hales' mantra at this restaurant in St Leonards. Hales' menu changes with the seasons and what's available, so it's always a nice surprise, but if the Sardinian fish stew is on the menu, then your luck is truly in.
Sunday
See: Hastings old town. Flanked by a brace of Victorian funiculars, the East Cliff and West Cliff railways haul visitors up the chalky white cliffs to Hastings Country Park for far-reaching views of the coastline.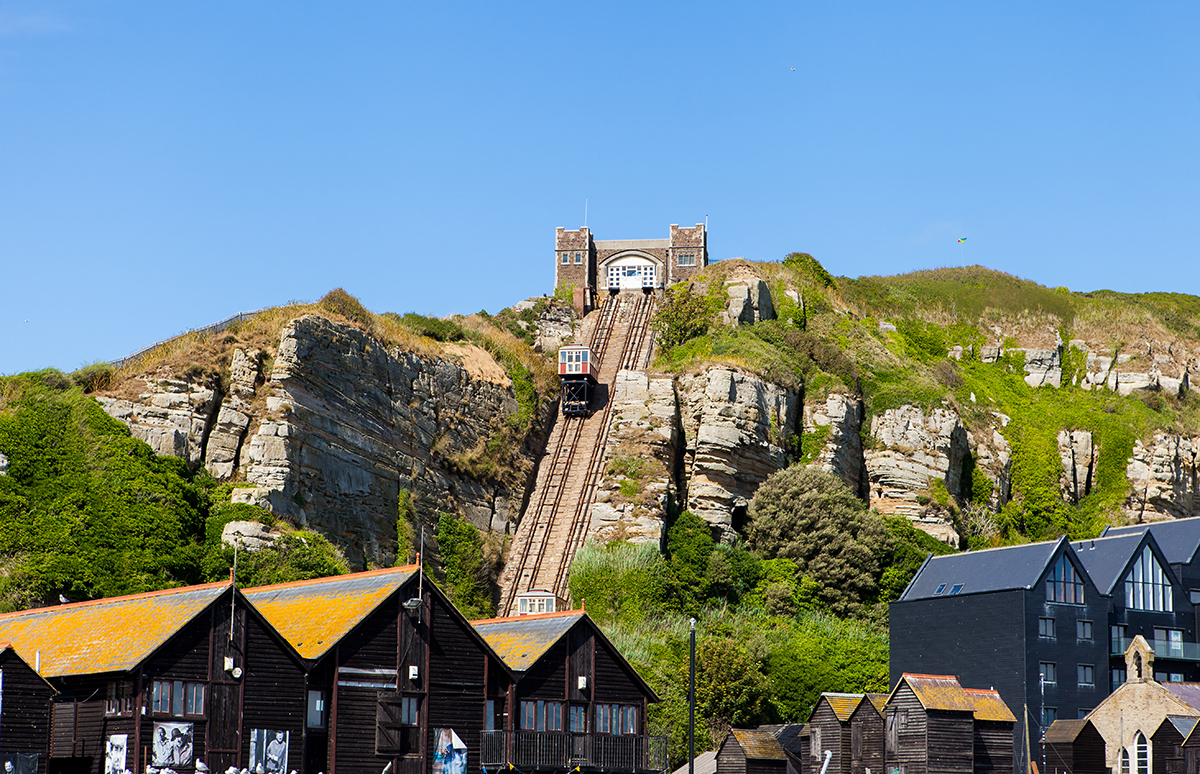 Tomasz Cichecki/Shutterstock
Play crazy golf: A traditional English resort at heart, it famously hosts the World Crazy Golf Championships each October. Play a round or two on the championship course, or tackle the fun pirate course, complete with battling galleons.
Lunch at: A.G. Hendy & Co. A chic homeware store-cum-restaurant-cum-cookery school in the old town. Owned by photographer and food writer Alistair Hendy, the Kitchen knocks out fantastic seasonal dishes like fresh crab bisque and crispy pig cheek. As it's only open at the weekend and in the warmer months, booking is essential but oh-so worth it.
A few other places we love
In its Victorian heyday, Hastings was considered the Marbella of the south coast, and it still has plenty on offer for a longer stay.
For spooky tales: Hastings has a long smuggling heritage, which you can explore in the town's smugglers' caves where spooky tours are led by notorious 'smuggler', Hairy Jack.
And local ales: The First In Last Out pub on the High Street dates back to the 1500s. In recent years, it's earned high acclaim amongst the CAMRA set for its excellent ales from its own FILO brewery.
For great burgers: If you don't fancy a fish supper, then try a gourmet burger like the Chilli Gonzalez, with Monterey Jack cheese and slow-cooked beef and bean chilli, at Half Man Half Burger, a trendy burger joint in St Leonards.
For concerts: Former haunt of the Rolling Stones, Jimi Hendrix and Pink Floyd, Hastings Pier was devastated by fire in 2010. Rebuilt to a contemporary streamlined design, it opened in May 2016 and now hosts open-air concerts and cinema screenings.
For skater kids: Skateboarders from across the county come to ride the rails at Source, the world's largest underground skate park housed in a former Victorian swimming baths.