Looking up at the soaring palm trees that fringe Palma's waterfront and at the nearby Palacio Real de la Almundaina, the Moorish palace that towers over the medina-like backstreets of its Old Town, you might think you were in the Middle East.
But next to the palace stands Palma's even bigger cathedral, La Seu, a magnificent sandstone edifice that has Europe's largest rose windows. And centuries of Christian Catalonian rule are evident in the countless churches that grace the street corners and elegant avenues of this pocket-sized city, too.
You can also trace Palma's patchwork past in its exceptional gastronomy, which blends time-honoured Mallorcan cooking with Levantine spice and sensibility and, more recently, with the finesse of contemporary world cuisine.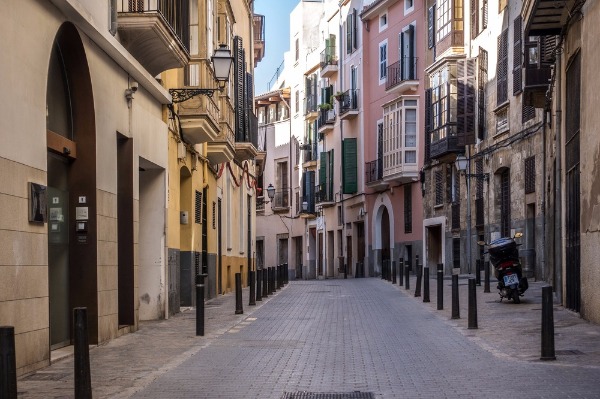 The Old Town (Panoglobe/Shutterstock)
Following the arrival of its first boutique hotel just over a decade ago, Palma has transformed from a charming but provincial fishing town into a sophisticated holiday destination with smart shops and some of the best dining in Europe.
So while you might first visit this slow-paced Spanish town for its brooding monasteries and majestic Arab bathhouses, to ogle original Miro and Picasso artworks, and to funnel down its sun-bleached alleyways, you'll return to Palma for a foodie weekend again and again. And, thanks to the Balearic isle's peerless climate, you can do so at any time of the year.
Delve into fine dining
Palma's emergence as an elite gastro-destination has attracted world-class chefs, including Kent-born Marc Fosh, owner of his eponymous Michelin-starred restaurant. It's located Hotel Convent de la Missio, a converted 17th-century monastery. Creamy cauliflower rice with green asparagus and elderflower, and turbot with peas, citrus gel and caviar parmentier are examples of the unexpected combinations of flavours and textures that earned this culinary hotspot its coveted star.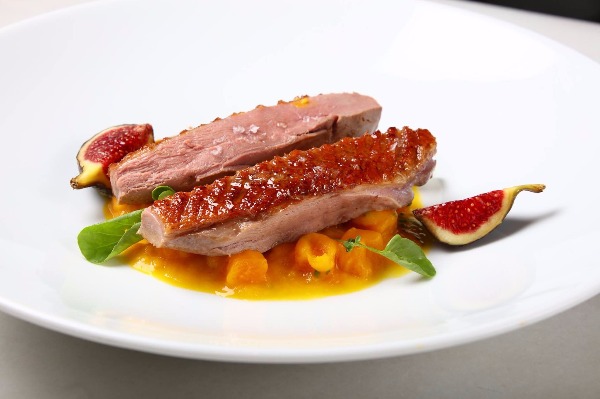 Haute cuisine at Marc Fosh (Fosh Group/Facebook)
The concept is in the name: De Tokio A Lima fuses Japanese and Peruvian flavours into modern Mallorcan dishes such as foie gras (very popular on these shores) with apple and spicy paprika, and seared tuna tartar with avocado and crispy yucca. Ask for a table on the restaurant's sunny roof terrace overlooking the tree-lined boulevard Paseo del Borne.
Balearic bites
For a less pricey lunch head to the S'Escorxador cultural centre, formerly the site of a slaughterhouse, and now home to the city's first gourmet food market. There are 17 stalls stationed along the perimeter of the dusky pink century-old building, showcasing local pastries and tapas stalwarts such as calamari skewers and crab claws, as well as newcomers to local cuisine such as Indo-Hispanic fusion croquettes stuffed with mushrooms, and fidua, paella made with noodles.
The small plates are equally good at La Rosa Vermuteria, a traditionally-styled bar offering classic pintxos such as La Gilda (anchovy, olives and guindilla pepper skewers), and croquettes filled with béchamel and foie gras. Wash them down with a glass or two of Vermouth.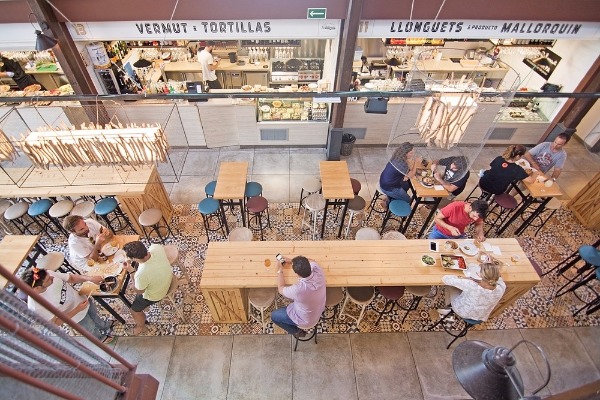 Gourmet bites at S'Escorxador (Artesia Wells/Shutterstock)
Go to market
The city's markets bring produce direct from the farms, vineyards and sea to Palma's tables. Most now also feature stalls where you can wolf down a cod croquette or crimson Soller prawn with a glass of island wine. Alternatively, ask for the wild blue lobster or yellow fin mackerel you've bought to be seasoned with locally harvested salt and then fried or grilled on the spot. Stallholders will be happy to let you try their fruit, veg and charcuterie before you buy.
After Japan, Spain is the biggest consumer of fish in the world, and Mallorcans scoff more than anyone else in the kingdom. At Mercado Municipal in north-east Palma, see slabs of sea bream, tuna and still-twitching crustaceans gleam next to piles of rosy pomegranates and pumpkins.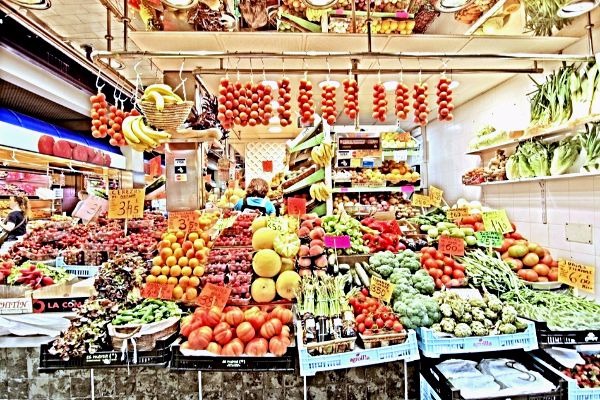 Mercat de l'Olivar (Artesia Wells/Shutterstock)
Next, head west and meander through Santa Catalina, Palma's oldest food market, and watch housewives and professional chefs shopping for that day's dinner. Then sit down for a caffeine shot at one of the market bars. Scour the coffee menu before you order, though. Café solo, café con leche, cortado, café con hielo, carajillo, bombon, and more: there are a myriad ways to get a coffee hit in Palma.
Re-energised, you can wend your way to the city centre and its main produce centre, Mercat de l'Olivar, where you can buy practically anything, from almonds to Asian pears.
For cakes and bakes
Palma was founded by the Romans in 120 BC and, according to some sources, its most famous pastry, the swirly ensaimada, is as old as the city – some claim its coiled form was inspired by the Moors' turbans, and others that it's an ancient Jewish recipe. What is certain is ensaimada's versatility: mostly eaten with a dusting of sugar or filled with pumpkin marmalade, it becomes a savoury snack when spread with sobradsada, a raw, cured Balearic sausage made from black Iberian pigs and paprika.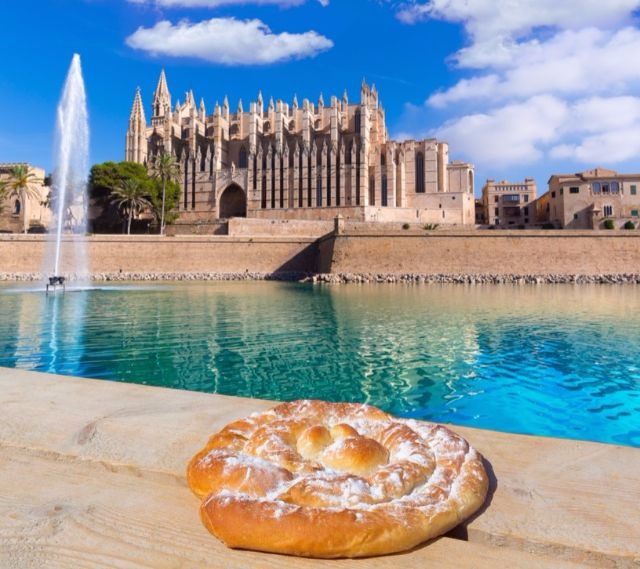 An ensamaida with a view of Le Seu (Holbox/Shutterstock)
Set deep in the labyrinthine heart of the Old Town, it is not easy to find Ca'n Joan de S'aigo but given that the pastry shop has been serving mud-thick hot chocolate and potato-flour sponge cake cuarto – the latter is dipped in the former – for more than 300 years, it's certainly worth the navigational challenge.
At Forn Fondo you'll find Palma's best cocas, Spain's thinner, flakier answer to pizza, topped with tomato, green peppers and onion. The bakery first opened its doors for business in 1745, and for the past four generations has been run by the lively Llul family who are more than happy to answer any foodie questions you might have. They also make a mean pork pie.