You can't turn a corner in Manhattan without spotting a red carpet or capped bellhop at the entrance of a glamorous hotel. In the mind's eye, these places are where everyone checks-in when visiting the city, but the reality is somewhat different. The luxury lodgings you see in the movies such as the Waldorf Astoria, The Plaza and The Roosevelt? They'll drain your bank account quicker than you can sing New York, New York.
But there's a solution. Here's our list of equally attractive hotels, all of which are a triumph of history, location and good taste – and for half the price.
1. Best for art lovers: Roger Smith Hotel
At the Roger Smith Hotel in Midtown Manhattan, bronze statues and watercolours jostle for your attention alongside ever-changing artworks from up-and-coming creatives.
The underlying concept at this family-run boutique is art from all angles, with rotating exhibitions and art classes, ideally to inspire you to visit the city's most renowned contemporary galleries. Conveniently, The Whitney and The Met are both easily reached from nearby Grand Central Station, a short stroll down Lexington Avenue.
Beyond the heavy brickwork exterior, a nod to its 90-year history, there's ground level bar Lily's and an art-splashed lobby that leads to 138 rooms, most of which have splendid photographic prints and magazine cover worthy interiors.
There's also seasonal rooftop bar Henry's (among the best in Midtown), while continuing the art theme, the hotel regularly partners with New York's most celebrated cultural institutions for insider tours.
Price tag: Doubles from £134, including light breakfast.
2. Best for avant-garde glam: The Evelyn
Picture the scene: a buzzy Art Deco lounge with sunken leather armchairs and gramophone, soundtracked by the click-clack of dominoes and clink of cocktail glasses. You're at The Evelyn in the NoMad neighbourhood.
Follow that with ribbons of hand-made pasta from Leonelli, a Roman-style trattoria, and you're only halfway to imagining the cool-as-you-like atmosphere at this property, once the epicentre of the city's jazz age.
Rooms are appropriately tailored, kitted out with shabby chic furnishings that wouldn't look out of place in a 1930s filmset. But there's also plenty of mod cons (whirlpool tubs and monsoon showers) as well as modern art. Tip: book direct for a late 1pm check-out and free breakfast.
Price tag: Doubles from £115, room only.
3. Best for trend-setters: The Hoxton
The buzz in the subterranean Williamsburg lobby of The Hoxton, a hipster London import, is palpable. The bearded and inked drink drip coffee from velvet armchairs; influencers from Brooklyn's flourishing creative industries talk shop over craft beer; and Insta-ready burgers and cocktails are whizzed from the open kitchen and wraparound bar. Free doughnuts are handed out at reception, too.
Upstairs, the pros are retro capsule-style rooms, with Roberts radios, knockout Manhattan or Brooklyn skyline views and cheat sheets for the best of Williamsburg. Everything is small but perfectly considered: a grab-and-go breakfast, for example, is hung on an outside door hook every morning.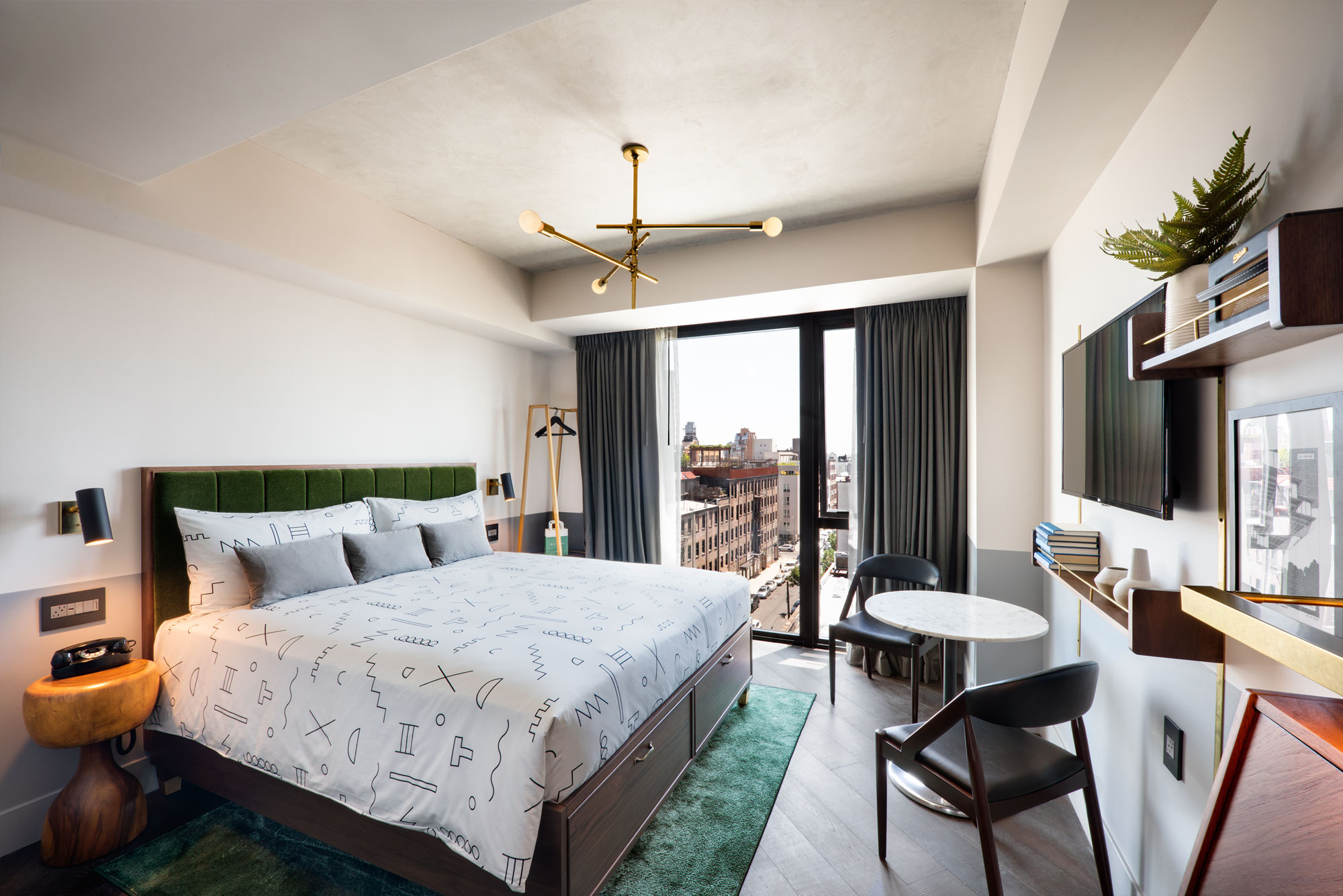 Photo by The Hoxton, Williamsburg
Beyond such immediate tricks, the area has more than enough credentials to convince you to come east. Two of New York's best breweries are within striking distance (Brooklyn Brewery and Greenpoint Beer and Ale are around the corner), plus there's Smorgasburg, the largest weekly open-air food market in America. It's heaving with many memorable coffee shops, restaurants and bars. Craving Manhattan? The nearest ferry stop is just a couple of minutes away.
Price tag: Doubles from £115, including light breakfast.
4. Best for riverside life: The Jane
Anyone who thinks New York hotels are all about snap, crackle and pop has not been to this landmark hotel which opened in 1907. The Jane in the Meatpacking District once housed sailors and Titanic survivors when it was the American Seamen's Friend Society Sailors' Home and Institute. Today, it continues as an homage to the golden age of travel.
Rooms are wood-panelled and designed to recall cruise liner cabins, while there are more modest galley-style bunks and low-frill compartments with shared bathrooms.
The sumptuous common areas, ballroom and Old Rose café for all-day dining and drinks are worth it for a cup of joe and day-to-day planning, yet little more than a diversion from what lies in the immediate vicinity.
From its prime vantage point on the Hudson River, you have the Meatpacking District, West Village and High Line Park on your doorstep. Plus, the free bikes to cycle the Hudson River Greenway are super useful.
Price tag: Doubles from £54, room only.
5. Best for the cash strapped: Pod 51
Few budget brands have shaken up the New York scene quite like Pod. Landing with an almighty crash, it's brought streamlined comfort and affordability to downtown and the little touches elevate it from humdrum hostel to cushy hotel.
For starters, rooms have flatscreen TVs, air-con, rain showers, hair dryers and plenty of storage. Then at Pod 51 in Midtown East, there's a cute outdoor garden and rooftop bar, with a rarely-bettered view of Manhattan. If you're really on a tight budget, you can bring your own drinks in with you.
On the downside, the capsule rooms are small, particularly so in the twin-style bunks (with shared bathroom). Be that as it may, the reasons for staying in this part of town are tenfold. Count Times Square, Central Park, the Chrysler Building and Rockefeller Center all within a 15-minute walk. Sister hotel, Pod 39, is 12 blocks further south.
Price tag: Doubles from £62, room only.
6. Best for a wellness break: Even Hotels
Bang on trend for 2019, Even Hotels is a new, low-key chain from the all-conquering IHG brand. Wedged between fashionable Cobble Hill and Brooklyn Heights is an outpost set amid universities and academies, but dips in and out of the Brooklyn scene.
Here, there's a focus on clean, zen and productive living. Rooms are furnished with mini training zones, fitness videos, ropes and exercise balls, spa-like showers and ambient lighting. There are eco amenities and eucalyptus-scented linens to aid sleep. No lazy in-room movies or boozy minibars here but you'll be treated to stunning views of Brooklyn.
Price tag: Doubles from £92, room only.
7. Best for deep-rooted history: Sohotel
The Bowery is so much more than New York's oldest, most storied street. It was home to the city's notorious 'Skid Row', described by former US President Teddy Roosevelt as hell on earth and used as a historical backdrop by film director Martin Scorsese for his violent Gangs of New York.
But the area has changed dramatically, making this former dosshouse a pin-up for urban regeneration. It's now a fashionable, wallet-friendly choice, with a chewy backstory. For old-school charm by the bucket load, check-in to Sohotel.
To start with, there's plenty of up-cycled retro chic and animal prints, and the rooms have been stripped back to reveal large stretches of exposed brick: the quintessential Manhattan loft look.
There are also comfy beds, thick windows (the noise can shift-up a gear after dark), plenty of skylights and a wide selection of choices from standard queens to kings, triples and deluxe family rooms with throw blankets and plush bathrooms.
Price tag: Doubles from £109, room only.
8. Best for sucker-punch views: The Paul
A broad choice of everything from bunks to queens and kings with wowing terraces is the easy sell at this hip all-rounder in one of Manhattan's funkier neighbourhoods.
Of the 122 pokey rooms at The Paul in NoMad, some have sidewalk-to-sky views of the flash new One World Trade Center, while the 21-storey top roof delivers a close-up of the Empire State Building. There's also free daily newspapers and coffee, complimentary wi-fi and La Mesa de Paul restaurant and bar for Mexican snacks and beers.
Not only are swish delis and cafés, beer gardens and a Macy's in the area, but also Manhattan big hitters Madison Square Garden and the Flatiron Building.
Price tag: Doubles from £92, room only.
9. Best for Broadway: Moxy Times Square
For many visitors, the icing on the cake on a trip to New York is catching a shiny, big ticket musical or Off Broadway performance. And it doesn't have to cost the earth to stay in the area with a room at Moxy Times Square, a super-central, young-at-heart chain hotel.
The 600-odd rooms are tiny but cater for all sorts, from in-with-your-friends dorms to boxy queens and creatively-styled kings. There are also five easy-going restaurants to pick from (should the hundreds in the vicinity prove too much of a head-scratcher).
In keeping with the dazzling spectacle of Times Square itself, there's Magic Hour, a ginormous rooftop bar featuring a unique carousel and mini golf course. After all, this is one of the world's entertainment capitals.
Price tag: Doubles from £121, room only.
10. Best for impressing your friends: Carlton Arms Hotel
Every great place to stay in New York should have an intriguing origin story and Carlton Arms Hotel in Kips Bay has one of the best. It was created in the 1970s by the Carlton Arms Art Project, a group of bohemian entrepreneurs who turned what was once a rundown squat into the artistic canvas that it is today.
All 54 rooms, bathrooms and public spaces are awash with artworks from up-and-coming artists, while even Banksy has added his own guerrilla signature to the building. As beautiful as it is bonkers, it's a perfect marriage of art, style and invention, but nothing is ever perfect. It's popular and books out well in advance.
Price tag: Doubles from £60, room only.