Lanzagrotty? Hardly. The volcanic island of Lanzarote is without a doubt the chicest spot in the Canaries.
This is a monochrome landscape of ebony lava sprinkled with ivory houses, and there isn't a high-rise or a billboard in sight. It's all thanks to one man, local architect and designer César Manrique, who saw package tourism coming and saved his beloved island from its rampant development.
On Lanzarote Manrique is an almost sacred figure, a man with the foresight to write laws against the ugly and who had a hand in designing many of the island's top attractions. This April marks the centenary of his birth, so there's never been a better time to discover his legacy. Start here.
1. Fundación César Manrique
Imagine a home sculpted from lava bubbles. Somehow this is exactly what Manrique did, turning a series of natural basalt tunnels and chambers into a thoroughly modern house and studio in Tahíche.
Nothing is here by accident, from the swaying palms and geometric sculptures to the ceramic orange hanging lamps and tomato-red cushions, and a stroll through the colour-block rooms is a masterclass in sixties and seventies style.
We only wish the gift shop sold reproductions.

travelview/Shutterstock
2. Mirador del Rio
If you've ever fancied hanging out in James Bonds' lair, Lanzarote is the place to do it.
At Mirador del Rio, atop the towering volcanic cliffs of the Risco de Famara, you can order a G&T and sip it staring out from giant oval windows hewn from the white-washed walls.
This sunken mirador was designed by Manrique in the early 1970s to make the most of the view – out over the beaches and peaks of near-desert island Graciosa and across the Atlantic ocean.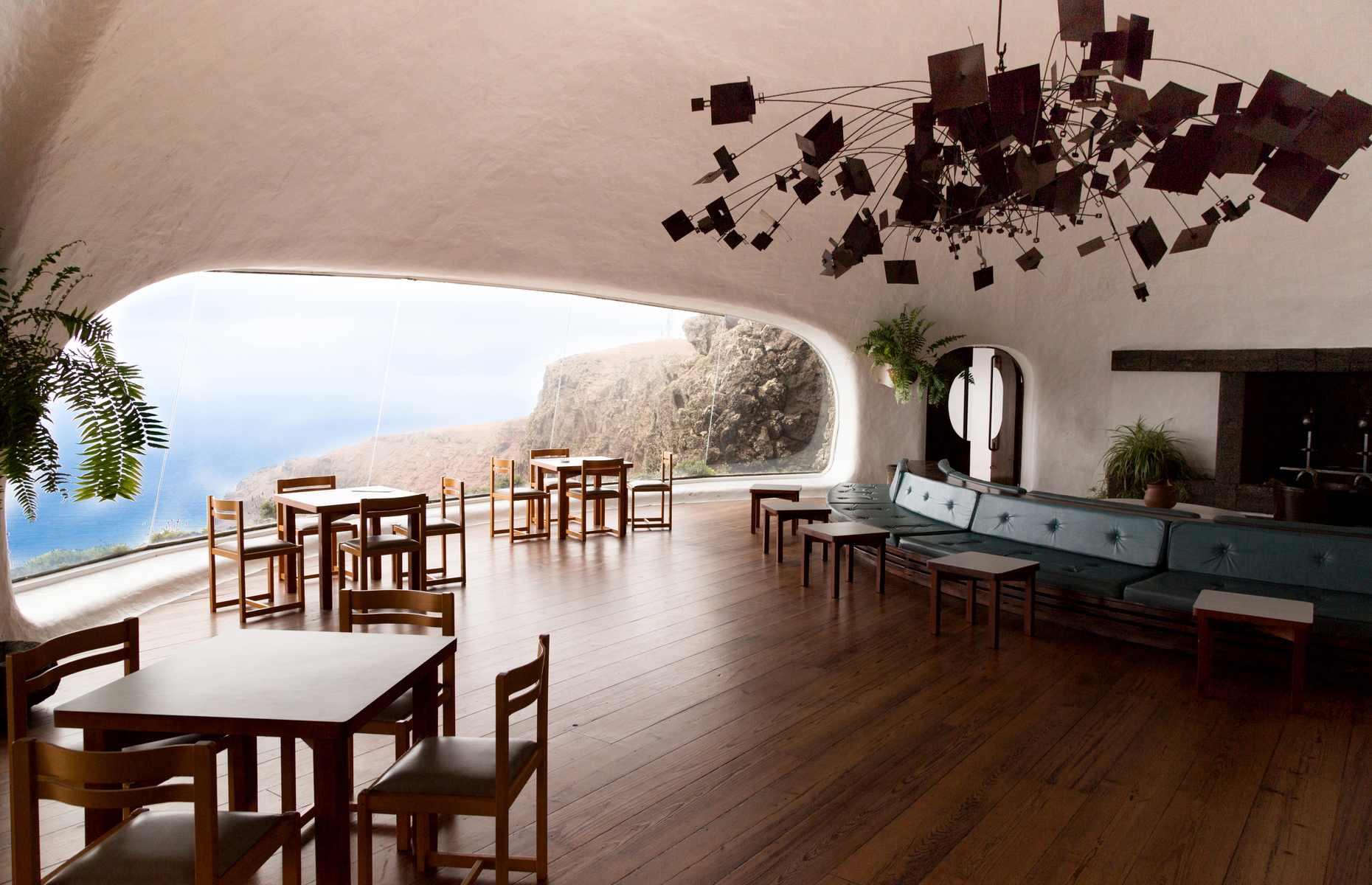 Marc Lechanteur/Shutterstock
3. Jardín de Cactus
Manrique had a knack for seeing beauty in even the most mundane of locations and in the 1980s he saw it in a defunct quarry at Guatiza. He transformed this bowl in the volcanic earth into a glorious garden, with dark stone pathways and fertile beds for dozens of varieties of cactus plant.
Few places in the Canaries lend themselves better to photography, with the cacti forming geometric patterns against the black earth and blue sky.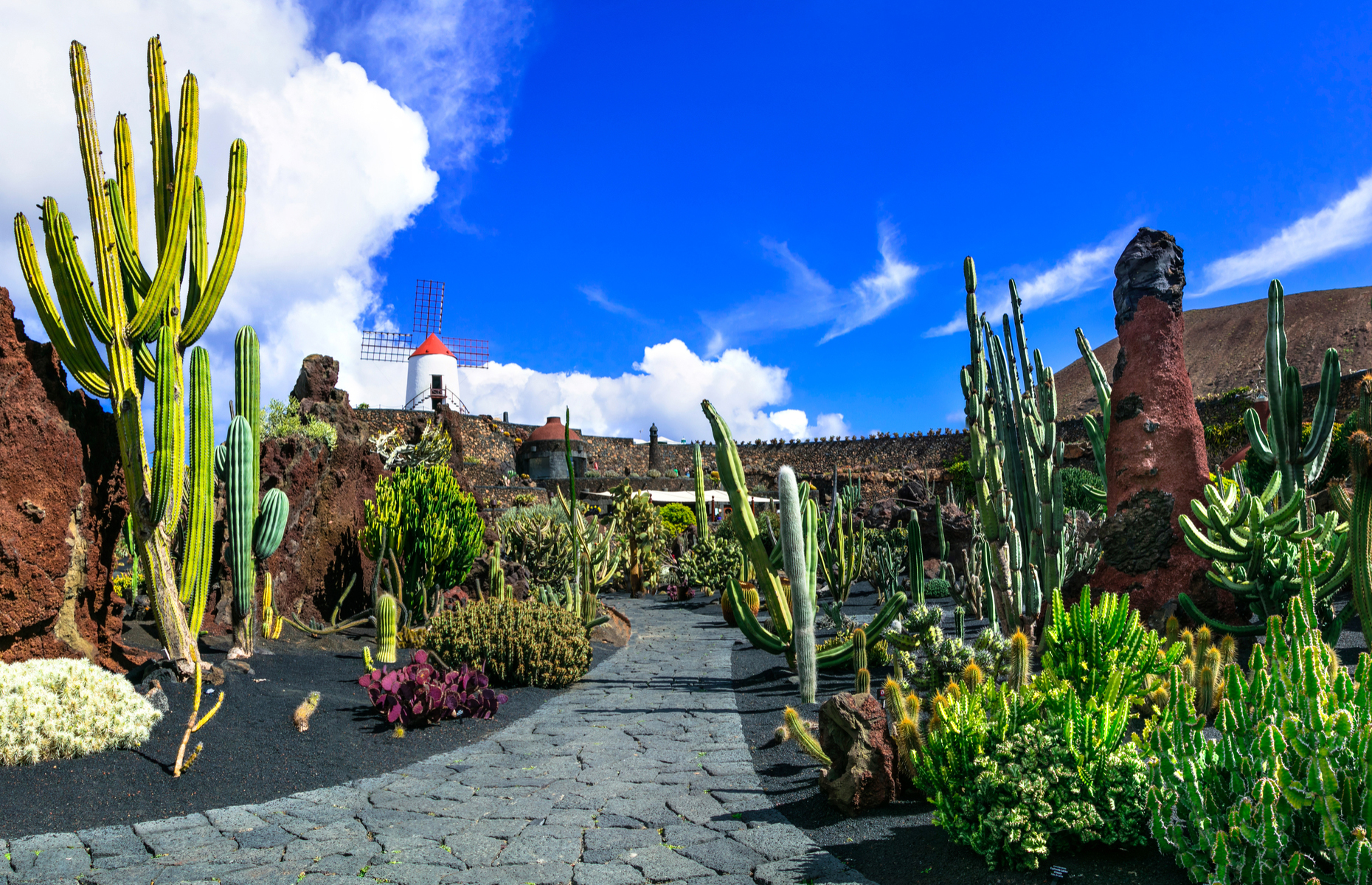 leoks/Shutterstock
READ MORE: 6 ESSENTIAL EXPERIENCES IN LA PALMA, CANARY ISLANDS
4. Jameos del Agua
When La Corona volcano erupted 4,000-odd years ago, lava carved its way across Lanzarote's north and formed an underground tube that runs for more than 3.5 miles.
Manrique has turned nature's detritus into a concert hall unlike any other. Sit here in the amphitheatre and listen to live classical music reverberating around the volcanic arch overhead, before having dinner amid the lava in the restaurant.
Don't miss a quick look in the pool at the centre of it all either – it's home to dozens of teeny blind albino crabs.
David Herraez Calzada/Shutterstock
5. Casa-Museo César Manrique
Nowhere shows off Manrique's style better than the house he lived in from 1988 until his death in 1992. Although it's now a museum, you could move into the house in rural Haría tomorrow, and you might well find that you want to.
Every corner here is inviting, from the sunken circular bathtub that looks out onto lava walls and burgeoning palms, to the bubble chair by the pool and the squishy sofas around the open fireplace.
Check out Manrique's artwork on the walls too – not all of his best work was 3D.
See more: 11 BEAUTIFUL EUROPEAN TRAVEL PARADISES FOR THE CHRISTMAS SEASON
Isabell Schulz/Flickr/CC BY-SA 2.0
6. La Geria's bodegas
Manrique inspired Lanzarote to stay beautiful and even its industry fits the monochrome style. La Geria's bodegas are all brilliant white sugar cubes amid the black lava landscape.
Outside you'll find the vines growing inside half-moons of drystone lava wall, their green the only break in the inky soil, while inside tastings are taken in white-washed courtyards filled with chunky wooden furniture.
Visit El Grifo to see old-school winemaking gear in the small museum and call in to funky El Chupadero for a glass of Malvasia by the open fire.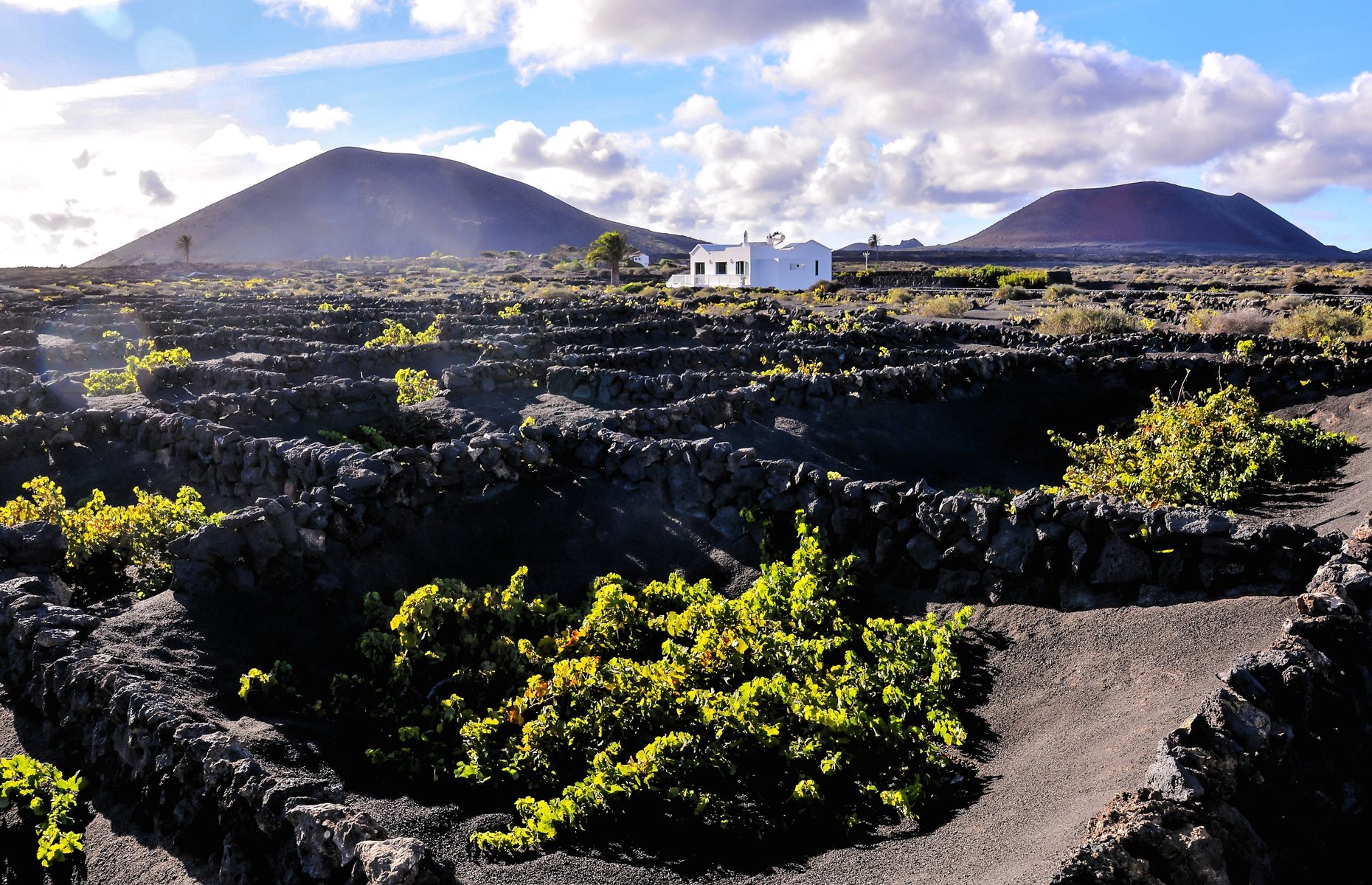 underworld/Shutterstock
7. Parque Nacional Timanfaya and El Diablo restaurant
It was Mother Nature that first made Lanzarote a stunner, and at the Montañas del Fuego, or Fire Mountains, you'll see exactly what she made of Timanfaya, a village buried in lava in the 18th century.
You'll have to board the obligatory coach, but nab a window seat and get ready to see a volcanic landscape untouched by man. Piles of lava the colour of spices – turmeric, chilli, paprika – give way to stony valleys of dark lava rocks. On returning to the visitor centre you can watch staff pouring water into the earth, which spits it back as a geyser.
Even here Manrique's touch is visible, in El Diablo restaurant, named after the devil and set in curved glass amid the lava. Food is cooked in the natural geothermal heat of the volcanic earth, nature's barbecue.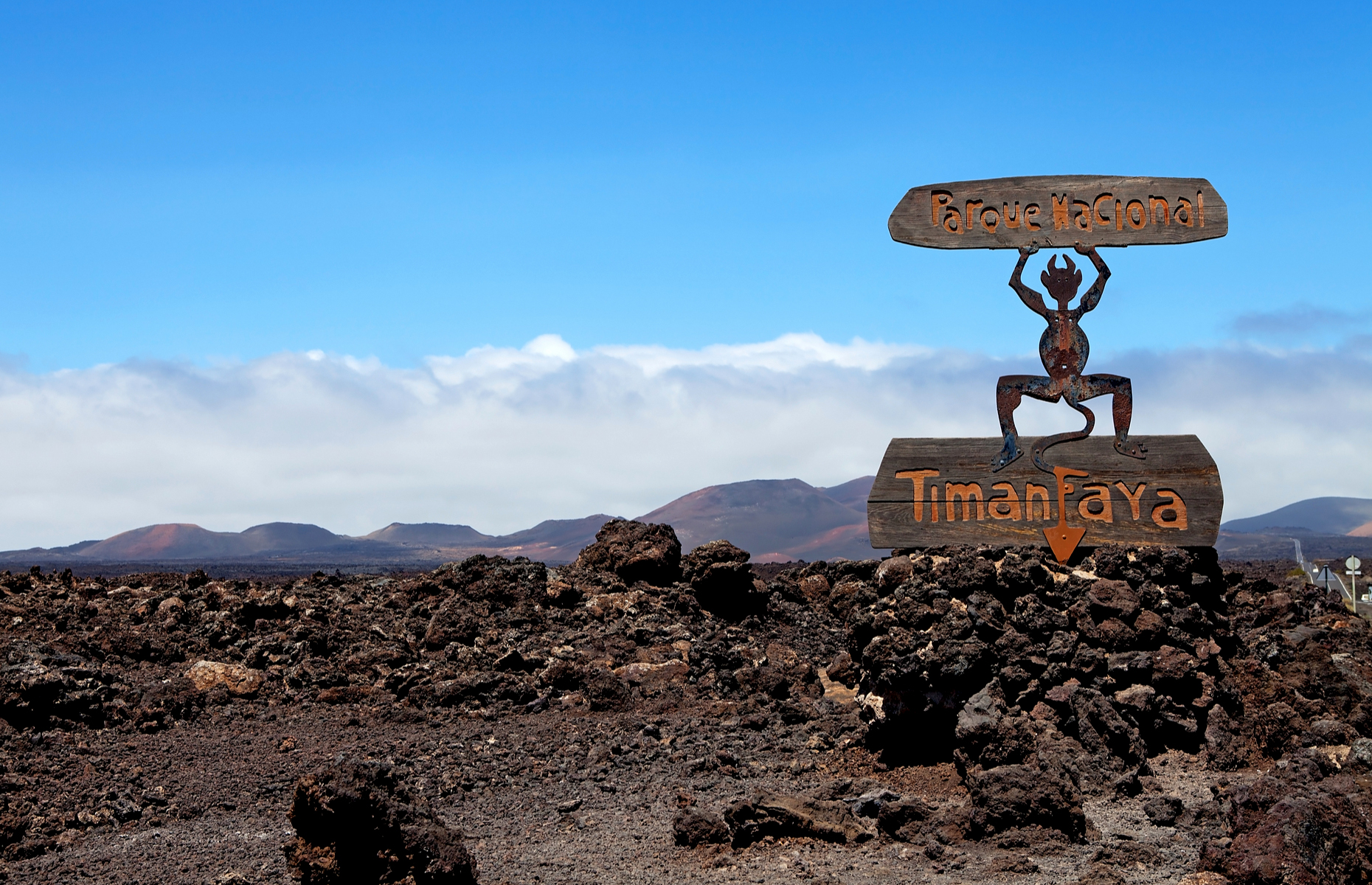 Sandra van der Steen/Shutterstock
8. Los Aljibes
Lanzarote's first microbrewery may just be starting out, but there are already several tasty craft beers on the menu, from IPA to porter, all designed to be sipped beneath the palm trees on the terrace.
This may be one of the island's newest enterprises, but it's built on the bones of a Manrique design. It's an amphitheatre of semi-circular terraces filled with cacti that calls to mind the Jardín de Cactus and makes a classy backdrop for beer production.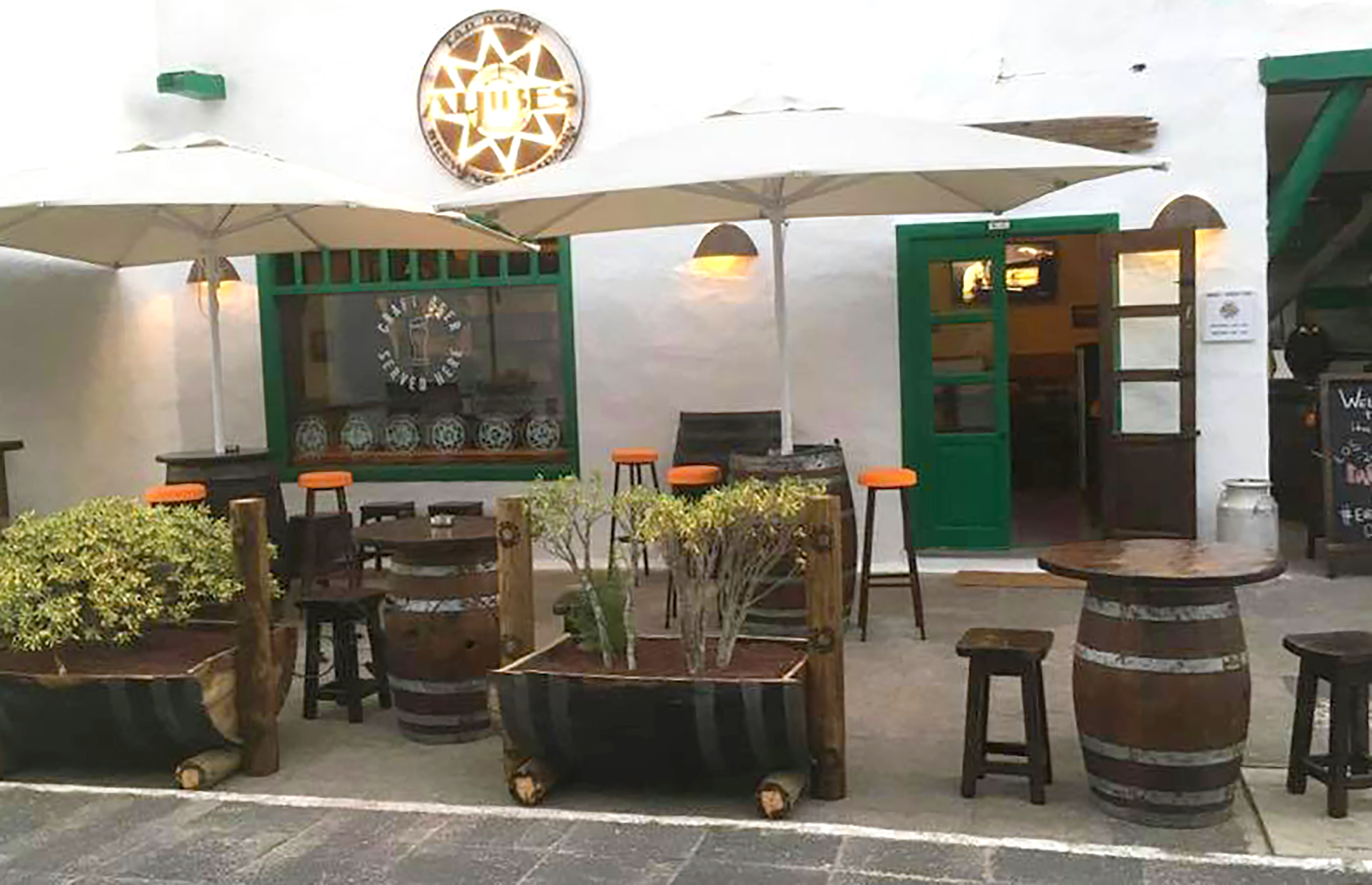 Los Aljibes/Facebook
9. Finca Malvasia
You may not be able to stay at Manrique's home – or even sit on the furniture – but you can sleep in Manrique style by booking an apartment at Finca Malvasia.
The chic self-catering apartments here are arranged around a sculpted pool in the middle of a vineyard surrounded by volcanoes and were designed by a close friend of Manrique's.
British owners Richard and Tarnya continue the cool with funky furnishings, wood-burners and a gorgeous sculpted white pool you're actually allowed to swim in. Apartments start from just £79 a night.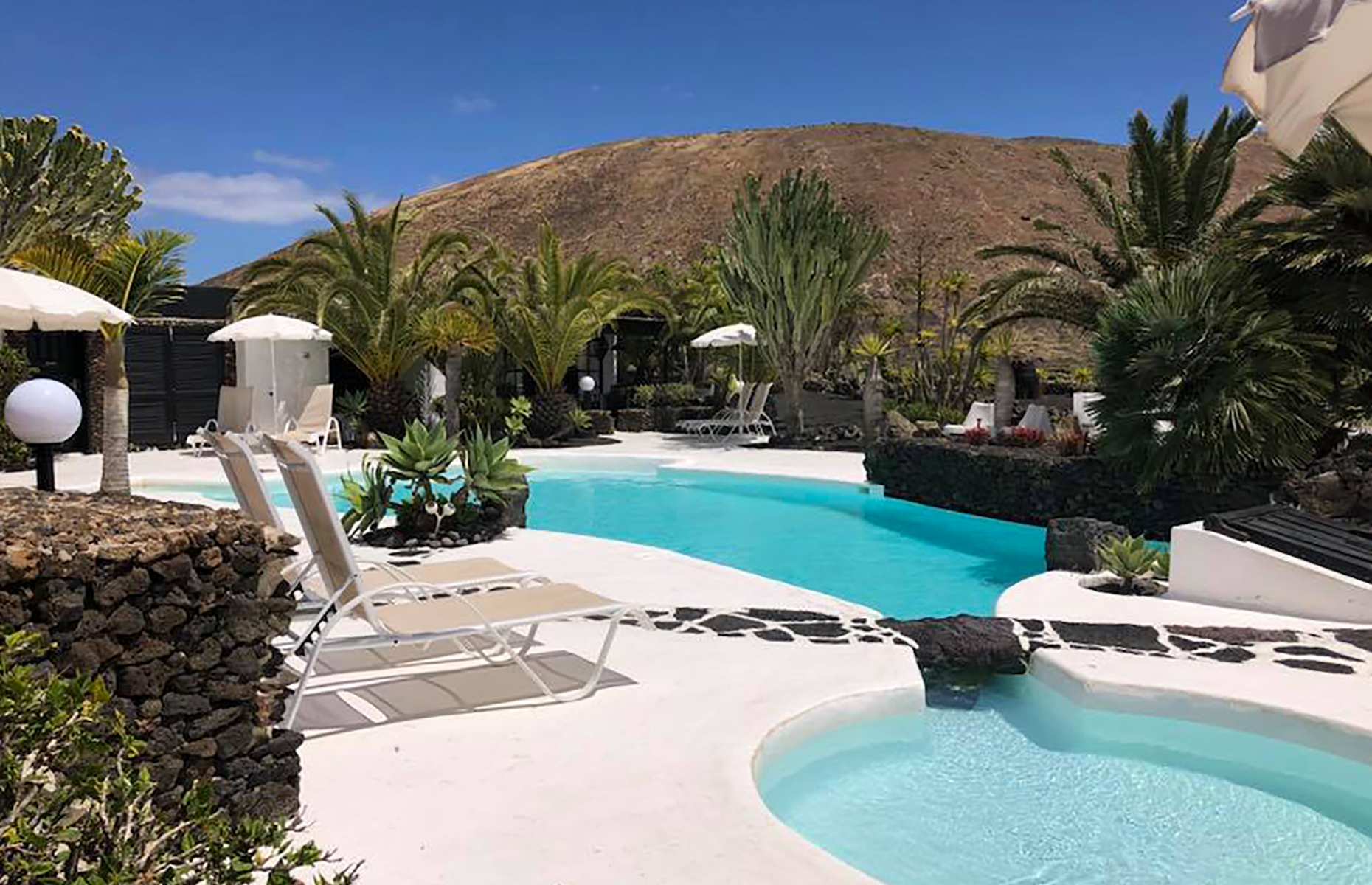 Finca Malvasia/Facebook