Packed with colourful cottages, steeped in maritime history and swarming with wildlife, the ancient fishing village of Brixham embraces the part of the coast that is known as the English Riviera. This quaint hub in Devon bristles with steep smugglers' alleyways, friendly locals and stunning sea views across Torbay.
Tucked into a cove between Paignton and Berry Head, life in Brixham has always centred around the harbour – it was once home to some 270 fishing vessels – that provides great views across to neighbouring Torquay. BrixFest and FishStock are two of its larger festivals, popular among locals and visitors alike, with food stalls, live cooking demonstrations, dragon boat races and live music aimed to promote Brixham tourism and the fishing industry.
Brixham makes for a charming weekend getaway, even if it's just for a dose of some well-deserved fresh air and seafood. Here's how to spend an idyllic weekend on the English Riviera.

Gordon Bell/Shutterstock
Friday
Get there: The closest train station is Paignton (three hours from London Paddington). From there, it's a 15 minute bus or taxi journey. Alternatively, take a 30 minute ferry from Torquay harbour.
Check into: Berry Head Hotel. Nestled in a woodland overlooking the cliff edge, this roomy hotel was originally used as a military hospital during the Napoleonic Wars. Rooms (all en-suite) are cosy and traditional, and dogs are always welcome. It also offers complimentary parking, an indoor swimming pool and a hot tub and sauna.
Short-term holiday lets are also a viable option – rent a small cottage for a quintessential Devonian experience.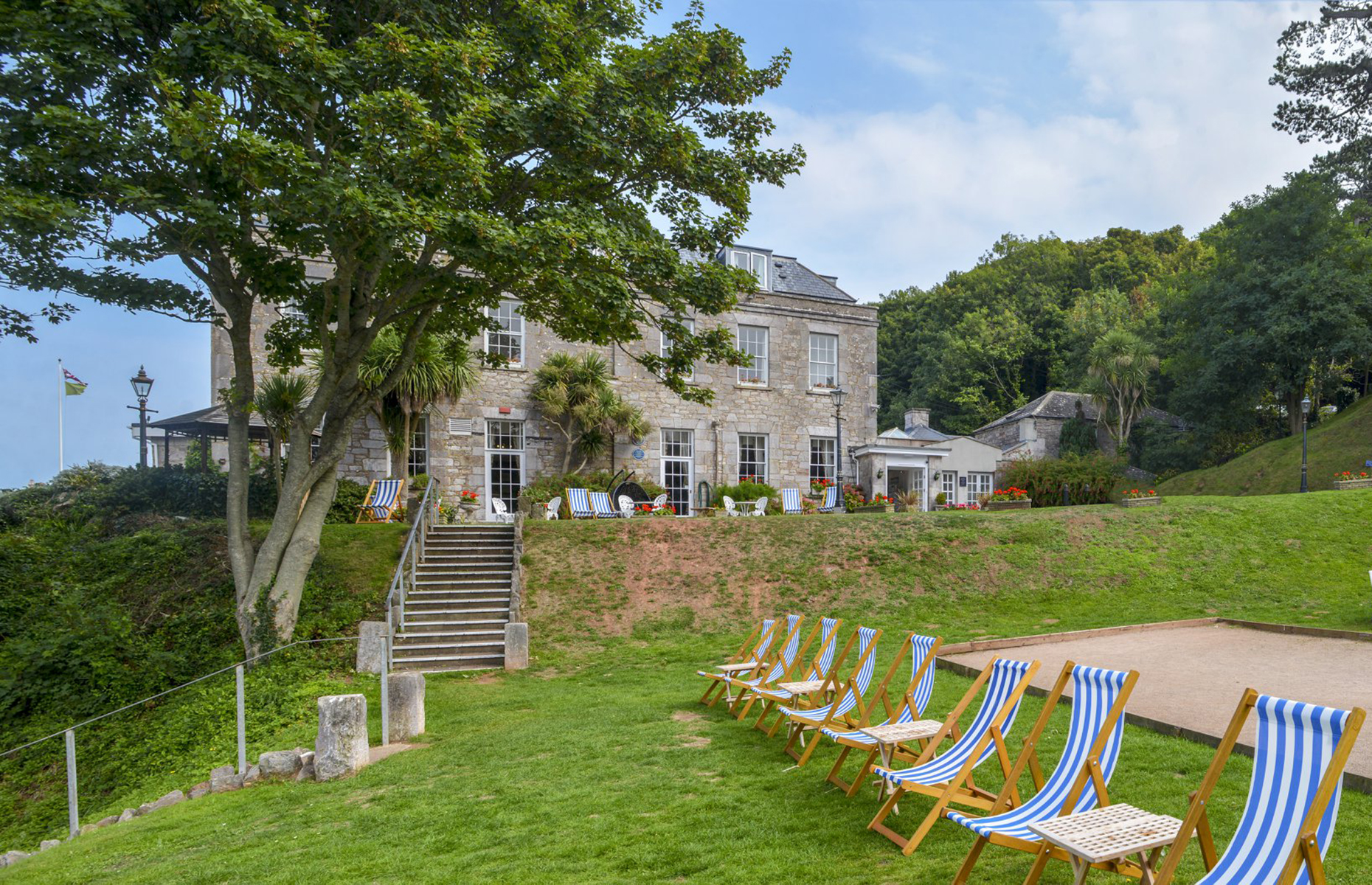 Berry Head Hotel/Facebook
Go for a recce: along the Berry Head coastal path. The route starts just to the right of Berry Head Hotel and is also signposted. Catch splintered views of the sea between the trees as you ascend through the woods before breaking out onto the headland.
Walking up to the very edge reveals the English Rivera in all its glory, with uninterrupted views spanning the sea and Channel beyond. To your right is the wild beauty of the South West Coastal Path, with black sheep grazing on the sloping hills, kayakers tackling jagged coves and yachts gliding past small outcrops studded in the still bay. Keep your eyes peeled for guillemots, or Brixham penguins, with their distinctive all-over black coats and white chests.
Dine well at: Beamers Restaurant. Brixham fishing boats bear the registration code BM, colloquially referred to as beamers, thus giving this nautical-themed restaurant its name. Nab a window table and gaze across Brixham Harbour, twinkling with lights from the bobbing boats and warm glows from neighbouring pubs ahead. The Fish Platter for two (mussels, bearded scallops, clams, crevettes) is delicious, but the menu varies depending on what Simone, the head chef, selects fresh from the day boats.
Mind your head at: The Blue Anchor. The low beams are a tell-tale sign of its age – the restaurant dates back 400 years, the pub a not-so-younger 300 years. It's the type of place where you'll get chatting to the other tables and bar staff, and live music gives it an eccentric kick. As you wind your way back to the hotel, pause at the rise on King Street for a picture-perfect view of Brixham.
Saturday
Tuck into history: After breakfast, take the morning to explore Brixham's enthralling history. First, climb aboard a replica of the Golden Hind in Brixham harbour. It was the first English ship to circumnavigate the world in 1577, captained by Sir Francis Drake.
Adjacent to this is a monument of William of Orange, the Dutch prince who crossed from France to Brixham in 1688, as he made his way to London to ascend the throne along with his wife Mary.
There are a few blue plaques to hunt down, from Flora Thompson, writer of the Lark Rise to Candleford series, to former Prime Minister James Callaghan.
See more: SMALL BUT MIGHTY: THE TOP THINGS TO DO IN WELLS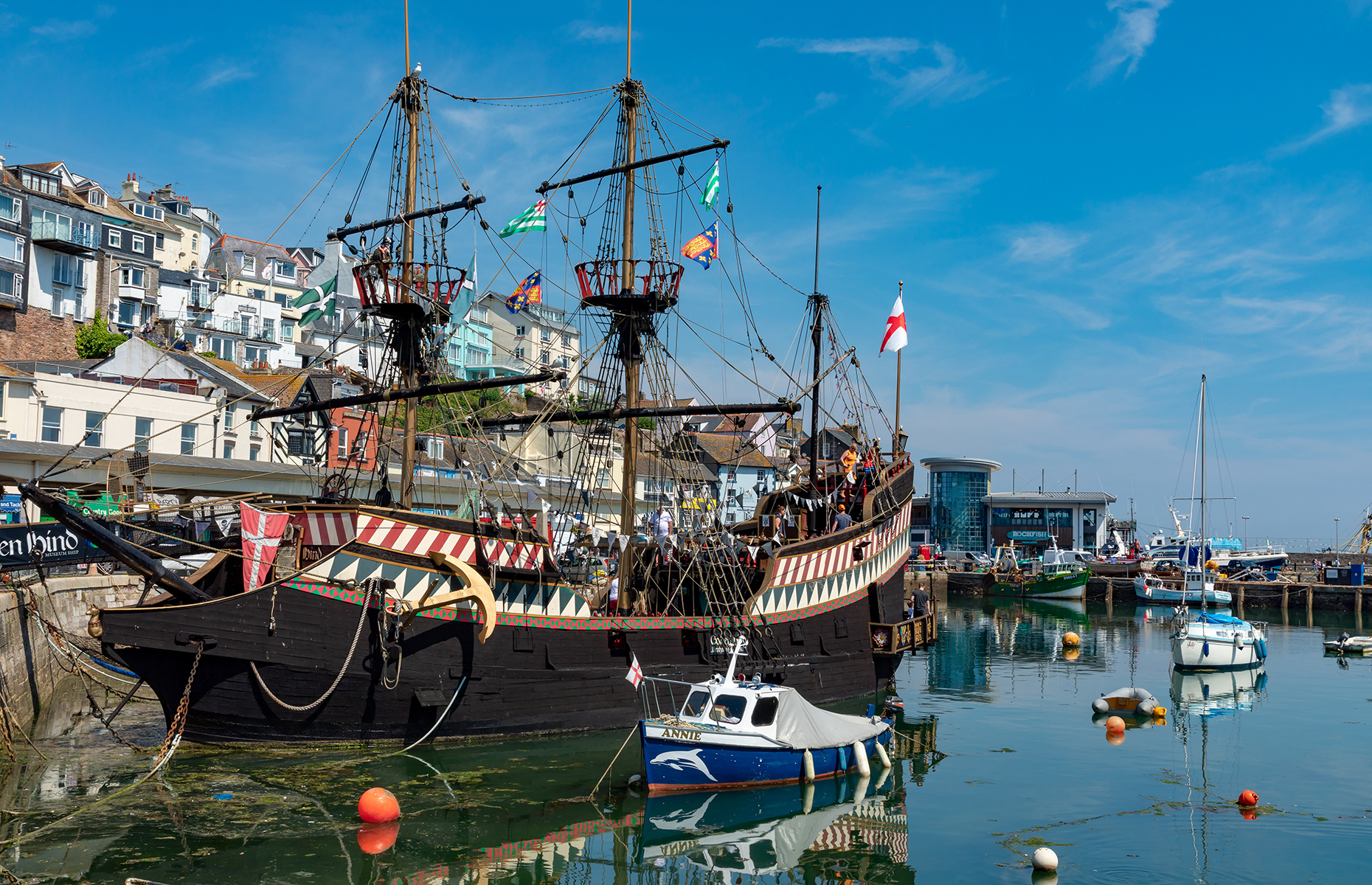 Adrian Baker/Shutterstock
READ MORE: AN A-Z GUIDE TO AFRICA'S CAPITAL CITIES
Pause for lunch at: The Curious Kitchen. This is an ideal lunch spot in Brixham. From stacked pancakes and handmade doughnuts to green shakshuka and takeaway rainbow salads, quirky options are aplenty here. Wash it down with an oat-milk green matcha tea and you'll be raring to go for the rest of the day.
Get your sweat on: by kayaking, canoeing or canyoneering with Grenville House Adventure. Or, if you're still full up from lunch and want to let someone else take the reins, Funfish Trips never disappoints. Its trips include mackerel fishing experiences, sea-fari cruises and sightseeing boat tours – you might even spot a brazen seal, dolphin or porpoise.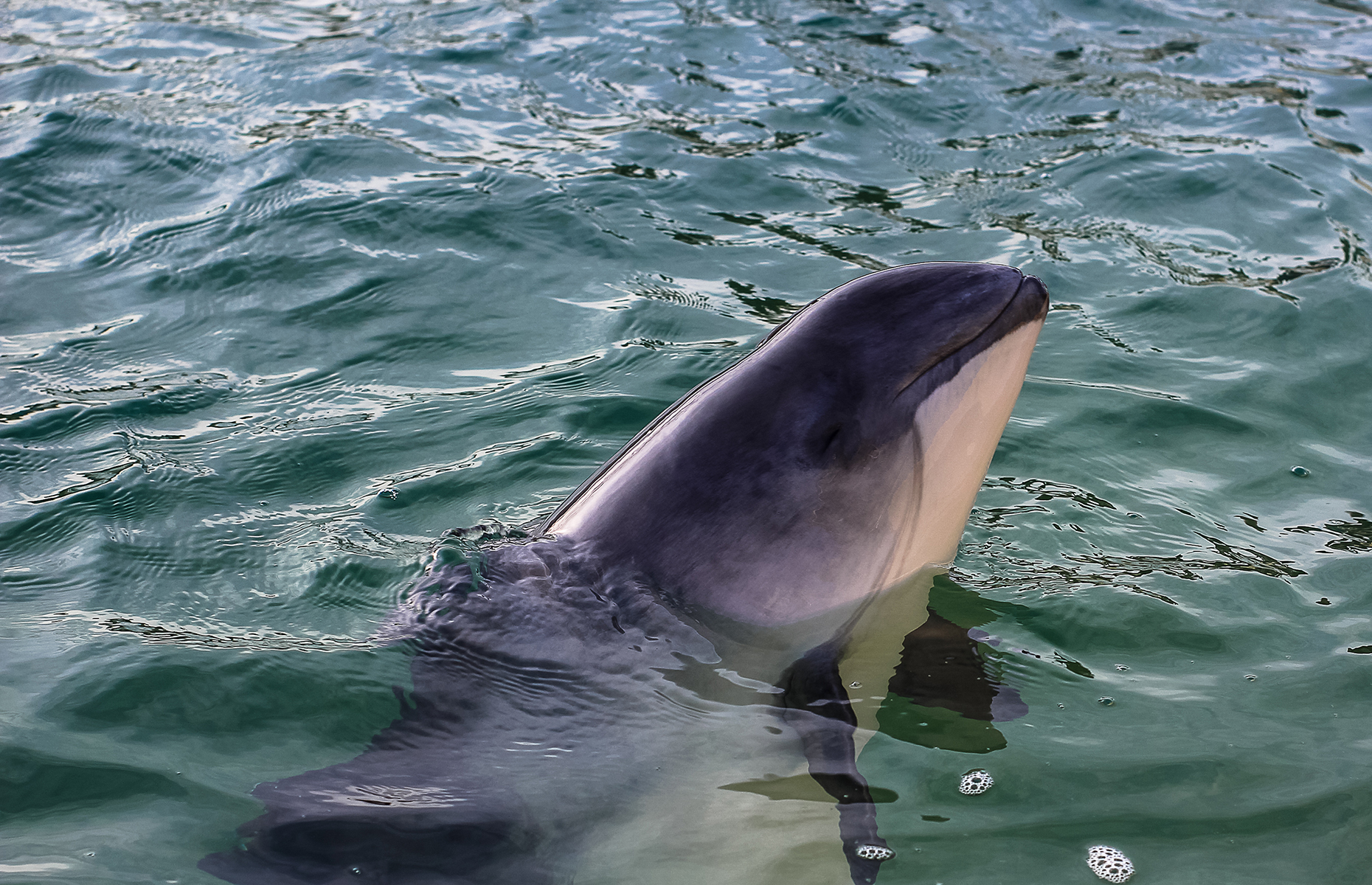 Elise V/Shutterstock
Take a stroll: down into the town centre for dinner. Lytehouse, a husband-and-wife-run restaurant, offer a balanced range of sea and land options, as well an excitingly extensive wine list.
If you'd rather rest your legs after an action-packed day, dine à la carte at the Berry Head Hotel (the dining areas are open to the public). Sit out on the terrace, enjoy the view and listen to the soft rustle of trees while you tuck into Torbay hake, Brixham crab or succulent lobster.
Sunday
Rise and shine: at the fish market. It may be a 6am start, but it's definitely worth it. Brixham sees over 40 different types of fish each year, and fishmongers have been running tours of the market for the past 10 years, so don a white coat and wellies and take a look around the containers of freshly-caught fish.
At the end of the tour, breakfast is provided at RockFish, the fish restaurant & take-away shop next door. Tuck into grilled bacon, smoked haddock, market fish of the day, scallops and egg on toast, served with tea or coffee.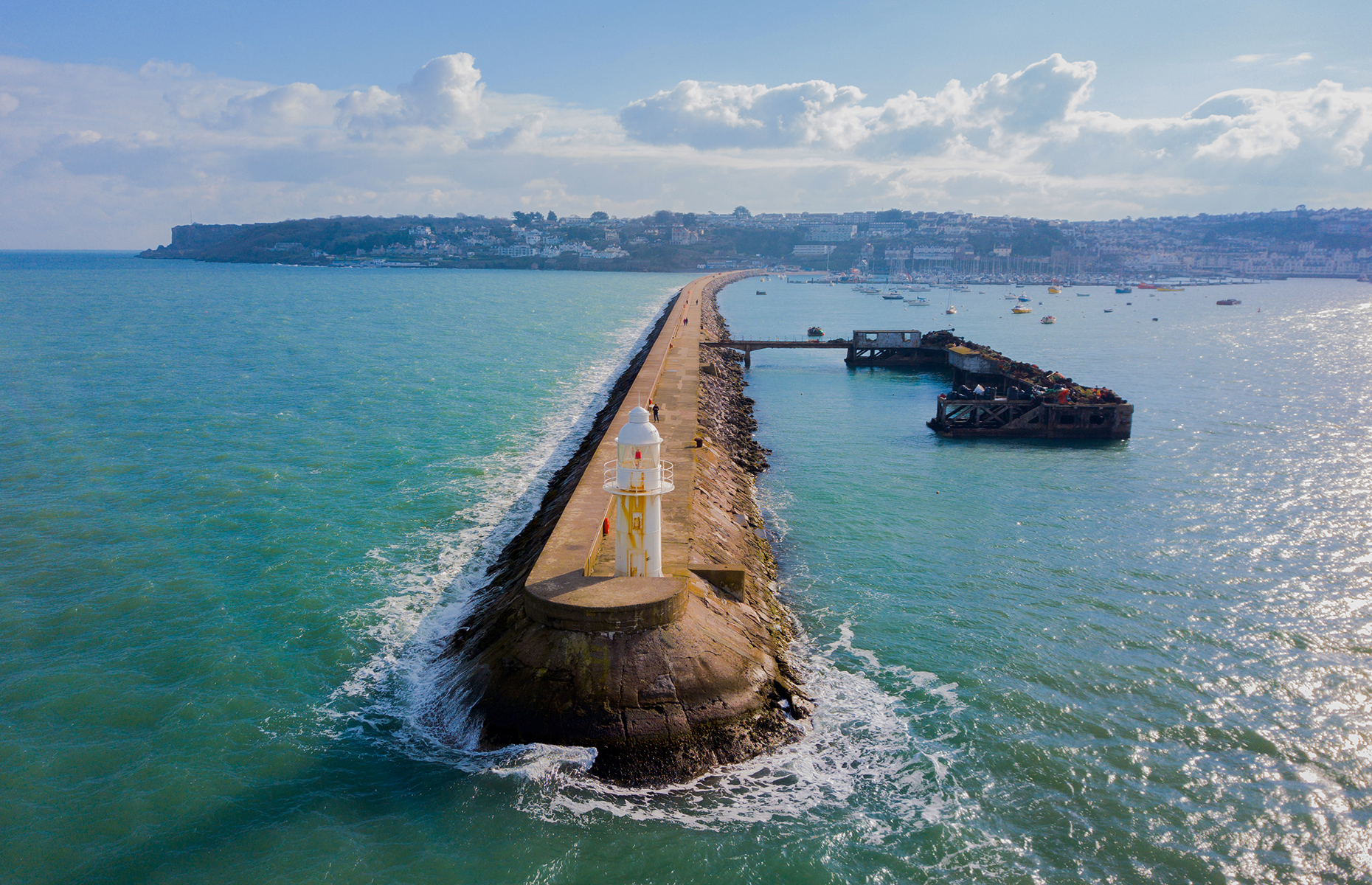 Jessica Dale/Shutterstock
Stretch your legs: along the half-mile pier that takes you out to the breakwater. At the point, turn around to take in the view of Brixham, with its chunky fishing vessels and slim sailing yachts in the forefront and cluster of colourful houses and tall belfry of All Saints Church in the background.
It was through here that Napoleon arrived, having surrendered after the Battle of Waterloo in 1815. He wasn't allowed to land, but he anchored in the bay and bowed to the crowds that rowed out to catch a glimpse of him, before heading down to Plymouth in preparation for his exile to St Helena. Luckily for you, you can head back the way you came and reward yourself at a closer pit stop.
People-watch at: Breakwater Coffee shop and Bistro. Based just above the water's edge, take a window seat and count how long the cormorants dive underwater for, or watch gullible dogs try to fetch stones that their owners lob into the water. The clear blue water laps at the shoreline and, on a bright day, has a Mediterranean-esque feel to it.
Shop local: Coast Vibe is good for homemade jewellery, coastal homeware pieces (think shell-printed cushions, pastel blue lamps and seaside-themed ornaments) and artwork prints. By the time it comes to leave, you'll have saltwater in your hair, fresh air in your lungs and a stomach full of good food – totally recharged, all thanks to Brixham.