The trail to Tarn Lod Yai (big Tarn Lod Cave) is only a couple of kilometers long but the end is steep – around 2,625ft (800m) of elevation gain in the second 0.6mi (1km). At the top of a seemingly endless set of wooden steps winding their way up the jungly mountain, there's a perfect spot to take in the view of the valley below and settle the heart rate before pushing on to the cavernous arch.
Tarn Lod Yai is the highlight of Chaloem Rattanakosin National Park (aka Tarn Lod National Park) in Kanchanaburi Province, western Thailand. It's one of my favorite parks not just for its primeval jungle, waterfalls, and overall Land of the Lost feel but also because it's so often empty. Around 53mi (85km) from Kanchanaburi City or 3 to 4 hours from the center of Bangkok, Tarn Lod is one of the most stunning but least-visited parks in the country.
Untouched wilderness in western Thailand
I've visited the park around 50 times during my almost two decades of living in Thailand and used it as an overnight rest stop when I led motorcycle tours in the country. It was my clients' reactions on those tours as well as my own love of the place that kept me coming back. No matter where they came from, everyone who visited was blown away by its untouched natural beauty.
Although the park is only 23mi2 (59km2), its boundaries touch on either protected or uninhabited forest all around, so it appears as part of a massive green space on the map – an area that includes some of the most pristine jungle environments in Thailand, where wild elephants still roam the hills, gibbons call at the break of day, and hornbills glide in pairs to their nest at sunset.
Being so far from any town, the night sky at Tarn Lod is a marvel for those of us who rarely get to take in the magnificence of our universe. Pro tip: the lights all along the campground each have their own switch so they can be turned off to eliminate light pollution.
See more: The mystery behind the pink temple is surrounded by giant dragons
Hiking to Tarn Lod Lek and Tarn Lod Lai
If hiking to the big cave, it's best to start out in the morning and give yourself adequate time (about five hours, which leaves plenty of time for exploring). Once across the wooden bridge at the park campground, visitors must sign in at the entrance to Tarn Lod Lek, the "small" cave. Rangers will clear the trail and extinguish cave lights at 4pm.
For some, the small cave might be experience enough. Once inside the mouth, the 0.3mi (500m) path is cast in twilight and the only sound is the rushing stream and the leathery clatter of thousands of bats disturbed from their clusters along the ceiling. The cave is like a gallery of stalactites, stalagmites, and odd rock formations.
At the far end, green-tinged daylight breaks in and hikers enter the jungle proper. After the neatness of the campground, the plush density of real jungle seems an intense counterbalance, but the trail is well maintained. This is not to say it's easy going – hikers should be aware that some level of physical fitness is needed.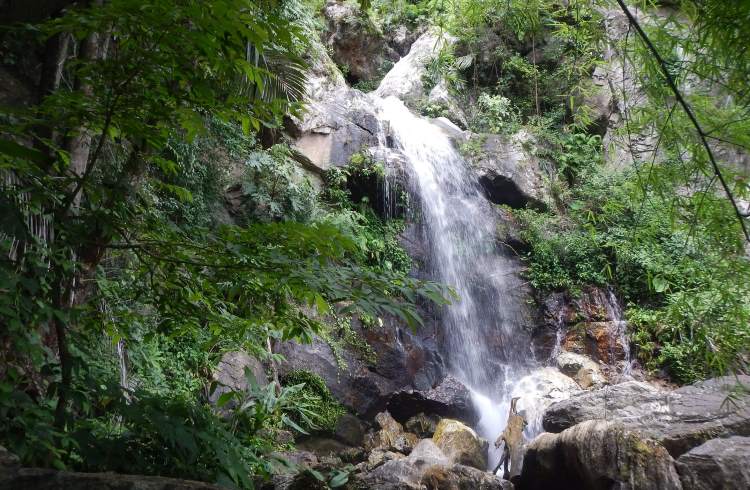 The first km is an easy walk through a labyrinth of immense banyan trees and thickets of wickedly spiked bamboo. These tower over ground foliage so dense that spotting animal life along the trail is rare, though the sounds of scampering in the leaves lets you know you're not alone.
Along the second km are several waterfalls where you can cool off. The second and largest bursts through a cluster of fallaway boulders and oversize vegetation – a view that's easy to forget is a result of nature and not the work of man. From here to the top is the steepest climb but the payoff is too great to comprehend quitting.
At the top of the stairs, Tarn Lod Yai starts to come into view, a vast arch of rock looming over the high jungle. Tarn Lod isn't the kind of limestone cave Thailand is famous for, but an ancient sea cave. The arch towers more than 200ft (61m) and the interior could encompass a football field if it wasn't full of boulders and rock formations cut by the stream that's run through it for eons.
Inside the cave a cool breeze blows year-round – at almost 2,953ft (900m) this is one of the highest points in the province, so hikers can cool off and take in as much of this natural cathedral as possible. Monks and devotees of the nearby forest temple make merit here at a small altar with golden buddha figures. Along the stream is a massive petroglyph of a snake/fish that dates back at least 10,000 years. There is almost always a ranger at the top for any advice or if an emergency occurs.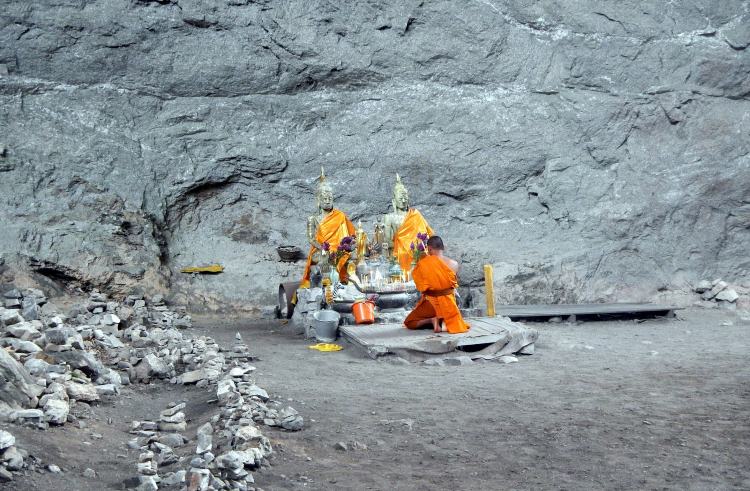 Continue through the cave to enter a giant fern forest that has a unique quality of light and mulchy smell. Further on, a forest meditation temple sits across a small bridge, but it's best to stay clear of this Wat as it's a place for devotees to come for meditation retreats and not a tourist attraction.
Trip notes
Where to stay
The park offers camping in manicured grounds along a small stream, but it also has 10 double-occupancy bungalows that are well worth the small increase in price.
Renting a tent, sleeping bag, mattress pad, and pillow runs to about US $20 per night (tents are set up by staff), while the bungalows, with large verandas and two bedrooms with comfortable beds, fans, and hot water showers, are about US $35, fully furnished.
There are several food stalls at the park entrance where visitors can have decent, simple Thai meals, including some very good Kai Yang (grilled chicken – pair it with a fresh, spicy papaya salad for the perfect Thai lunch) but overnighters will want to bring food and cooking gear. The very helpful park staff may even loan out a charcoal BBQ on request.
Getting there
The best way to get to Tarn Lod is by private car or motorcycle. It's possible to get there via public transport from Kanchanaburi City on the local Dachang bus with some additional finagling at Ban Lam Yai (walking or hitching a ride the last 2.5mi/4km). Wear long pants, long-sleeved shirt, and closed-toe shoes for the hike and bring plenty of water. Nights get cool, so bring a sweater or hoodie.
The only downside to Tarn Lod: like every national park in Thailand, it has two-tier pricing for entry (US $9/300 THB for non-residents, US $0.90/30 THB for Thai residents).