Las Palmas is a city that is framed and defined by the Atlantic, the lifeblood ocean that keeps it pumping today. It wears its history on its sleeve, with the eclectic collage of districts and their buildings each telling their own story. It is a playful city, boasting a sense of fun too that is at its most spectacular during the annual Carnival.
It's easily the grandest city in the eight Canary Islands, with the dramatic legacy of its past bursting across its historic quarters of Vegueta and Triana in the form of an ever-engaging architectural smorgasbord. The city spills out along the ocean, its massive port unmissable, but so are its beaches and historic quarters. This is a city of the outdoors, where much time is spent in pavement cafés in its wide boulevards or cosy cobbled squares.

Tomasz Czajkowski/Shutterstock
It is on the beaches where the eclectic sinews of Las Palmas come charmingly together. Chief among them is the wide arc of Las Canteras. Here suit clad businessmen chatter into their phones, while at the next table sit a gaggle of surfers, boards still dripping from the waters that break on to the protective reef just offshore. Families ease along the wide boulevard day and night (this is Spain after all) along with the crews from the myriad visiting ships, who add an international flavour. Tourists are more than welcome – no one cares who you are or where you're from.
The year-round warmth of the island with the best climate in the Canaries is a constant draw. Seasoned locals may don jackets in winter while normally semi-frozen Northern Europeans are taking to the water. The balmy weather invites indulging in pleasures, something Las Palmas does very well, making it ideal for a laid-back weekend break or an even longer soporific sojourn.
Friday
Check into: Bed and Chic. Steering the fun side of hipster, this great value boutique bolthole enjoys an ideal location. It overlooks the leafy Santa Catalina Park on one flank (the City Sightseeing bus leaves from here too); on the other, a few blocks away, lies the urban beach of Las Canteras. Breakfast (standard, healthy or Spanish) is served out in the square and no two rooms are alike with the Attic a particular highlight thanks to its terrace with a view towards the ocean. Clued up staff are full of local tips too.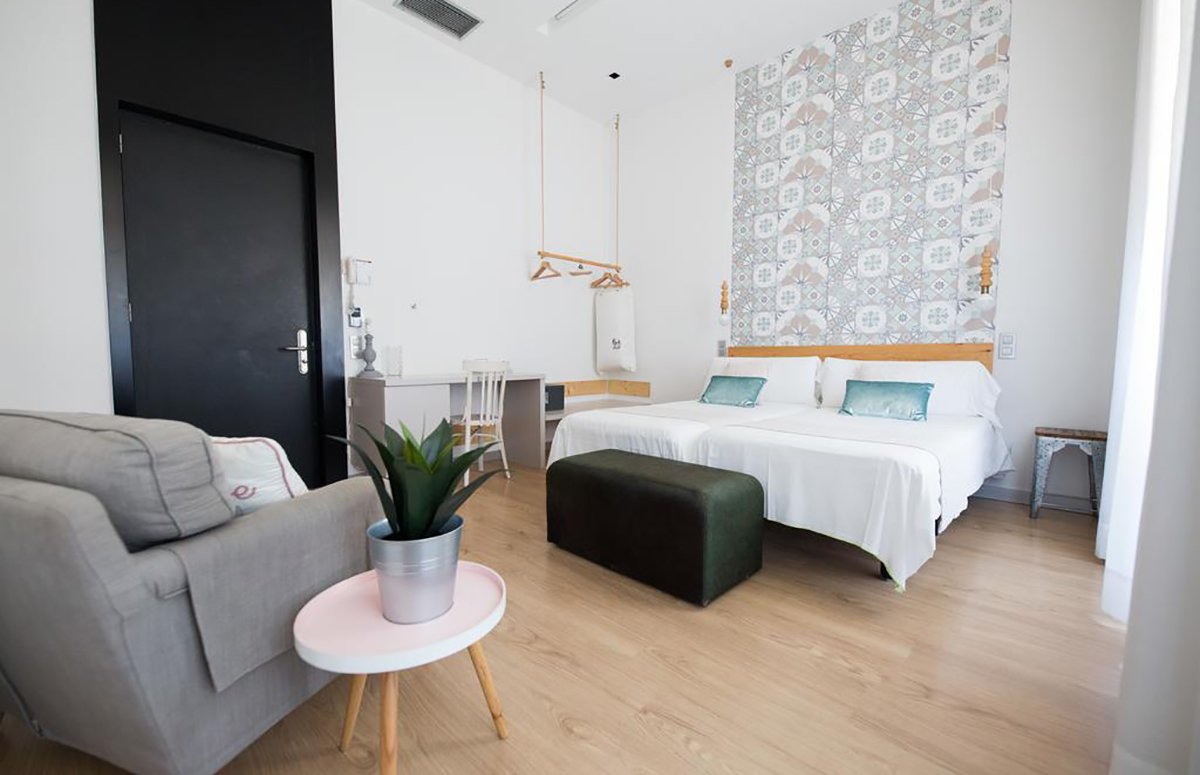 Bed and Chic/booking.com
Explore: Vegueta. The Segway LPA office is a five minute walk from the hotel so link up with them, then zoom into the chocolate-box-pretty old quarter of Vegueta. Cobbled lanes ripple around by a flurry of churches and a ramble of revamped historical buildings. It's the sort of place where a simple enough looking building lays claim to have once hosted Columbus. Every street is a postcard with a web of ornate décor touches so make sure you look up. Vegueta is increasingly pedestrianised too, though handily Segways are welcome. So too are a multitude of pavement cafés.
Admire the views from: the top of Las Palmas' striking cathedral. You can see how this is a sinewy city that sweeps along between the ocean on two sides and also appreciate the extent of the old quarters. Make sure to explore the rest of this voluminous building too. The best photos of the cathedral are from the opposite end of the square, where you can just about squeeze its twin spires in.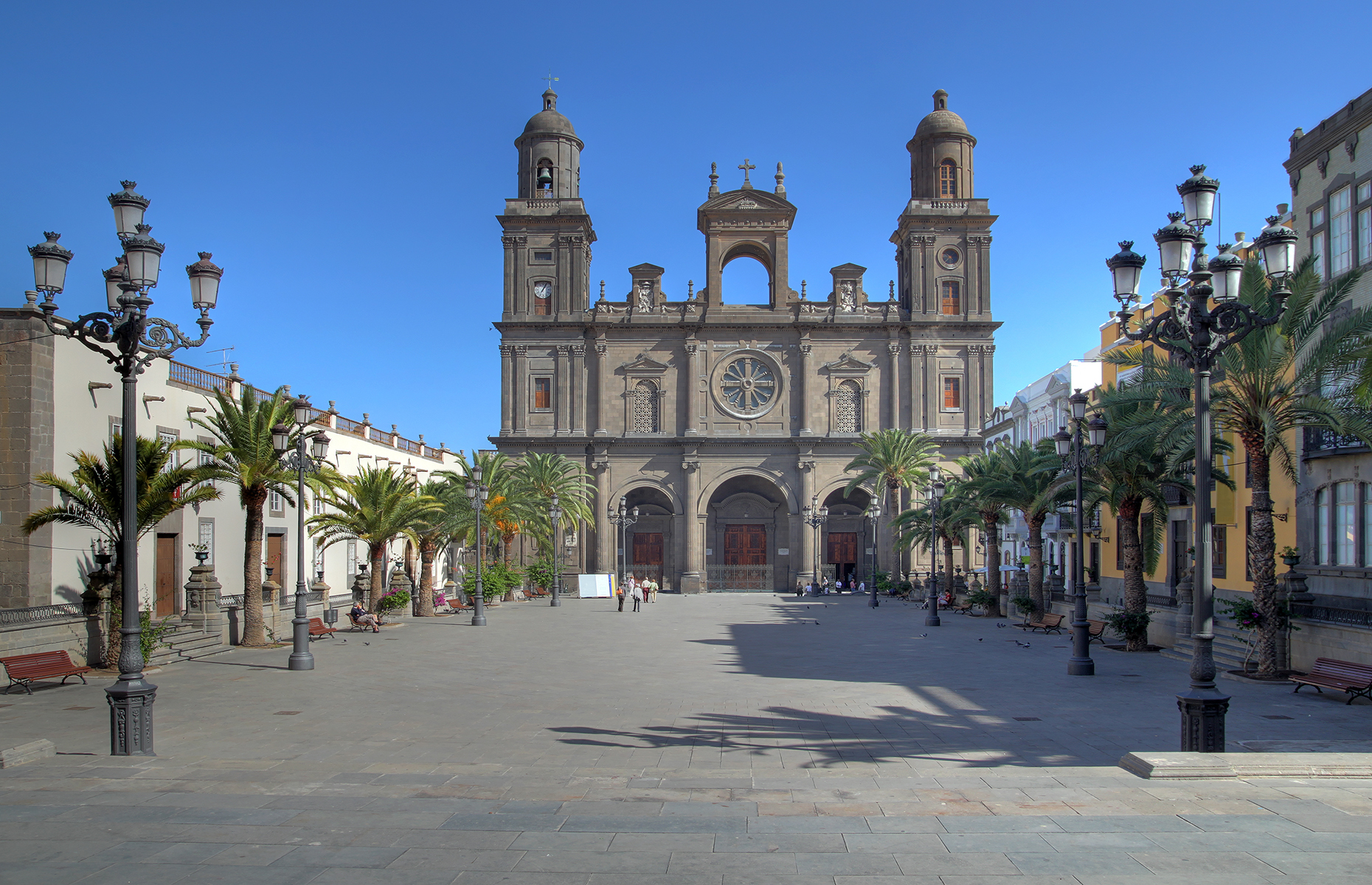 Mihai-Bogdan Lazar/Shutterstock
Stop for a sundowner at: Manso. Sip on a smooth cocktail (anything with the local rum is a winner) atop this central haunt. Handily, it has a rooftop terrace that attracts the local cognoscenti so you can sip while you pose or just enjoy the views convincing yourself you are sightseeing not just partying.
Eat dinner at: La Lonja. Avoid the crowds at the boulevard restaurants at Las Canteras by slipping one street back to dine in this seafood oasis. Nab a coveted chair on the terrace and enjoy local fish cherne or delicious steamed mussels from Galicia. Crisp local white wine Caldera is a perfect partner to the seafood extravaganza.
READ MORE: 15 BEST PLACES TO VISIT IN AFRICA
Saturday
Tour: the Triana district. This stately historic quarter may not be quite as old as Vegueta, but it is every bit as charming and it's the commercial heart of Las Palmas too, with a wealth of remarkable architecture to savour.
Calle Major is Triana's main street and it's a stunner. It has buzzed with life since the 16th century, with its graceful buildings still alive with character and architectural touches from various ages down the centuries. There are as many local boutiques as there are chain stores.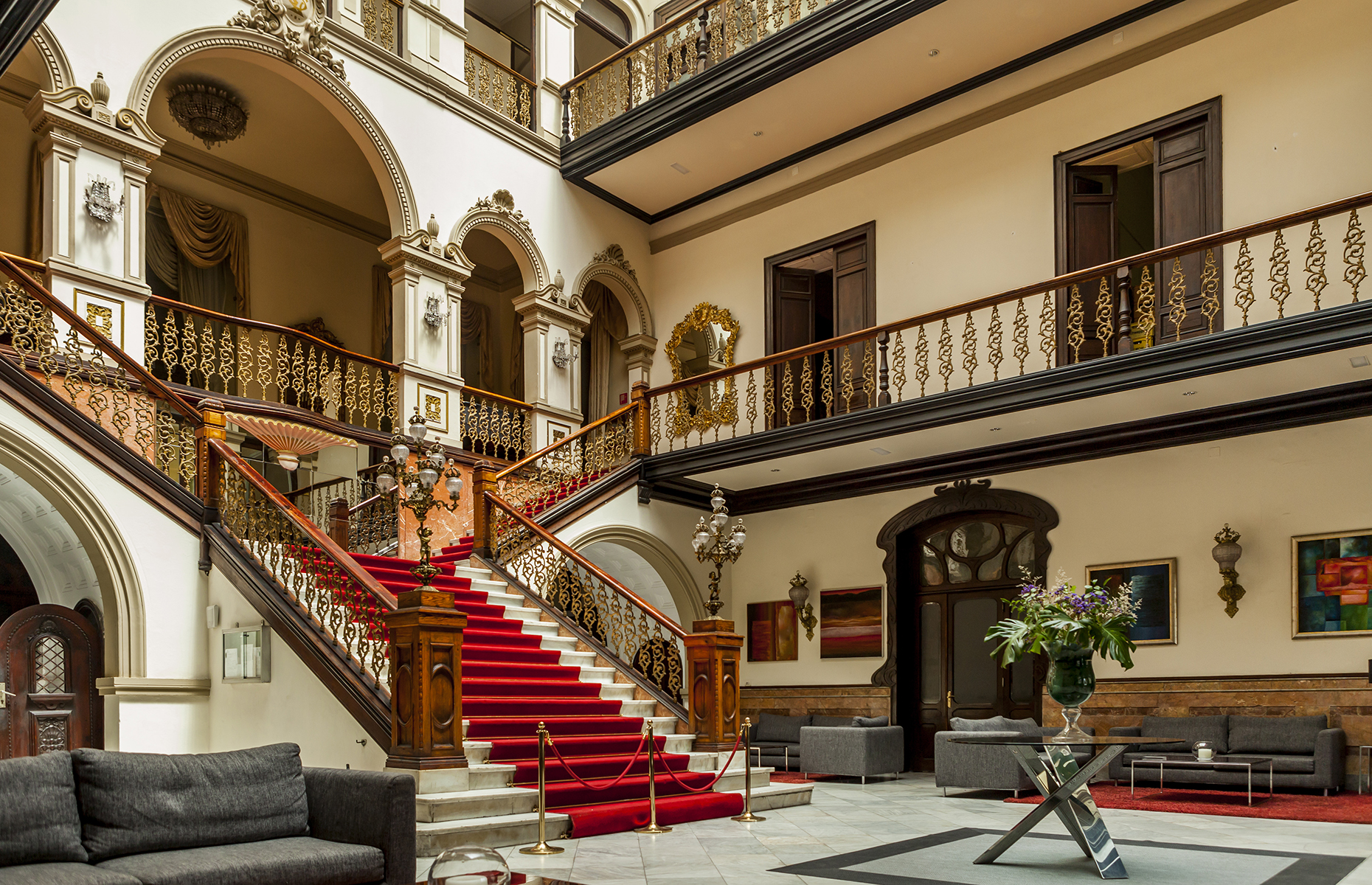 Marcel Bakker/Shutterstock
Visit: Ilustrisimo Gabinete Literario. A glorious legacy of the days when Tenerife and Gran Canaria vied to be the Canary Islands' capital by erecting ever more elaborate buildings. The little publicised guided tours explore the lavish 19th-century gem both inside and out. Handily, you can take coffee on the terrace afterwards.
Take a breather at: San Telmo Park. This old port quarter is now Triana's favourite green lung. This is the place where locals come for a romantic stroll or to discuss the issues of the day with their friends. Join them in the open air bars and learn more at the tourist office. Look out for Gothic statues and modernist monuments in a park that has a little bit of everything.
Eat lunch at: Marsala. Forget Spanish cuisine and instead indulge in Canarian cooking. This bright little café restaurant enjoys a prime location in Vegueta on a pedestrianised street alive with cafés and strolling locals. It may look like nothing fancy, but it delivers flavour. Highlights include the fried aubergine laced with divine Canarian goats' cheese and palm honey from the nearby island of La Gomera, which dates back to the days of the indigenous guanche people. Canarian produce eases into the menu all over with daily specials chalked solo en español.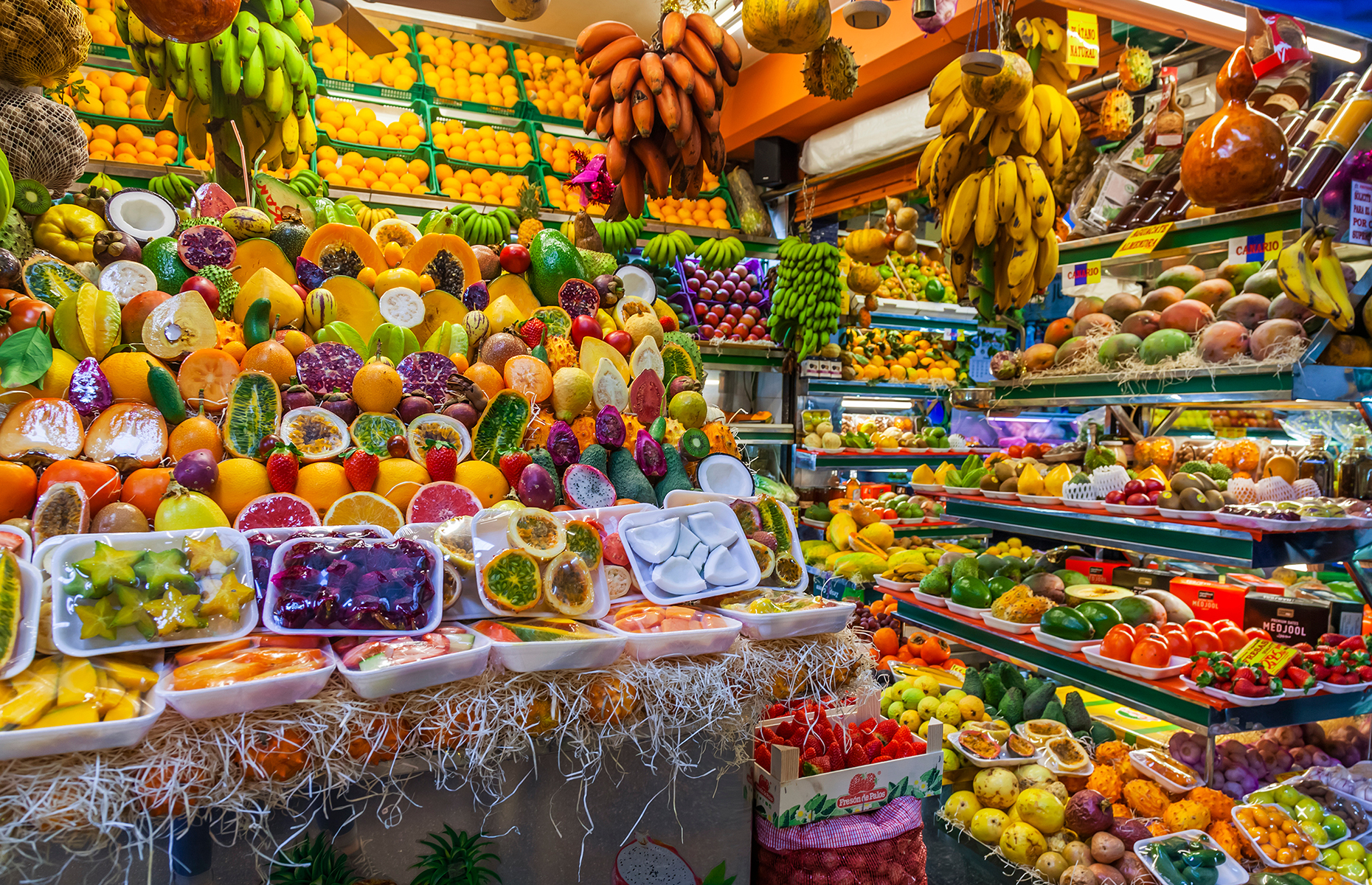 bellena/Shutterstock
Shop at: Mercado de Vegueta. This characterful market somehow still survives right at the heart of Vegueta, with locals flocking in for fresh fruit and vegetables. There is always something exotic to pick up and the sights and smells are glorious.
READ MORE: DISCOVER THE BEAUTY OF XINJIANG, THE BIRTHPLACE OF THE 'MAGNIFICENT BEAUTY'
Tour: on the bright red City Sightseeing buses. You may think bus tours are cheesy, but being able to hop on and off is handy with the 11 stops well chosen to help you navigate the city if you are short on time. Or just download their free sightseeing app and settle in for the whole tour.
Snack on tapas at: Mercado del Puerto. A flurry of tempting tapas bars pull in locals as well as savvy tourists to this foodie oasis. Ironically, these days it really comes into its own at night when the dwindling food stalls close and the tapas bars start heaving.
Sunday
Stroll down: Las Canteras. Stroll or jog your way along the boulevard, which strides proudly along the beach for just under two miles. There are dozens of bars and cafés to stop off at en route, with a paddle in the protected waters tempting too.
Visit: Puerto de las Nieves. Call local outfit Dolar Rent a Car (Tel. +34609982727) and they will send a local driver to spirit you off to Puerto de las Nieves. This is where savvy citizens of the city head when they want boat-fresh, superb value seafood. A sprinkling of options line the waterfront as 3,000-foot cliffs rear up across the water. Make sure to explore the narrow streets of this little village and check out its rocky beaches. The inland village of Agaete can be worked into this off-the-tourist-radar day out too.
Lead image by fujilovers/Shutterstock